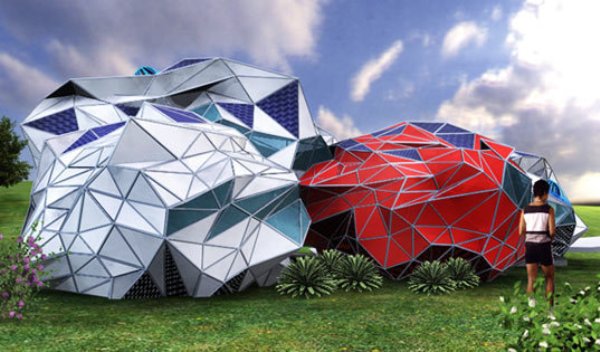 "The snow itself is lonely or, if you prefer, self-sufficient. There is no other time when the whole world seems composed of one thing and one thing only." so says Joseph Woods Krutch. It is this modern world's increasing realization of self sufficiency that is making them explore the world in a way that could limit their dependence on others. One of the consequences of this innovative thinking has taken form into self sufficient homes.
Homes that provide comfort without having to pay the electricity bill and keeping hassles out of man's mind because he knows that his home cares for nature and when the world would panic for energy resources to fuel needs, his home would stand cypress and be the ultimate shelter.
It is this ultimate shelter's new concepts and designs which are listed below and make up the 10 amazing homes built on the principles of self sufficiency:
1. Adex Eco Friendly House: Designed by Alberto Lara and Paula Noguron is an easy to install home with adaptive capabilities. The interlocking system of prefabricated pieces works out really well for an off grid living. The photo voltaic cells, solar heater and rainwater harvesters make this house perfect for a sustainable living.
2. Dome House: Made by Japan's Dome House Co is a dome shaped home made from 100 percent expanded polystyrene foam. The home may get burnt but would not emit toxic material avoiding fatality. Also, the home works in just fine in its insulation without you having to pay for a pest control as it acts as an insect repellant.
3. Solar Haven: Designed by Mindy and Jim Phyphers, this home has it all – the smart home for smart people who value Mother Earth. With straw bale house, adobe and lime plastering, greenhouse, hot-water radiant floor heating, in built privacy wall and a guest house, this home has harnessed energy in the most efficient way possible.
4. Maison Evolutiv: Maison evolutiv is made of two prefabricated modules perched one on top of the other. The designers pivoted the top unit to create a variety of interesting integrated outdoor spaces with indoor spaces. It's also eco-friendly, consuming only 48 kWh/square meter per year. Solar thermal on the roof provides hot water and the wool wood insulation helps to keep the house temperature regulated. Rainwater harvesting provides water for toilets and landscaping.
5. Homestead House: The brains behind this home belong to Designer Michael Jantzen. It is an extremely modular home which is fully recyclable.
6. The Butterfly House: TYIN Tegnestu, the nonprofit group of innovators, have designed a naturally ventilated home which collects rain water for harvesting.
7. Con House: This house in Slovenia,Trebjne is a two storied house with self sufficient tendencies of a simple living.
8. Youmeheshe's Organic Prefab House: Presented at the coveted London Pecha Kucha event, this house is affordable at the price of £60,000. It's a small but organic house worth living in.
9. Arctic's House boat: Covey Island Boatworks, award winning builders of hand-crafted yachts, power and sailboats, has brought that idea into dry dock developing a prototype wood and epoxy prefab that applies boatbuilding principles directly to an extreme Arctic home.
10. Prefab Weekend House: Jens Risom's weekend house boasts of self sufficiency in everything it has. The solar heaters and rainwater harvesting suit all the requirements of a family that cares for a happy and healthy weekend.
So, there you have the perfect list of smart homes. Grab one and make your life amazingly green and nature loving. Homes will get sweet again as man explores, accepts and expands this unconventional source of energy.