First came painting and photography, after it came cartoons and movies, which are, in some sense, moving paintings or photos. Nevertheless, art forms like sculpture didn't see this emancipation. It is pretty much the same as it was. However, now that we are in the 21st Century, this doesn't have to be the case. Sculptors all around the world are now breaking the boundaries. With kinetic sculptures in the mix, motion is no longer a restraint for the sculptures. Furthermore, some of these sculptures even utilize renewable resources like wind energy for their motion and even utilize junk materials thus making a sustainable statement as well. Let's check them out.
19 – Most amazing kinetic sculptures made using recycled materials
Sculptures made from recycled materials like plastic, metals, electronic waste etc. stand out unique in one way or the other. The jaw-dropping sculptures not only mesmerize you but will leave you in the aura of awe. So come, join our journey to check out some of the most amazing kinetic sculptures that you can't help but appreciate.
1. Andrew Chase's Kinetic animal sculptures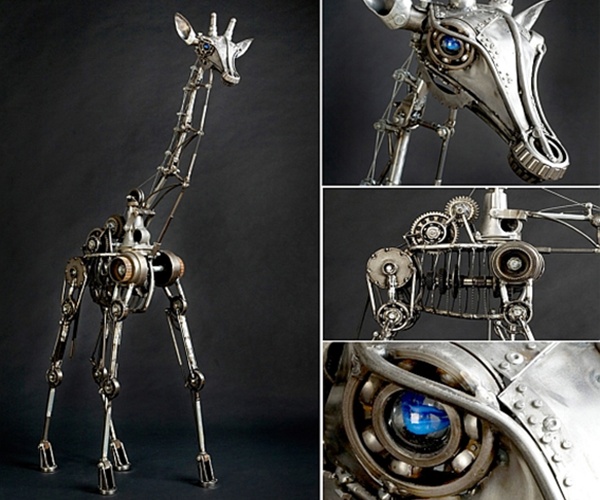 Andrew Chase is a famous sculpture and is known world-wide for his art work that is mostly inspired by nature. Most of his mechanical sculptures have been developed from recycled materials and the use of gears and levers in them enables them to move.
2. Giant Kinetic Robot sculpture from recycled materials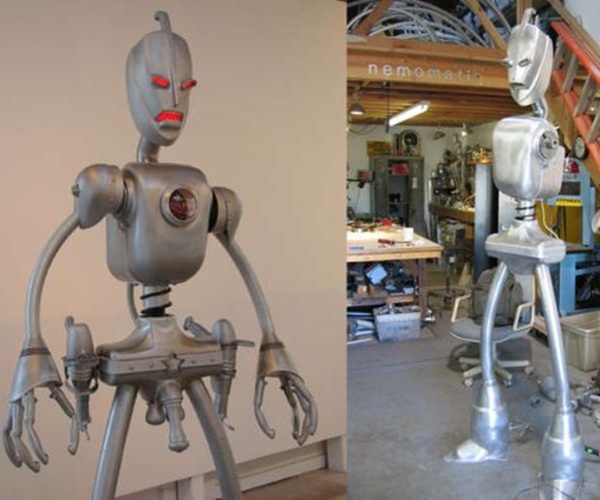 This robot sculpture by Nemo Gould is titled "General Debris", as different waste materials like vacuum cleaner attachments, food processor, railing sections, light fixtures etc, have been recycled and put together to give it a form of a Robot.
3. Recycled kinetic sculptures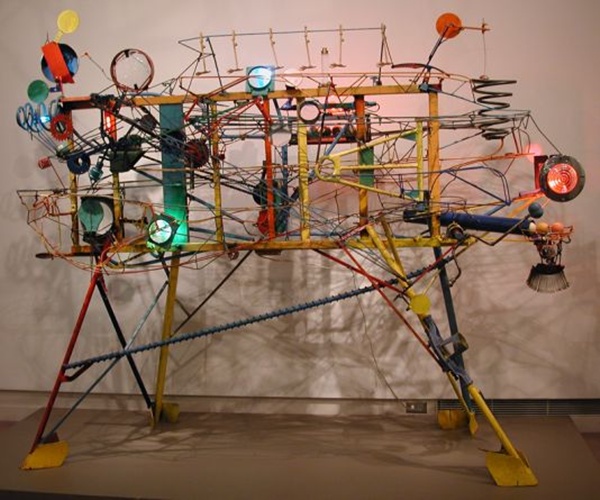 This piece of art has been created by Andrew Smith, an American artist from Lehi, Utah. It is a composition of a group of colorful and complex kinetic sculptures which have been made out of waste products from the junk yard.
4. Chris Cole's Recycled sculptures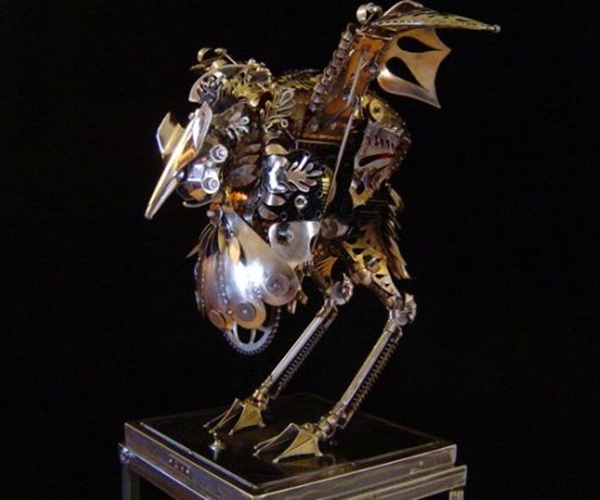 This kinetic sculpture of a bird, like all the other works by designer Chris Cole, is inspired by nature and its various forms. His works are all kinetic and they run either on a motor or a hand crank.
5. Kinetic Choo Choo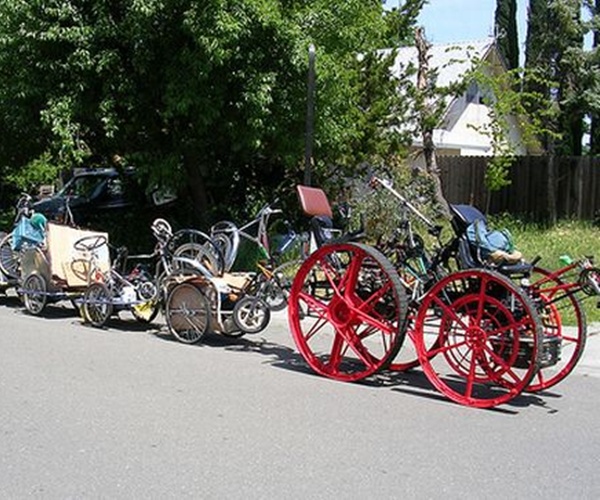 This Kinetic Choo Choo has a number of Whymcycles pulling one another. It has 2,268 gears, a Honda 3813 riding lawn mower, 8 chains, 7 derailleurs, fold-out wheel paddles, trampoline hoop wheels… all recycled to form this piece of art.
6. Jim La Paso's recycled metal kinetic sculpture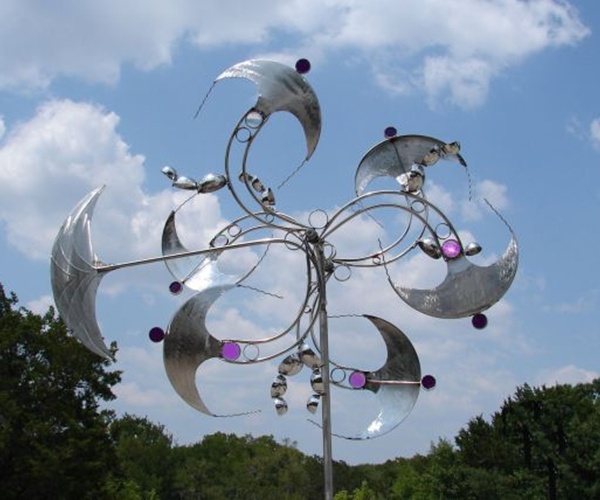 Designer Jim La Paso has used copper, brass, aluminium and stainless steel to make this piece of art. Plastic bearings are used to ensure lengthened durability. Moreover, the bearings are immune to salt water and need no oiling.
7. Machines Animals sculptures by Chris Cole
This piece of art by designer Chris Cole is again derived from his inspiration by the forms of nature. He uses parts of old bike to create this beautiful kinetic sculpture.
8. Jeremy Mayer Recycled Typewriter sculptures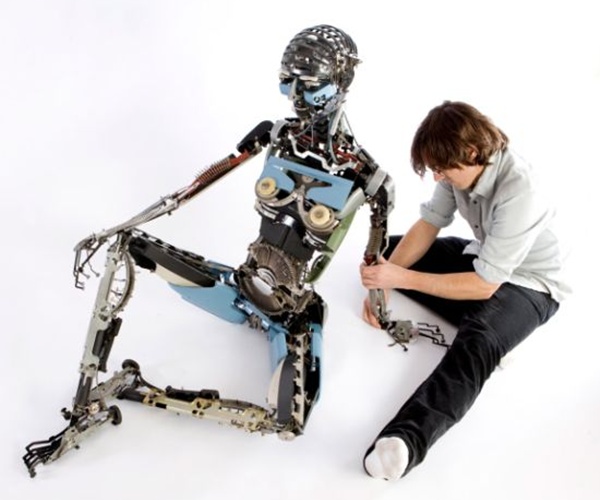 Jeremy Mayer, a California artist, has made this beautiful Human figure-inspired kinetic sculpture out of old and discarded parts of typewriters. He intelligently puts together all the parts to give his his piece of creation a perfect curvaceous form.
9. Kinetic Steel Sculpture titled "The Evolution of Flora"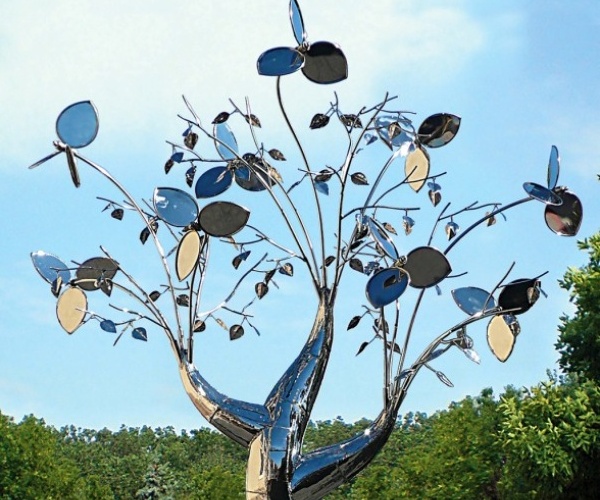 This 10-11 feet tall and 5-6 feet wide piece of art is a creation of Jason Stillman. Presently it is installed at Performance Arts Centre. The leaves and the flowers move while the air flows, making it more realistic in appearance.
10. Giant Squid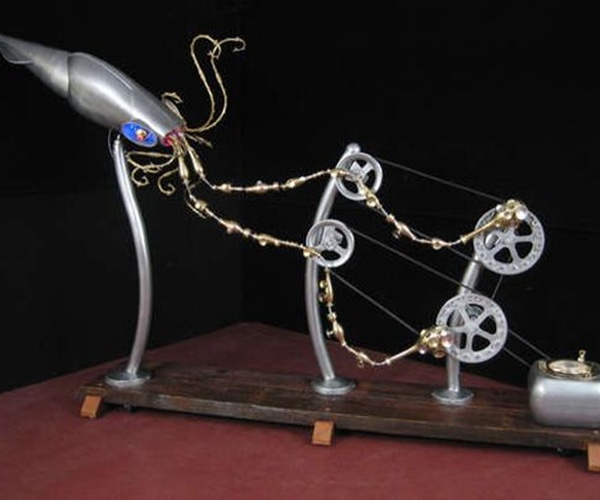 This kinetic sculpture by Nemo Gould titled "The Giant Squid", has been made out of discarded materials like large street light covers, brass chandeliers, candle sticks, fireplace hardware etc.
11. Discarded road signs morphed into amazing kinetic sculpture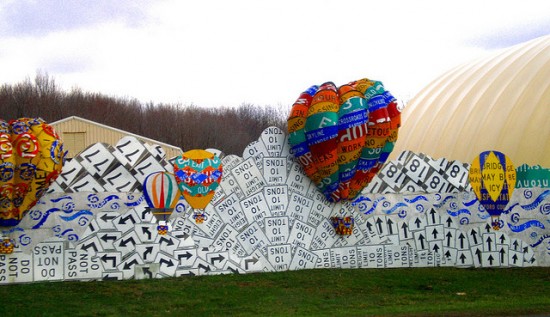 You might have seen neglected road signs along a busy highway so many times. However, have you ever taken time to think if these could be morphed into sculptures, and those too – the kinetic ones? RBTS, a participatory community-based public art project led by Arts & Environment Initiative Director and artist Amara Geffen, seeks to bring it about with some distinct solar- and wind-powered kinetic components.
Read Between the Signs is a series of arty fences erected along PennDOT's storage lot and the gateway to Meadville. The sculptural installations are a sort of homage to the Allegheny Mountains, the French Creek watershed, roads, PennDOT workers, farms and forests. Make sure to have a peek at this ongoing roadside intervention, which locates itself beside Route 322, if you visit Meadville anytime soon.
12. Squirrel-powered kinetic sculptures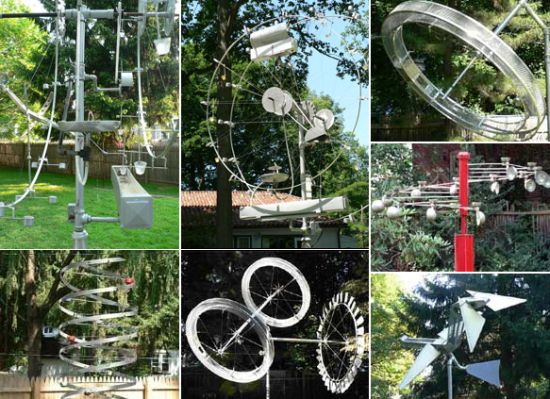 Making lifeless objects work for you takes nothing but some minor nudges at times. However, to expect it from beings as agile as a squirrel is a quixotic ask (not a dream, since it's accomplished) for sure. Narberth resident Bill McHugh, now in his 80's, has employed numerous of them to keep his kinetic sculptures, planted in his backyard, in motion. Backyard in Motion, rightly dubbed so!
In Sabine Avenue, you could see the Swirl-A-Squirrel sculpture that features a pole-mounted large wheel with a cage-like appearance. Hungry squirrels – searching for food – start propelling it when it is fed with peanuts. Thirty peanuts a day mean 2,000 peanuts per week, or a 50-pound bag every three weeks.
Next, the Squi-Rel-A-Tor is definitely a more complex machine with two separate wheels moving in opposite directions. His other 'mechanical marvels' include the Hitchcock that offers a place for rest to 32 birds at a time.
The Pterodactyl utilizes solar power to flap its wings and making some facial movements.
13. Hawkeye 8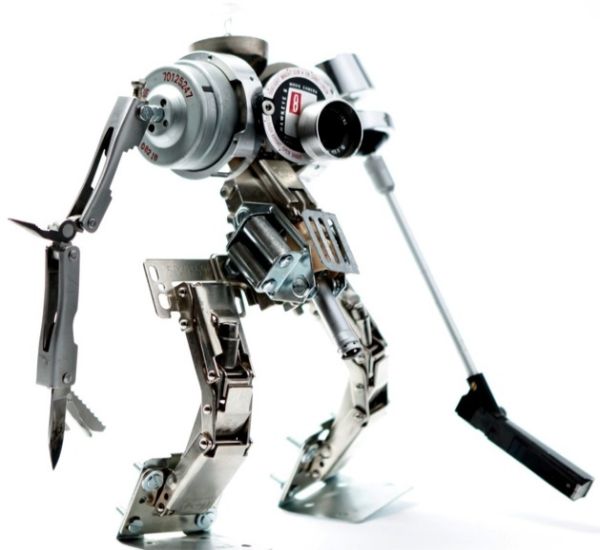 The Hawkeye 8 is one of the coolest robot ever made out of discarded electronic materials. This robotic sculpture was made in 2008 and since then have been gaining popularity for its awesome design and cool attractive looks. This robot has a dimension of 26 x 23 x 12 cm. This robotic invention includes everything a real robot has. It is provided with a camera, hardware, a knife and a lamp. The knife part is attached to the hand which gives a stunning look to it.
14. Aiko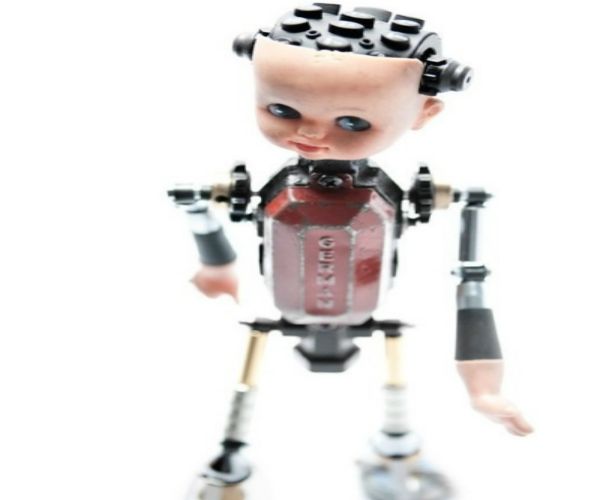 The Aiko is a cool doll like structured robot that is given a virtual face which looks gorgeous. This super-hot model was designed in 2010 by an Italian-based artist Andrea Petrachi. It includes all the recycled products ranging from kitchen products to the camera lenses and other electronic parts. The face provided to the robot is actually a Spanish doll face and the head is provided with up comings of small spots that is meant to be the brain openings. This toy like structure looks pretty and is a good creation by the artist.
15. Eeviac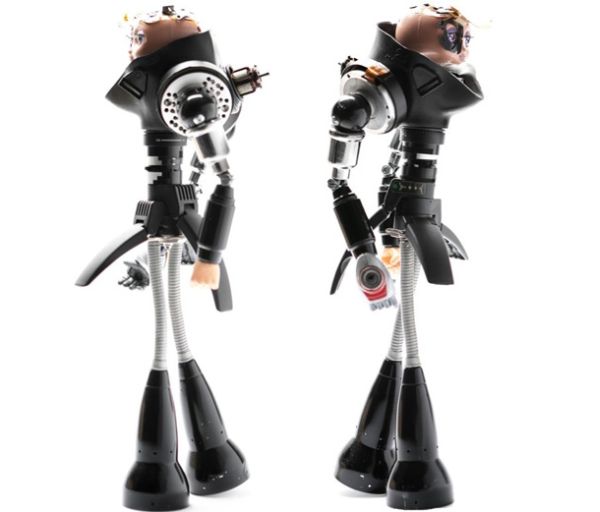 The Eeviac robot sculpture looks something like an alien robot which we used to see in cartoons. The black outer and the unique semi-electronic face look gorgeous and the structure is what makes the most of the robot. This cool robot was launched in 2010 by the Italian based artist Andrea Petrachi. It has a dimension of 47 x 16 x 16 cm. The Eeviac is completely made put of electronic elements and protective mask which provides it a strong safety.
16. Konus 5003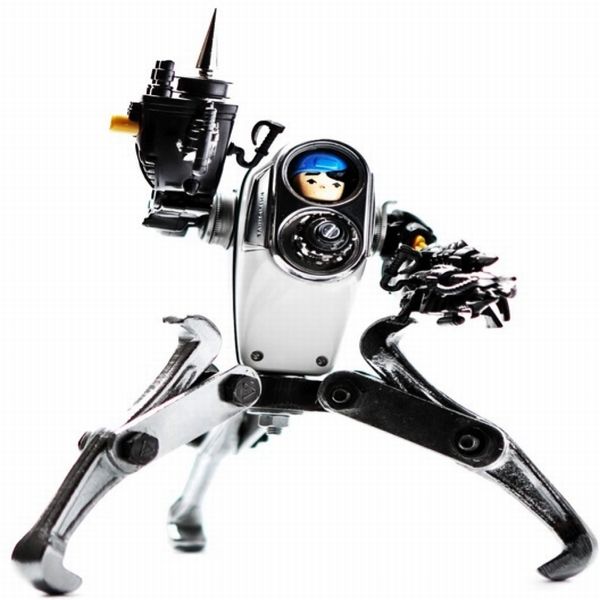 The Konus 5003 looks like a super giant crusher robot which is given a hand that consists of blades which are quite harmful to use. This model was created mostly out of microscope parts and few electronics part. The legs of the robot are the base of the microscope which are used effectively to make something creative. Launched in 2009, this robot has a dimension of 18 x 20 x 23 cm.
17. Octophille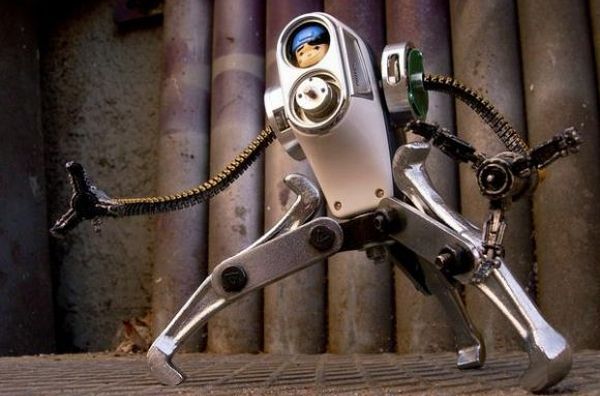 Octophille is half derived from marine organisms and half from the robot concepts. It looks like a killing robot which features the super-hot Swiss army knife and the hand extensions that looks something like what we saw in the Spider-man movie. This is a complete awesome robot that is surely going to drive its viewers crazy. It was launched in the year 2009 and since then has been a sculpture of attraction and people have positively commented on this masterpiece for its design and looks. It has a dimension of 18 x 20 x 23 cm.
18. Swhirl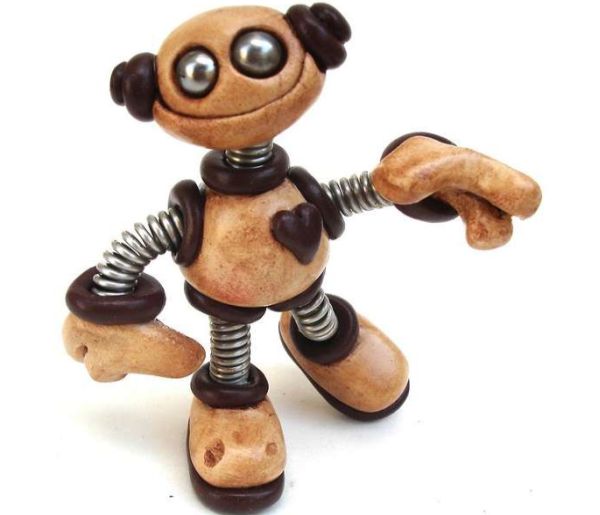 This robot structure is quite different and attractive too. This toy like robot is given a face of a duck like toy and is provided with three fingers. This is a complete toy structure with a tail given at the back portion and the tiny thin legs. The legs are made out of electronic discarded elements and look really cool. The creativeness of the artist is seen in this sculpture and no matter what he makes, his designs are always appreciated. Also the robot is provided with a back portion which looks quite similar to a rocket which is ready to be launched. This cool structure was launched in 2009 and has a dimension of 25 x 22 x 18 cm.
19. Slimchemist
This is a real monster robot that is made in mind keeping the transformers that were huge and had a motive towards saving or destroying our Earth. With similar looks, the robot is a rage in the toy industry and for what it delivers; this robot is hard to miss. It is also provided with the legs made out of microscope parts and it has a Chinese face that adds to its beauty. The hand openings are like that of a terminator and are also provided with an ejaculation base. It was also launched in 2009 and has a dimension of 31 x 17 x 12 cm.