With a growing population and migration, owning a house in cities is becoming more and more difficult. However, on the other hand, it is also becoming ever more important to have one. The biggest problem is that of space. It is impossible to construct new houses without breaking down the old ones. Nevertheless, there are one way out of this situation. Designers are coming up with 'Nano House' designs. Take a look at some of the most innovative housing solutions for people who have to live a nomadic existence. All these designs are products of revolution in portable green housing.
1. Tiny Houses by Tumbleweed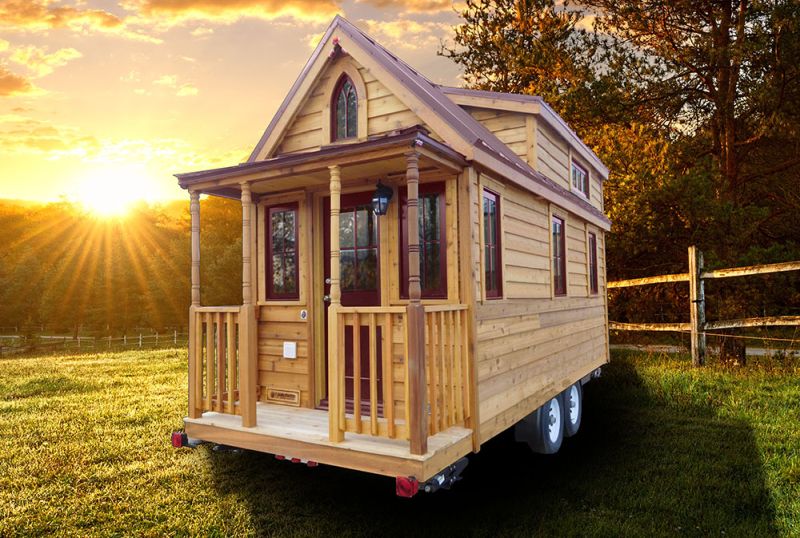 The Tumbleweed Tiny House Company is Jay Schafer's contribution to low impact housing. Building on his passion for what he calls subtractive design and predominantly using wood, steel, and aluminum he has come up with the tiny house concept. The house is prefabricated, portable and environment-friendly. Ranging from 90 to 180 square feet, his wide range of designs incorporate all the luxuries of larger conventional homes. In addition, these also include from fire places to air conditioning. Furthermore, most of the houses are designed to be mounted on trailers. In fact, several of them meet legal requirements for travel on US roadways.
2. The Micro Compact Home (m-ch) by Richard Horden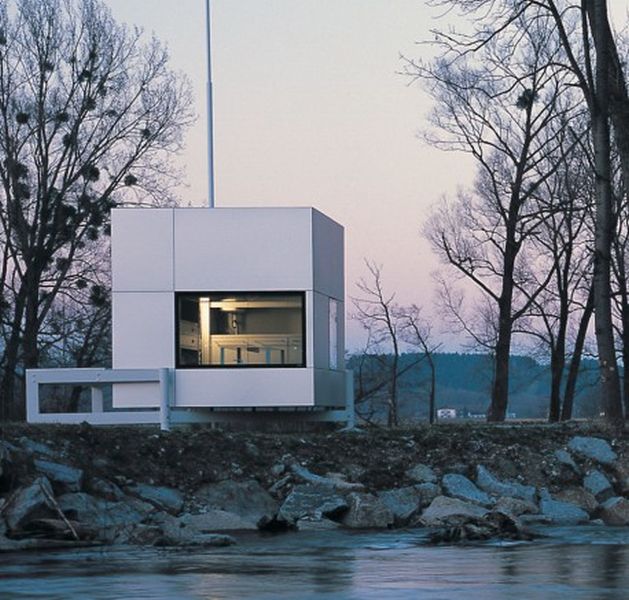 Image Source : microcompacthome.com
This is a 10X10 cubic home design for two people. It runs on solar and wind power and focuses on essentials. Designed for short stay or weekends in mind, the m-ch draws on the scale and order of Japanese Tea Houses. Built with aluminum cladding over a wood frame, this nano home packs in two beds. In addition, it has a five-seater sliding table, shower and toilet cubicle, and a full-fledged kitchen with all appliances.
3. Walden by Nils Holger Moormann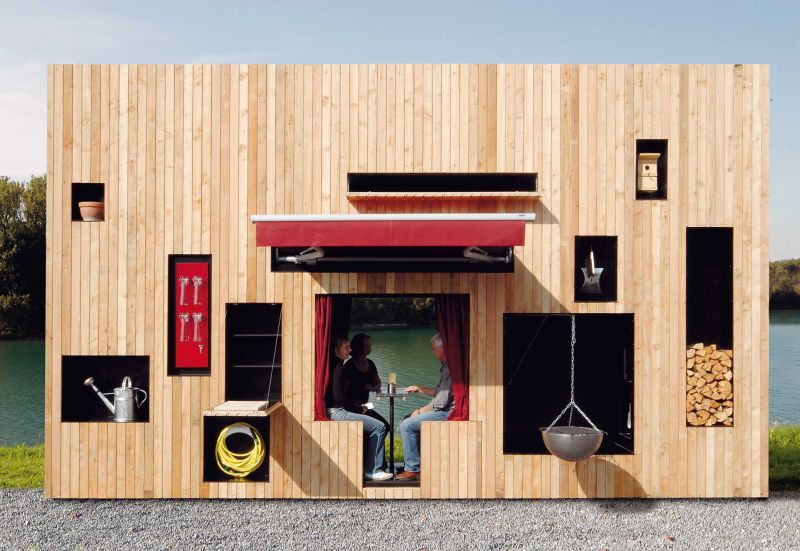 This is a slim two-storied design inspired by simple living principles. This is forward by Thoreau in his book with the same name. Although designed as a summer cabin for outdoor enthusiasts, this sleek prefabricated and portable nano home incorporates distinct living, dining, study, and sleeping spaces. Both the interior and exterior walls accommodate built-in storage solutions. The predominant use of wood addresses carbon storage and the abundance of windows and skylights assure adequate natural light.
4. Ecopod – The Shipping Container Home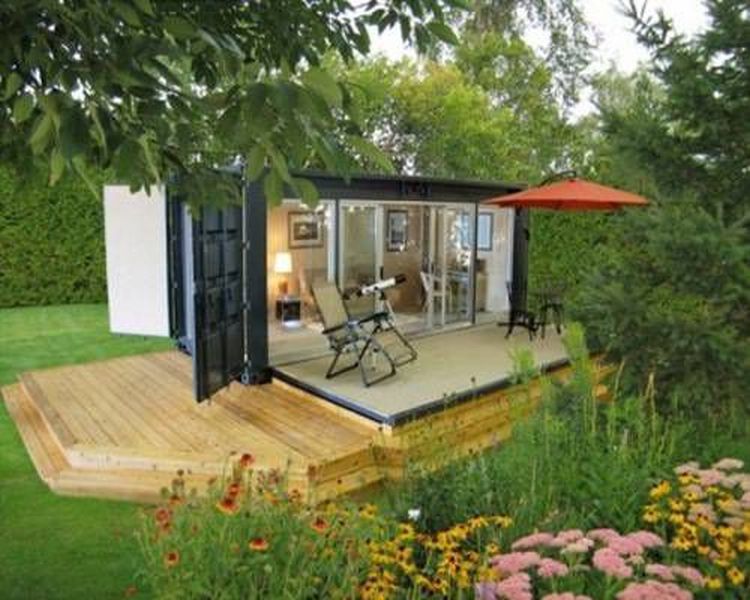 Image Source : media.mnn.com
This portable home is built from 8X20 shipping container. It is powered by solar energy with the help of an 80-watt panel. It incorporates recycled car tires for the flooring and wall insulation developed from soy-based products. Furthermore, using wide doors and windows, it allows for natural light and ventilation.
5. Werner Aisslinger's Loft Cube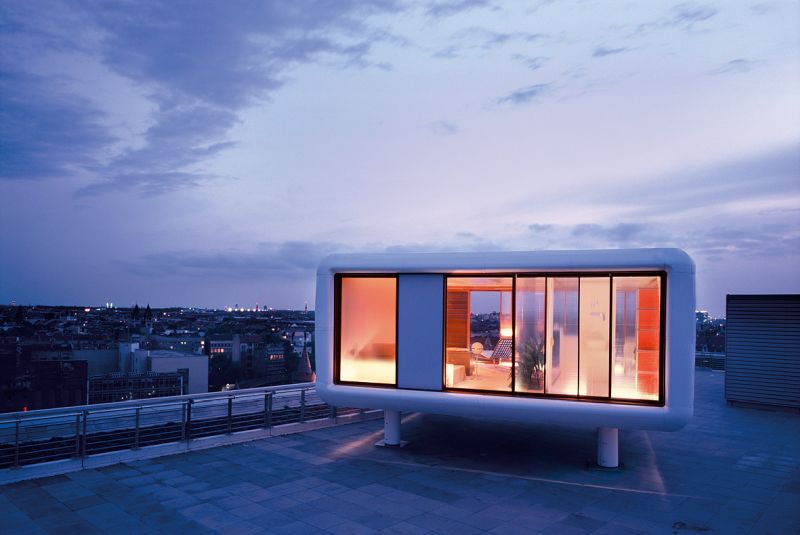 Often referred to as the portable penthouse, this is a cube shaped modular living unit meant to be installed on rooftops of apartments via crane or helicopter. In addition, with customizable interior partitions and exteriors, and extensive use of windows, this minimalistic design is aimed at the urban nomad wanting to catch a piece of penthouse living with a small ecological footprint.
6. The Gypsy Junker by Derek Diedricksen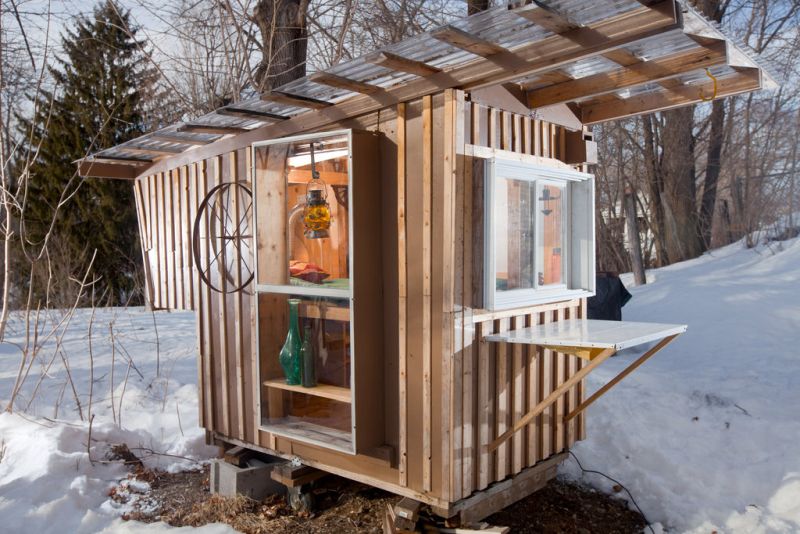 Image Source : static01.nyt.com
This one is a true "found object" since it eludes the radar of most ecofriendly scanners. Diedrickson's designs are focused on the two principles of low cost and upcycling, the process of adding value to discarded junk. With transparent roof and walls built primarily from collected wood, these houses are a far cry from the sleek looks of the more commercial designs. His Tiny Yellow House video blog on YouTube captures his philosophy, one that has seen him being called "a mad scientist with too much lumber on his hands.
7. The E-House by Envision Prefab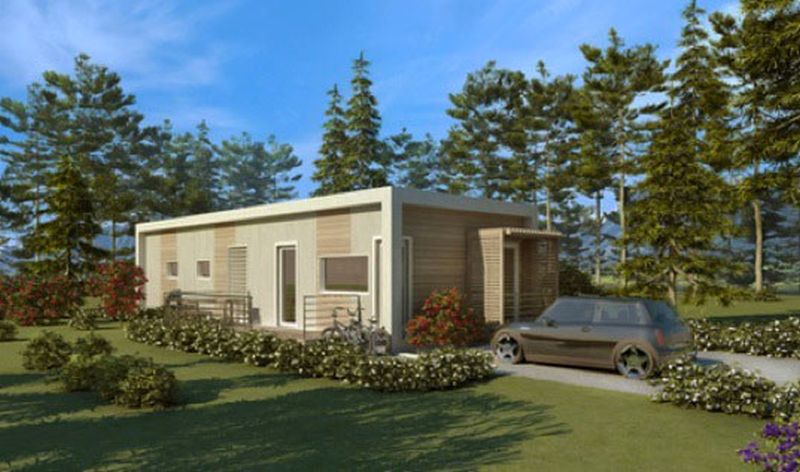 Another shipping container house, but much larger than the others this range of homes come in the range of 740-1300 square feet and incorporates construction standards that conform to all major green building standards globally. The prefab E-House offers LED lighting, graywater recycling, nontoxic insulation, and waste recycling, and composting systems. The house runs solar energy and offers all the amenities and comforts of a conventional brick wall home.
8. The i-House by Clayton Homes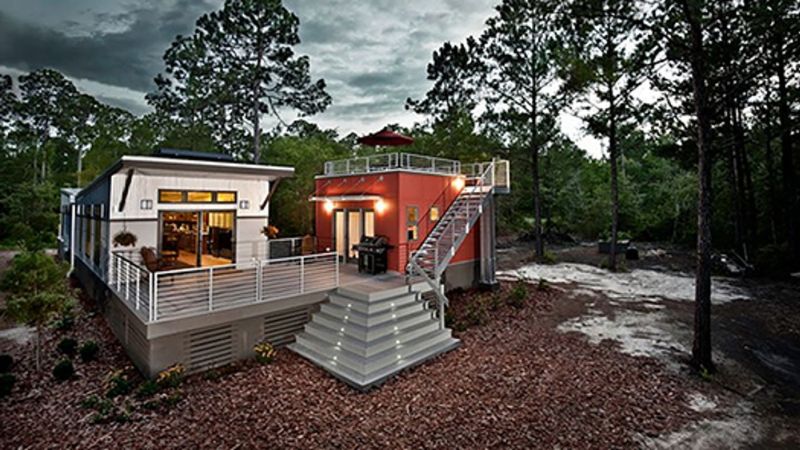 Built from prefabricated cement board and metal siding, the i-House incorporates the best of green design in its unique approach of combining aesthetics with utility. It uses decking made from recycled materials, bamboo floors, tankless water heating, and a rooftop rainwater catchment system that integrates with low flow water saving fixtures to create a really small carbon footprint.
9. The Rolling Stone Camper by Nice Architects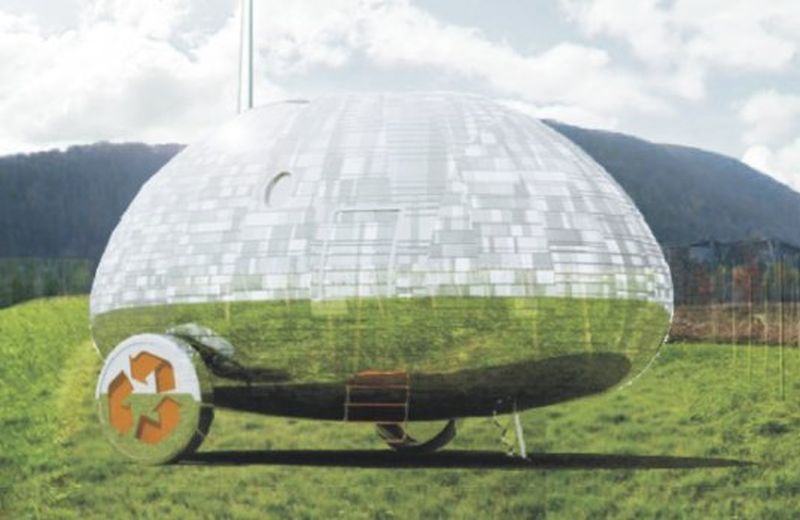 The Rolling Stone Camper is environmentalists take on the traditional caravans used by our nomadic predecessors. Designed like Romany caravans, with a smooth curved exterior that helps it to blend into its environment, these campers can accommodate from 2 to 6 people. They come with one section housing a bedroom, toilet, shower, sink, and closet space and another section that is the living room with a dining area and a kitchenette. One can also open this main section to create additional living space by incorporating the outdoors. Run on wind and solar power, these campers have a rooftop water reservoir and bathtub and gray-water solutions under the floor of the camper.
10. Instant Housing by Urban Nomads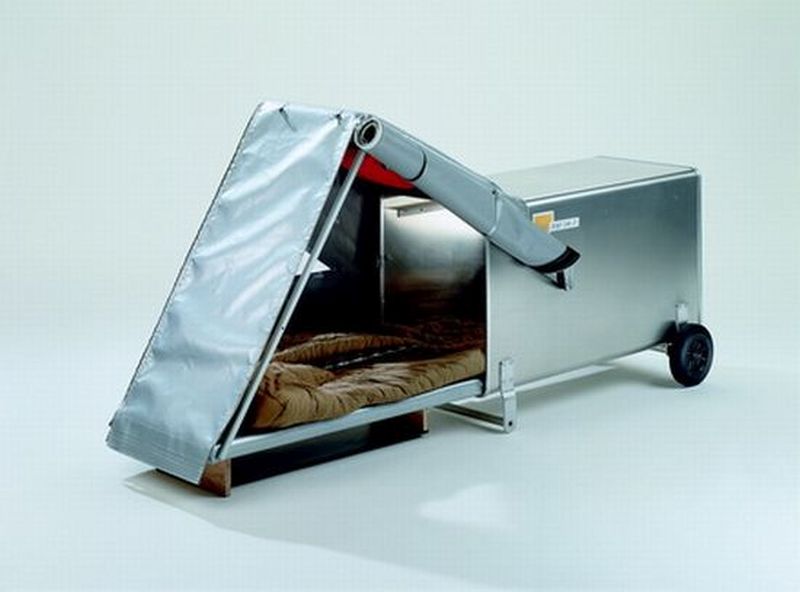 This list would be incomplete without the inclusion of Instant Housing by Urban Nomads. All of the above solutions focus on the middle class and the wealthy. The Urban Nomads' designer, Winfried Baumann of Germany, chose instead to focus on portable housing solutions for the homeless. His Instant Housing project aims at the single user who can carry his housing like a back pack, or packed into a suitcase, or by a bicycle. His designs address the basics of mobility, housing, provisions, and affordability.
11. World's smallest sustainable house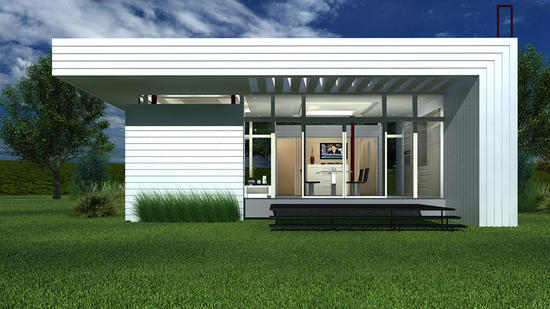 Nano, the world's smallest house, has big hopes to solve the world's rapidly increasing global housing problems. The Nano house measures 25 square meters and can comfortably accommodate a family of four.
With its creative design, the house has the ability to transform itself from a livable workplace during the day to providing two private comfortable bedrooms during the night. Furthermore, the Nano uses passive solar energy, which is completely free, non-polluting and renewable.
We are all aware that the problem of inadequate or non-existent housing has reached crisis proportions globally. Though improving housing conditions around the world is a complex issue, Nano has come up with a solution that is economically viable, sustainable and attainable.
Bridge Development has a mission to solve the housing problem around the world. "We cannot sit here and wait for the world to go homeless, we need to act now," says Gaby Strehler, the creator and inventor of Nano house in a recent national radio interview. The option is now available and anyone can afford to own a home.
Final Words
A continually warming earth is forcing our attention to our planet. We need to find an effective and sustainable solution for housing. As the world around us becomes more and more unpredictable in terms of location, cost of conventional housing, and safety. Furthermore, it is becoming more and more apparent that the growing number of people will be on the move as they go about their lives. Luckily, with so many options, the urban nomad is no longer short of choices when it comes to housing solutions.