While buying something with high aesthetic appeal, we often forget how much it damages the environment. In fact, as Mahatma Gandhi rightly put it 'There's enough in the world for everyone's need. Not for greed.' If everyone in the world focuses only on his or her needs, then we won't have to worry about the environment anymore. But does this mean that we need to give up luxury completely and live the life of an ascetic? Absolutely not. By adopting a minimalist attitude and by using only eco-friendly luxuries, we can still make a difference. Here are 10 wall clocks made using recycled materials that show what eco-conscious luxury means.
Creative wall clocks made using recycled materials
Wall clocks are among the most essential interior decoration items and hold importance because of their utility. Whether it be your home or office, you would need a wall clock to hang on your wall. But apart from functionality, wall clocks need to be stylish so that they compliment the decor of your home or office. What if you get the same utility and stylish look while helping the world go green? Yes, now that is possible with wall clocks made of recycled goods. 16 creative wall clocks made using recycled materials are listed here for you. So get ready to blend utility and style with these environment friendly wall clocks.
1. RE_VINYL retro wall clocks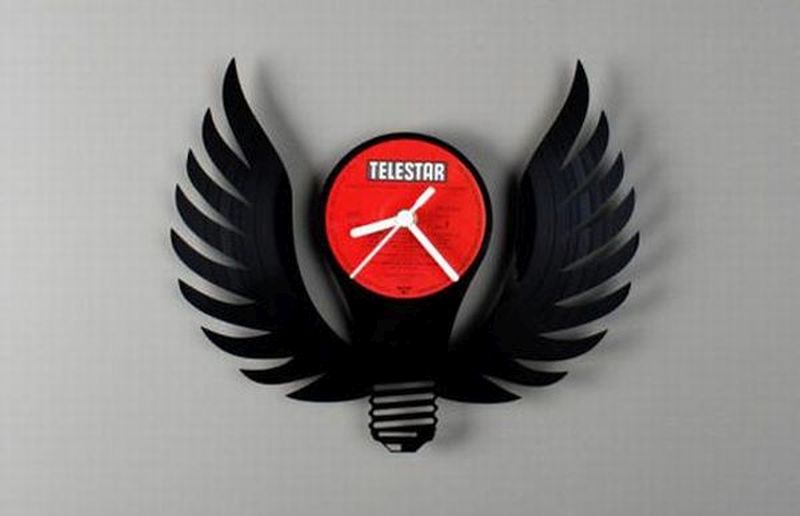 RE_VINYL by designer Pavel Sidorenko is a new range of wall clocks made out of old vinyl records. The designer has used these old records to create some innovatively designed wall clocks that have a retro look to them. You can find wall clocks shaped as victorian teapots, monkey in a hat, etc. The designer makes sure that the original labels of the vinyl records are kept intact in each of the wall clock. This provides an unique touch to the wall clocks of RE_VINYL.
2. Circuit Board Wall clock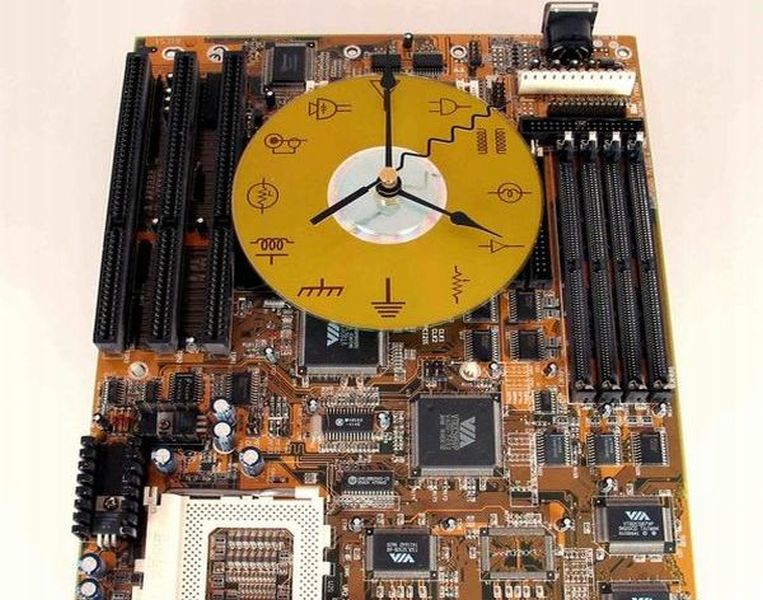 If you want something that is truly unique, something that stands out in a crowd of wall clocks, then you can choose to get yourself a circuit board wall clock. The body of these wall clocks are made by recycling very old mother boards while the face of the clocks are made of CD's with laser inscriptions on them. These clocks are completely transparent and you can clearly check what parts and machinery have been used in them and if they are original or not. You may have to suffer a flaw of these clocks which is the heavy weight of the clocks.
3. Shotgun shells clock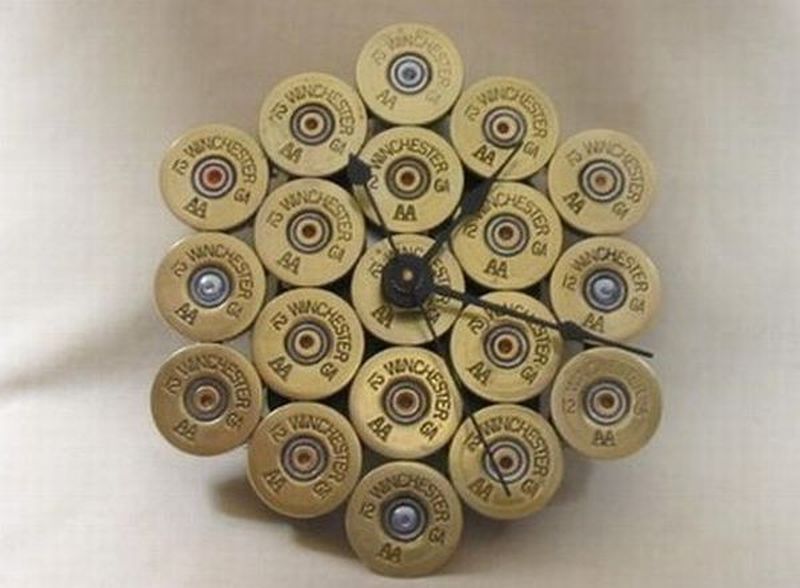 Very creative in its concept and design, this wall clock would surely make you admire the beauty of this unique piece. Made with 19 shotgun shells, this beauty would be a prized possession for any person with an enthusiasm and love for gun collection. While 12 shells make for the outer circle depicting the 12 hours of the day, the rest of the shells make the inner circle of the clock thus providing strength and balance to the clock. The shell at the core or center holds the black hands of the clock. These shotgun shells are put together by hand and therefore each of these clocks look different from the others even if the basic concept or design is the same.
4. Recycled aluminum hubcap clock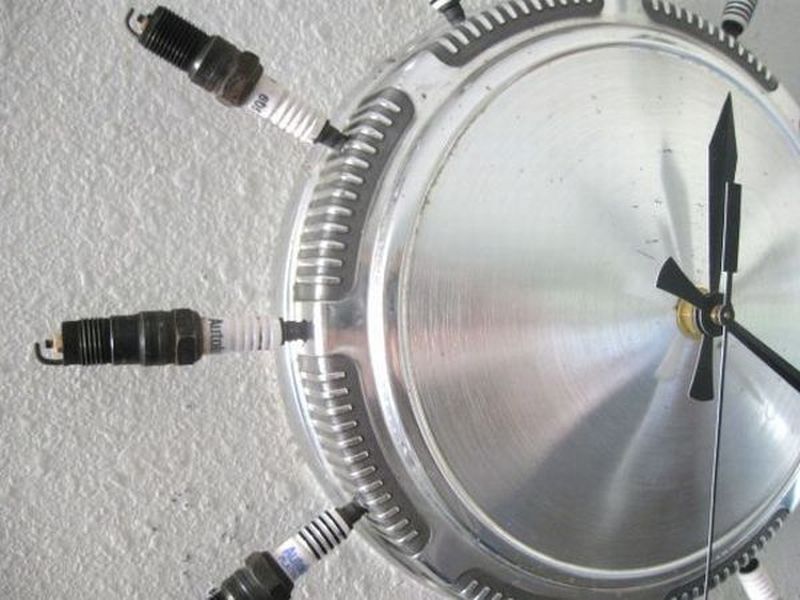 Did you ever think that you can own a wall clock made of a hubcap? Now you can. These clocks made of old, aluminum hubcaps do catch the attention of people. The spark plugs give the vintage-meets-modern look an additional zing. There is a small remote speaker in the clock that rings Westminster to alert of passing of one full or half an hour.
5. Recycled Apple Powerbook Cover clock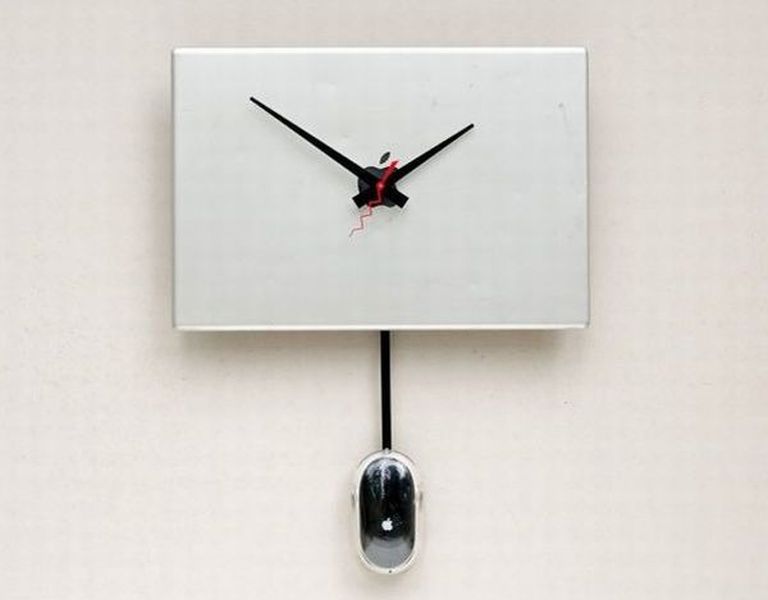 If you are a geek who loves to add a geeky touch in every corner of the house, then this one is surely going to impress you a lot. Made out of recycled Apple Powerbook G4 cover, this wall clock looks stylish and sophisticated. The use of recycled Apple mouse to make the pendulum of the clocks adds to the beauty of these clocks. Since these clocks are made of recycled items, so you may not find them completely spotless. Most of the times there would be scratches in them but even that can not reduce the appeal of these clocks.
6. Old Turntables retro wall clocks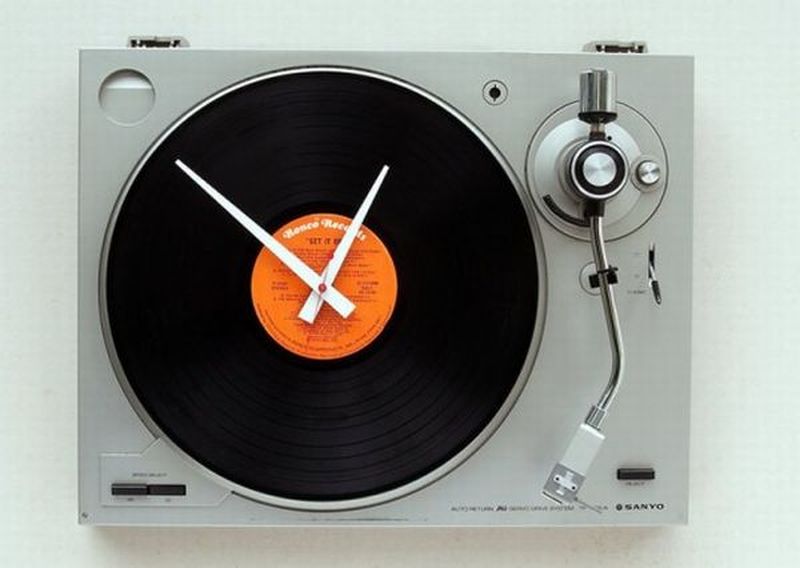 This concept transforms old, broken and useless record players into attractive wall clocks. While the body of these clocks flaunts use of recycled turntables, the face of these clocks has old records written all over them. The old record players used to make these clocks are artistically designed and hence, add that artistic as well as vintage look to your home decor.
7. Recycled Magnetic Tape Reel Clock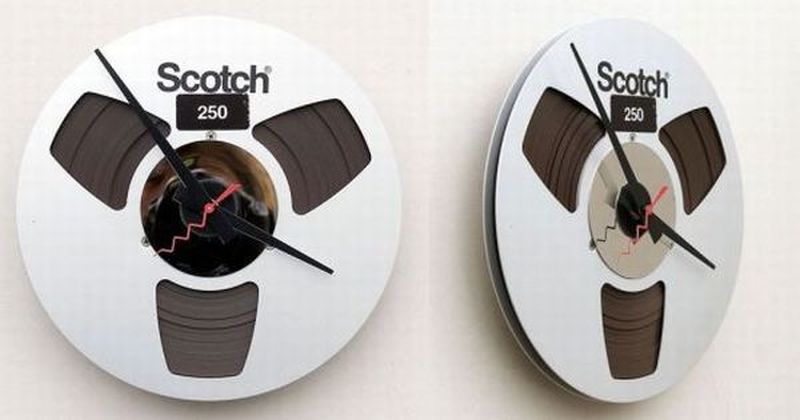 Another lovely wall clock that geeks would appreciate for sure . Made from recycled computer hardware drive and Scotch magnetic tape reel, these clocks are 10 inches in diameter and look truly elegant with distinctive design and style. Furthermore, they are capable of drawing eyeballs and attracting a few compliments too.
8. Recycled bike wheel clock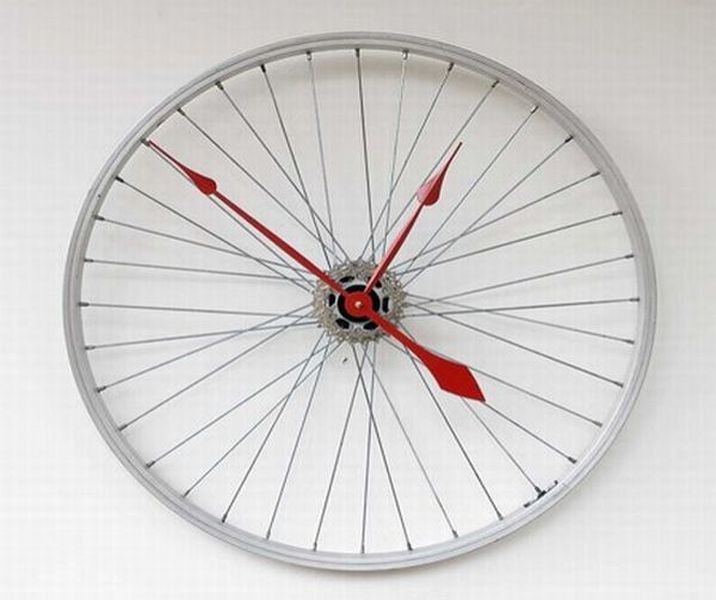 A clock master from Charlottesville is the innovator of this unique design. He has used old bike wheel of aluminum to make this wall clock. With a diameter of twenty-two and three-forth inches, these wall clocks are quite large in size. These wall clocks are very simple but highly fashionable, trendy and elegant.
9. Clockpops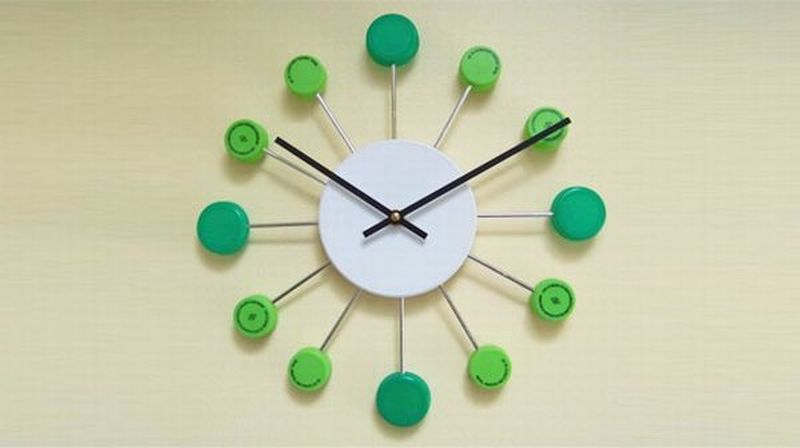 Made from scraped plastic bottle caps and jar caps, these wall clocks can brighten up your living space in a stylish and green way. These wall clocks are available in a large variety of shapes, sizes and colors. You can make changes to the color combination of these clocks. In doing so, they would go with the theme of your home or office interior.
10. Recycled Vending Machine Coffee Cups clock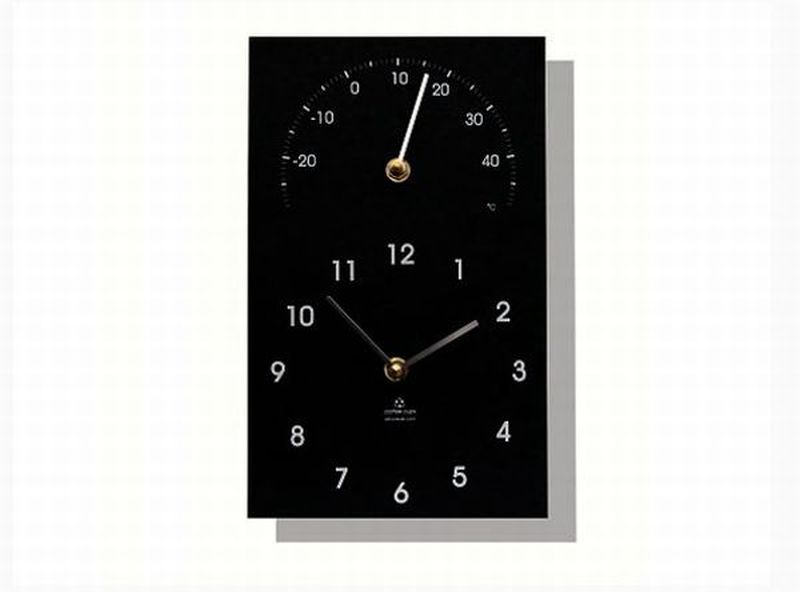 This design accommodates a room thermometer in a wall clock. Coming from the staple of Ashortwalk, each of these handcrafted wall clocks is made from 25 vending machine coffee cups. These cups are sourced from "save-a-cup" scheme in UK. The cups are cleaned, melted and remolded into this chic, modern look. These recycled clocks add a stylish look to any interior decor while helping you to opt for something that is ecofriendly and green.
11. Lord of the Time Rings Recycled clock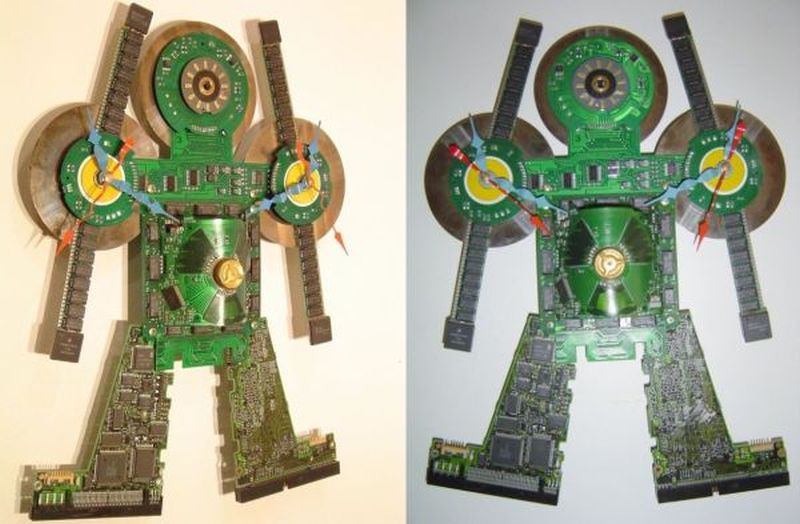 Recycling art is a significant thing in the modern age. How will it feel to have a clock ticking on your wall that is completely made from old computer parts? It will not only be a one-of-a-kind piece, but will also save the environment from e-Waste. Since new technology products are witnessing sweeping price cuts, old ones are piling up in recycle bins as cyber waste. There are several enthusiastic techies and handcrafters who shape up clocks and other useful devices from old computer parts.
One such eco warrior is Alexandro Andromeda, who has made a stunning clock from old computer parts, Quartz clock and LED running lights. Dubbed the "Lord of the Time Rings", this futuristic clock looks like a mix of both, an icon from the ancient and lost civilizations and a hyper-futuristic creature out of this world.
12. Voguish Apple Powerbook Clock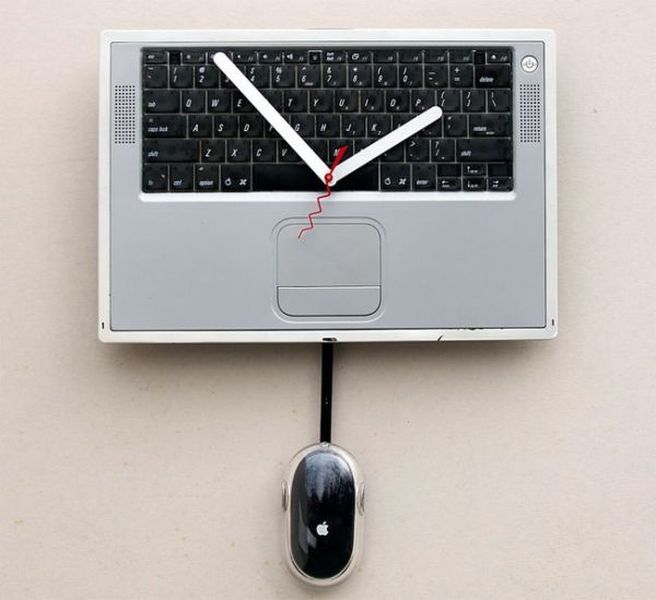 If you are the ultimate fan of Apple products and contribute the maximum to their yearly revenues by collecting all their products, then this product is a must-have for you. The Recycled Apple Powerbook Clock is a geeky, sophisticated, yet intelligent creation by the inventor. Rather than throwing away the non-working 15-inch Powerbook, it has been set up and fixed with a mouse that functions as a clock with a pendulum.
Apart from adding that extra bit of difference to your walls, the economical clock would be a helping hand toward nature also. I wonder, if the Powerbook still has some power left in it and would suddenly go Cuckaoooooo. Guess it's just an idea and someone should look it over once. This swanky clock can be yours for just $79 at PixelThis. Grab your wallet and order your Powerbook Clock. Offer valid till stocks last.
Apple has surely come to the rescue not in one but many other ways. A non-working Apple Powerbook converted into a clock, who would have thought of such a crafty idea? After all, this is what the underlying essence of recycling is all about.
13. Recycled bottle clock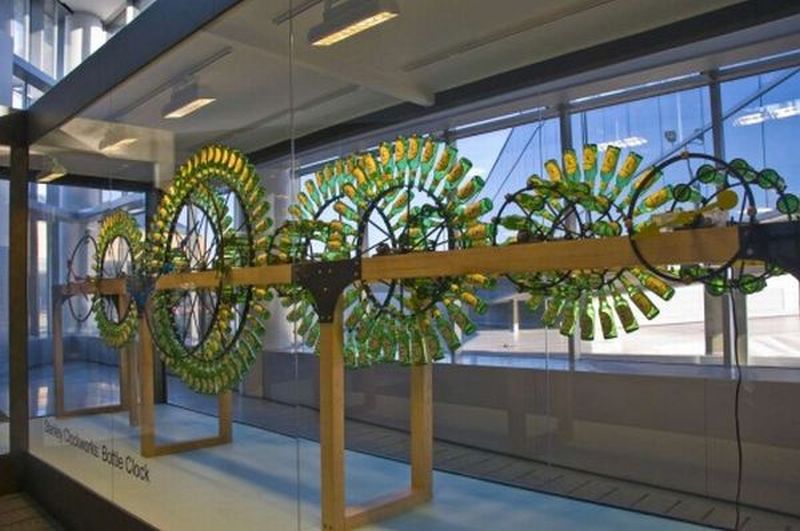 Pennsylvania has redefined the concept of looking at time. Beer bottles have been put to an ultimate use. If you have forgotten to carry your watch with you and are in search of a wall clock at the Philadelphia International Airport's Terminal A-West between now and August, then you have to check out the 20 foot long clock made of 300 recycled inter meshing beer bottles made by Rick Stanley and his son, Vince at Stanley Clockworks near Bloomsburg, Pennsylvania.
How this works is as follows. Like a normal clock mechanism, even the Beer Bottle Clock functions somewhat the same way. Equipped with three separate dials for hours, minutes and seconds, the clock boasts of having used the best beer bottles in its creation (Yuengling Lager bottles). So, in case you are drinking beer with your friends and wondering what to do with the empty bottles so that your mom does not come to know about it, juts hop over to the local recycling center to contribute to this eco-friendly asset creation. Ranging in length upto 25 feet, around 300 bottles of Yuengling Lager bottles have contributed in the making this creation
In addition to this, if you are looking for more works of Stanley Clockworks, then you are in for a bit of luck. Adorning their list is yet another piece of devious 24-foot long "Walking clock". The name only intrigues the reader. Let me go ahead and give you a brief about this as well. Just for those who may be interested in looking up more pieces of creative art by Stanley Clockworks, the Walking Clock has been devised out of a dozen pairs of shoes, which actually keep track of time by walking back and forth over somewhat 2700 miles each year. Surprising it sure is. Here is hoping that the clock would be a success and would show the perfect time, making many catch their flights on time.
14. Computer Circuit Board Wall Clock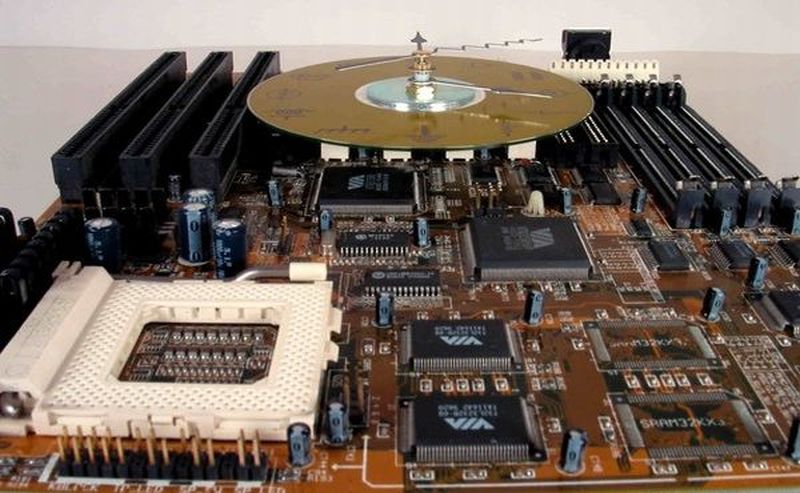 The Computer Circuit Board wall clock is a clock totally different from the other run of the mill clocks. Not exactly the kind you would expect to see in just any clock shop, for this is totally one of a kind. Geeky to the core, the clock commands dimensions of 11inches by 81/2 inches and has been credited for making use of the finest quartz clock motor. It has to be one of a kind, and for that, it needs to make use of the best machinery as well.
The transparent look proves that original parts and machinery have been used in the making and the face is adding an extra glint to the lock. A laser inscribed CD has been used as the face, into which the clock hands have been expertly fitted. Beautifully carved, expertly designed, yet locally made, the clock is a must have gadget for your home.
The clock body has been made out of a recycled mother board from some decades back. The only problem with the clock is its weight.
15. Recycled aluminum hubcap clock is a complete takeaway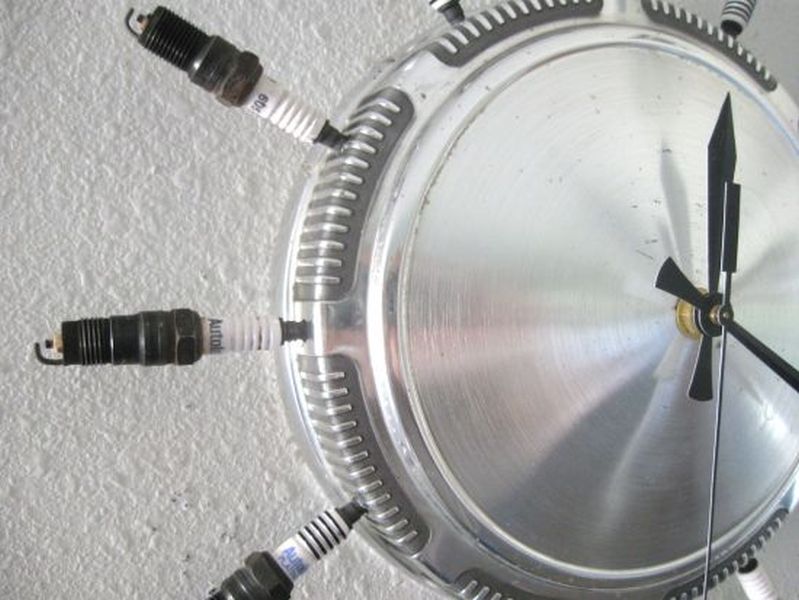 Vintage with a sleek modern edge, this landmark aluminum wall clock made from recycled hubcap is an absolute takeaway. What gives this clock a unique character are the spark plugs. The clock mechanism installed with a 'C' battery has a small remote speaker as well which rings Westminster with an on the hour count and also a half hour chime.
16. Recycled record player becomes clock for geeky audiophiles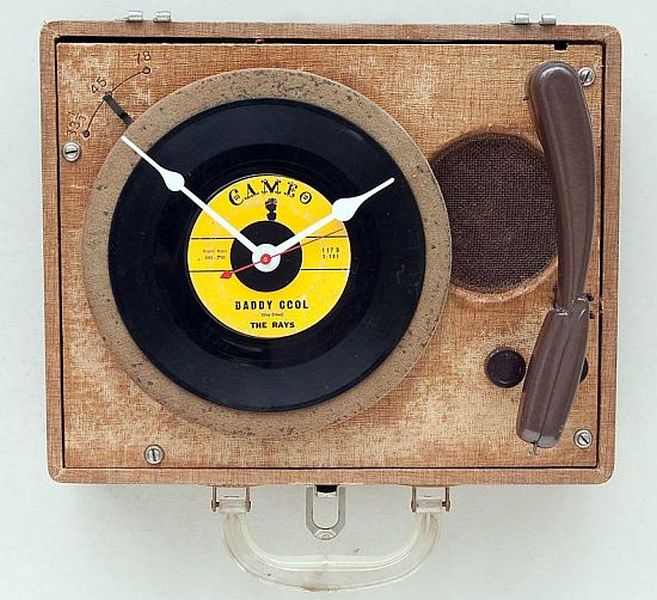 Any audiophile will sure love this clock made from an actual recycled Pioneer Record Player that uses a Scruffy The Cat album as the base of its dial. One 1 C battery keeps it running through those endless hours. With only one in stock at the moment, Etsy will ship the handmade clock with its original cover.
Measuring 12.5″ w x 11″h, the clock comes with two hooks that enable it to hang on a wall. Some minor scratches and a splotchy surface will keep reminding the buyer about its actual fabrication.