With the widespread use of recycled materials, there is no reason why the ubiquitous wallpaper should be deprived of its share of recycled components. Adorning the walls with wallpapers made from recycled materials is one of the hottest trends in interior decorations.
There are many types of recycled materials that are ideal for these wallpapers. In fact, you yourself can learn and make a wallpaper consisting of recycled glass, paper or cardboard.  The difficulty level of these depends upon how creative you are. For inspiration, you can take a look at these creative designs by both professional designers and amateurs.
Wallpapers made using recycled materials
1. Recycled Glass Tile Mosaic Wallpaper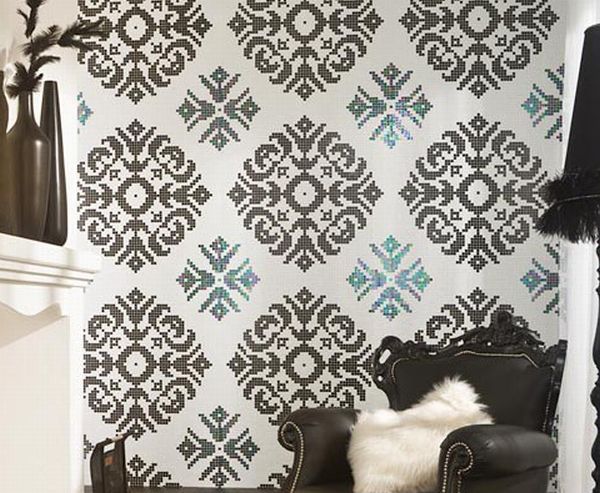 The wallpaper, part of the Trend USA's Wallpaper Collection, is made with recycled glass. Post-consumer recycled glass bottles form almost 80 percent of the wallpaper.
2. Recycled Green Garden Wallpaper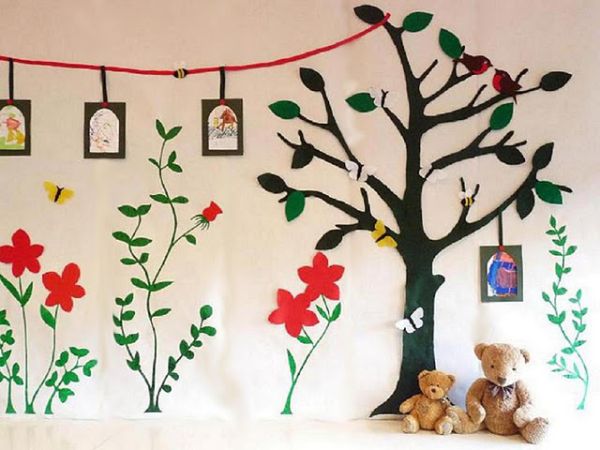 The Green Garden wallpaper is made with 100 percent hypoallergenic paper. The harmful impact of volatile organic compounds is eliminated by replacing chemical paints with water-based inks for hand printing the wallpaper. Natural wool and recycled milk bottles are the main ingredients of the felt used in the paper. The wallpaper targets young children between 3 and 8 years of age. It comes with several detachable animal and plant attachments, bunting and frames. Children can personalize the wallpaper by decorating it with their creations.
3. DIY Recycled Wallpaper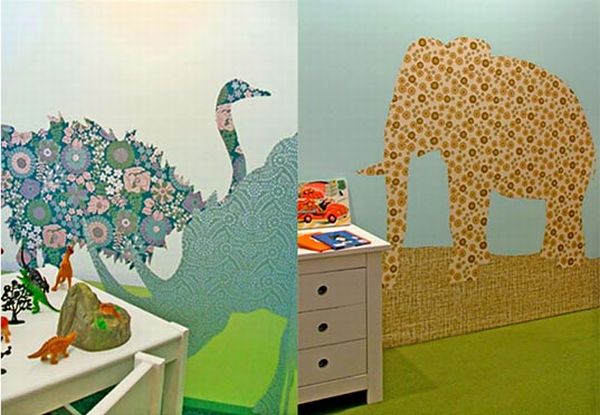 Inke Heiland, a Dutch designer, has created a DIY recycled wallpaper kit for people who want to give a personalized eco friendly touch to the walls of their rooms. The wallpaper kit contains animal silhouettes, brush, paste and a simple installation manual. Each animal silhouette is handcrafted. The wildlife silhouettes are made with vintage wallpapers. The retro aging of the papers and the printing irregularities ensure that the wallpapers do not share similar shapes and patterns. The floor-to-ceiling wallpaper tree with 3D birdhouse lamp is an outstanding item in Inke's recycled wallpaper collection.
4. Recycled toy capsules turned into bubbly wallpaper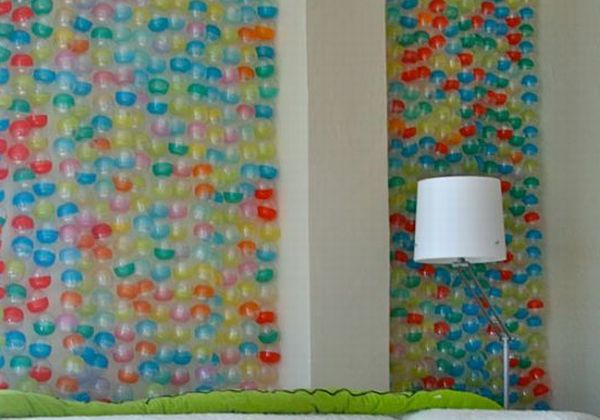 Recycled toy bubble capsules can enhance the appearance of the walls with their unique patterns. It is a cost effective method of covering the walls. The main ingredients of this unique wallpaper are toy capsules and strings for attaching the capsules to each other to form diverse patterns.
5. Recyclable 3D wallpaper tiles made of 100% recycled paper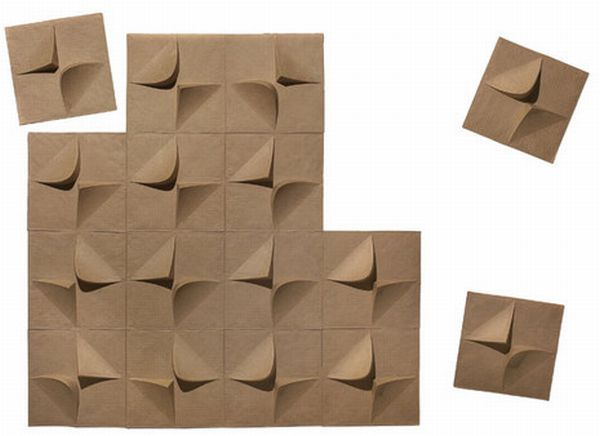 This is an interesting way of covering the empty areas on the wall with 3D structures. The three-dimensional wallpapers designed by Jaime Salm are made from 100 percent recycled paper. Moreover, the wallpaper itself is also recyclable. Each pack containing twelve tiles can cover 12-square feet of the wall.
6. Wallpaper made from sugarcane bagasse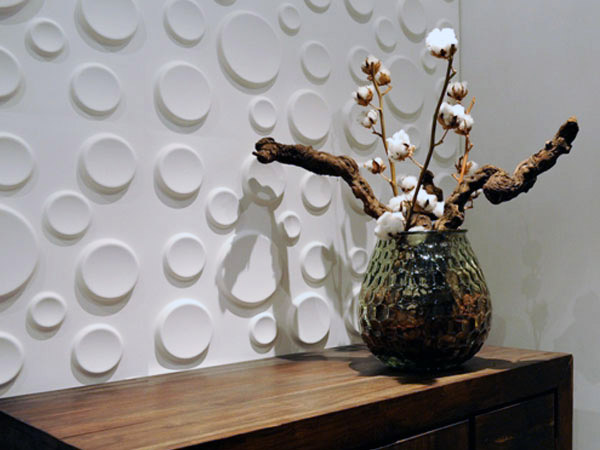 After the extraction of the juice from the sugar cane, the fibrous stalks that are left behind can be recycled and used as a material for wallpaper. The byproduct of the sugarcane industry, also known as bagasse, is widely used as bio fuel and for making pulp paper. WallArt has utilized these biodegradable wastes for manufacturing three-dimensional wallpapers. The tiles are designed by designers trained in the Dutch Design Academy. Each wallpaper pack contains twelve tiles. When arranged on the walls, the tiles create a wonderful pattern of light and shadow.
7. Ripple 3D Wallpaper by Mio Culture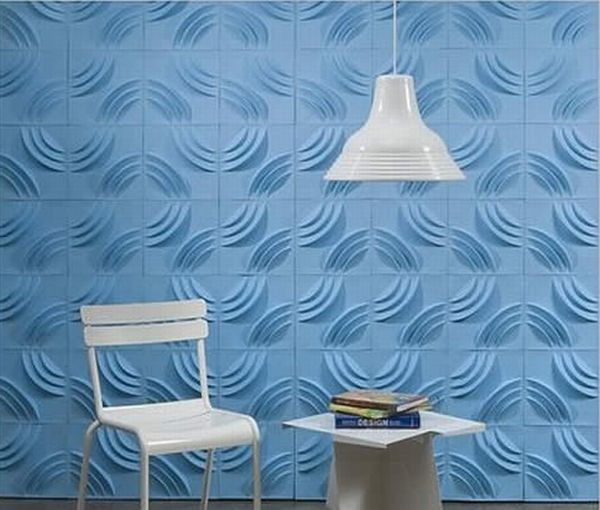 If you are planning your interior the eco friendly way, you can consider covering the boring plain walls in your house with the Ripple 3D wallpaper created by Mio Culture. Made of 100 percent recycled wallpaper tiles, the wavy pattern add a new dimension to the appearance of the walls. The tiles can be assembled either temporarily with double stick tape or permanently with adhesive. Each pack of 3D wallpaper contains 12 tiles. Diverse patterns can be created by turning the tiles in different directions.
8. Newsworthy Recycled Wallpaper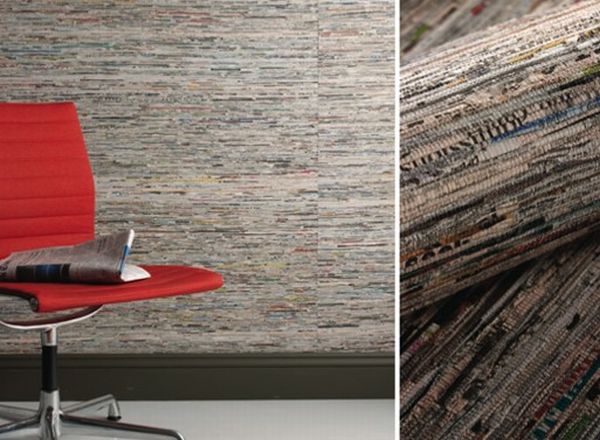 Almost 70 percent of the wallpaper is made of recycled newspaper strips. On a loom, the newsprint strips are hand woven to create the environment friendly wallpapers. You can easily spot the contents and colors of the former newspapers on the wallpaper.
9. Cool recycled wallpaper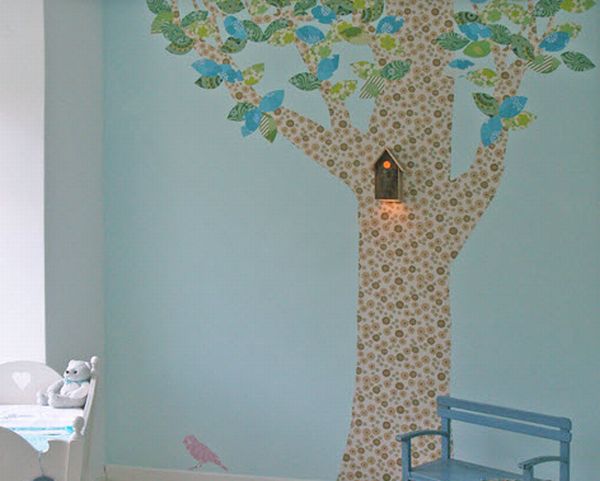 Even the discarded wallpapers in your house can be used for recreating new wallpapers. In Leiden, Netherlands, Inke Heiland used the wallpapers of the 60s and 70s for designing Wallpaper Wildlife. The wallpaper that was initially created by the designer for covering the walls of his son's room was recognized as an outstanding wall art. Unlike the traditional wallpaper tiles, the Wallpaper Wildlife pack contains cutouts of animals and plants.
10. Recycled Wallpaper by Alisa Grifo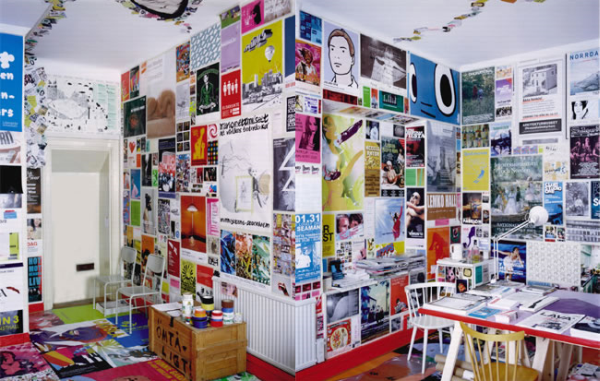 The recycled wallpaper designed by Alisa Grifo is an outstanding piece of art, comprising of a collage of pictures, posters and magazine covers. It is perhaps the most affordable way of decorating the walls.
Some more ways to decorate your home with recycled products
1. Milk Crates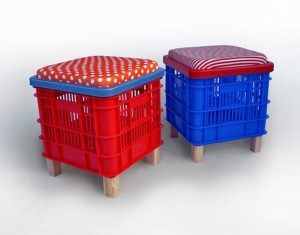 There's no use to throw out all those old, used up milk crates you have been storing in the basement for ages. Bring them out of hiding, clean them up nicely, spray paint them in attractive colors and voila! You would have some very nice, creative and functional storage bins for your books, toys and gadgets. You can cover the top of the crate with fabric, foam or a piece of wood and the crate would become another functional piece of furniture, a stool for you to sit or rest your legs on.
2. Old Books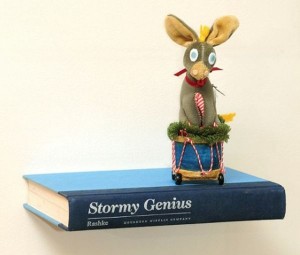 Old books usually come with hardcovers that can be transformed into small boxes and many other creative things. All you need to do is remove the pages and keep the hardcover of the book intact. Take two books for the top, bottom and sides. Glue the covers of the books together to form a box. Spray paint the outer covers in colors that you like and wait for some time for the glue to set in. By the end of a few hours, you would have a wonderful looking box to store your personal belongings in.
3. Old Wallpaper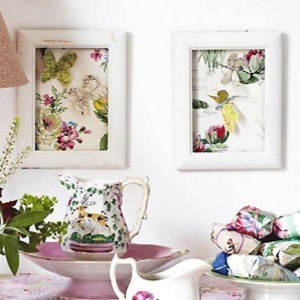 If you have scraps of old wallpaper lying around in the house, don't throw them out. Rather, cut out interesting designs and patterns from them to form murals which you can stick on the walls to create your very own work of art.
4. Old Tea Tins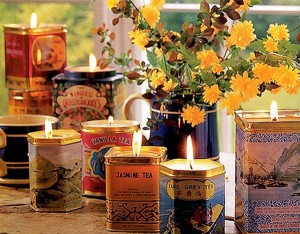 Another way to use old tea tin boxes would be to make beautiful candles out of them. These boxes would already contain beautiful designs and colors on them. So just pour some scented candle wax into the boxes. Make a hole at the top of the tin and insert the wick in through this hole. Your beautiful, homemade candle is ready.
5. Old Window Shutters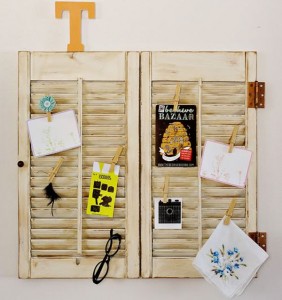 Do not toss out old window shutters. Repaint and hang them in your bedroom as letter and card holders. Using clothespins, you can attach papers, letters and cards into the individual slats of the shutter. Using small S hooks, you can also hang small knick knacks like keys from the shutter.
Final Words
Individual designers and wallpaper manufacturing companies are using diverse recycled materials to create stylish wallpapers. Recycled glass and paper are common ingredients in these wallpapers. Apart from these too, there are plenty of other materials too. Attractive wallpapers are manufactured by blending metallic glitter with recycled glass. A tin ceiling like effect is created by painting surfaces made of repurposed sand with metallic ink. Recycled materials are combined with lightweight metallics with reflective coatings to add visual depths to the wallpapers.