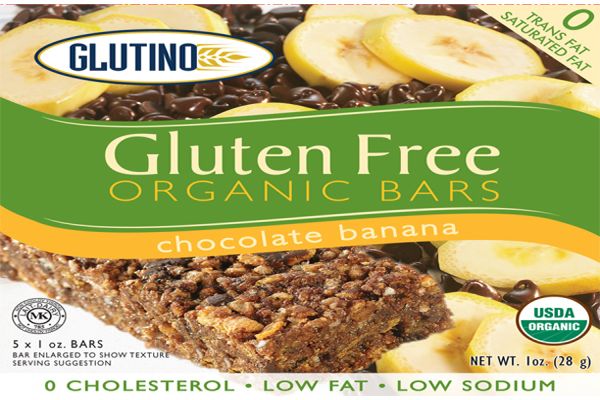 Product usefulness
Almost everyone enjoys indulging in a piece of chocolate, and organic chocolate helps you do it with less guilt. Organic chocolates have gained popularity in the recent years. Even though their availability has increased, organic chocolates are considered as a rare specialty. Owing to this fact, there are some fascinating varieties available in different flavors. Organic chocolate is made using cocoa beans that have not been treated with any heavy spraying of pesticide, and many companies in the market claim to be fair trade certified.
1. Gift box with eight organic chocolate bars
Price: $25.99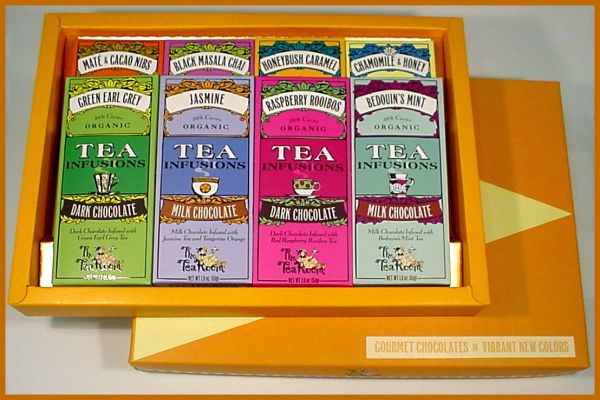 This contains a pack of organic tea-infused chocolate bars that are packed in a lavish gift box with a cute ribbon. All these are exotic chocolates that are created by blending different herbs together. The pack contains Bedouin's Mint – a soothing medley of herbal tea with ginger; peppermint and orange peel, Jasmine – a milk chocolate made from Chinese Jasmine green tea and tangerine essence; Black Masala Tea chocolate – a snack full of antioxidants; Honeybrush Caramel – A milk chocolate infused with a Honeybrush Caramel Tea; Red Raspberry Rooibos – A dark chocolate with 58 percent cocoa and a refined raspberry flavor; Green Earl Grey – dark chocolate with sophisticated flavor and Bergamot Oil; and Mate and Cocoa Nibs – 72 percent cocoa content dark chocolate blended with Argentinean Yerba Tea and Ecuadorian cocoa nibs.
USP
The unique feature of this product is that you can choose your favorite flavor according to your preference.
Pros
This product is certified by Organic Certifiers. During summer months, orders are shipped via second day Fedex only. It is available in different flavors.
2. Endangered species organic dark chocolate bar
Price: $2.50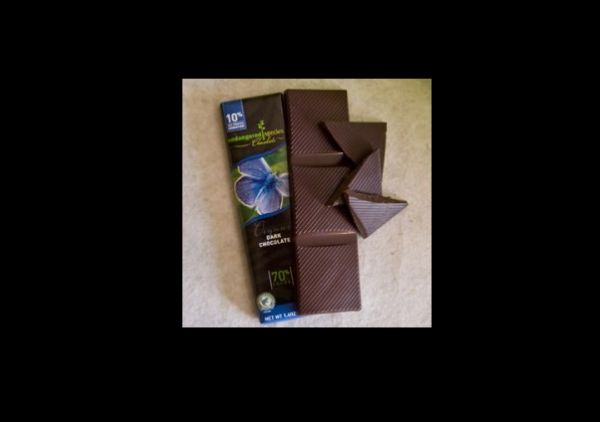 The butterfly organic dark chocolate contains 72 percent cocoa content and is an ultimate bliss.
Koala organic smooth dark chocolate and cherry with 72 percent cocoa content- Indulge in this luxurious delicacy and detect the essence of aromatic black cherries all through the chocolate bar. It gives this chocolate a romantic flavor.
Zebra organic dark chocolate and cherry with 72 percent cocoa content- A deep dark chocolate blended with refreshing orange oil to create a gentle and pleasing aroma. Just inhale and soothe yourself.
USP
The unique feature of this product is that the inside of the wrapper contains all the facts about butterflies, koalas, and zebras. This product is enjoyable as well as informative making you aware of certain facts about these animal species and about their endangerment. Such knowledge helps you to take action for supporting their conservation.
Pros
You can gain information about animals while indulging in them. These chocolates are good for health as they are packed with antioxidants.
3. Gluten free organic bars
Price: $5.99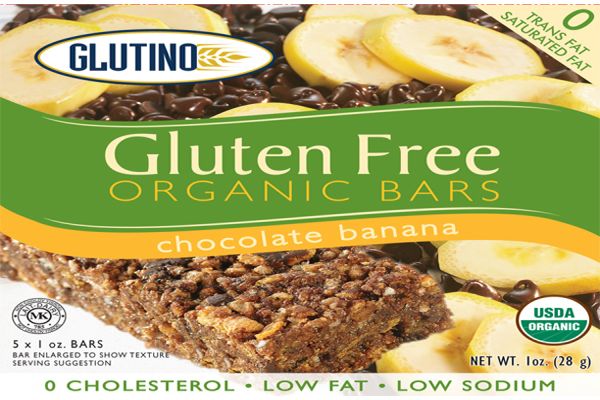 This chocolate bar is packed with health and flavor. This chewy and crunchy bar is very delicious and is packed with chips of organic dark chocolate and bananas. It is an absolute treat and is low in fat, sodium, and cholesterol. It is also trans-fat and saturated fat free. You can indulge in this exotic treat whenever you like — be it breakfast or any other time of the day. This chocolate bar is full of organic goodness. It is available in bars that are wrapped individually in a box. The net weight of this product is 5 oz (140g).
USP
The most important feature of this product is that it is completely fat free. The banana chips add a different flavor and bundles it with more health.
Pros
It can be used as a very healthy snack packed with organic goodness and flavor. It is healthy enough to be taken in breakfast or with any meal. It can also be used as a dessert.
4. Organic chocolate bars by HealthSmart Foods
Price: $2.79 (each bar)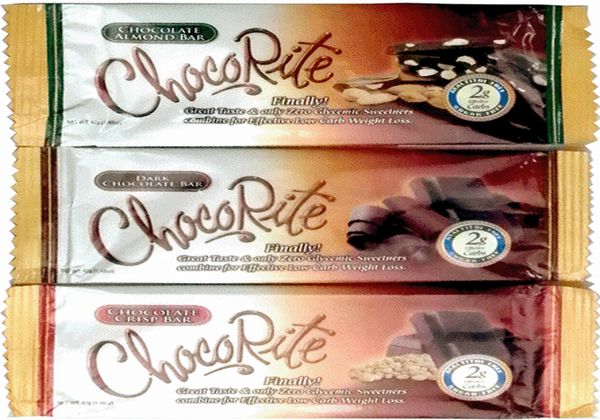 These chocolate bars made by HealthSmart Foods are free of maltitol. These are also sugar free and taste great. They are extremely low in carbohydrates with only two net carbs in a large bar. The sweeteners used in these chocolate bars are a combination of oligofructose with erythritol. You will definitely love these diabetic-friendly chocolate bars, as they will not make you lose weight the way maltitol sweetened products sometimes can. These are also very good for low carb diets including South Beach Diet and Atkins Diet. These are available in four delicious varieties – dark chocolate, chocolate almond and chocolate crisp.
USP
The most essential feature of this product is that these chocolate bars can also be used by diabetics. As compared to maltitol-sweetened preparations, these do not make you lose weight because of the low carbohydrate content.
Pros
It is available in four flavors. These chocolate bars are diabetic-friendly and are free from maltitol.
5. NuGO Organic Nutrition Bar, Double Dark Chocolate
Price: $22.34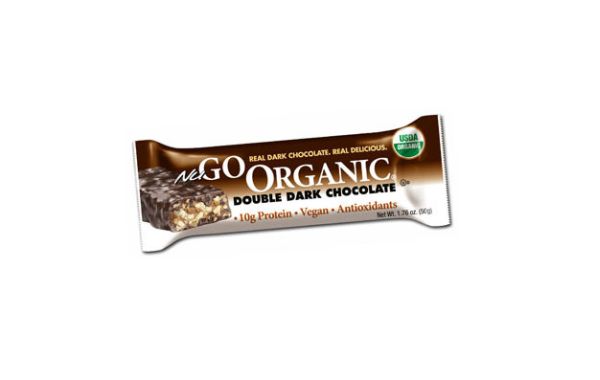 NuGO Organic is loaded with proteins and gets its delicious taste from the real dark chocolate. This exotic dark chocolate is rich in cocoa and helps in neutralizing free radicals and protects the body from cell damage. All the ingredients used by NuGO meet the standards of USDA's National Organic Program that rules out the usage of synthetic hormones, pesticides, and antibiotics. These chocolates are delicious as well as healthy. NuGO organic chocolate bars are made sweet with tapioca and agave syrup and then embodied in delicious and rich dark chocolate.
NuGO's double dark chocolate will make you wonder how this product can be so healthy. This bar, which is USDA certified, is full of vitamins and minerals. It is loaded with soy protein and covered in delicious, antioxidant rich dark chocolate.
USP
The unique feature of this product is that it is rich in proteins, vitamins, and minerals. It contains soy protein and dark chocolate and is rich in antioxidants. Due to its rich antioxidant content, this chocolate bar helps in neutralizing free radicals and protects cell damage in the body.
Pros
All NuGO products meet USDA standards. It is healthy for the body because of its antioxidant rich greater cocoa content and is free from artificial pesticides, antibiotics, and hormones.
6. Raw bar, organic, chocolate coconut
Price: $14.99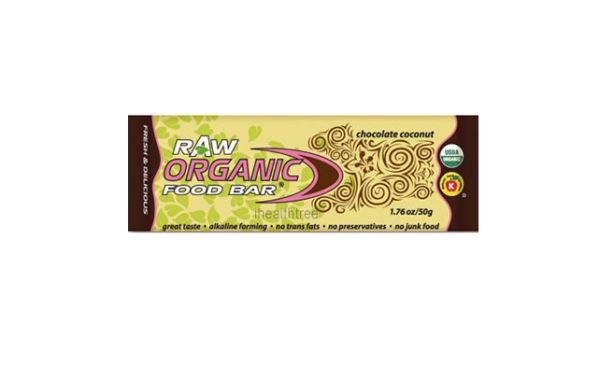 With this chocolate bar, you can enjoy the taste of tropical coconut that is blended with delicious non-dairy certified organic chocolate rich in antioxidants. A single bite of this chocolate will let you enjoy the taste that is so fine that you will be forced to think that how something that is full of health can taste so good. The main ingredients of this chocolate bar are cashew butter, organic dates, premium agave nectar, organic chocolate liquor, organic BioSprouts, and most importantly, lots of love. It comes in a bar of 50g.
USP
The most important feature of this product is that it is made with love. This healthy chocolate bar allows you to enjoy the goodness of health as well as taste.
Pros
It is cholesterol and trans fat free and contains 20 percent dietary fiber. It is loaded with proteins and contains calcium and iron. It is a healthy fat product.
7. 3 Box Organic chocolate tower
Price: $109.00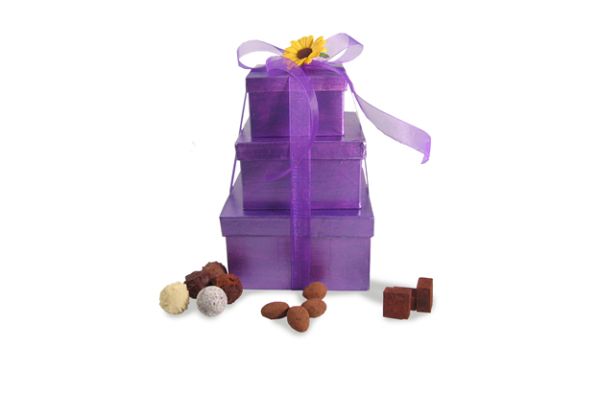 Three Box Tower Organic chocolate is fully loaded with organic chocolate, organic almonds, organic paves and organic truffles. It is a three-tier pack in which the first tier contains 18 pieces of pavers made from organic dark chocolate, the second tier contains ½ lb of almond that are covered with organic dark chocolate, and lastly, the third tier contains 20 pieces of the assorted organic truffles containing dark, white, milk, kirsh/espresso caramel. It is an ideal gift for a formal as well as an informal occasion.
USP
The unique feature of this organic chocolate is its three-tier package making it an ideal gift for friends, colleagues, and family.
Pros
It is an ideal gift pack and contains different variety of chocolate in different flavors. It is packed with organic health.
8. Raw Revolution chocolate
Price: $14.29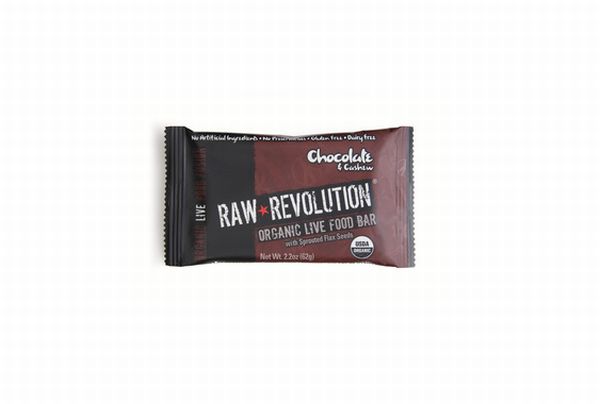 This healthy organic bar is 91.7 percent raw containing Kosher and Vegan. It is free from any preservative, gluten, soy, refined sweetener, peanuts, wheat, and all kinds of animal products. It comes in a pack of 62 g. It is totally cholesterol and trans-fat free. It also contains some amount of dietary fiber and is low in sodium. The main ingredients that are used in this product are cashew, dates, cocoa that are processed with Alkali, almonds, agave nectar and sprouted flax seeds. Because of the flax seeds that are present in this bar, it is rich in Omega 3 fatty acids that are very essential for the body. It also contains 3 g of Omega 6 fatty acids
USP
The important feature of this product is that it contains ingredients in their most raw form and least amount of processing is done on them. It also contains flax seeds making the goodness of Omega fatty acids available to the body.
Pros
The ingredients are present in their raw form and no preservatives are added to the chocolate. It is a source of Omega 3 and Omega 6 fatty acids.
9. Organic chocolate buttons
Price: $20.00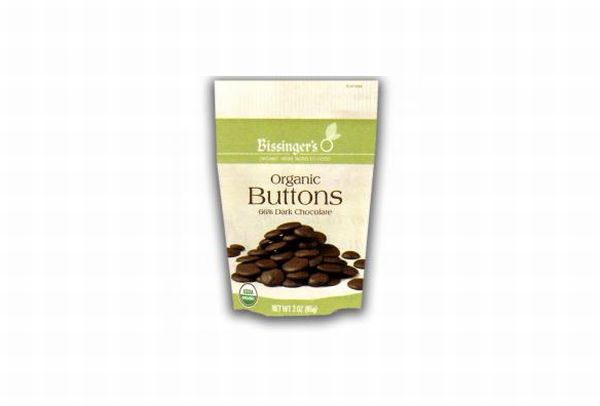 These rich solid chocolate discs have a delectable taste and a smooth texture. They just melt in your mouth. These contain 41 percent cocoa mass milk chocolate and 66 percent cocoa mass dark chocolate. These are free from gluten. These buttons are made carefully from the cocoa beans that are sourced from Africa. The taste and texture yielded by these cocoa beans is unbelievable and helps to establish the fact that not every organic chocolate is created equal. The main ingredients used in making this product are organic cocoa butter, organic sugar, organic whole milk powder, and organic unsweetened chocolate.
USP
The most important feature of these chocolate buttons is that they have an exotic taste and rich texture.
Pros
These chocolate buttons are gluten free and are USDA Organic certified. The cocoa beans used are carefully exported from Africa.
10. Sacred chocolate hearts
Price: $7.00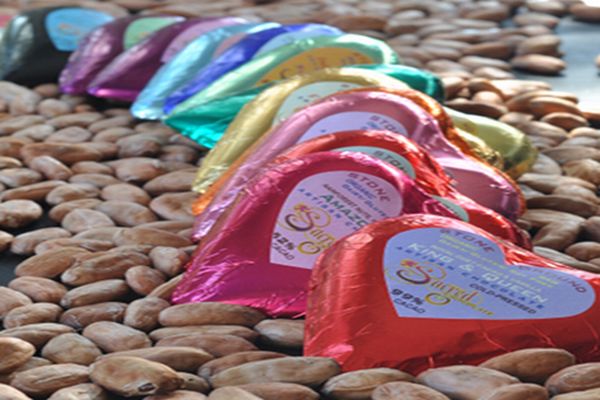 Sacred Chocolate signifies the future of chocolates. It is handmade with lots of love and gratefulness in a small, custom designed factory in San Rafael, California. Here, people are committed to make the public aware of the nutritional benefits of chocolate and making them aware of the food properties of RAW chocolate. This exotic chocolate is available as a 1.44 oz. bar and comes in perfect golden spiral heart shape, symbolizing the fact that raw chocolate is heart healthy. This delicious chocolate is hand wrapped and hand poured. The different varieties of sacred hearts are:
Sacred Heart White Passion with slight hint of lemon is actually a self-indulgent dessert chocolate. The recipe is very rich and luxurious.
Sacred Heart 69 percent Twilight has an intricate tinge that is not seen in the rest of the raw chocolate bars. It consists of the whole cocoa bean having the skin/husk still attached for greater nutrition.
Sacred Heart Mylk has been expressed as "light" by chocolate reviewers. It consists of 58 percent cocoa content, yet it is incredibly sweet and smooth. It is gluten, soy, and dairy free.
Sacred Heart Mint is a very profound and wide chocolate, which has whole peppermint leaves and a very special peppermint essential oil. It is a semi-sweet chocolate with 62 percent cocoa content.
USP
The unique feature of these chocolates is that they are hand-made, hand poured and hand wrapped. It tastes exceptional and is nutritionally beneficial. All sacred chocolates are prayed over by Sacred Steve.
Pros
It is fully hand-made with love and gratefulness. The Cocoa beans used in this chocolate are ground on stone and comes in a variety of flavors.