With the world's population crossing the seven billion mark recently, it is no surprise that automakers around the world are predicting that the cars of the future would be made to cater to cities that are short on space. With space-hogging sedans and long-nosed coupes fast becoming a thing of the past, perhaps its time that makers of emergency vehicles like cop cars, police patrol units, military vehicles, ambulances and fire department vehicles also cut their enormous vehicles out to fit crowded cities of the future. Luckily for us, there is a whole generation of auto designers who believe that emergency services of the future would use multi-functional vehicles that would not only run on greener power sources but also allow emergency workers to respond to all kinds of emergencies with ease and also serve other purposes than getting you from point A to point B. Here's our list of multi-functional vehicles that could potentially be seen on the streets very soon:
1. The Cube
Handy for mobility and daily utilities, the Cube is a multi-functional utility vehicle that runs on zero emission electric motors. Fitted with a reusable battery, the window-less and roofless is perfect for situations which require aid workers to respond quickly to an emergency. Perfect for over-crowded roads and tight parking spots, the Cube is the perfect green vehicle to navigate through narrow lanes when disaster strikes. Created by designer Carlos Mendez, the Cube also comes with a back-up generator that can juice up the batteries on longer trips or when an electrical outlet is not available.
2. E-Capsule
Brainchild of industrial designer Alex Dumler, the E-Capsule is powered by a renewable energy source which makes the sustainable transportation concept a fantastic prospect for the future. The concept is designed to function like a regular gas-run vehicle with the only difference being that the vehicle would juice itself up from sustainable sources of power rather than petroleum-based fuels. The designer envisions a future where gas stations would be replaced by something called an Energy Station which would generate and distribute energy created independently by each station which would not only allow it to be a much greener and cleaner alternative to fuel, but also be much cheaper than its fossil-fed counterpart.
3. Aeolus
A concept for a more turbulent future, the Aeolus created by designer Yogi Beeuwsaert is actually more of a torpedo-carrier than an emergency vehicle. Featuring a trimaran platform with two embedded outriggers, the Aeolus is a vessel that is created to be a mean military vehicle for still waters. With a SWAT torpedo hull, the vessel comes with formidable speed optimization features that allow it to outpace any enemy watercrafts with ease.
4. Metrotopia
Much like the public transportation system featured in countless sci-fi movies including the animated flick Wall-E, the Metrotopia is a two-seater personal vehicle concept that provides users with the benefit of tugging along a pre-laid public transport network like a tram. Created to avoid traffic congestion and excessive fuel consumption, the Metrotopia concept by Australian designer Simon Colabufalo would be powered by an electric motor and would be able to dock itself onto a tram network to allow users to follow a channeled path to their destinations.
5. T-Van
Offering a greener alternative to the high carbon footprint freewheeling RV lifestyle, the T-Van concept van is a nifty little RV that comes with solar panels on the roof, and a streamlined aerodynamic shape that allows it to maximize its fuel resources. With multifunctional, fully expanded living areas, the T-Van is capable of accommodating six and its double rear doors even enable wheelchair access. Developed by industrial designers Andrew and Chris Johnson, the RV folds out while stationary to offer users maximum living space while its bullet-like shape ensures maximum performance on road.
6. Multifunctional electric bike
Do you ever wish your bike could transform into a bag whenever you have you have to carry it up a gazillion flights of stairs? Well, Belgian designer Natacha Lesty perhaps wished for the same thing, only she went ahead and created the "Bag or Bike" which can be easily converted into a trolley case. The bike comes in both conventional make as well as an electrified version and allows people the versatility of a having a shopping cart while you hit the market and the comfort of a strolley when you're commuting, and you never even have to bother about finding a parking stop for your bike!
7. City[zen]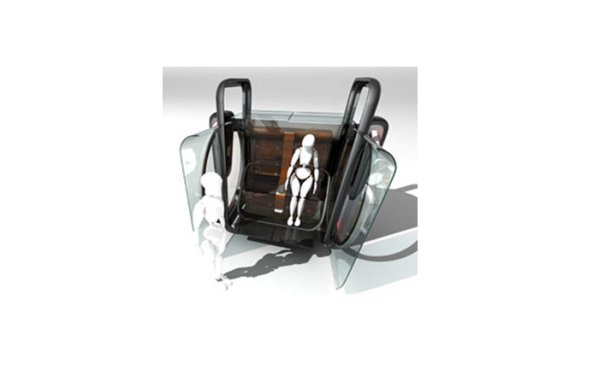 Perhaps, inspired by the Transformers series, the City[zen] vehicle concept aims at tackling the parking menace in urban areas. Fitted with an engine-body transformation system, the all-mechanical vehicle can literally transform itself to highway mode, city mode and parking mode which allow it to maintain the best aerodynamics as well as the best driving position while driving and also let it shrink down when it needs to be parked.
8. Bug-E
Cleaner than a golf cart, the Bug-E comes with an innovative steering wheel system that makes the electric vehicle a perfect all-in-one solution to meet all consumer needs. Designed by industrial designer Thomas Young, the vehicle comes fitted with eco friendly features that help is serving as an event utility vehicle as well as a golf buggy.
9. Multifunction Emergency Vehicle
This Multifunction Emergency Vehicle is created by Sincere Tone Design and promises to make handling emergencies on the crowded streets of the cities of the future. Perfect for cleaning snow, breaking ice, distribution of resources, security and patrolling, fire fighting and other such emergencies. A mini multifunctional emergency vehicle for difficult times since it can commute easily through crowded places like stadiums, exhibition centers, residential areas and community centers in case of an emergency.
10. Fioravanti Hidra Car
Powered by an optional fuel cell or a hybrid system, the Fioravanti Hidra is a 5-door four-seater concept that looks to serve as a multi purpose coupe or a sporty multifunctional vehicle as the need be. Innovative, functional and elegant, the vehicle looks to take the current language of automotive design to the next level since it comes with improved safety features that make it perfect for both family commute as well as rigorous off-roading adventures.