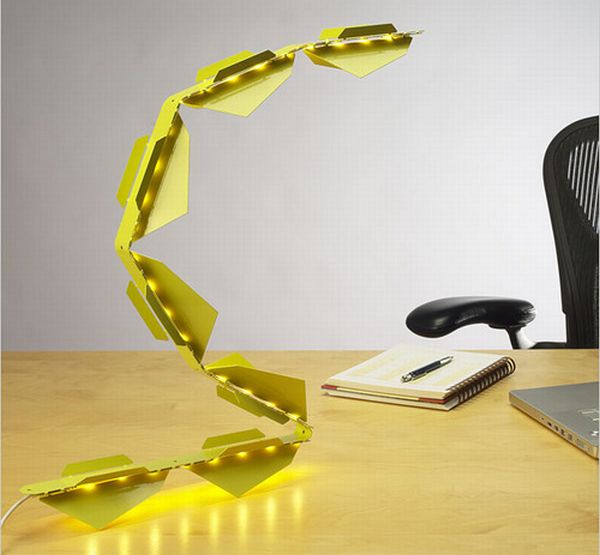 In today's times, the most scare thing in anyone's life is time. So to squeeze out extra time, one often is found to stay awake till late, whether to complete the official pending desk work or to relax the nerves by reading a nice novel. In such a time, a good desk light becomes so much essential. With the advancement of technology in every ground, how could LED lighting system be left behind. The current generation LED offers energy-efficient, bright lights in amazing as well as amusing forms and sizes. Let's learn more about 10 such energy saving LED desk lamps.
1. Chain Lamp
This chain lamp is a flexible design created by Ilaria Marelli for the company Nemo Italianaluce. The design consists of four LED lamps of one watt each that provides sufficient light for desk job. The design can be folded back into a single bar when not in use. Made of aluminum, this desk lamp is not at all humble when it comes to pricing. But then, for such an innovative design and energy-efficient lamp one would not be hesitant to pay the price.
2. Lumileaf Lamp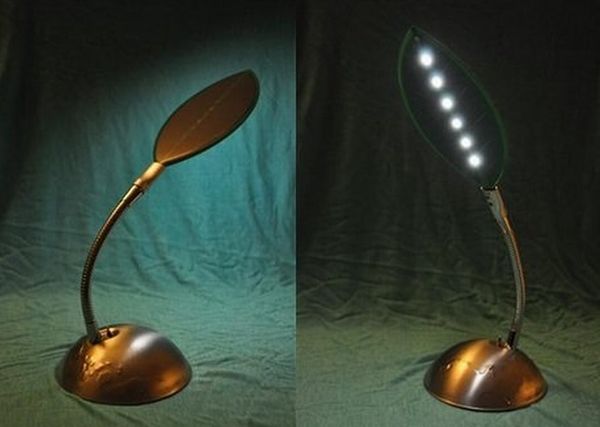 Lumileaf lamp has borrowed the design idea from nature as this lamp comes in the shape of a leaf. But that is not all. This lamp is environment friendly performance wise too since it draws its power from solar energy. A creation of Sonelis Greendix, this LED lamp stores solar power and later generates light using that power. The lamp, with an aluminum body and six LEDs of 1.2 watts each, has an extremely simple yet elegant look to it. Being water resistant, the lamp can be safely used outdoors and it assures sustainability too.
3. Crystal Light by QisDesign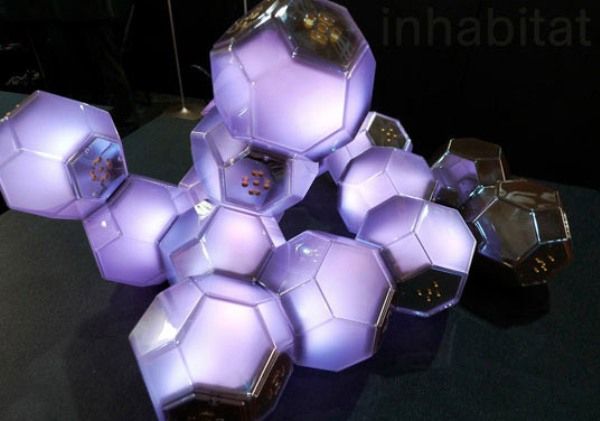 QisDesign is a design studio in Taiwan that has come out with these spectacular Crystal LED lights. This design is way apart from the other LED lamps because of its creative design and functionality. These lights will not only help to light up your place but will also beautify your home along with serving as a great toy for your leisure time. Each of these LED lights, which come in a set of eight, contain magnet in the casing which lets the icosahedron shaped lights to get glued to one another. So you can create (and recreate) your own designs with these lights whether to kill time or to showcase your creativity. You can also change the color of the light by simply changing the setting and create your desirable ambiance.
4. TwistTogether Led Block Lamps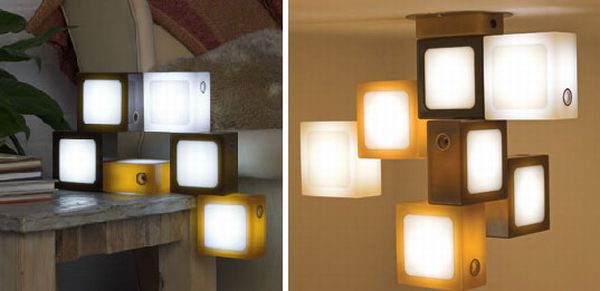 These spellbinding LED lamps come from the house of Glide Design. Named the TwistTogether, this design is sure to wow your guests and make them curious too. These cubes come in a set of four in a number of shades. The most interesting part of these lights, apart from the attractive and bright look, is the feature that allows them to connect or attach with each other. Hence, it gives you an option of creating beautiful patterns with these lights. Apart from the mentioned features, these blocks of light are safe to use, cool to touch, energy-efficient, environmentally friendly and durable.
5. Flexible LED desk lamp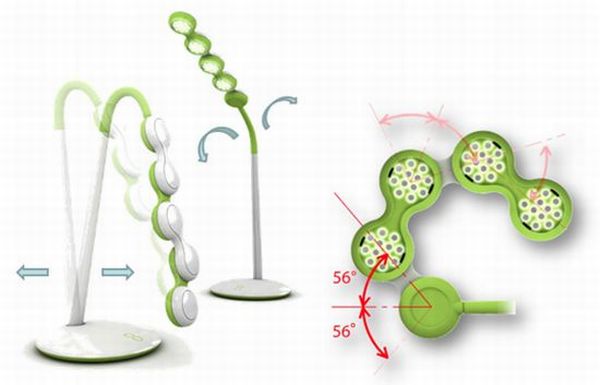 This design from Enfren is different from other variants of LED lights because of the additional features apart from the basic ones. The model is completely flexible and you can bend it. The lamp also boasts of touch sensors along with the ability of dimming. There's no blinking problem in this light like conventional lighting systems and hence it protects your eyes. And finally, the lamp consumes less energy, is durable and environment friendly.
6. Energy-efficient task lamp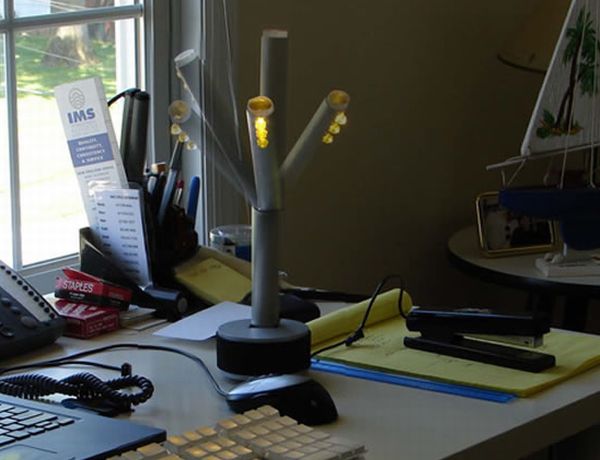 Todd Rushing has created this LED task lamp that requires less power, is highly adjustable along with containing all the basic features of LED lighting. However, the designer has put more emphasis on the adjustability factor while designing this task light. The design of the light allows you to twist or turn the light in both vertical and horizontal directions from 56 degree to 180 degree. This task light gives you full control while using it and thus is convenient to use.
7. USB voice controlled LED lamp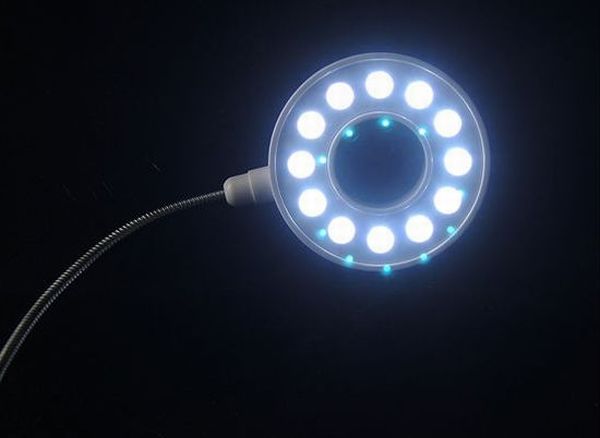 Now it's time to introduce you to an LED lamp that is in this list because of a rare and unique feature. This desk lamp gets power from USB and looks quite appealing with twelve diodes that produce bright light. But that is not why this environment friendly lamp is referred to as different or unique. The feature that makes this lamp special is the design and technology that allows you to control the lamp by your voice. So now you can turn the lamp on or off from a distance of ten meters with just your voice.
8. Seagull Lamp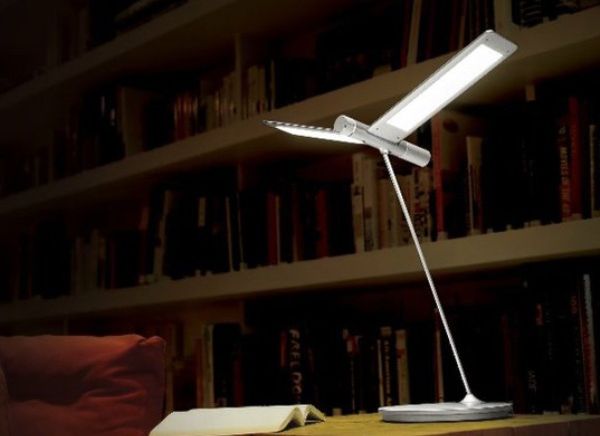 Inspired by the form of flying seagull, QisDesign has developed Seagull Lamp that is another of the brand's great designs in LED lighting. The lamp is highly adjustable and flexible. You can turn it towards any direction, fold its wings and even control its brightness. There are two control knobs in the base structure which allows you to adjust the brightness and the angle of the light so that it perfectly suits your requirement. A very interesting and symbolic feature that resembles the wings of an actual seagull during flight is that when you make any adjustments with the light, the wings of the lamp start flapping.
9. Trask lamp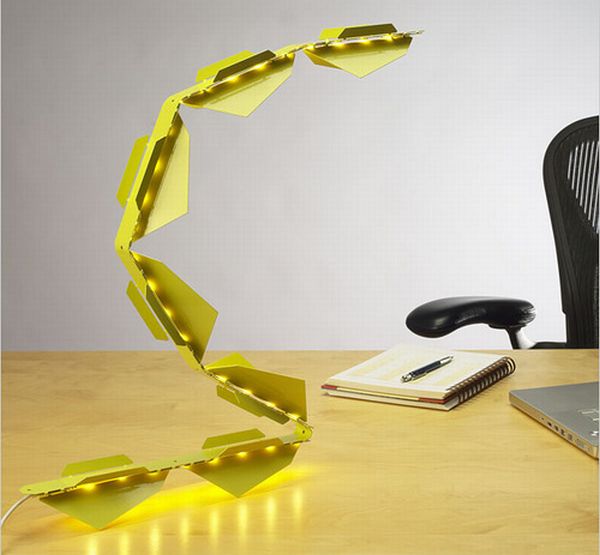 Giving a new definition to LED lighting, the design team MIO has introduced "Trask" lamps. The snake-like structure of these lamps lend an extremely high flexibility to the structure of the lamp enabling you to use it as a desk lamp or a suspension light that is linkable. The designers gave a serious thought to the selection of the LED strip lights that would make Trask cost efficient as well as bright lit. The designers have also applied an environment friendly powder coating on the recycled metal used in the lamp.
10. The W101 Lamp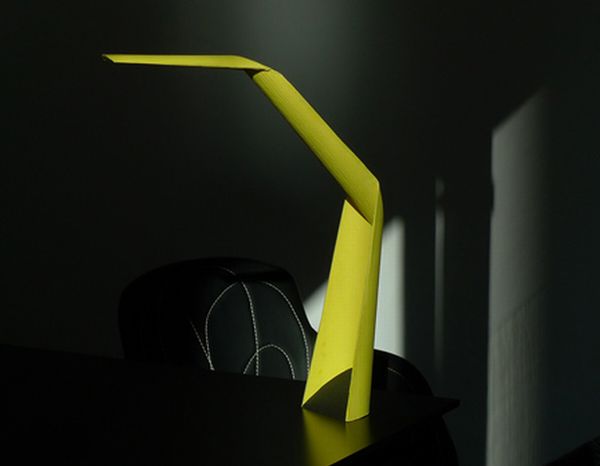 Taking LED lighting to a new level, Swedish designers Claseeon Koivisto Rune have created a trask light, for the lighting brand Wastberg, that is made of paper. This lamp is constructed with DuraPulp (a combination product of wood pulp and starch polymer produced by Sodra, a Swedish forest industry company) and is sturdy as well as sustainable. The lamp creates white LED light that is dimmable.