Sustainability is a big issue, so why not the artworks that are depicting be big too? This might be the very motivation that is driving artists from all around the world to make gigantic sculptures using recycled materials. These not only grace the cities in which they are in, moreover, they also make an eco-friendly statement.  Right now, in many parts of the world, people are suffering from an environmental crisis. To make sure that this doesn't stretch to the other parts of the world, we need to make sure that we throw enough light on the current problem. Through artworks, television shows or whatever else that grabs the attention of the people, we need to make sure that we direct it towards the environmental issues.
12 – Gigantic sculptures made from recycled materials
The recycled product is becoming so popular that there is no stopping to it. Every day some creative sculpture or product is made out of recycled products. These recycled sculptures not only look good but also reminds us that waste products can be easily recycled and turned into useful things. This kind of transformation is what the world is following these days and the sculptures made out of recycled products have really no matching. Some of the sculptures are so unique and adorable that it's hard to take eyes off them. So, here is a list of gigantic sculptures that are made out of recycled products. Read on.
1. Gundam Robot Sculpture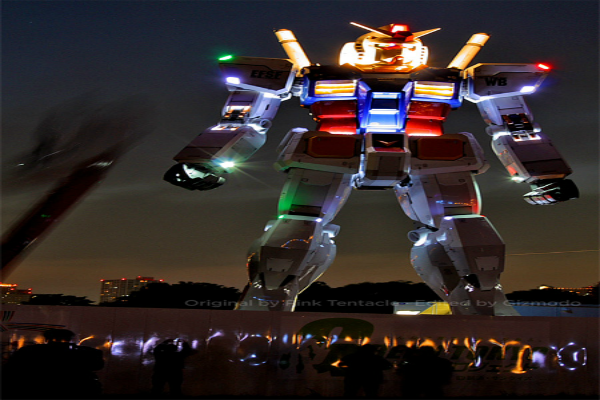 The Gundam Robot is 59-foot tall and was made in Tokyo. This large Robot is completely made out of recycled products and is pretty impressive. This giant Robot looks awesome at night when it is completely armed with glowing lights.
2. 50 Cars Bus Sculpture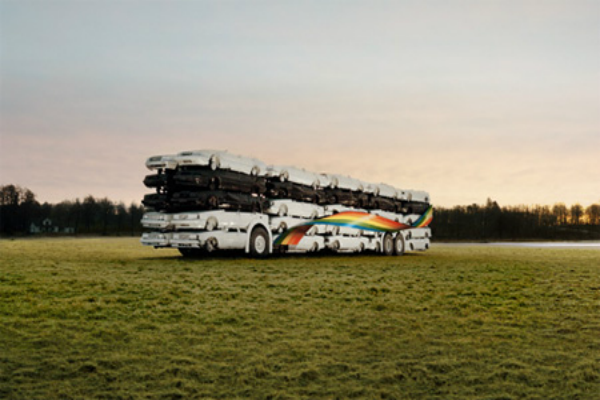 This is actually a giant bus made out of 50 small cars. This giant structure is of Flygbussama bus which was built out of 50 cars arranged by the side of the main road to Stockholm airport. The bus is completely made out of recycled cars that were dumped.
3. Spider Sculpture
This Spider sculpture is one of the most famous recycled sculptures ever made. This 30ft tall spider was constructed by Louise Bourgeois. This unique spider sculpture is made completely out of items like stainless steel, marble and bronze. It has been placed outside the Tate Modern in London.
4. Underwater Sculpture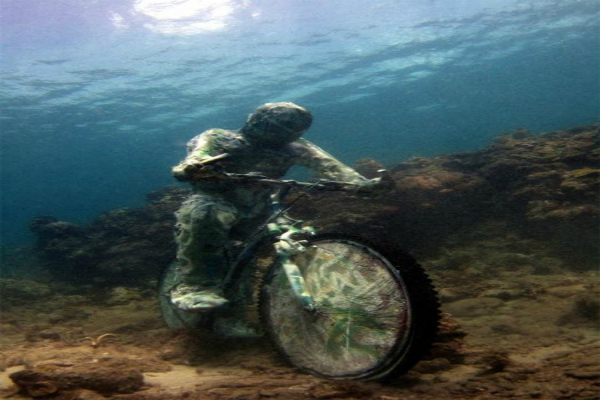 Underwater art is developing at a rapid pace and this underwater sculpture is no less than a masterpiece. This sculpture was created by Jason de Caires. In this sculpture, the artist encouraged the organic growth of coral and other organisms.
5. Falling Tetris Blocks Sculpture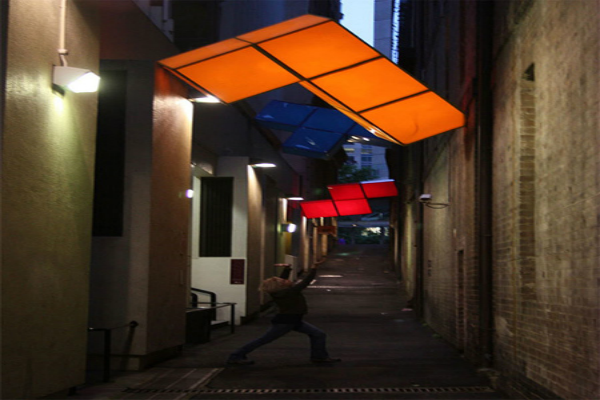 Next up is an interesting recycled sculpture which looks remarkably stunning. This giant sculpture is actually Tetris block which is made in a square block shape and is placed as if it was falling. The Tetris block was created in Sydney, Australia.
6. Skeleton Sculpture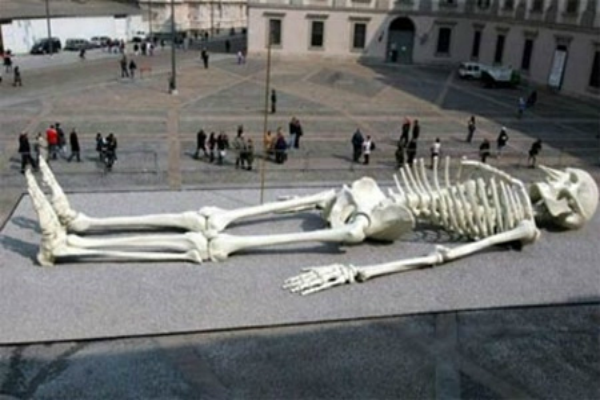 The skeleton sculpture is another famous sculpture made completely out of recycled products. This resting giant skeleton was created by Gino De Dominicis and is widely appreciated all across the world. This skeleton sculpture is the biggest such sculpture in the whole world.
7. Optimus Prime Metal Sculpture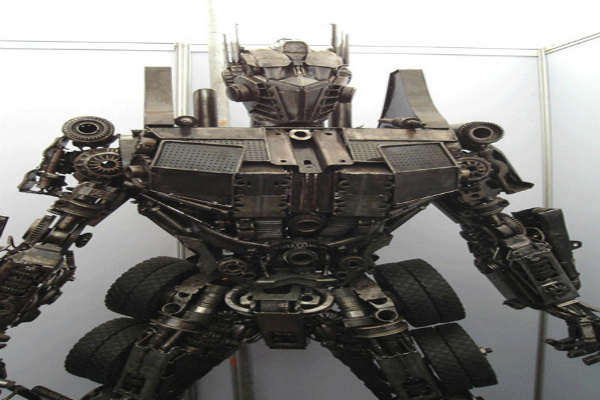 Next up is the Optimus Prime Metal sculpture which looks exactly same like the one in the movie Transformers. This sculpture is made completely out of recycled products like stainless steel, iron, rubber etc. This 7-foot Transformers Optimus Prime is really a masterpiece.
8. It Wasn't Meant to End like This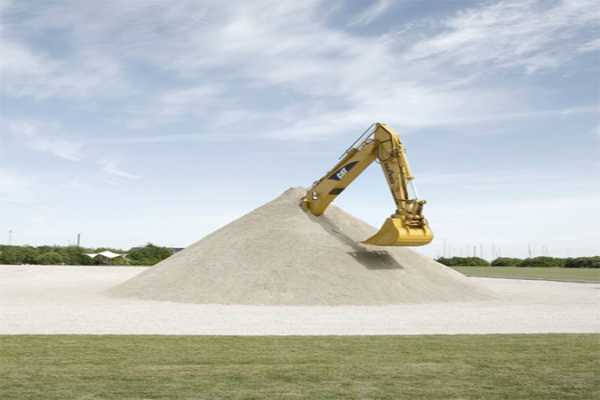 The giant mechanical digger is next on the list and this sculpture is so unique and creative that you will be shocked seeing it in real. The sculpture was created by Art installation of Glue society and was presented at the Sea festival in Aarhus in Denmark. The sculpture seems to have buried under 300 tons of rubble.
9. London Ink Swimmer Sculpture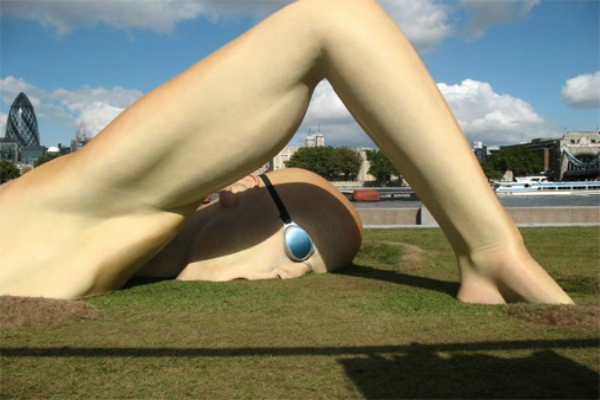 The sculpture is inspired from a swimmer and it looks as if a swimmer is swimming through the grass. The Swimmer sculpture is 46-feet long and has a height of 10-feet. It is one of the gigantic sculptures that particularly attracts the viewer's attention. This particular structure was very popular for its creative design and was also telecast on television.
10. Kinetic Bicycle Sculpture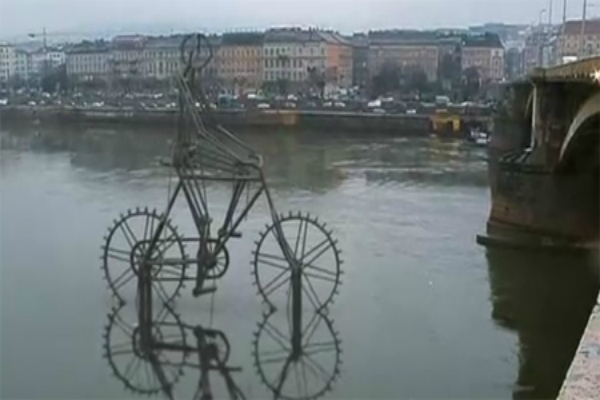 The Kinetic bicycle sculpture is a historic sculpture which is placed on the Danube River in Budapest. The bicycle is made completely out of recycled products and it looks as if someone is actually riding on the river. The bicycle is supported by two rods on each side.
11. New art form out of recycled aluminum cans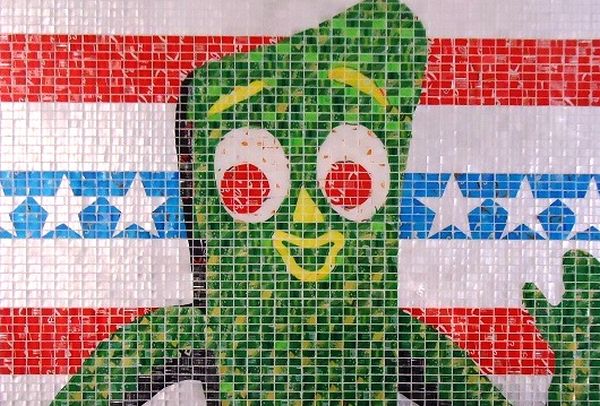 The first thing that comes to mind when we think of an aluminum can is our favorite beer or soft drink. Post drinking, the can is disposed of to the landfill. But aluminum cans are highly recyclable and can be worked on to produce more cans. They can also be recycled into stunning works of art that will make your jaw drop. Artist Jeff Ivanhoe has created an art form using aluminum cans, which he calls AluMosaic. He's been creating amazing art pieces since the 80s and has worked with celebs like Bill Bixby, Julia Andrews and EG Marshall.
According to Ivanhoe, AluMosaic is a combination of reuse, recycling and creativity. It is also an art form, which transforms aluminum cans into hand cut tiles turning them into stunning pieces of art. Using AluMosaic, the artist has produced striking portraits of Elvis Presley and depictions of classic vehicles.
Ivanhoe teaches how one can turn their used soda cans into beautiful portraits in his informative DVD.  For the record, some of Ivanhoe's artwork has featured in various publications, which include Travel Host Magazine, Pheonix Chamber of Commerce and MyTekLife. He also teaches the art of AluMosaic to students in and around the Arizona area and while doing so, inspires others to explore their creative imagination.
Fans of recycled art and conventional art alike can visit Ivanhoe's website to know more about his projects. What's inspiring is that such an art form can be applied by anyone. The end result looks nothing like aluminum cans, so instead of spending big bucks on a painting or gigantic sculptures, you can create the same out of used cans.
12. Giant sculpture out of used metal sheets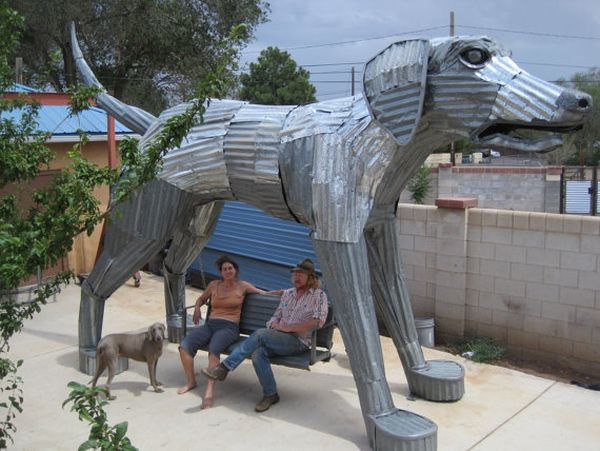 Metal is among one of the many materials that takes time to degrade. So instead of send it to the landfills, why not use it to create something? Don Kennell of DonsBigArt has sculpted a giant dog figure titled Best Friend out of corrugated sheet metal and powder coated steel frames. The huge sculpture would perfectly grace areas like recycle parks and other establishments that show people how reclaimed metal can be put to other use. Moreover, it features a porch swing hanging from the belly, providing people with a shady and comfy place to rest.
The metal sculpture stands 12 feet tall, 25 feet long and 8 feet wide. It's made from welded and powder coated steel frames on which the sculptor bolted corrugated steel sheets. The result is a sculpture that uncannily looks like a real dog, complete with a black nose and eyes. To help protect the piece, UV resistant exterior lacquer has been sprayed while the edges have been folded under steel flanges to prevent people from getting cut or scratched. The sculpture can be easily taken apart and installed and comes with a safety certificate from a structural engineer. The wall mounted pair together measure 70 inches in length and 48 inches in height.
Recycling or upcycling existing products is becoming big business and gives entrepreneurs and artistic souls a way to showcase their talent and make profit. Don Kennell's work is only one example and there are many other artists and designers who are making use of discarded material to churn out new ideas. This trend of reusing old products not only extends their life but hugely benefits the environment which is becoming choked each day owing to discarded consumer products.