Dubai can also be dubbed as the city of architectural marvels. Here creativity and design goes to a new level altogether. Nowhere in the world can we see as magnanimous works modern architecture than in Dubai. It is more than just Burj Khalifa and Burj Al Arab Jumeirah. There's much more to it. Moreover, it isn't just all about modern architecture, the same is true when it comes to green architecture marvels. Even in this relatively new trend, Dubai is amongst the leaders in the world. Let us check out 20 marvels of sustainable architecture proposed for Dubai that are set to make it an inspiration for the rest of the world.
20 Green architecture marvels proposed for Dubai
1. Apeiron Island Hotel
Apeiron Hotel is also known as the Apeiron Island Hotel. It is one of this kind in Dubai as the Burj Al Arab hotel is the first 7-star hotel. The hotel would also have a residential block comprising of 350 luxury apartments. The site of the Apeiron is approximately 300-500m away from the Dubai coastline. Moreover, it would be accessible by either helicopter or by boat. Furthermore, the entire hotel would be having a jungle theme. In addition, the topmost two floors would be containing a jungle with insects and butterflies.
Apart from all this, the hotel would also be having various facilities such as shops, cinemas, an art gallery, conference areas, underwater spa and gym, private lagoons and beaches and also an underwater restaurant.
2. Al Sharq Tower
Al-Sharq Investment, a property developer that is based in Dubai has launched a residential project called the Al Sharq Tower. It would upon completion be touted as the tallest building on Sheikh Zayed Road in Dubai. Furthermore, the building would be 100-stories tall and spread over an area of 360 meters with 268 luxury apartments. The structure would be a collection of eight cylindrical spiraling buildings which would be treated for the eyes.
3. Arabian Blade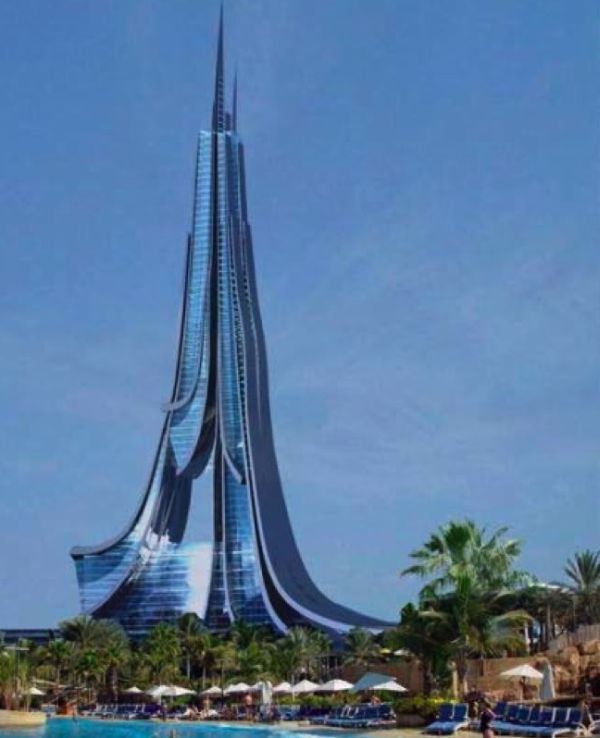 The Arabian Blade is an amazing blade-like architectural structure that has been conceptualized and designed by Claudio Catalano. Moreover, the building has a mixed usage and is inspired by the shape of plants depicting how various blade-like vertical components combine together to form one single unit. The building would comprise of a hotel, commercial area as well as residential spaces.
4. Dubai City Tower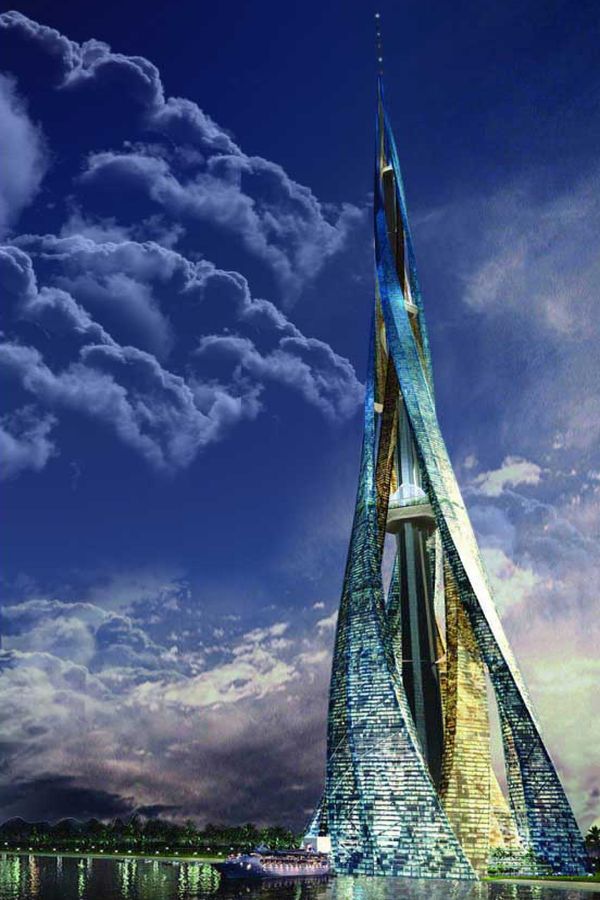 The Dubai City Tower is an architectural marvel by its sheer intricacy in design. This multi-story tower would comprise of 400 floors dedicated to residential spaces which will be superseded by a spire that produces energy and is 400m high. In addition, the proposed site of the huge project would be the Persian Gulf where a part of the building would be plunging out from the coastline. The tower is organized into four independent 100 story towers also termed as 'neighborhoods' with are interconnected through a bullet train.
5. RAK convention and exhibition center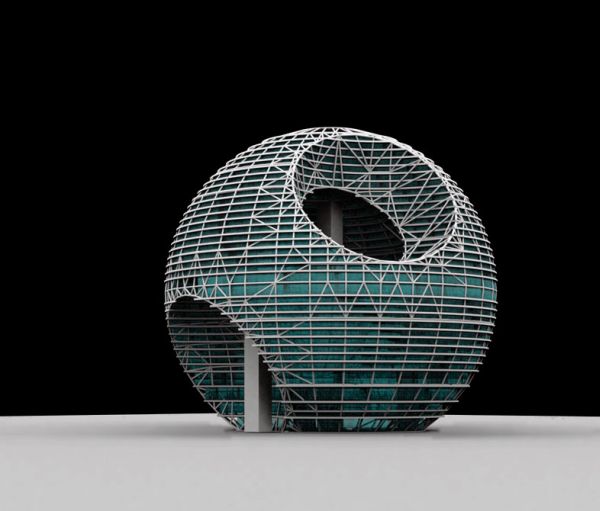 The RAK Convention and Exhibition Center is a novel spherical structure that has been designed by Reinier de Graaf and Rem Koolhas from the Office for Metropolitan Architecture. This building would be comprising of most of the facilities of a high rise building such as apartments, a hotel, convention center, office and retail spaces – all nested inside this great spherical structure. Adjacent to the glass and steel sphere is a low rise building as well.
6. Dubai Sports City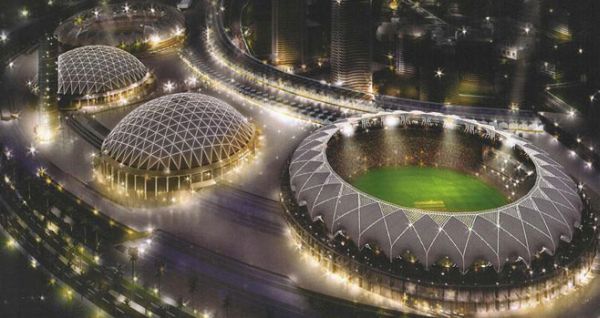 Dubai Sports City is still under construction and is a grand project that would be having a numerous sports facilities as well as leisure activities apart from the residential spaces. The project would be having a huge world class stadiums that could also serve as a venue for shows and concerts. The Dubai Sports City would also be housing world-class sports academies such as the David Lloyd Tennis Academy. the Manchester United Soccer Schools etc. The building would also be housing an 18-hope Ernie Els golf course.
7. Dubai Snowdome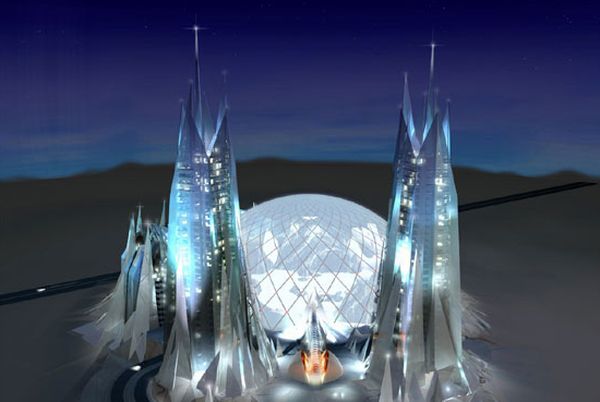 Snowdome, is a huge indoor ski dome project that is a part of the tourism promoting project called Dubailand. Costing one billion dollars, this grand project would be spread across an area of 1.4 million square feet and would be hosting a range of ice and snow-related activities for all ages. However, the Snowdome would be the first one in the Middle East that would give the visitors a break from the desert climate. Apart from the ski dome, the complex would also have hotels, restaurants, shopping malls, retail outlets, and residential towers as well. It is one of the most eagerly awaited green architecture marvels of Dubai.
8. Dubai Hydropolis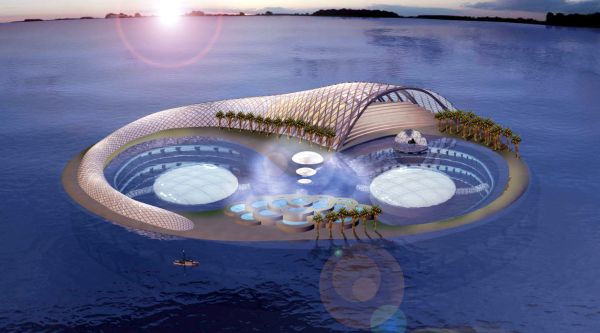 The Dubai Hydropolis is still under construction which is touted to become the first underwater luxury hotel in the entire world and one of Duba's green architecture marvels- upon completion. The Hydropolis would be having three main components, the land station (where the guests are received), a connecting tunnel (that takes the guests to the hotel lobby via a train) and the 220 suites that are located in the submarine complex. This futuristic underwater hotel would be having the structure submerged around 20m under sea level.
9. Dubai Water Front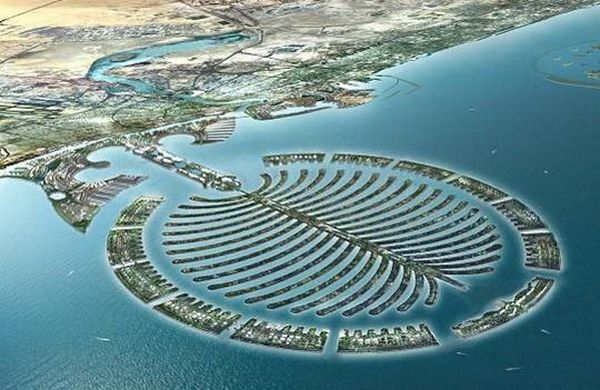 The Dubai Water Front is another grandiose project that is aimed at attracting growth and investment into Dubai. Building on the west coastline of Dubai, the Dubai Waterfront would eventually become the biggest man-made structure in the world. The palm tree-shaped artificial archipelago comprises of islands and canals that has a mixed usage of residential, commercial, resort etc. This project would add more surface area to Dubai's coastline with an additional 70 km.
10. Zaha Hadid Dancing Towers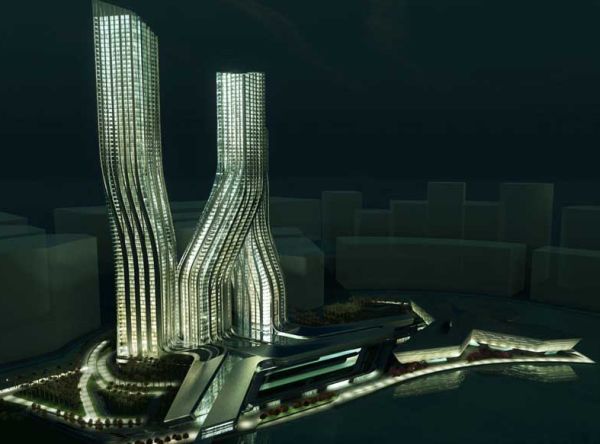 The Zaha Hadid Dancing Towers is a multipurpose skyscraper that will comprise of residential spaces, offices and hotels. The towers have been designed by Zaha Hadid and would have some rotational elements so as to provide views from different angles. The most striking aspect of the Dancing Towers is that the silhouette of this triple tower structure is very fluid and looks very iconic.
11. Largest Eco-Friendly Mosque: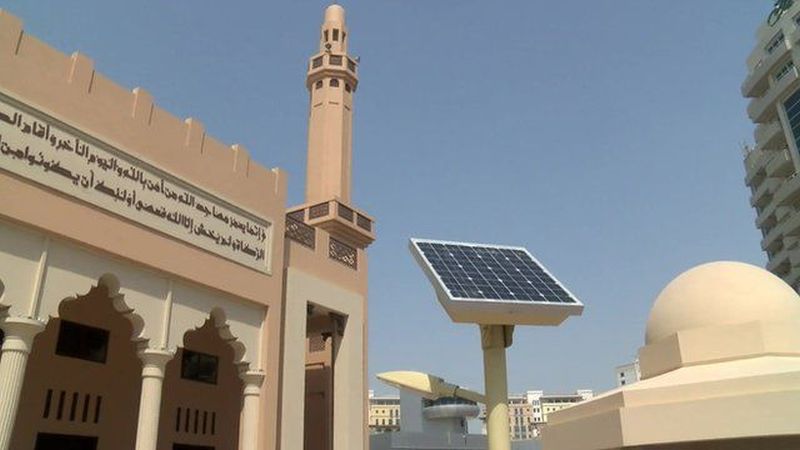 Image Source : ichef.bbci.co.uk
There are plans to build the greenest ever mosque near the Clock Tower Roundabout in Deira. With an expenditure of about $6.8 million, this mosque is planned to be built on a plot area of 9,755 square meters. It is going to be the largest eco-friendly mosque built using non-hazardous materials and requiring very low maintenance. The structure would use up to 19 percent less energy and water. There would be solar panels installed for water heating purposes, and water recycling and roof garden systems for enabling water reuse. The mosque will set an example of resource conservation and environment protection through its green practices.
12. Dubai Energy and Water Authority's Sustainable Building: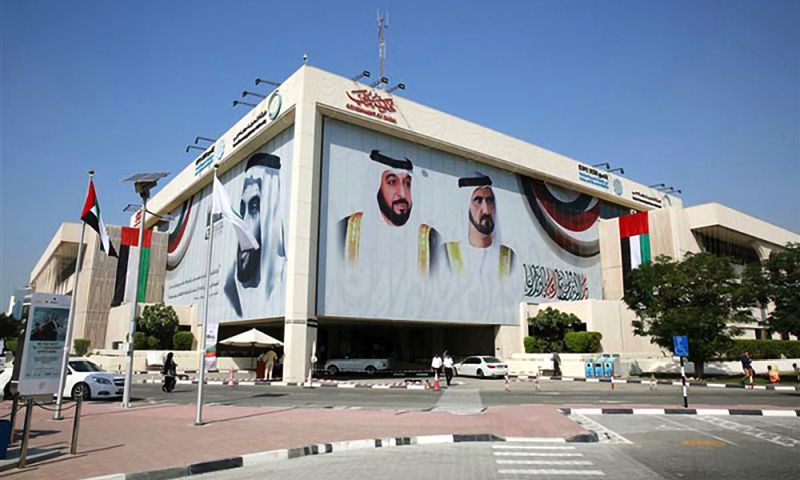 Image Source : meconstructionnews.com
This recently opened public sector building has set global standards by winning the LEED Platinum status for its sustainable construction. There has been made good use of recycled materials to build it. This building is designed to bring down the water and energy conservation by about 48 and 66 percent respectively. Its major features of energy efficiency include wall and roof insulation, heat transfer by using glass, efficient LED lights and water-cooled chillers, automated lighting control systems, a solar power plant (660kw), and ventilation and cooling regulation through a control panel that is fully automated. Water efficiency is ensured through a stormwater management system and water quality-testing lab.
13. Anara Tower: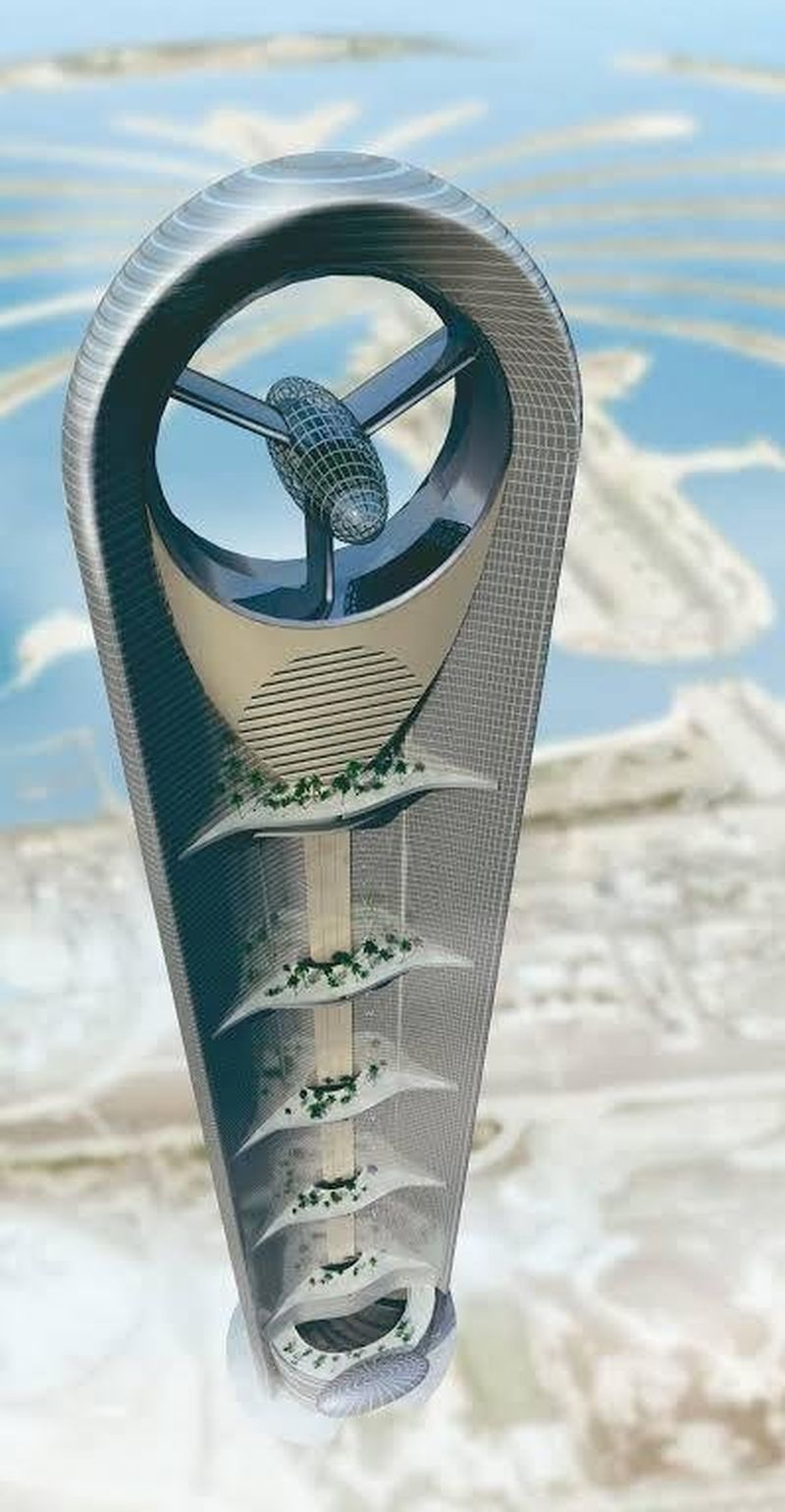 Image Source : steemitimages.com
This is a LEED-certified green skyscraper that has 125 stories. This building makes use of renewable energy sources and has various energy and water efficiency features.
14. The Lighthouse: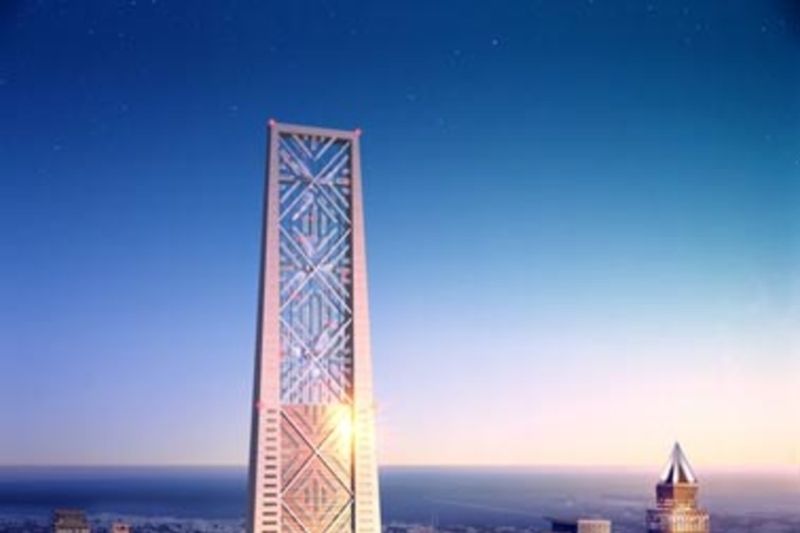 Image Source : constructionweekonline.com
Considered one of the most eco-friendly towers, the Lighthouse is being constructed in Dubai's Financial Center. This 66-story building has an environmentally friendly architecture that would help reduce energy costs by 65 percent and water consumption by a good 45 percent. It will also make use of wind and solar energy.
15. The Diamond: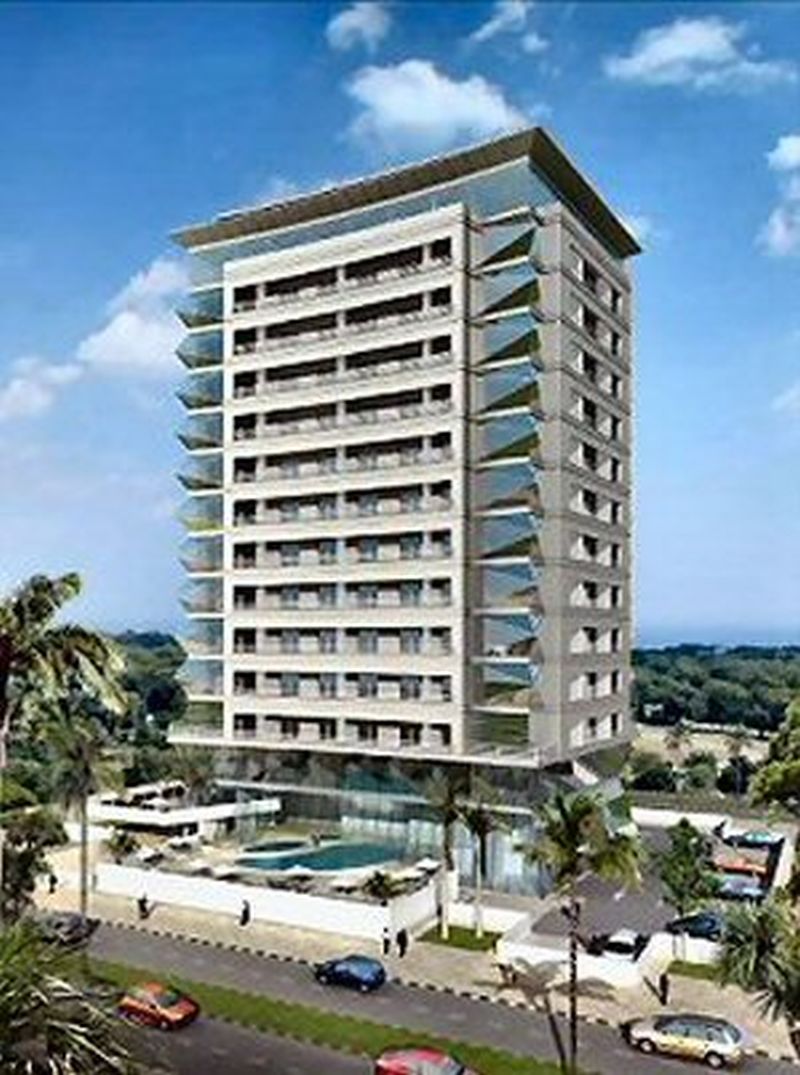 Image Source : condohotelcenter.com
Located near a beach, this beautiful building has 17 stories. This sustainable structure has several green features, but the major one is its use of solar energy using a roof that keeps moving with the varying intensity of sunlight and makes the building interiors cool during the day.
Summary
The structures, whether existing, in progress or proposed have the most unique structure that you can think of. These huge, tall green architecture marvels have literally become the landmarks of present-day Dubai.