The world is fast moving in two directions. First is the direction of consumerism, which exploits all the available natural resources in the hope of gaining profit from them. Second is that of sustainability. It includes people who try to restore the damage that this thinking about profitability does to the environment. However, as of now, the second is far behind the first. Unless we include sustainability even in the smallest of our choices, we cannot balance this scale. Furthermore, it should be a societal change and not an individual one. For example, opting for something like paper jewelry over the conventional one is a great choice.
Paper is one such natural product that has endless possibilities. Right from the crafts at school to big hoardings, paper is used everywhere. This paper is now being utilized as the base material for designer jewelry. Paper jewelry designers are constantly at work in creating cufflinks, bracelets, earrings, necklaces, etc. from various sorts of thrown away papers. You will really be surprised at the colorful jewelry pieces made from disposed off bar tags, thrown away shopping bills and coupons, torn pages from magazines. Here are ten such jewelries made from different types of disposed paper.
1. Intricate cufflinks designed from puzzles
Price: $99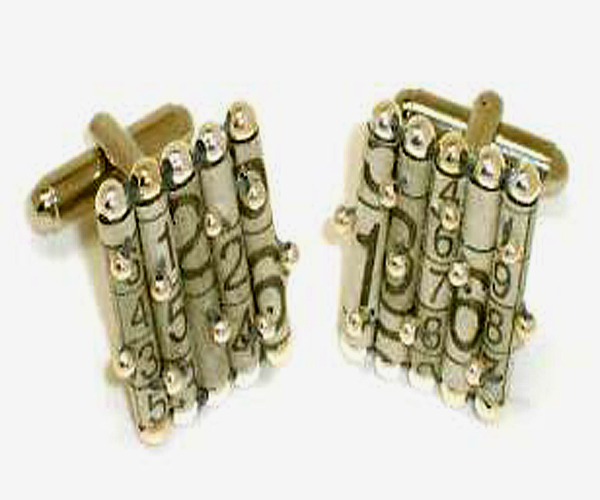 Sudoku puzzles are the most popular among the kids. Each of the paper pieces containing the puzzles in a printed form are twisted and rolled into small bead like structures. Together with it, the cufflinks comprise of silver beads that are placed alternately with the paper beads. These are then wound in thin metallic net to make beautiful cufflinks, with square shapes and in dimensions of 0.65 inches x 0.65 inches x 0.75 inches.
USP
The possibilities of combination of different digits and colors in Sudoku puzzles have inspired some creative geniuses to make cufflinks to be used with formal dresses out of thrown away newspapers that have Sudoku puzzles printed on them. The cufflinks give a rich look in an economical rate.
Pros:
These cost effective cufflinks are value for the money and can be reused again for a different purpose when they become old.
2. Cufflinks from disposed dollar bills
Price: $99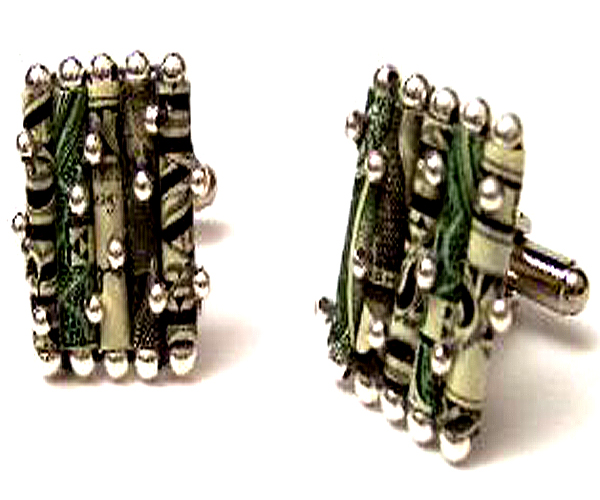 The dollar bills, made from paper, are folded lengthwise, into narrow strips and the again rolled up width wise. When a number of such paper beads are created they are stitched together by inserting trimmings made from shiny silver beads in between. Thus, when an attractive bracelet of dimension of 0.66 inches x 0.8 inches x 0.4 inches is finally formed.
USP
Used dollar bills generally find their way in the garbage dustbins when they are no longer in function. They are crumpled into balls and thrown away so that they finally get decomposed in the soil. But designers have given a new shape to these used dollar bills too by putting them to yet another use before they are finally thrown away . This is a great option for eco lovers.
Pros
A transparent protective coating is put all over the bracelet to make it water resistant and increase its durability. It is an innovative ornament that is eco friendly.
3. Bracelet from crossword puzzles
Price: $599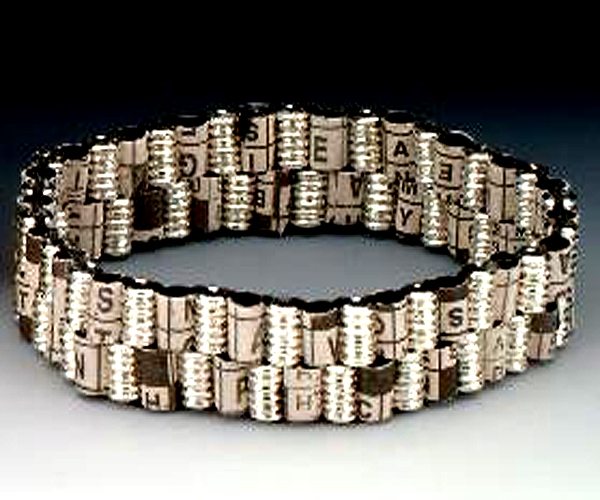 Bracelets made from paper seem to be very simple and childish idea. But if you have a look at them you will be mesmerized by the beauty and exclusivity of these handcrafted things. This paper bracelet is another creative product made from disposed newspapers. The jewelry designers have selected crossword puzzles as the background. The white and black combinations of squares of equal dimension, which characterize the crossword puzzles imprinted on newspapers, are really attractive and elegant. So, they could be put into a particular forms and designs.
Hence, in order to make handcrafted bracelets the newspapers bearing such puzzles are cut out. Then, they are folded tightly into elongated, narrow strips. Finally they are rolled up in the form of small beads, which are stitched together. Silver beads are inserted in between these paper beads to make them even more attractive. They are set on elastic cords so that they can be worn without any hassle. These bracelets are available in dimensions of 0.66 inches x 0.8 inches x 0.4 inches.
USP
The elastic cord makes it convenient to wear the bracelet. Further, the silver beads add glamor to the natural ornament.
Pros
This ornament is a natural product that is attractive and an unique piece in the collection.
4. Bracelets made from crossword puzzle
Price: $99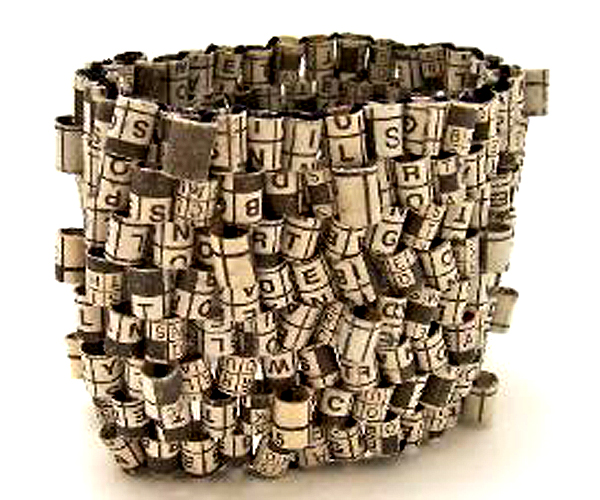 This paper bracelet, made from crossword puzzles, is quite different from the ones discussed so far. The square checks in black and white that characterize the crossword puzzle still remain the inspiration in this bracelet too. But the way of paper folding, the alignment of each of the pieces and the appeal of the patterns are altered to give a different look to this piece of jewelry.
On the base of an elastic cord the crossword puzzle paper pieces are arranged in such a way that they look like checker board. Each of the printed papers are cut into thin strips and then rolled up width wise, so that they look like small beads made from paper. These are then put together to form the exclusive piece of jewelry. This bracelet comes in two sizes with separate dimensions. The small one is of size 0.5 inches x 6.4 inches, the medium one is of 6.8 inches x 7.2 inches.
USP
The black and white combination of the puzzle is utilized to the optimum to impart a unique look to this eco friendly ornament. The letters in the crossword give a printed feel to the bracelet. Asymmetric structure is emphasized in this bracelet in such a way that some of the pieces droop out of the main structure. This makes the bracelet look as if jewel is attached to it.
Pros
It has an ethnic look and matches the contemporary jeweleries well. Moreover the product is eco friendly.
5. Bracelet from disposed coupons
Price: $99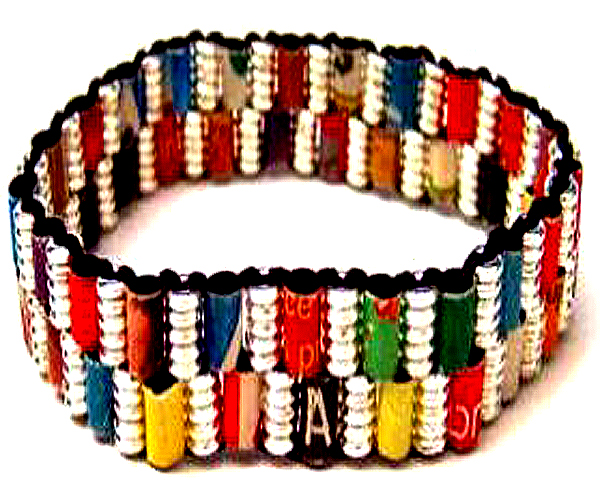 What do you do when you clean your handbag and discover handfuls of expired coupons that can never be used any further? You simply throw it off thinking it is totally useless. You do not do any harm to the environment too as these coupons are made from paper and will inevitably be biodegradable. But the paper jewelry designers have given it a totally new dimension by making bracelets from expired coupons which look like beautiful, jeweled ornaments.
Colorful coupons are collected. Then they are cut into two and folded lengthwise, in such a way that each of pieces bears a short but elongated structure. Now, milky white small pearl beads are used along with thin line of silver lining running through them. These are then stitched together in the form of piles. Now, the paper beads and the piles of pearl beads are arranged alternately over an elastic band. The raw ends of the bracelet are closed by two lines of black beads running throughout each of the two circumferences of the bracelet. It is available in two basic sizes; the narrow one that has a length of 6.4 inches, the medium one is of 6.8 inches while the wide one is of 7.2 inches of length. The height remains constant at 0.5 inches.
USP
The designers have emphasized playing with colors to give it an expensive, stone studded look.Thus, the selection of colorful coupons is the key thing in this eco ornament.
Pros
This is a colorful bracelet that can be worn with any dress. The look is also expensive.
6. Bracelet of recycled bar codes and expired coupons
Price: $199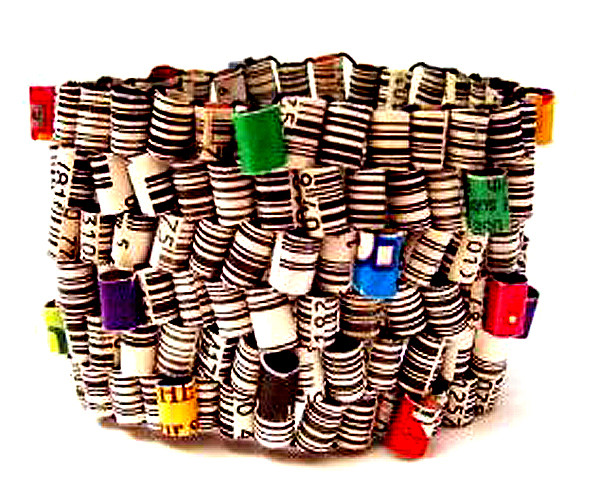 You might occasionally delve deep inside your purses to throw away the expired and used coupons that crowd your bag uselessly. They might be garbage to you, but are jewels for the paper jewelry designers. What more, you never pay any attention to the bar codes attached at the back side of the lotion bottles, iPod cases, makeup boxes and items like those. As quite usual, you only remain concerned about the product. Thus, the bar code gets withered away with time, leaving behind some of its remaining portions on the products. These are further removed by some people with the help of water and scrapping knife. But the jewelry designers have found out the endless possibilities of recycled bar codes and expired coupons in the field of paper jewelry.
The black and white look of the bar codes is made as the base design of the bracelet while the colorful coupons serve as jewels studded on the ornament. Thus, the designers have carefully selected coupons that have primary and bright colors, which will stand out of the piece of ornament. One sixth of the bracelet is occupied by the coupons while the bar codes dominate over the remaining portion. The bar codes are rolled up along the length. The resultant is short, thick paper beads in black and white. The same measurement is followed in the case of the coupons too and colorful beads are formed. They are then stitched on an elastic band in a crooked manner to give it the feel of a junk jewelry. It is available in a dimension of 1.5 inches height x 6.5 inches length.
USP
The basic black and white color of the bar codes impart a sober look this ornament.Use of colorful coupon beads
Pros
This eco friendly ornament has the appeal of a junk jewelry and is indeed a new addition to your collection.
7. Traditional expired bar code and coupon bracelet
Price: $199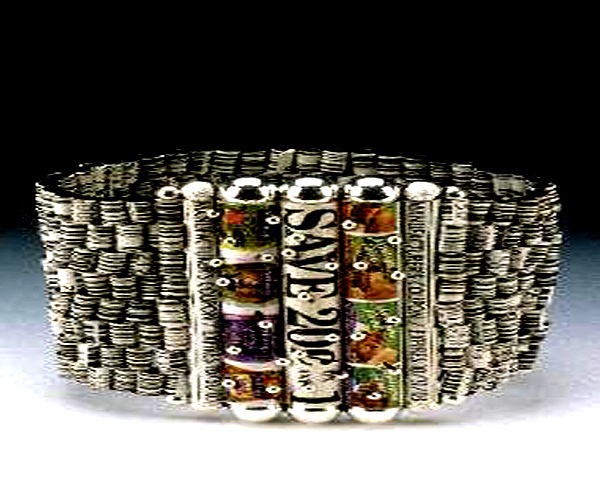 This traditional piece of ornament, made from expired bar codes and disposed off coupons is a really praiseworthy endeavor of the designer. But before you know about this piece of paper jewelry, it is important that you must know the construction of a contemporary bracelet. A contemporary bracelet features a uniform surface, without any bulge or distortion anywhere. The designs or the jewels that adorn the ornament are studded on to its surface. The most important thing is that it has an opening with an angle and a hinge. Whenever required to wear, the hinge is opened and the two parts on either side of the opening disintegrates so that it can be slid into the wrist. All these aspects are taken care of while making this paper bracelet.
Although the opening does not function like a traditional bracelet, but it imparts the aesthetic feel of the same. Bar codes, which are characterized by narrow strip like structures, are rolled up completely to look like small, stout beads. Now, they are stitched in series. A number of series of bar codes are then joined to form a wide piece. At one end, three or more colorful coupons are rolled lengthwise to form long pillar like structures. The coupons must be almost identical in color. Now, these coupons are rolled up lengthwise and stitched together. Silvery beads are mounted on either ends of these pillars and the whole structure is attached to an elastic band. It has a dimension of 1.5 inches height x 6.5 inches length.
USP
The black and white combination throughout the bracelet achieved by the bar codes and the lines of colorful coupons at the end makes it a sharp contrast. This eco bracelet is the most conventional one for eco lovers.
Pros
The contemporary look of the bracelet makes it attractive. But it weighs much lighter than a traditional bracelet of the same dimension.
8. Neck piece from losing lottery ticket
Price: $899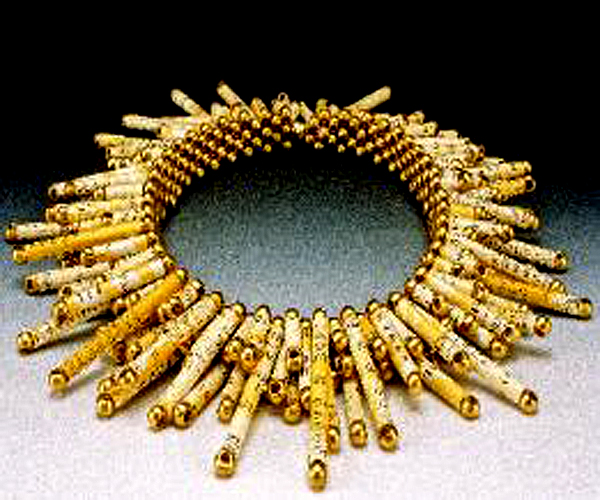 If you are fanatic about winning quick cash from lottery then you definitely spend loads of money every month in buying every new lottery ticket that promises mega prizes. But every time you loose, your dream of getting rich gets shattered. But, the designers of paper jewelry have developed a different idea to turn the evidence of your broken dreams into reality. Can you imagine how beautifully they have made a beautiful necklace from these useless lottery tickets? A beautiful pipe necklace made from these lottery tickets will definitely adorn the neck of any woman.
Each of the lottery tickets are cut width wise into various sizes, though the full length lottery tickets predominate. After this they are rolled along the length so that pillars of varying heights are formed. Now, they are stitched together, one over the other, in the form a separate piles. Golden brass beads are studded onto each of the twin ends of these pillar-like structures. Now, they are stitched on to an elastic cord beautifully. This exclusive necklace has an approximate dimension of 15.9 inches length x 0.6 inches height x 1.1 inch depth.
USP
The golden beads and the wise selection of lottery tickets that bear yellow color gives the hind of gold to this ornament and makes it look precious.
Pros
The yellow gold color imparted by the careful selection of lottery tickets and the gold beads imparts the most traditional, oriental look. Yet is is much cheaper as compared to a necklace made from precious metal.
9. Lottery ticket broach
Price: $139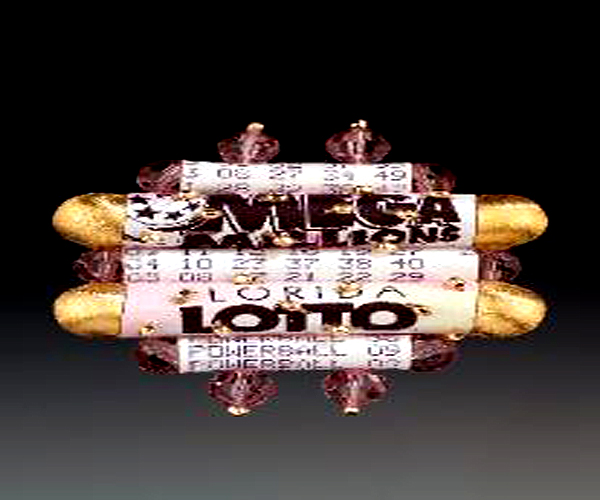 Not only necklaces, the paper jewelry designers across the world have also been considerate about the men, especially those who are mad about winning rich fortune with lottery. The designers have made really expensive broaches for men with these expired lottery tickets. A number of lottery tickets of varying sizes are used for making these ornaments. These lottery tickets are then rolled into capsular shapes. The ends of each of these capsules have been sealed with gold plated beads. They are further embellished with expensive swarovski crystals to add glamor to these men's fashion jewelry. The lottery tickets are then stitched with each other and mounted on metallic frames. The dimensions of these broaches are 1.7 inches x 0.3 inches.
USP
Lottery tickets have been studded over metal frames to give firmness and durability to the ornament. Thus, they are useful for daily use by men.
Pros
The uncommon look and the durability offered by the metal frame beneath the lottery tickets make is a value for money.
10. Comic bracelets
Price: $399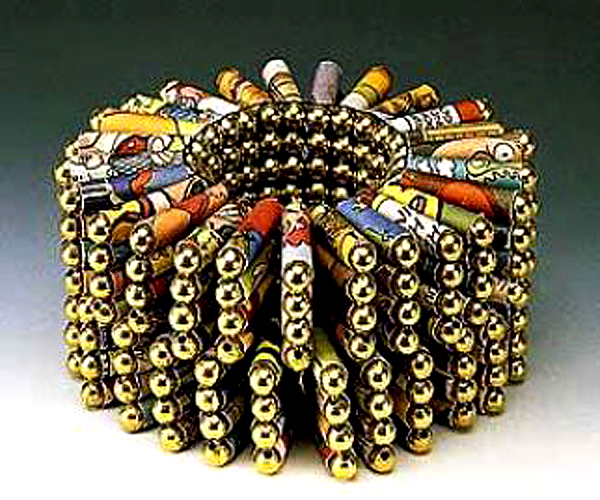 The colorful comic characters probably did not have a more innovative use than this innovative ornament. The paper jewelry designers felt that the funny faces in the comic magazines and the colorful scenery can go very well with eco friendly bracelets made from them. Strips cut from comic magazines have been rolled and then stitched together over an elastic band. The ends of each of these folded strips have been studded with brass beads to enhance the beauty of the comic bracelet. Available in a dimension of 1.6 inches x 6.7 inches.
USP
The colorful look and the contrasting golden beads give the bracelet a fusion look and bear a urban wear appeal. This will be a sure choice for urban eco lovers.
Pros
The gold plated beads and the colorful comic faces make this eco-friendly bracelet really attractive and worthy to be included in the jewelry collection of any woman.
Final Words
With the increasing awareness of people towards the preservation of natural resources and growing eco-conscious, a revolution has started all over the world to opt for products that do not deplete the environment. Together with it, people are also emphasizing on the use of things that are natural, biodegradable and can be recycled over and over again to form yet newer products.