Did you know that there are plant species that work as natural air purifiers? Well, there are more than many uses of keeping plants inside your house. In fact, they even have a complex beauty about them which no other artwork can compare. So, what if we combine both, what we make plants a part of our art. No, we are not talking about gardens and parks, we are talking about natural home decor. By including art created using moss in it, you can add that subtle natural touch to your house, which it might be lacking. Here's how you should go about it.
10 Masterpieces of art created using moss
How well can you make use of moss? A masterpiece is one that makes you understand the world differently. When an art form is used in an aesthetic way then it has all the charms that can rekindle your inner soul. People who are concerned about this green planet are looking out for exquisite means to make the best use of the greenery around. The avante garde art helps in changing the face of the urban landscape by breathing in a new life of tranquility through different art forms also known as ˜Eco graffiti'.
Below you will see 10 of the most incredible works of this rare and unusual art:
1. Real moss tables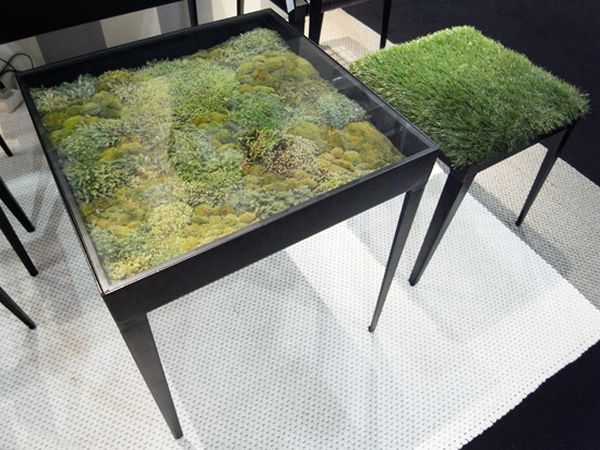 Have you ever thought of growing moss on the surface of your living room table? Well, this particular real moss table is just so amazing that you can't keep your eyes away from it. This has been designed by home furniture company Ayodhyatra. The real green texture grown on the table gives you the sublime look of some exotic rainforest like that of Amazon.
The moss is covered with a glass surface and the specialty of the moss is that it is dry, so you need not worry about the moss getting dried when you don't water it.
2. COEXISTENCE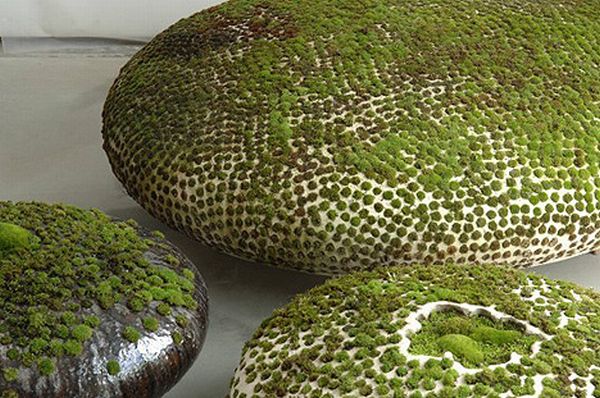 This is an elegant new installation that combines ceramics and horticulture. This has been designed by Mineo Mizuno. The design pattern is dotted with holes and planted with moss. The moss gives a look of organic glaze. The temperature and moisture hardly affects the thing because the outer covering acts as a shield.
3. Moss mat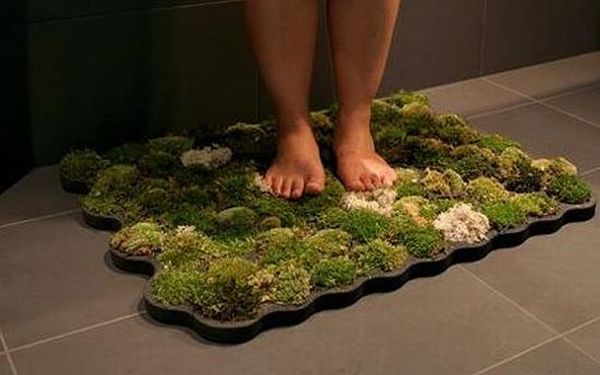 The concept of growing indoor greenery has become quite popular these days as it provides a trendy look to your interiors. Moss carpets being biodegradable have been used rampantly these days. You can grow these carpets at you home to maintain a green environment around yourself. You need not always visit a nursery to buy those moss carpets.
Therefore, if you want nature and greenery to be near you then you can buy the moss mat. This squashy and spongy mat measure 2.4 cm and comprises 70 pieces of ball. You can place it on any corner of the house which you feel would suit the best. Children will love to sit and play on it and the mesmerizing look of this mat will blow away your mind.
4. Terraform Sculpture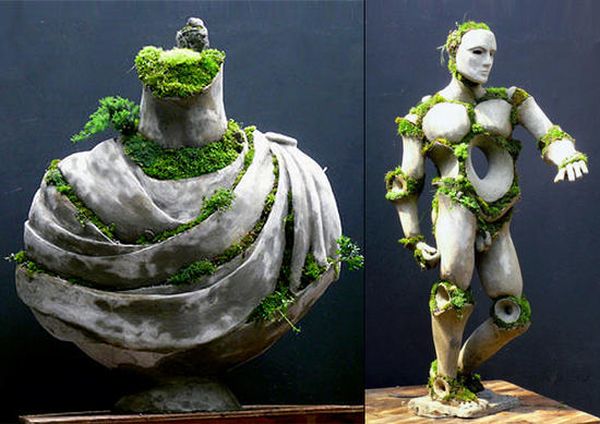 You can make your dwelling beautiful by getting these Terraform sculptures. This is a green art that grows in time. The sculptures are enticing to see and you just can't resist getting one for you. This awe striking art form is designed by Robert Cannon. He is a Yale graduate and an amazing artist. The sculpture which he makes covers a wide range of subject and has a very intricate meaning.
5. Moss your City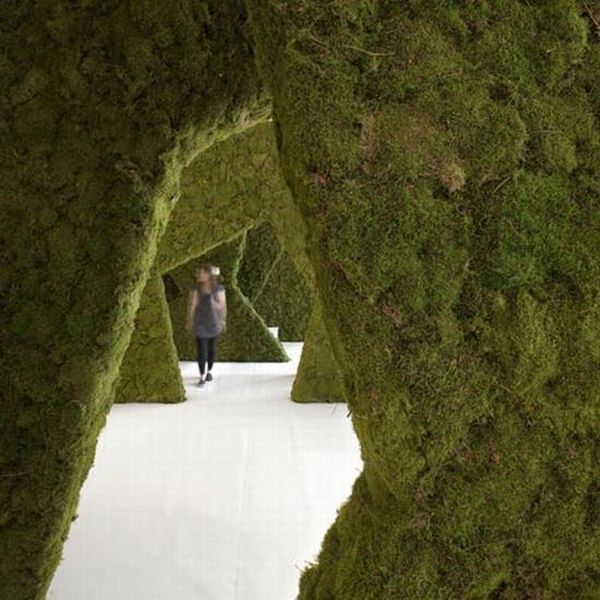 This is an inspiration from the Bankside Urban Forest. The different designs in which the mosses have been crafted are astonishing. These are the uber work of some aficionados who love nature and its belongings. You one visit to this place would give you the feeling of a world which is full of greenery and ecstatic art.
6. Moss Guitar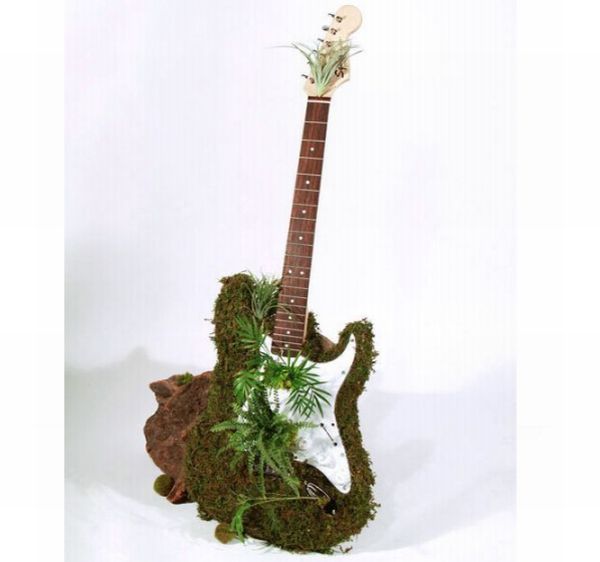 If you are not only a music enthusiast but also a green freak, then the moss guitar is just the right thing made for you. The credit for making this Eco friendly guitar goes to a New York based freelance designer named Sebastian Ebarb. This man just redesigned the guitar with the help of mosses and attaching it with the help of glue. The main motive behind making this Guitar was to make the people aware of saving our flora and fauna. A green way of realization, isn't it?
This guitar symbolizes the beauty and glory of rainforests and by being their messenger the moss spread, draws the attention of viewers forcing them to think about the issue of saving the rainforests. Sebastian created this moss guitar with the view to motivate people to help protect the above said, wonderful and pleasant gifts of nature.
7. Midori no tobira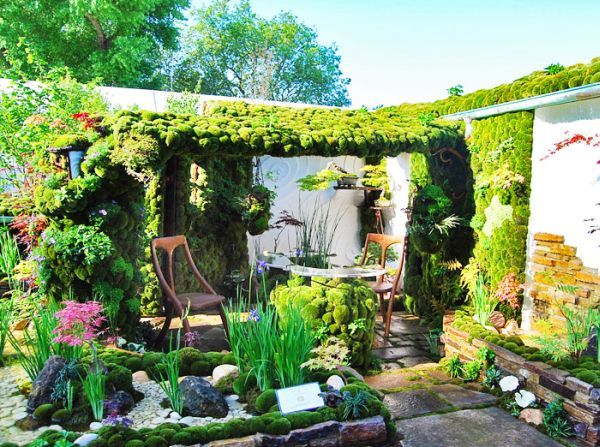 Designed by Kazuyuki Ishihara, the "Midori no Tobira" is a spectacular installation with rich greenery. The moss-covered "secret garden" features botanical arrangements that catch everyone's attention, captivating lush living walls and a crystal clear waterfall offering a refreshing feeling. This beautiful garden is specially created for the RHS Chelsea Flower Show.
Inspired by Ishihara's childhood memories of hiding out on the roof of his house, this art created using moss is sure to magnetize visitors and make them hang around. Midori no Tobira means The Green Door in English and stands true to its name. It is a door that opens into a small world of green beauty. Showcased as part of the Royal Horticultural Society flower show's urban rooftop design category, this secret garden gives visitors a soothing sensation. It was designed as part of Green Door, a sustainable landscaping consultancy.
This is basically moss-covered rooftop. An enigmatic esque of a pergola, this design will make your rooftop look like a green oasis. This masterpiece is extremely alluring to look at. This particular design is a treat to your eyes.
8. Moss Carpet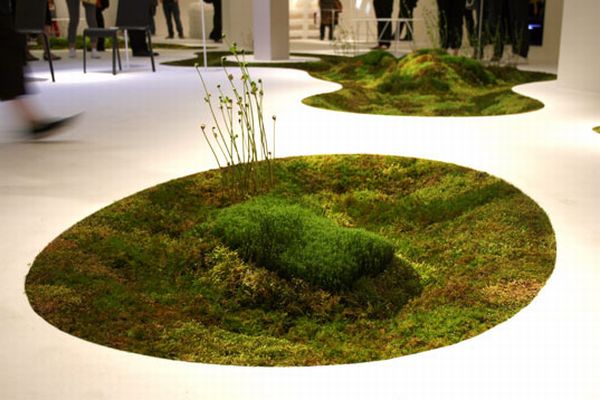 Ever wondered of anything of this sort? This is exactly what creativity with intelligence can do. Makoto Azuma the creator of this moss carpet did an awe striking work of making carpet made of mosses. This carpet if brought to your abode can add the right amount of zing. People visiting the house will be getting enchanted to see such a wonderful work of art.
9. Interior Moss Tiles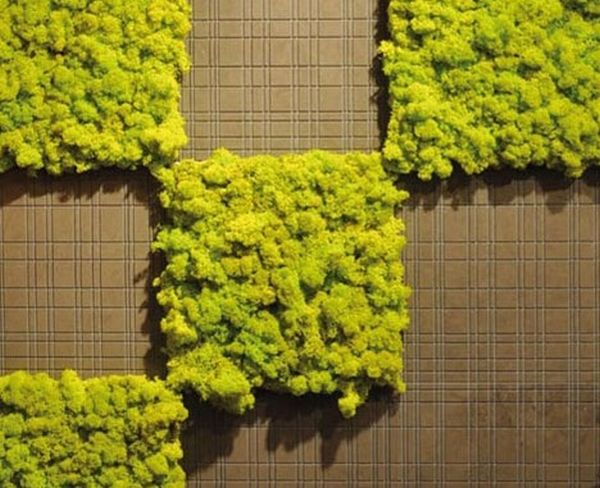 This vibrant and spongy moss tiles can get a perfect place in your house. It is easy to maintain and gives your house the creme de la creme look. These tiles are available in various sizes and color, depending upon you need you can look one for you.
10. Moss Terrarium
This is the best thing which you can purchase to enhance your home decor. The petite look of the jar is just so amazing. This requires low maintenance and can last for years to come. It is one of the art created using moss that comes at a very reasonable price. You can order for this beautiful terrarium from Pay Pal. Buying this would not prove to be a bad investment at all.