In today's world, hair color has become an essential element of everyone's beauty regime. Within the competitive market of today, various hair color brands might confuse you. In such a scenario, how do you choose the best organic hair color for yourself? Moreover, how to choose a hair color product that works naturally for your long locks or thick curls? The world of hair color has extended to all ages and all boundaries around the world. As soon as you start going to high school, you start browsing hair colors that will suit your hair. But wait; let your choice be natural and safe.
Colors with chemicals flood the market but the wellness industry is providing safer and healthier solution for your hair make over. Permanent as well as temporary colors are available in exciting shades that not only polish your hair with shine, but also make them silky and smooth. If you are looking for the best organic hair color for 2018, here is the list that you can check out.
1. Surya brasil henna cream dark brown
Price: $ 8 for 2.31 ounces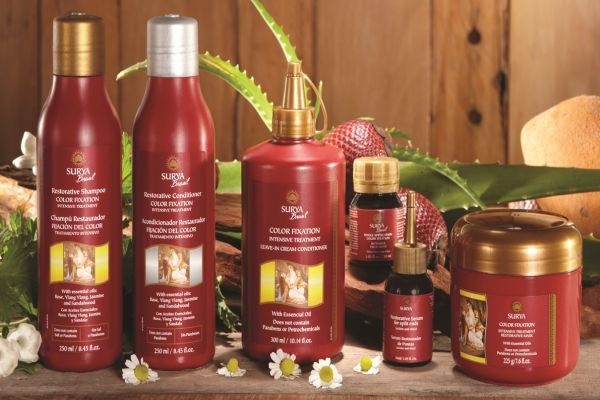 A modern lifestyle in harmony with nature is the foundation of Surya Brasil. It aspires to make products that will suit the needs of the metropolitan citizens without a compromise with fashion and therefore makes organic products including shampoos, hair colors etc. it has been leading the henna hair color segment since 1995 and in 1997 it came out with a henna coloring cream made with organic ingredients. This product became an instant hit and started exporting products to USA and has eventually set up an office there.
USP
USP of the product is that the ingredients used for making the color cream are purely organic; available in ready to use cream form. It is made using rare and exotic herbs and fruit extracts from Amazonia in Brazil and also India, which has stores of organic knowledge. The hair color is a good blend between technology, nature and Ayurveda.
Pros
This cream hair color covers all the white hair and has no peroxide or any other heavy metal. It is completely ammonia free. The cream is safe for use and also helps in maintaining their health naturally.
Cons
Sometimes people don't trust the ayurvedic products, they feel that it is an ancient science and not as much powerful for the present.
2. Tints of nature 6N natural dark Blonde
Price: $14 for 4.20 ounces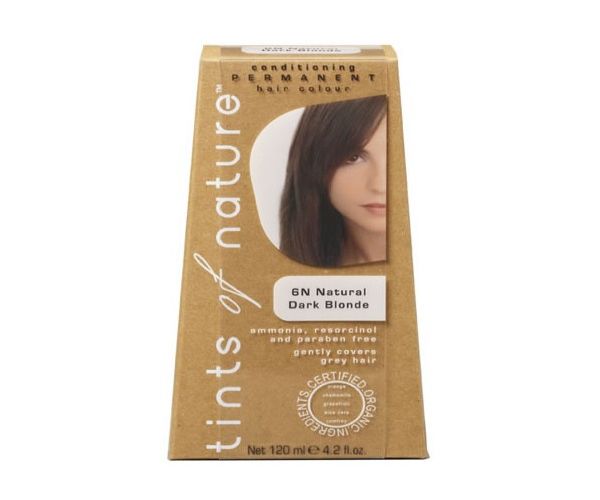 Tints of nature consistently works to bring its consumers the best hair care products of the highest quality with 100 percent natural ingredients which are gentle but highly effective. The ingredients used for the hair color include certified organic comfrey extract, roman chamomile, organic aloe vera and organic orange and grapefruit. All products from Tints of nature claim to have no element of animal origin and also their products are never tested on animals.
USP
A tint of nature brings a wide variety of lasting permanent hair colors with certified organic ingredients. For healthy hair they use advanced formula that will give you white coverage. Natural organic extracts combined with vitamin E and C along with conditioners render the hair color protective and moisturizing.
Pros
All ingredients used have a specific purpose. Organic comfrey has healing properties, roman chamomile is an essential oil, aloe Vera moisturizes the scalp and the anti oxidants in orange and grapefruit protect the scalp skin. The color has no unnecessary orders and very suitable for people sensitive to odors in hair colors.
Cons
If you are an organic lover, and want to protect your hair and drape them in style, there is no reason why should not buy the product
3. Hennalucent semi permanent hair color
Price: $ 7.99 for 2 ounces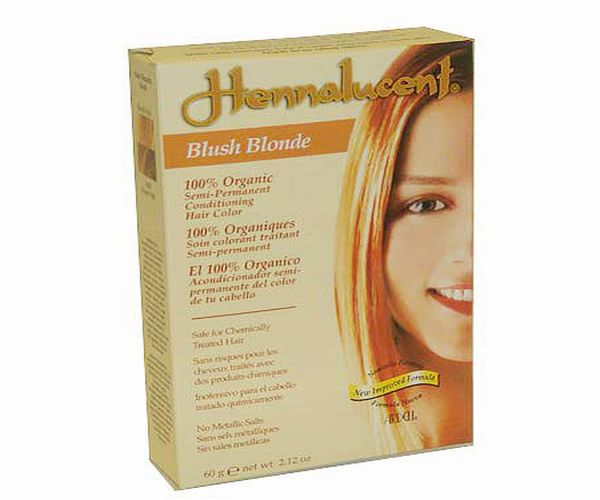 Hennalucent hair colors are purely natural, organic, and safe. The ingredients used are specifically brought from the foothills of the Himalayas. Henna plants, organic herbs and flowers are grow and harvested in northern India. It's high quality Ardell line henna treatments are available only through beauty supply stores. The professional design of the products helps henna penetrate the hair through the shaft for natural absorption.
USP
The natural absorption of henna allows long lasting shine and beautiful highlights to the hair. The main USP of the hair color is its suitability with all other salon services like perms and all others. The color is very rich in proteins and natural conditioners are very helpful for treating split ends and prevent their arousal.
Pros
The overall health and strength of the hair is improved and maintained without the use of any harmful chemicals, peroxides or any other metallic elements. Suitable for all hair types and also used on bleached frosted and straightened hair. You can choose a shade from amongst six translucent colors.
Cons
This color is semi-permanent and will fade away in 6-8 weeks. For some this might be a problem for others looking for a change every now and then, this might be a good option.
4. Naturtint Permanent
Price: $13.59 – $17.95 for 5.4 ounces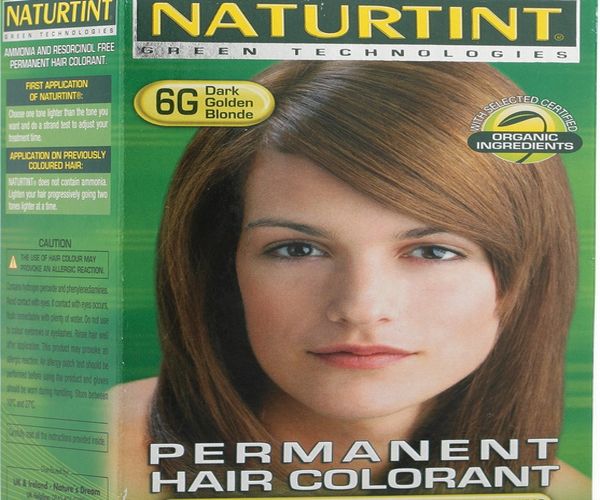 Naturtint Permanent, the new concept of coloration using vegetable ingredients that will revitalize your hair and keep them safe. The product meets very high international standards and it's known for being 100 percent green with even the packaging made from biodegradable material. The products are strictly not pre tested on animals. It uses active ingredients like Oleamine aqua water, cocamide DEA, alcohol, etc.
USP
The hair color contains no ammonia or resorcinol and so you need not go for any hair repair treatments when you use this product. Very gentle therefore can be used as often your roots whiten up. Its deep conditioners strengthen the hair 3 times more and also helps increase the hair volume.
Pros
The color formula is long lasting color with a powerful vegetable base and solar enhanced filter that will provide better protection against harmful elements. From the first application all your gray hair will get fully covered and will have a smooth and soft shine.
Cons
The color will last intensely for 5 weeks but thereafter it will start fading and will demand renewing.
5. Herbatint permanent light blonde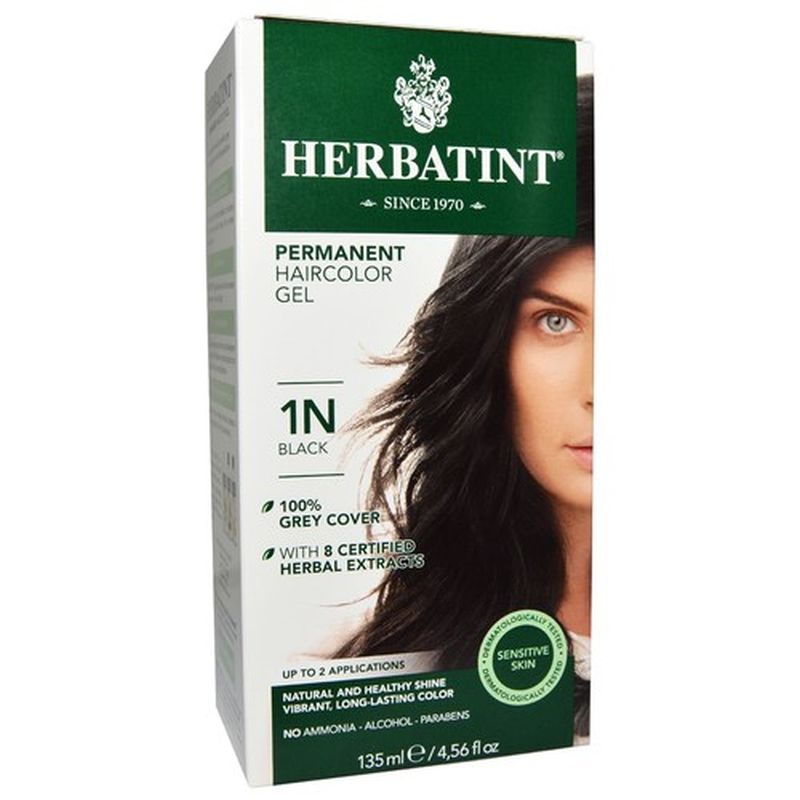 Price: $12.90 – $16.99
Herbatint is a leading natural hair color brand in UK and its market is rapidly crossing the borders to cater to the international audiences. The company understands the hair psyche of women and gives them a product that will not damage their hair but at the same time give it shape and color. Their herbal based formula comes in 30 exciting colors with 6 really flash colors for that extra punk.
USP
The hair color is based on the motto of, no ammonia, no smell, no perfume, no alcohol, no resorcinol, 3 percent peroxide and 100 percent gray coverage. The herbal extracts and the plant protein make it a very suitable natural alternative hair color.
Pros
For every inherent hair shade there is a corresponding hair color. Herbatint capitalizes on this concept and has a wide variety to choose from. Know your base shade and then choose the new shade. It comes both in permanent as well as temporary shades therefore you have a choice even there.
Cons
Sometimes choosing the correct shade might become a bit difficult given the wide variety and expert advice might have to be taken.
6. Aubrey Organic, color me natural
Price: $11.33- $ 13.33 per 4 ounces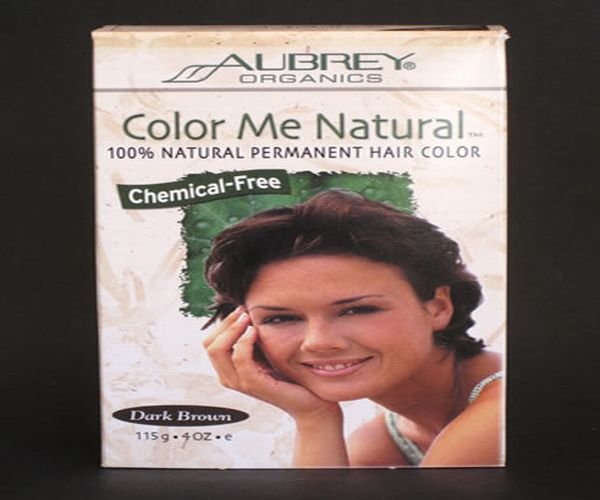 Aubrey Organic founded 40 years ago has evolved to become a leader in natural hair, skin and body products with over 200 varied products. These products are distributed through 4500 retailers throughout the world. The philosophy which Aubrey adheres by is that id something natural and effective is available then why go for synthetic products. It became the first company to get the organic certification from the Quality Assurance International of San Diego in 1994.
USP
The chemical free nature with a blend of mild ayurvedic botanicals will gently coat the hair with beautiful color. The safe herbal formula is free from the use of phenyenediamine, coal tar dyes, resorcinol, ammonia or any other synthetic colors, or even extra fragrances.
Pros
100 percent grey coverage in the first application, this color will nourish your hair with its ayurvedic herbals and give a smooth and shinny look. Most colors damage the shafts of the hair while penetration, but this natural formula will not harm the shafts. For best results it is advisable to choose a shade closest to your natural color.
Cons
Follow the precautions given on the pack and do not apply if the scalp is injured.
7. CHI Organics Tone & Shine Color Silver Minx for gray and white hair
Price: $ 19.50 for 12 ounces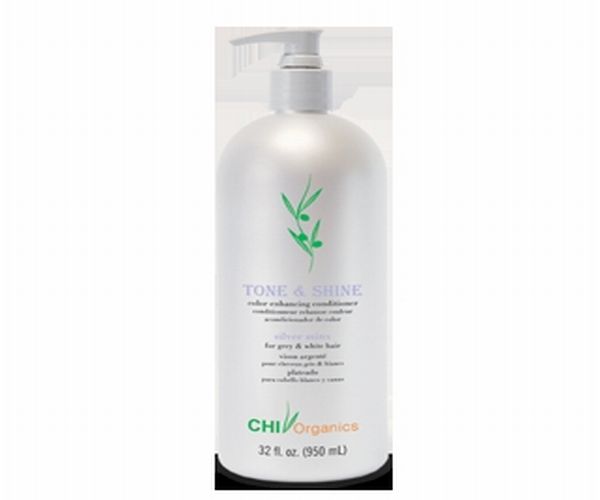 CHI hair care products are an extensive bunch of hair care products which include hair colors, lightener products, styling products or any such product needed for good hair care. The products are generally used as an integrated system, where products are used in conjunction with each other for complete hair care.
USP
CHI hair care products are an extensive bunch of hair care products which include hair colors, lightener products, styling products or any such product needed for good hair care. The products are generally used as an integrated system, where products are used in conjunction with each other for complete hair care. Their hair care products are organic and very suitable for sensitive skin types which do not tolerate chemicals. All products are designed to promote wellness and use a balanced mix of olive ingredients, herbal ingredients, and essential oil extracts.
Pros
The CHI organic Tone and Shine conditioners come with a cera milk complex which is derived from ceramic, amino acids and silk extracts. The color adds depth and brightness your hair. The color has special conditioners that will give your hair a smooth look and a silky touch. It comes in 10 shades and two size packages of 12 oz and 32 oz each.
Cons
The major disadvantage might be that the hair care products have to be used in conjunction for better results.
8. Light mountain natural color the gray
Price: $16.46- $21.90 for 7 ounces
Light mountain colors are a solution company that wants to help people to prevent cancer especially due to the use of chemicals for their skin care and hair dyes. These cancers can affect the bladders and can cause leukemia. Therefore, the products have been specially designed using botanical ingredients with no cancer risks.
USP
These hair colors come as a complete hair care kit, which includes detailed instructions about the use and precautions to be taken while use. The kit also has gloves and a hat. If you are not satisfied with the product there is 100 percent money back offer.
Pros
The color is henna based and has no chemicals whatsoever. They come in various exciting shades including gorgeous reds, rich auburns, deep browns and ebony blacks in 12 henna shades and 8 gray line shades. The henna not only colors the hair but also conditions them well.
Cons
No perceivable side effect or product defects. Use cautiously, without bringing in contact with the eyes.
9. Rainbow research hair color
Price: $7.69 approximately for 16 ounces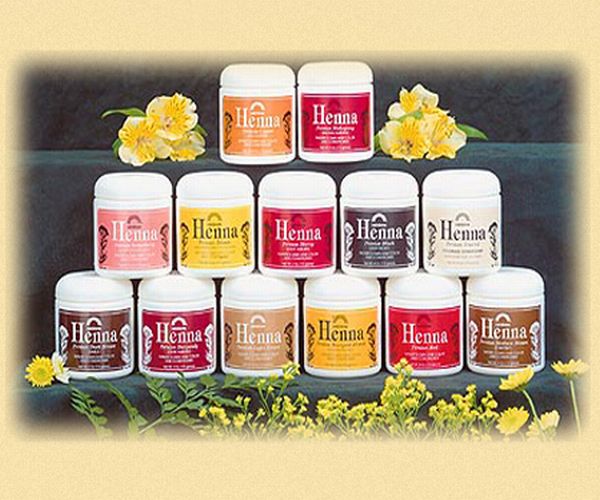 Rainbow Research has been working in the wellness industry since 1976. Their philosophy is to use all natural ingredients at their disposal to create safe and healthy products and avoid use of unnecessary chemicals. They avoid testing their products on animals. Their products are available in health stores, massage therapists, medical care units, and salons throughout the world.
USP
Rainbow hair color is purely henna based with no added chemicals or pesticides. It blends naturally with the hair texture and natural color. It fades gradually and lasts for 6-8 weeks. The henna sealed the hair cuticles which gives greater shine and body to the hair.
Pros
It has a very mild formula that is effective and covers every strand of gray hair. The custom tailored recipes devised by Rainbow research give highlights to the hair when colored and also improves the texture of the hair. Recommended for damaged hair, the natural hair will not further deteriorate the texture, but instead will be helpful to get rid of split ends.
Cons
The hair color is much dependent on your natural hair color and the final shade may vary with each hair natural hair type and color.
10. Morrocco method simply pure henna
Price: $ 20 approximately per pack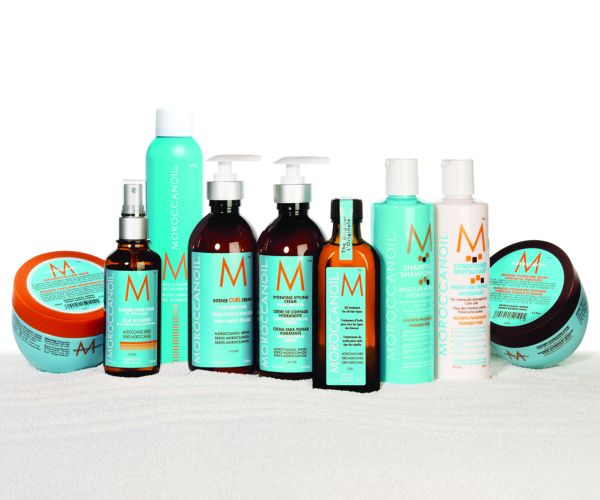 Morrocco method raw and vegan hair care products are specially designed to give your hair a luxuriant look and a healthy scalp naturally. They hair care products include natural, wild crafted shampoos and conditioners and natural henna hair colors. They do not test the products on animals and make sure all their suppliers also do not perform animal tests.
USP
All hair care products are ideally suited for people who are sensitive to chemicals. These have a non toxic composition. Provides excellent fray coverage or color enhancement with deep conditioning and a non dry formula.
Pros
Well suited for all hair types. The ingredients are non toxic. The non drying formula makes it very popular as other hair colors dry the scalp and also roughen the hair texture due to their chemical composition. It can be used on an itchy and irritable scalp.
Cons
Organic has to be your choice and if you do not have faith in herbal power, you might get dissuaded from purchasing it.
Some more tips to make your personal hair salon eco-friendly
The term "eco-friendly hair salon" sounds daunting at first but it's not that difficult once you have all the information in hand. You just need to make some minor but smart changes in your daily business routine to attain a green and eco-friendly salon space.
With some effort, you will have the contentment of having contributed your share towards creating a fresh and clean environment for posterity.Here are some tips for creating your dream green salon workspace.Follow the 3R's rule-Reduce, Reuse and Recycle in Salon space as well.
Take Only What You Need

Keep the use of Salon materials to a minimum. Use just the right amount of coloring cream or hair color you need. If you stick to this "minimum use" rule, unnecessary wastage can be avoided.

Join the "paperless" movement. With the majority of people active on the internet and social media, there is no need to distribute paper flyers and pamphlets.

Use salon software that generates e-receipts for the customers, eliminating printed paper receipts. This also offers a great opportunity for the business to grow their customer email list.Use social media platforms to spread the word about your products and services.Create a customised website that contains information about salon services, hours and products. Set up automatic email notifications to send out offers, promotion and deals to regular customers.

If printing has to be done, use both sides of the paper and reformat your papers to use minimum space and paper.
Create Sustainable Energy
Invite natural elements into your salon through natural lighting and indoor plants that naturally purify the air. These are great cost-cutting tips for light energy and air conditioning.Scheduling frequent visits by the electric company to check the circuits, electric appliances, window insulation, appliances are simpler ways towards creating an environment with minimum electricity usage.
Use energy efficient bulbs and LED lighting. Add to it energy efficient hair dryers, and bamboo hair brushes will take you closer to your goal of building an eco-friendly salon.You can even install an energy meter box to monitor electricity use.
Go Natural and Recycle

Replace synthetic ingredients with renewable and if possible natural ingredients. Simple things like using reusable gloves in place of disposable gloves, reducing the use of tissue etc. will help reduce wastageto a great extent.

A novel concept that many beauty salons are not aware of is the use of refillable containers for beauty products. This is a great way to reduce plastic waste which is causing irreparable damage to the environment.Replace paper and plastic drinking cups with glass or ceramic ones that can be reused.

Any electrical items that you think you won't be used anymore can be given away to individuals, beauty coaching classes or hairdressing schools. Ensure that items meant to be recycled actually done so and made into other usable items.

Hair, color tubes, foils and other salon materials can be recycled and repurposed. This also prevents from flushing down excess chemicals down the drainpipe.Old magazines and papers can be recycled or donated to schools for use in craft work.

Watch what you Buy

When you buy beauty products for your eco-friendly hair salon, you must ensure they don't contain BPA(Bisphenol-A). Studies show that among other things, this chemical may cause damage to the reproductive system of humans. Natural vegan-friendly products are the way to go.

Ammonia free hair dye is another step towards this direction as ammonia is known to be a leading toxic source both for the air and the health of the clients.Many salons make tall claims that they only offer formaldehyde-free Keratin treatments but lab tests on these proved otherwise.

Studies say that Formaldehyde is a proven carcinogen and industries are also only permitted to emit an only regulated amount of this chemical.Do not contribute more to air pollution by using formaldehyde products. Offer formaldehyde free Keratin treatments with organic products that are safe for your clients and your surroundings.

Go for chemical free, vinegar-based glass and mirror cleaners.A popular saying goes "good things come in small packages". But for an eco-friendly salon, good things are those that come in recyclable packaging.

Animals are an integral part of a healthy eco-system. If you want to keep it that way, you would want to stay away from products that were tested on animals.hoose salon products endorsed by PETA(People for ethical treatment of animals). These are cruelty-free vegan-friendly beauty products that you can proudly use or endorse.

Your customers too will appreciate your efforts towards creating a humane society along with creating an eco-friendly hair salon.

Create an Eco-friendly Hair Salon Space


Your salon ambience speaks volumes about your business motto. To drive home your environment-friendly motto, furnish your salon with decor and furniture that is from recycled sources.Avoid aerosols. Instead, keep your salon clean and fresh with organic products for cleaning.Be creative, think out of the box, get your hands on the second hand, upcycled and goods from thrift stores.

Water is Priceless

It is a known fact that water is needed in abundance in any salon, but there are plenty of ways the use of water can be reduced. For instance, while water is being used with shampoo or conditioner, the tap need not be kept open. A flow reducer that works like a nozzle helps reduce water flow by mixing with air and breaking into tiny particles. This can cut water bills by up to 50%.

Some salons even invest in installing water recycling systems to reduce wastage.Remember to check and fix any leaking faucets or pipes.Water is a priceless treasure, and you must take all steps to conserve it. Washing machines to wash towels must be energy and water efficient.

An eco-friendly washing machine may be a bit pricey, but the pay-off's in the future in terms of electricity and water bills is huge. Natural detergents can also have a huge impact on creating a healthier environment.

Follow the above methods as a guide to building a holistic, green, clean and pure eco-friendly hair salon ambience for your staff and clients. The money saved in the long run is, of course, a bonus.

By adopting energy efficient techniques and eco-friendly practices, you can try and reduce the carbon footprint you leave for Mother Nature.