Keeping in mind the current situation of the world, it isn't surprising to see that even restaurants from all around the world are going green. Most of these restaurants aren't just energy and water efficient, on top of that, they also focus heavily on the three R's. One popular type of restaurants in this category is the shipping container restaurant. Just like container houses, apart from being highly sustainable, these restaurants are also stylish and inexpensive. Let us read more about them and see how they are making a change for good.
10 Awe-inspiring shipping container restaurant designs
Nearly one-third of total solid waste stream is the packaging waste, half of which comes from transporting of goods by shipping. The shipping containers carry goods from one place to another. They mainly constitute of plastic, steel or generally from corrugated cardboard. In addition, reusing these containers and converting them into modular homes, offices and even restaurants reduces the amount of material going to the waste stream. Here, we have put together, 10 shipping container restaurant designs to leave you awestruck. Check them out aftre the jump…
1. Muvbox shipping container restaurant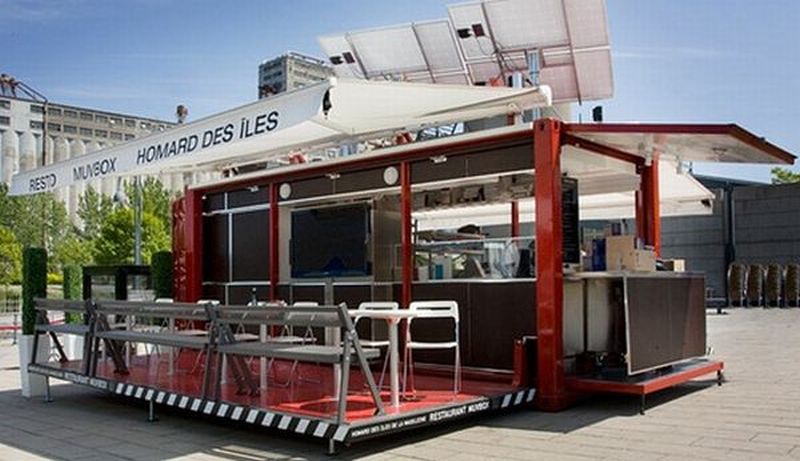 After the completion of the conventional use of shipping containers, they accumulate in the waste stream. However, Daniel Noiseux of Montreal, who owns the Pizzaiolle restaurants, has converted a 20-foot shipping container named Muvbox, into a restaurant which opens at the push of a button in about 15 minutes.
The green restaurant makes use of solar panels to generate 40% of energy used within the restaurant. Moreover, Propane provides with rest of energy that the restaurant utilizes to fuel the kitchen appliances. Recycled tires make the floor tiles. Daniel targets to inspire people by opening a chain of such restaurants all over the world.
2. The Singapore Takeout Pop-up Restaurant
The Takeout Pop-up restaurant is situated in Singapore.The Pop- Up restaurant is known for its delicious delicacies. What makes the container popular, is its travelling around the world. Paris would be the second destination for the container restaurant.
3. Saucy's Walk-Up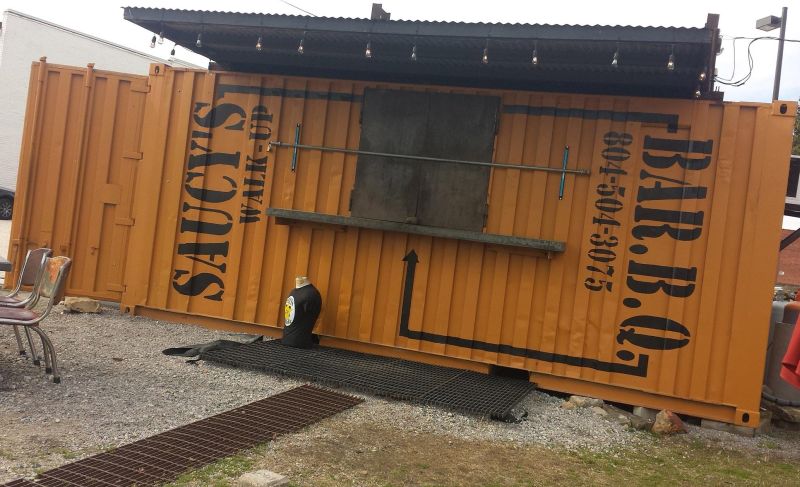 Image Source : progress-index.com
Tom McCormac as a musician in his former days, used to venture out with his band in search of food carts. McCormac, himself, was a great cook but it took him a while to realize that. The realization was accompanied by the initiation of the barbecue business.
For his restaurant, he used a 20-foot shipping container which is situated at the corner of Fifth Street and Bollingbrook Street. The Saucy Walk Up, as he named his restaurant, offers a wide variety of dressing for chicken. In addition, customers can choose anything from mustard to a jalapeno sauce, to add taste to their chicken.
4. La Boite
Located in Austin, Texas, the La Boite cafe serves little variety but great quality food and beverages. Moreover, the restaurant follows the green building practices and is twenty feet long. Victoria Davies and Dan Bereczki are the named partners in this project.
5. Sushi Box mobile restaurant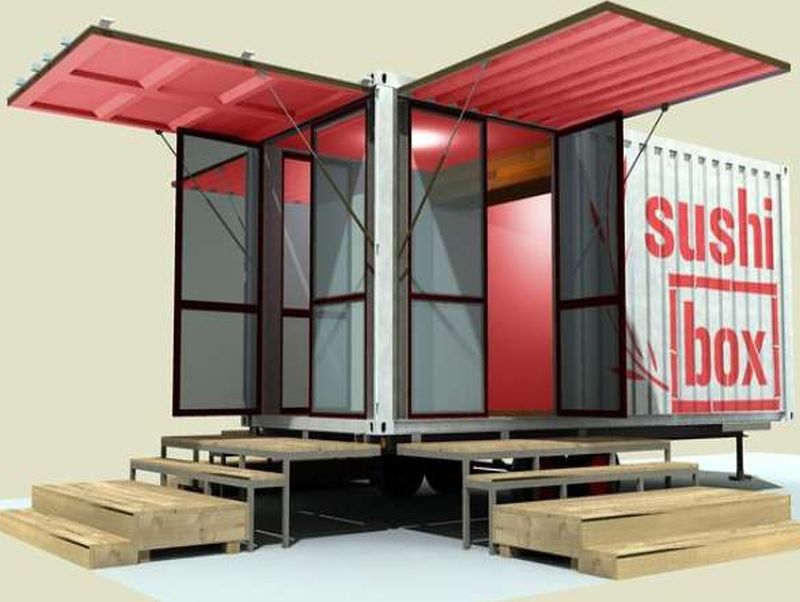 Image Source : relaxshax.files.wordpress.com
Sushi box mobile restaurant finds its location in Austin, Texas. Mark Meyer of Design STUDIO, reused the ISBU converted shipping container and designed it into a restaurant. The restaurant is managed by the head chef Ben Crockett who excels in sushi making. In fact, with some great public reviews to its credit, the restaurant is a big hit in the town.
6. Wijn of Water
The Wijn of Water (Wine or Water) restaurant was build in 2005. The architect, Caroline Mugwor made use of nine 40-foot recycled shipping containers to build this restaurant. It took 6 months for its construction. Located in the Lloyd-quarter in Rotterdam, the restaurant can accommodate 50 people on the 'Summer Terrace' and the total cost that came in for the construction was € 165,000.
7. Red Fish Blue Fish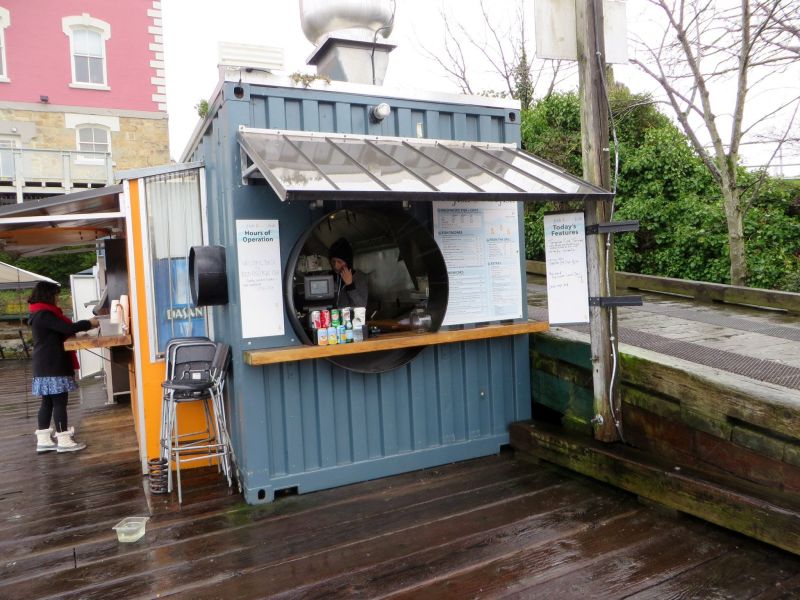 Image Source : i1.wp.com
The Red Fish Blue Fish restaurant is located on a dock around Victoria's Inner Harbor. It is made by reusing a metal shipping container. Adding to the environmental friendly design, the owners choose to use recyclable products to cook sustainable fish. The restaurant serves all kinds of delicious sea food.
8. Beitang Container Restaurant Project, Tianjin, China
Beitang container restaurant is a part of Beitang Container Project in Tianjin, China. The sea food serving container restaurant utilizes every bit of space. Moreover, the container roof has been converted to provide open seating for the customers.
9. Mobile Subway Restaurant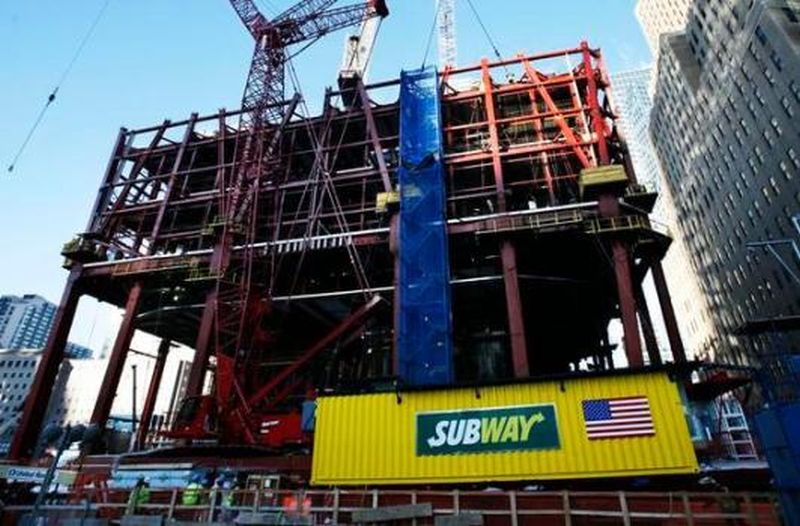 Image Source : denverpost.com
This Subway restaurant is built in New York for the workers reconstructing the World Trade center. The Subway restaurant stands unique among other shipping container designs, given its serving style. In addition, the restaurant is lifted up by a crane to serve food to the workers.
10. Joost Greenhouse
The Dutch architect Joost Bakker has designed and constructed the restaurant called Joost Bakker's chic and fun Greenhouse. The design of the restaurant is environment-friendly with the base as a discarded shipping container and use of steel and straw as major materials used for building the frame. Furthermore, the green wall consists of many terracotta flowerpots containing consumable seedlings. With his restaurant, Joost inspires and teaches many architects to follow green techniques.
Some Other Notable Green Restaurants
1. Uncommon Ground, Chicago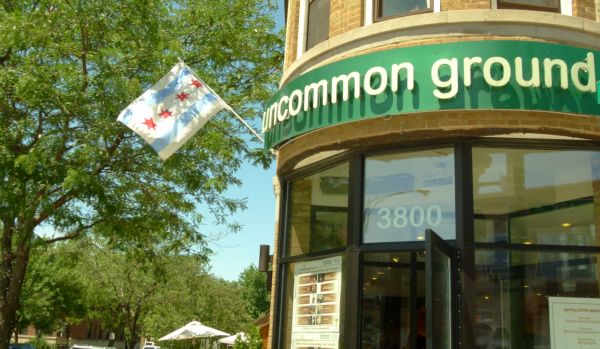 Image Source : UncommonGround.Com
One of the greenest restaurants in the U.S., the Uncommon Ground boasts of getting 4 stars in the categories of energy, sustainable food, waste reduction and recycling, water efficiency, chemical and pollution reduction, and disposables.
In addition to having its own rooftop organic farm, the restaurant also has plenty of other sustainable features like solar panels, LED lighting, biodiesel vehicle and eco-friendly cleaning products. Moreover, it also follows a strict zero waste policy. Furthermore, with the design sustainability possible because of reclaimed wood and plastic rooftop deck.
2. Founding Farmers, Washington D.C.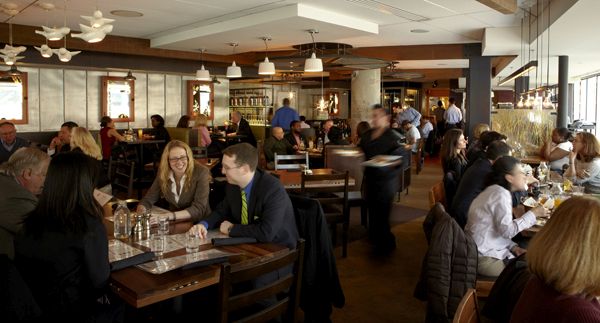 Image Source : WeareFoundingFarmers.Com
Here is one restaurant that boasts of preaching and practicing sustainability to the hilt. The Founding Farmers restaurant in Washington consists entirely of recycled textiles, wood and paper composite materials. Furthermore, the restaurant has also been painted with non-toxic paints, and features menus made of recycled paper and printed with soy-based inks. In addition to making use of a fully functional water filtration system, the restaurant also purchases carbon credits to boost its carbon neutrality by 100%.
3. Acorn House, London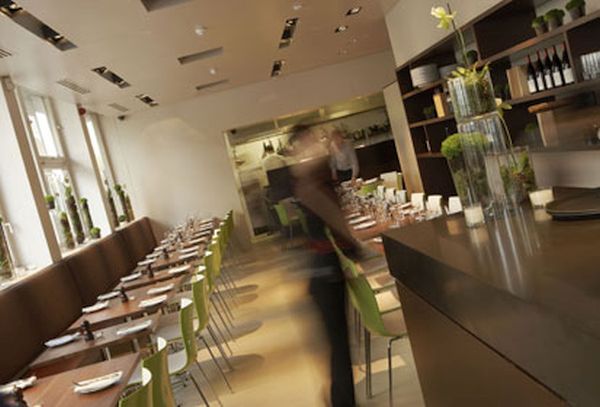 Image Source : Stylewillsaveus.Com
The first restaurant of its kind in London, Acorn House serves only organic, seasonal products sourced from local markets. In addition to recycling and composting its waste, the restaurant buys products in containers which it sends back to the suppliers. It also uses its own biodiesel car to pick up produce and runs a training program to help aspiring chefs attain their goals in a sustainable manner.
4. Tang Palace Bamboo Restaurant, China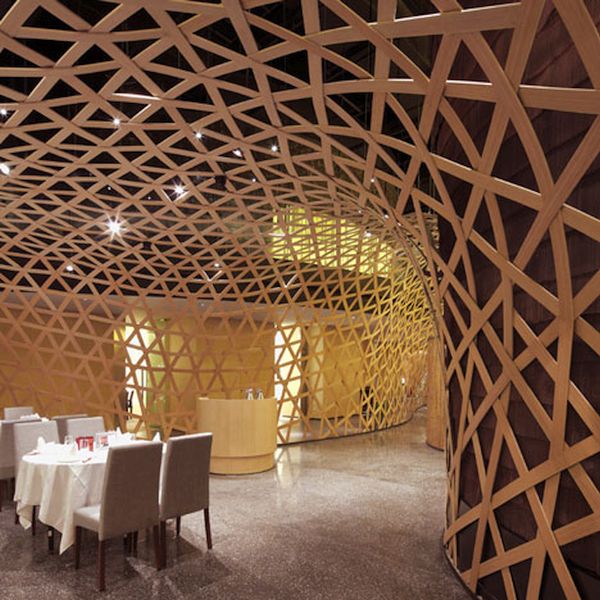 Image Source : Ezeen.Com
This green restaurant in China consists entirely of renewable bamboo. The bamboo weaves intricately to form shell-like interiors that provide ample privacy and intimacy for visitors. You can see a number of these shells throughout the restaurant. In addition, a wavy ceiling offers great visual interest within each shell while light transmitting bamboo boards wrapped over the core columns transform the otherwise heavy and dull concrete blocks into livelier objects.
5. Treehouse Restaurant, New Zealand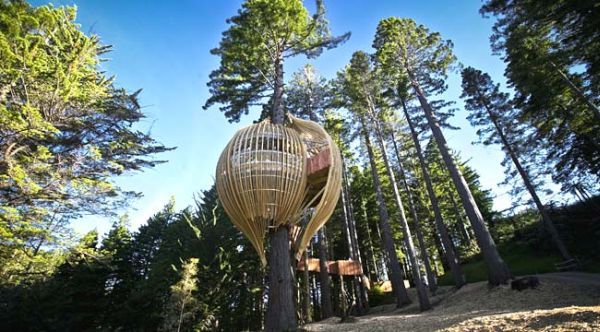 Image Source : News.Com.Au
Accessible only by an elevated walkway, the Treehouse Restaurant in New Zealand is a sustainable restaurant which features individual cocoons made of locally grown wood, pine and poplar. The cocoons dangle several yards from the ground and can seat up to 50 guests at any time. Although the recipient of many sustainability awards, the Treehouse Restaurant is currently not open. Nevertheless, it remains as just a source of inspiration for other treehouse restaurants around the world.
6. Green Restaurant Mobile, Canada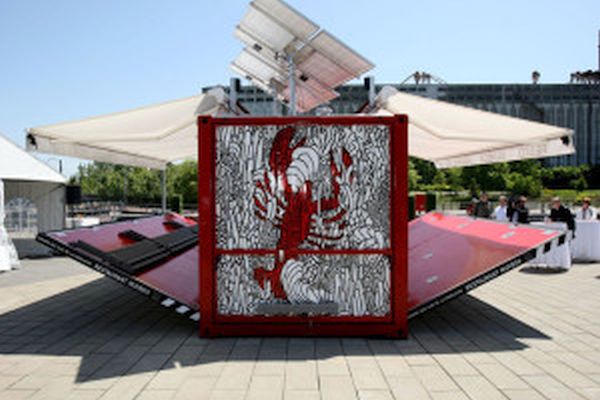 Image Source : Living-Green-NewsFlash.Com
Another restaurant built out of a reclaimed shipping container, the Green Restaurant Mobile in Canada features a design that has a minimal carbon footprint on the surroundings. All it takes is just 15 minutes for the restaurant to unfold from the shipping container. The fully operational restaurant can seat up to 40 people at a time. In addition to its award winning sustainable design, the restaurant also features other green initiatives like a wood-fired pizza oven, rooftop solar panels, biodegradable packaging and an eco-friendly floor.