Modern hospitality industry is looking for greener pastures. With the escalation of worldwide travel and heightened competition, sustainability is a key factor in successful brand management of hotels. Increased accreditations in planet-friendly practices are driving the hospitality industry to prove their environmental merit.
Therefore, sustainability trends in hospitality industry are evolving as hotel giants take to innovative greener practices in hotel design and resource management with the prime objective to reduce carbon footprints.
Consumer awareness is growing and travelers are more conscious of eco-friendly practices and choose temporary relaxing places promoting sustainability. The hospitality industry benefits not only from words of mouth but gets rewarded through considerable financial savings in tax reduction and energy saving schemes.
Sustainability trends in hospitality industry for 2019:
1.     Meeting global carbon emission compliance: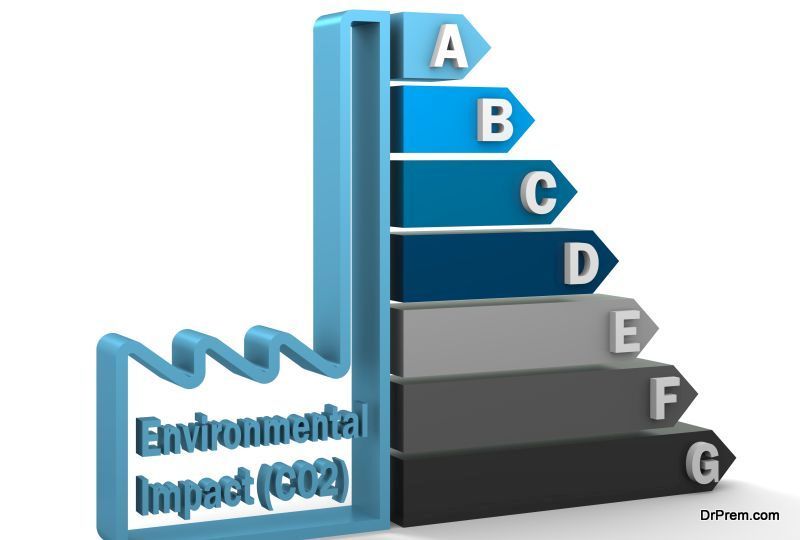 To meet the carbon-emission goal set by the United Nation's Paris Agreement, leading hotels are opting for science-based carbon reduction targets (SBTs). This guides the hotels by specifying the ways and practices to get the exact carbon measurement and how fast it can be reduced.
Hilton Hotels has announced its acceptance of SBTs and other eminent players like Melia Hotels International and NH Group are following its footsteps. This is one of the prime sustainability trends in hospitality industry that will help in establishing a baseline for carbon emission reduction encouraging other small players to follow these examples.
2.     Mid-sized players to report on CO2 emissions and sustainable development goals:
Mid-sized groups with fewer properties may not have any special corporate infrastructure to meet the committed carbon reduction target. They are likely to do their own carbon measurement with specific tools by adhering to specific energy certification requirements (like LEED certification) or making their buildings more energy efficient.
3.     Waste Reduction: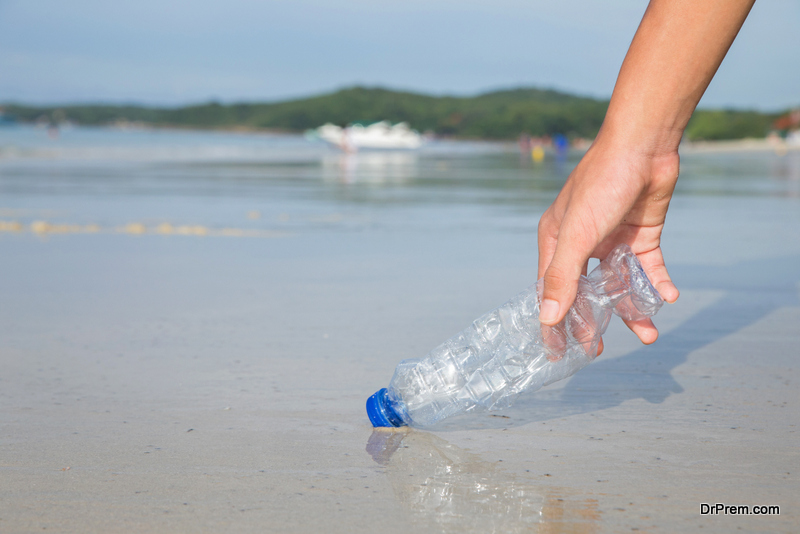 There can't be a second thought that waste reduction would be another key sustainability trend in hospitality industry. The growing plastic waste in oceans from irresponsible tourism activities has created a serious environmental concern.
Hotels are under pressure to adopt waste reduction practices especially those with zero waste recycling systems. This encompasses not only preventing entry of single-use items and removing plastic bottles but also should consider wrapping items, delivery crates and others.  The UN scheme listing sustainable hotel practices in waste reduction is likely to be adopted.
4.     Reducing the usage of plastic:
Leaders of the hospitality industry are taking appreciable measures in reducing plastic usage. Recently, Marriott International announced the removal of plastic straws and stirrers from more than 6500 properties in the world. In place of small plastic containers for toiletries, in-shower dispensers will be introduced.
Kimpton Hotels and Restaurants are proactively working to replace plastic straws with compostable or metal straws or serve drinks sans straw. In toiletries, all Kimpton Hotels provide larger in-shower bottles that are either mounted or free-standing. This has significantly reduced the volume of plastic waste caused by small plastic containers.
5.     Monitoring water usage: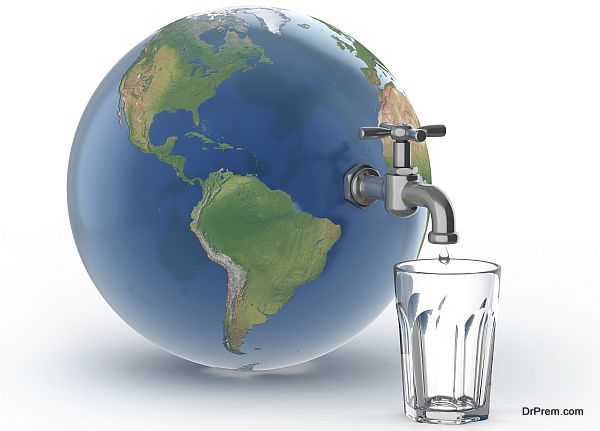 The Northern hemisphere experienced perhaps the driest and hottest summer last summer. This signals an impending water crisis which the hospitality industry cannot simply overlook.
It is sure that the availability and cost of this life-saving commodity will no longer be the same as before. Reducing leaks and inefficiencies and retraining staff in its optimal usage are vital sustainable hotel practices that the industry will seriously think implementing.
6.     Stepping up water conservation:
Expect more water conservation measures in the hospitality industry this year. Hotels are investing more in installing certified low-flow aerators in faucets and showerheads in the guest rooms. Vail Resorts in Colorado is saving up to 200,000 gallons of water drainage by fixing low-flow showers and water-less urinals since 2008.
More big and small hotels are likely to follow suit given the situation of the alarming tourism-induced water crisis in many well-known destinations.
7.     Hotels to go smart in energy reduction: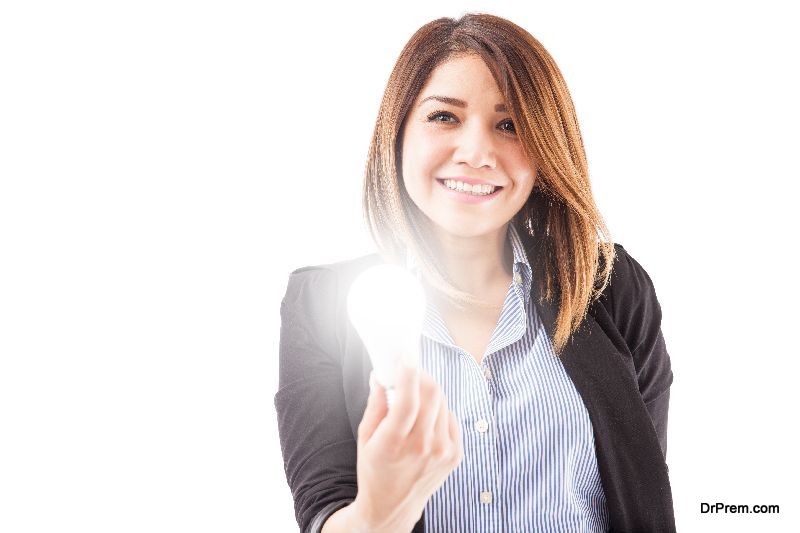 Upgrading existing technologies go a long way in saving energy instead of investing in the latest technologies. A sustainability trend in hospitality industry can be observed in using energy-efficient electrical gadgets. LED and energy-saving lamps are finding more use.
Smart energy management system is helping hotels track the energy consumption in various parts of the hotel. This is followed by continuous optimization of energy usage to minimize the environmental impact.
8.     Entertainment through green storytelling:
Awareness education does not yield unless there is some fun element in it. This year's sustainability trend in hospitality industry would be like communicating through great storytelling of the green initiatives taken by the hotel and its outcome.
Interesting story-telling in Instagram, infographics and Facebook posts can be great to spread the hotel's sustainable efforts among guests encouraging them to follow green practices in travel and hotel stay.
9.     Growing engagement in online sustainability tools: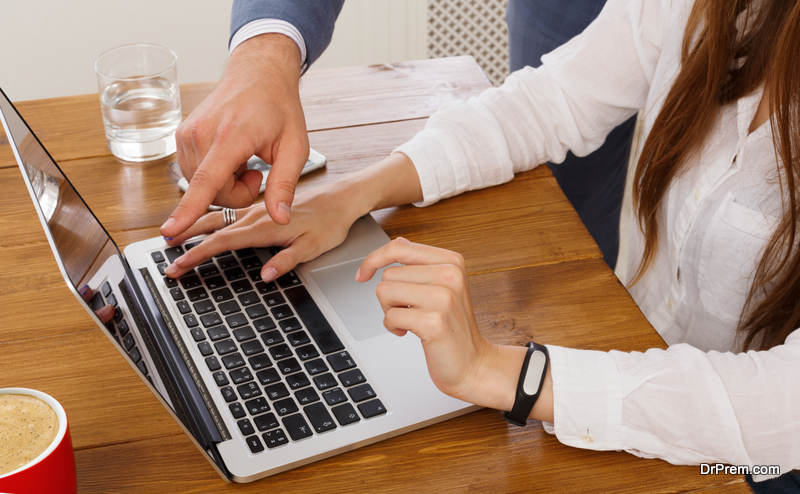 One of the notable sustainability trends in hospitality industry to watch out this year is the rising use of online tools to check and measure sustainability metrics. For example, IHG Hotel uses the Green Engage tool that helps to track and measure water usage, utility consumption and carbon emission.
The online tools help hotels to access more than 200 green solutions that can be implemented to create exemplary sustainable models and can make 16% savings in energy bills on an average.
10. Sustainability efforts in supplies:
The Canopy by Hilton has found new ways of sustainability by adopting filtered water stations and using recycled brown bags in delivering breakfast options. The brand has partnered with like-minded groups to uphold its sustainability efforts.
The Ranch Malibu has adopted an exclusive plant-based menu using fresh produce from the on-site certified organic farm that consumes less space, water and energy. Its bee-farming produces about 500 pounds of honey every year.
Hilton Los Cabos has arranged its own drinking water by installing a desalination plant that does not affect the local drinking water resource.
11. More and more recycling: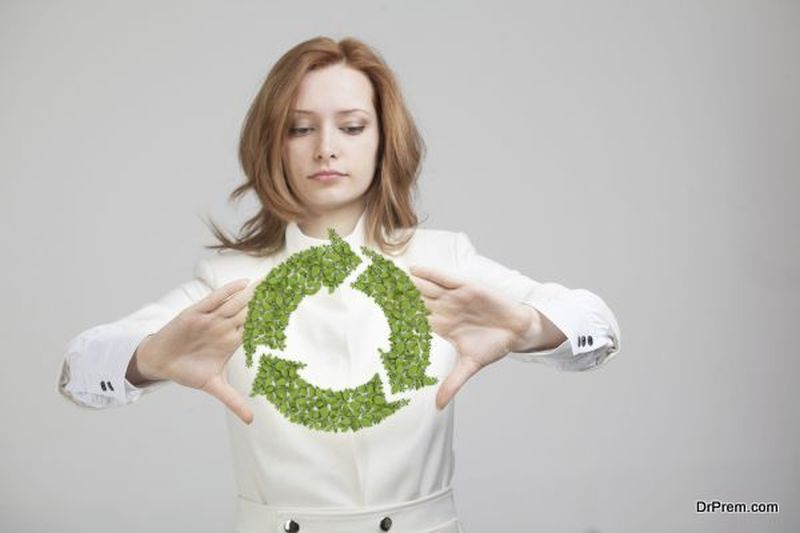 Recycling is the pillar of sustainability and the hospitality industry will be more into this process.  A notable recycling initiative taken by Canopy of Hilton has produced over 4 million new soap bars from one million pounds of partially used soap collected from various sources.
12. Hotel design and eco-friendly materials:
Merging of indoor and outdoor spaces in hotels and resorts is another growing sustainable trend in hospitality industry. Walled gardens, indoor waterfalls, indoor daylight and panoramic views are incorporated allowing guests to connect with nature in spite of being secured in an indoor-outdoor space.
The certified Green Hotel, Dorsett Shanghai, China has 60% of the guest rooms overlooking Century Park, the largest one in Shanghai with a grand display of countless plants in the interiors. Another notable green hotel design can be found in The Anam, Nha Trang in Vietnam constructed with timber procured from sustainably developed forests.
13. Be a caring organization: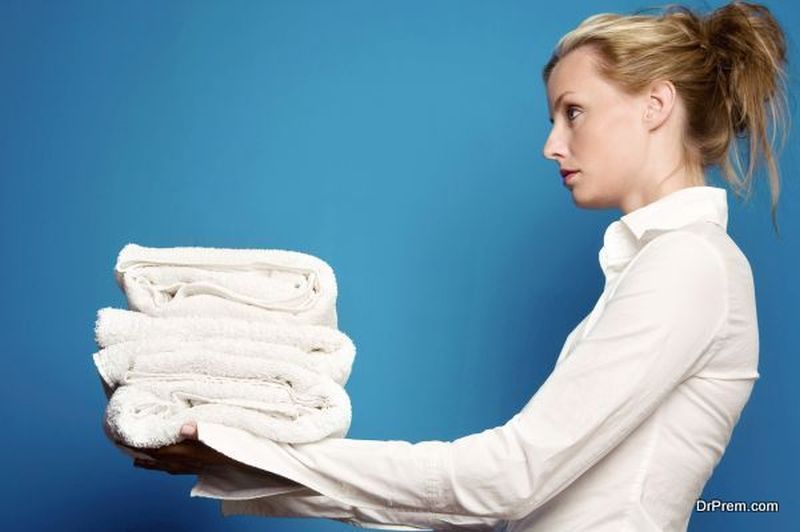 Present generation making up the workforce is much aware and conscious in choosing careers and employers. They are more inclined to work for companies taking due care of environmental and societal impact.
One of the key sustainability trends in the hospitality industry is to adopt responsible business drives and offerings to attract this new generation workforce that will further help in developing the hotel's brand value.
14. Install HVAC systems activated by key cards
Sometimes guests can forget to switch off the air conditioner, geyser, lights and fans in the room. This can be solved by introducing a key card system. When the key card is slid into a wall unit, it would allow the electricity to be turned on, and when the key card is removed, the electricity would be switched off automatically.
15. Have a vegetable garden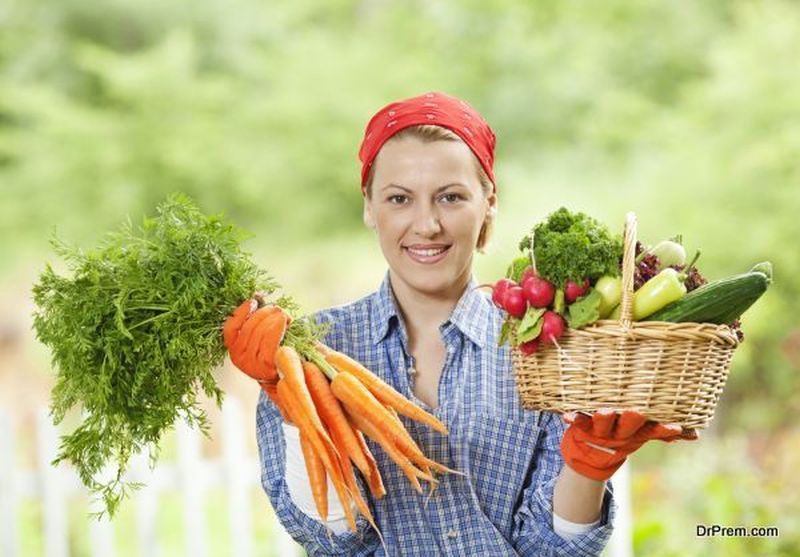 Hotels could grow most of the herbs and vegetables in their own organic garden. It would be a visual confirmation to the guests that the raw produce is as fresh as it could be, and without any pesticides or chemical fertilizer. If the hotel has acres of land, then it could have fruit orchards too or a vineyard where guests could walk around and have a unique experience. Hoteliers could go further and involve the guests in harvesting as well, providing a memorable and unforgettable for guests.
16. Use ceramic/glass cups
One of the things which hotels concerned about the environment should do is replace disposable cups/glasses with ceramic and/or glass ones. Styrofoam cup/glasses should be completely avoided as they contain a huge amount of toxins and they take a long time to biodegrade. Plastic glasses too should be avoided. Hotel guests can refill their coffee with the mugs/cups they carry from their room or fill their travel mugs. Hotels can sell reusable mugs too, along with the message that guests would be contributing to the reduction of the most toxic material created by man – plastic. Replacing plastic or Styrofoam with materials which can be used several times is one of the ways how hotels can go green.
17. Use green cleaning solutions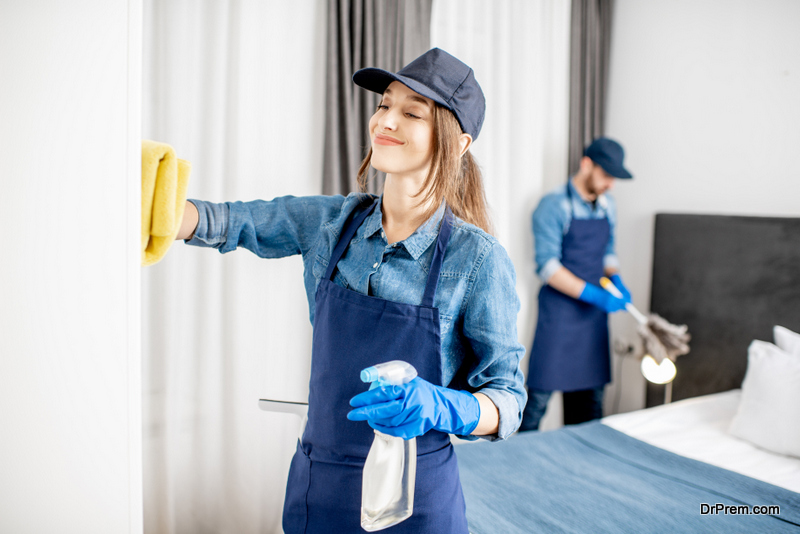 Instead of harmful chemicals, hotels can start using non-toxic cleaning solutions, sanitizers, pesticides etc as these would not harm the waterways around the hotel.
18. Installing commercial water-filtration system
To reduce plastic use while continuing to offer guests pure drinking water, hoteliers can install a commercial grade water filtration system with dispensers. These systems can save a lot of money long term and reduce buying bottled water, thus reducing plastic pollution. These water cleaning systems can be hooked directly to the hotel's water supply, thereby allowing guests and staff to fill reusable bottles or glassware whenever they want to.
Hotels can make the travelers aware about the environmental benefits of reusable bottles which reduces carbon footprint considerably, and hotels might sell them on their premises to help guests get access to these easily.
19. Enable ease of recycling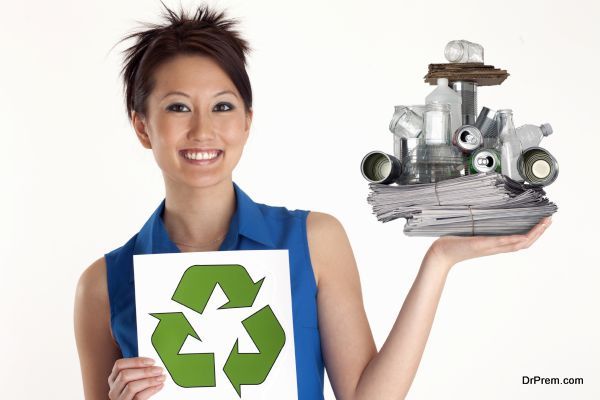 Instead of just one trash bin, every room should have two bins – one for biodegradable waste such as paper and one for plastic and other recyclables. This would save time of hotel employees sorting through the trash. Guests would do the sorting themselves, and also feel good about the active steps the hotel is taking to help the planet.
20. Replace toiletries in plastic bottles
Hotels worldwide place toiletries such as lotions, shampoos, conditioners, hand soap, body wash et al in tiny plastic bottles, and guests love these tokens of hospitality. But unfortunately, this only adds to plastic waste which should be avoided. Hotels can replace the plastic bottles with glass bottles or install refillable wall dispensers for these items. It would cost less eventually and also reduce plastic use and waste considerably.
Similarly, replacing plastic laundry bags with those made out of cloth would be a environmentally friendly practice on part of the hotel.
9 Reasons why hotels should go green
Consumer awareness has driven many businesses to go green, including the hospitality industry. Environmentally aware travelers worldwide, about 76%, look for hotels which have eco friendly initiatives. People of all generations, from Baby Boomers to millennials, are searching for hotels that show concern for the planet. Needless to say, going green has many benefits for the hotel as well. Let's take an in-depth look at why should hotels go green?
1. Monetary savings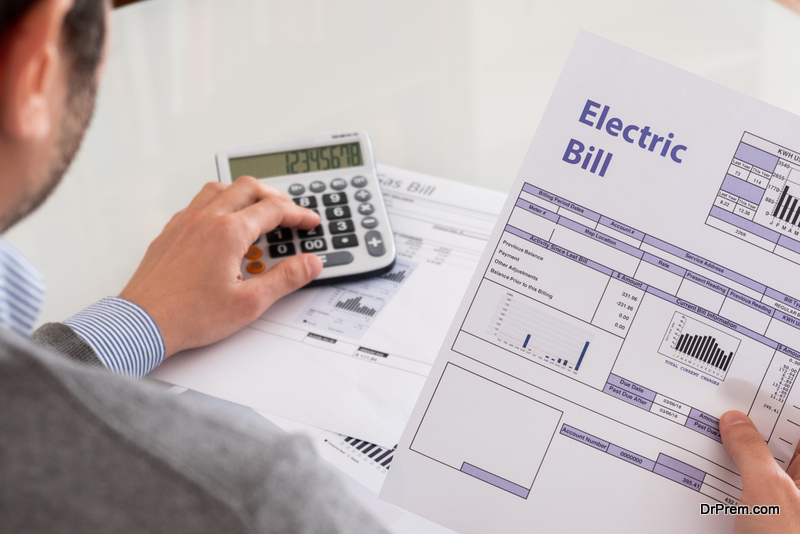 Hotels save money over time after they implement green strategies. This happens due to the savings in the energy bills when they make changes such as changing the lighting to eco friendlylighting. Incandescent bulbs suck energy and result in huge energy bills, especially in hotels which have to be well-lit all the time.
Changing the light bulbs to LEDs will reduce electricity bills by half at least. For example, for illumination of 800 lumens, a 60 watt fluorescent bulb is required, but for the same amount of illumination, a 6-8 watt LED bulb is enough. LED lights last for a whopping 50,000 hours as compared to 1,200 hours of normal bulbs. This reduces the lighting bill even more.
The advantage of green technologies is that they are designed for the long haul. Most green technologies turn self-funding after a while which reduces the operating costs and thus saving money, which is one of the reasons for hotels to go green.
2. Environmental responsibility
Shrinking glaciers, sea levels rising and drastic climate change are factors which can no longer be ignored. GHGs are pumped in the atmosphere every day. Millions of tons of avoidable waste is dumped in landfills and oceans. Hotels too are responsible for this, just like any other entity or business. 
The vast amount of energy usage, including electricity and water makes hospitality one of the industries which has to pare down on its use of resources as well as control the waste generated. Apart from governmental laws and regulations, hotels should take responsibility and implement strategies which could make a real difference in preserving resources. Ethical responsibility and consumer demand is making hotels all around the world embrace environmentally friendly measures. This has led to hotels go green, and preserve the surroundings around them to draw the future generation of tourists/travelers.
CSR or Corporate Social Responsibility is an important factor for all businesses today, including hotels. Studies have shown that businesses which display environmental, social and governance policies outperformed their competitors.
3. Attracting eco-conscious travelers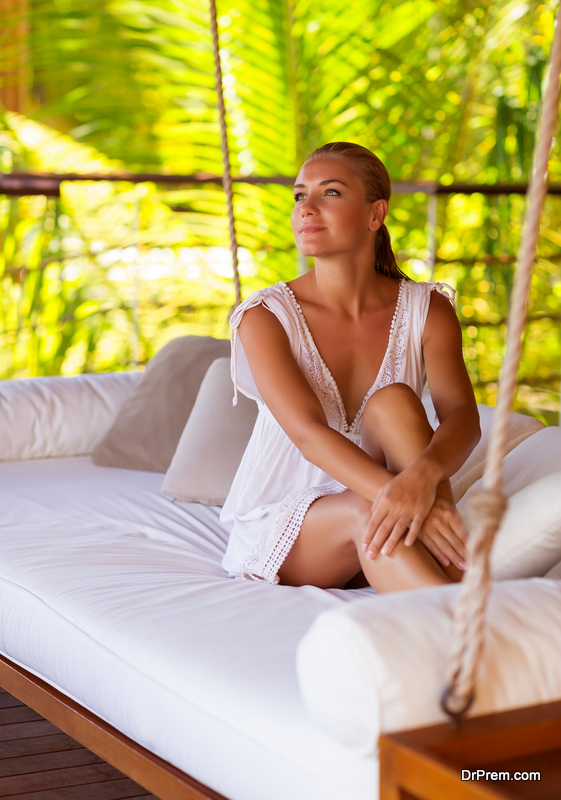 The number of eco-conscious travelers has increased worldwide. Corporate and business travelers or individual travelers are aware about their carbon footprint while traveling. Millennials, who are avid travelers expect the hotels they patronize to be green, as a matter of course.
Many organizations have initiated policies with regard to the environment which also includes reducing their ecological footprint while traveling on company business. This results in entrepreneurs, private individuals and companies choosing to stay in hotels which have green policies. This is why hotels go green to attract this growing clientele.
4. Improving brand image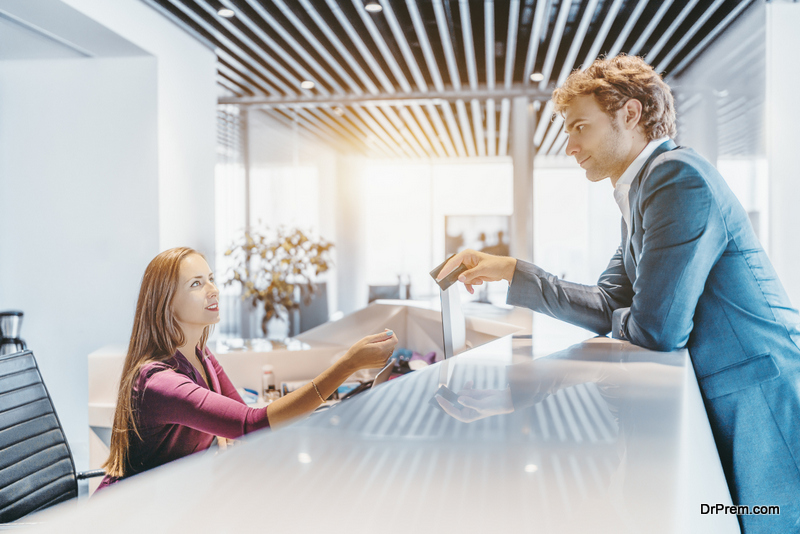 Hotels which have a green certification immediately draw attention to their environment friendly image. This opens up hotels to a whole new segment of guests who actively look for eco friendly hotels. The good PR and a listing on the environment list results in positive publicity which brings in many more guests, thus increasing revenue.
5. Green certification
When hotels go green, they are qualified to receive the coveted globally recognized standardization and recommendations from world renowned travel websites. LEED certification, Green Tourism Business Scheme and other certification schemes offer guidelines to hotels and other businesses on achieving business efficiencies through green processes. But these certifications are valued today as marketing and PR tools to attract potential guests.
Popular travel websites have introduced schemes such as GreenLeaders Program which rated hotels according to their eco friendly credibility.
Hotels are following the trend of going green as a measure to reduce operation cost, increase efficiency and become the favorite destinations of eco conscious travelers. Going green is a necessity which has also proved to be a boon for the bottom-line of the hospitality industry.
However, it has been observed that boutique type hotels pursue green goals much more than the bigger hotel chains, as it gives them an edge over the competition. Bigger chains are impersonal entities but boutique hotels often reflect personality of the owner, and thus display the best practices in the business. Boutique hotels go green more and in a more in-depth way than bigger chains.
6. Hotels have to conform to new regulations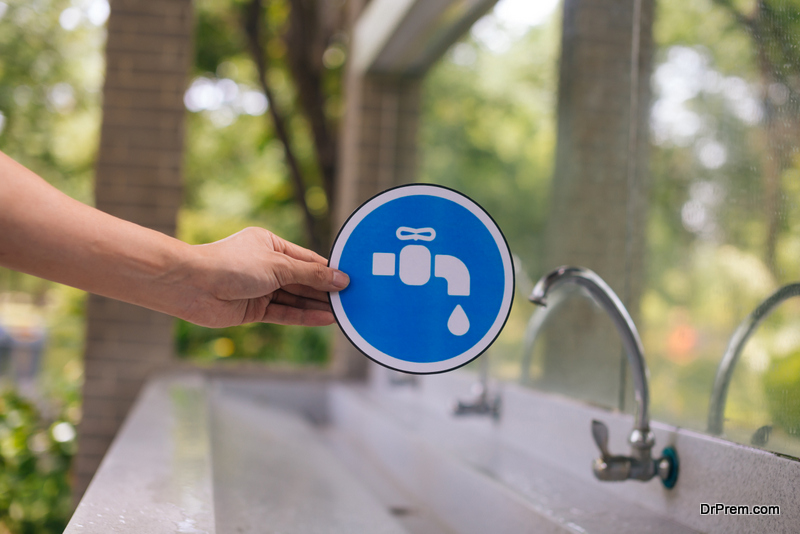 Another compelling reason why hotels go green is because they have to conform to new legislations put in place by eco conscious policy makers. Hotels generate a lot of waste, use up a lot of energy and resources and this needs to be limited, to conserve energy.
Sometimes, lawmakers enforce legislation in order to contend with emergencies. For instance, the state of California was facing a drought for a number of years. This drought became extremely severe, and the Governor had to impose water use restriction on the entire state. The new regulations state that by the year 2022, indoor use of water will be only 55 gallons every day for every person, and by the year 2030, the use allotted to every person will be 50 gallons.
Hotels in US use on an average 25 gallons water per day per room only for laundry. This amounts to 2 million gallons water, assuming 65% occupancy. Restrictions like those in California have compelled hoteliers to form new green strategies to use natural resources within limit, while making sure that their guests are as comfortable as earlier.
7. Employee retention
Many employees prefer to work at establishments where being eco friendly is part of the corporate culture. This attract quality workers as well as retain employees who feel proud to work for the bigger cause. Better employees retention is one of the reasons for hotels to go green.
8. Benefit due to tax relief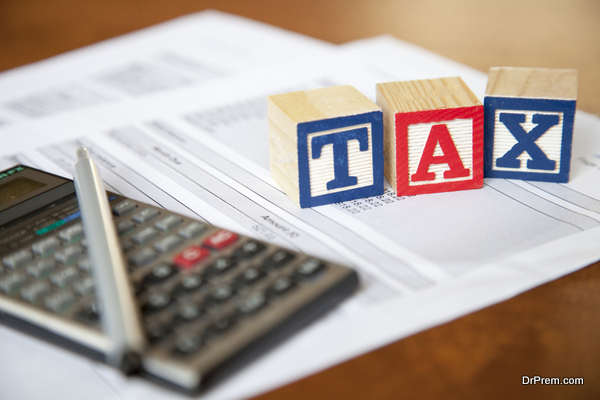 Many countries offer financial incentives to encourage businesses to adopt environment friendly practices. This help to promote recycling, reduce plastic waste, lower emissions and more. Hotels can benefit from the tax incentives offered by going green. Hotels can have the advantage of being eco and have financial benefits from the government as well as guidance to set up energy saving installations on their premises.
9. Going green supports the local economy
Going green implies introducing sustainable measures too, which includes the human environment. When a hotels practices sustainability, it not only conserves energy and water, but also helps the local people earn their livelihood. Sourcing products locally implies supporting local craftsmen and local crafts to survive. Food sourced from near the hotel supports the farmers of that area. Even when deluxe products are sourced globally, a green hotel would do so by buying products from companies who practice fair trade, be it coffee or linen.
Final Words
Hotels which go green not only benefit the environment, which is very important, but they also save money. Business also increases as the new age savvy traveler looks for eco friendly hotels. They help to spread the awareness and knowledge of the various ways in which their guests too can become eco friendly by setting the example of following green practices.