There is a growing awareness about eco-friendly environment and the need to protect nature. Several different and innovative methods and approaches are being adopted by people to protect the environment. Even when it comes to packaging, people have come up with some very inventive and novel ideas which are simply superb.1. This is how you can store eggs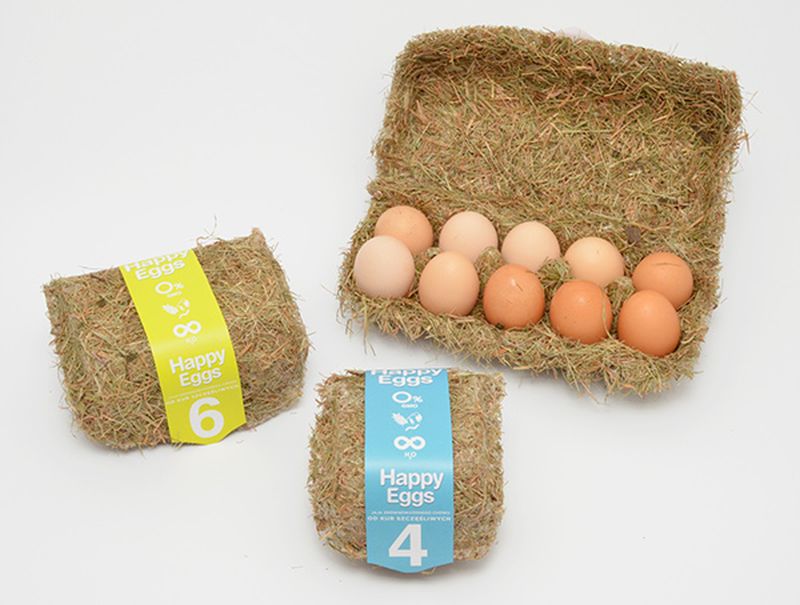 To protect eggs and keep them fresh for a long time, designer Maja Szczypek from Poland has come up with an innovative hay packet where the hay is kept together by using heated press. No harmful chemicals are used in sticking the hay together.
2. Paper water bottles
Plastic makes a large part of the waste. Therefore, Jim Warner invented a nature-friendly paper water bottle. Materials like sugar cane, bamboo, wheat straw, and bagasse are pulped. This pulp is hardened in water bottle moulds. A paper cap is also provided with these bottles.
3. Smart bags from Puma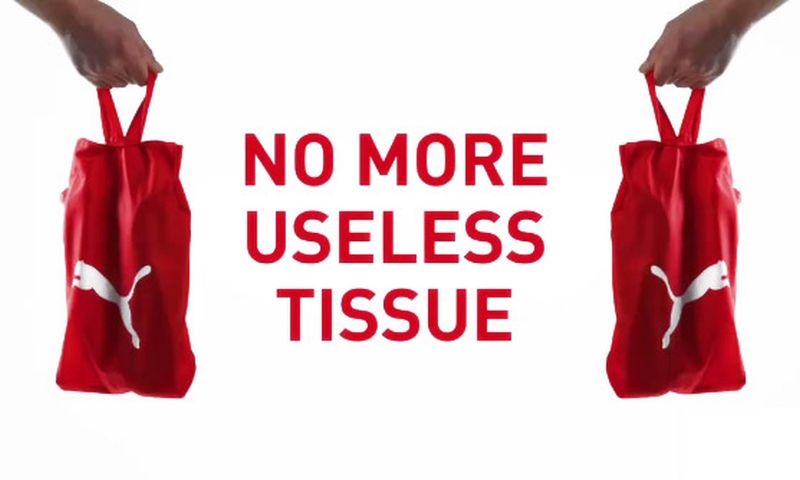 Puma has created smart bags that can be conveniently be reused. The designer of these bags is Yves Béhar. These bags need few raw materials. Their manufacturing process makes use of less water,energy and diesel as compared to other bags.
4. Polar Aid
Polar aids are first aid kits for children. They come handy for nursing the cuts and bruises. These kits are sustainable. The most important thing about these kits is that the proceeds from the sale of polar aid kits is used for the protection of Polar bears.
5. Grass in office
If you believe in maintaining a clean and green environment in your office, then "Grass" is the right product for you. These squares of grass can be grown easily inside the office or homes and they come in sustainable packages.
6. Snack boxes from Graze
Snack boxes from Graze are sustainable and do not have much weight. They sell snack box subscriptions of tasty and healthy snacks like a roasted seed mix etc.
7. Joco Cups
These are glass cups which can be used to serve tea,water etc. You can get replacement parts of these reusable cups. So if a part of the glass breaks you don'thave to dispose it off. Instead, you only need to get the part of it.
8. Personalised little printer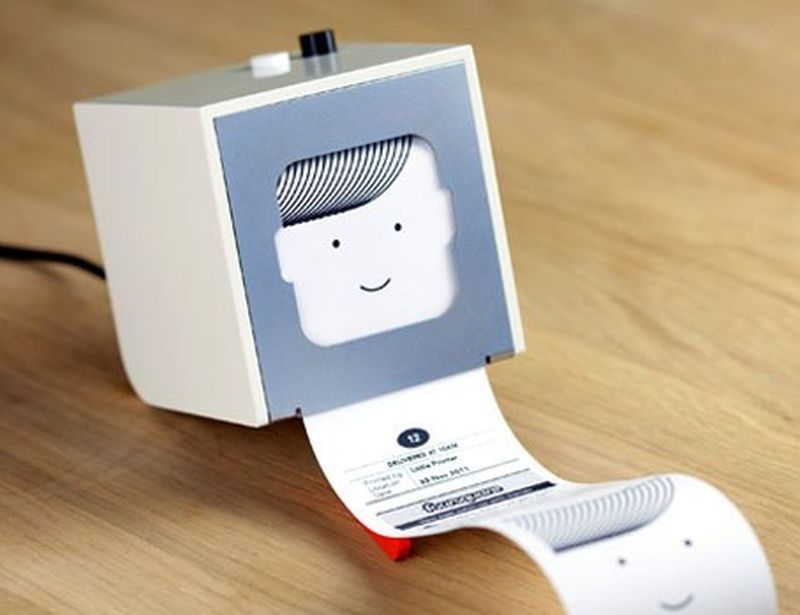 It is possible to have a personalised printed newspaper which is printed by using charming cardboard characters. So now you can get a printed version of what you read online.
9. Bulb packaging
Esther Li came up with this sustainable packaging for bulbs. In this a single cardboard piece is used to pack the bulbs. No glue or chemical is used in this product. The customers can easily see the bulb.
10. The cardboard boxes from Paul Frank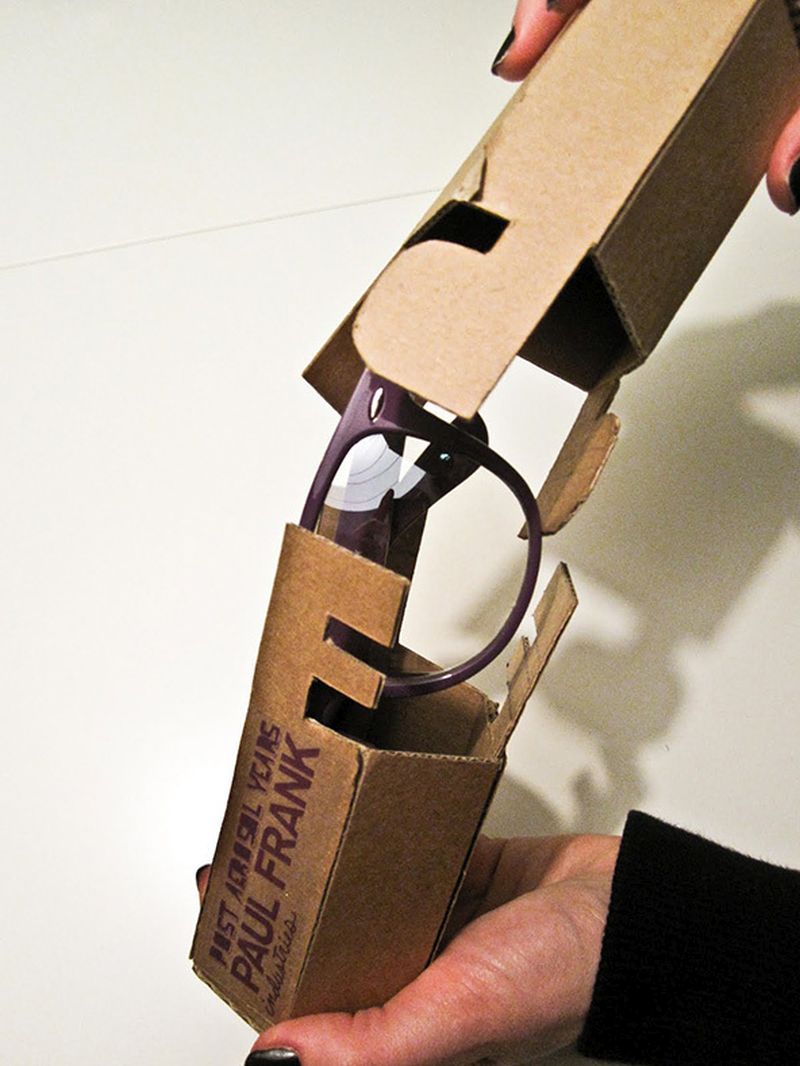 Paul Frank makes use of innovatively designed paper boxes for keeping glass. These are truly a different type of glass case. They are eco-friendly and they also look very stylish.
11. Petit Natural packaging
These have been designed by Isabela Rodrigues. These packets which contain fruit juices are eco-friendly. Their bright colours and designs are very attractive.
12. Wild bag box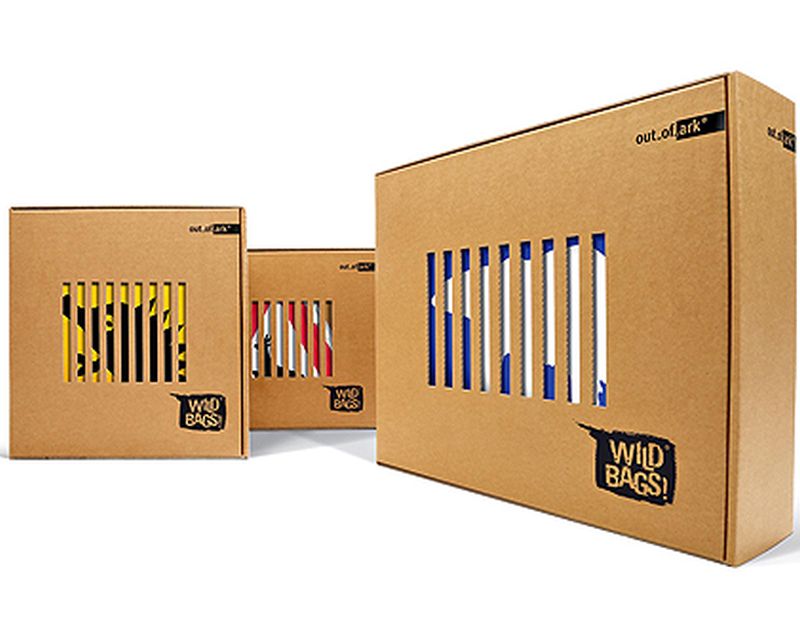 These lovely boxes are eco friendly. One can easily see the product that is packed inside. They are based on the concept of animals in a zoo enclosed in a cage.
13. Cardboard sleeves from Hanes
These make packaging and shipping of T Shirt very easy. These slim cardboard sleeves are manufactured from recycled material. They help in bringing down the shipping weight and the cost. In general, folding carton boxes  like this are a great eco-friendly, efficient choice in packaging.
14. Packaging of naked soap products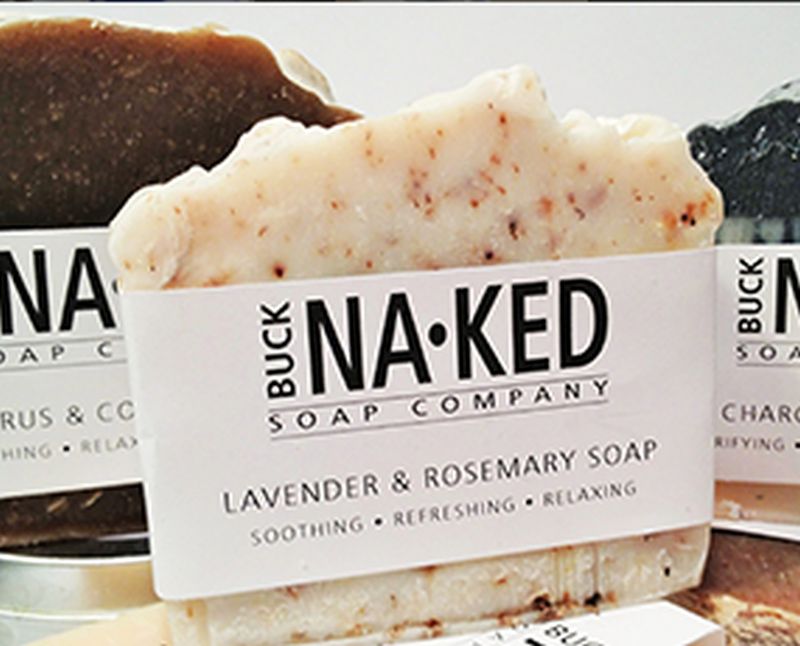 The contents of naked soap are natural and eco friendly. The packaging of these products is also eco-friendly. This is a great way of brand extension.
15. Portable seating
The Dutch design chairs are portable chairs. These look like briefcases. They can be folded and carried wherever you go.
These innovative and eco-friendly packaging designs will leave you awestruck. They are one of the most innovative ways of protecting nature.
16. Imoeba iPOD Covers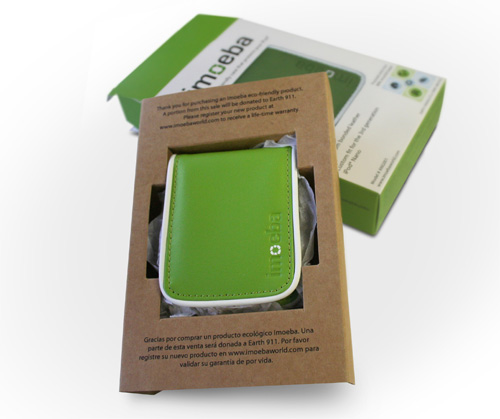 With a 90 percent focus on recycling, these cases made of leather, are the ideal clothes for your gadget. Only ten percent of these are made from raw material and the major part is waste recycled from sanitary landfills. No prizes for guessing the most popular color of these lovelies!
17. Lee-sures of Wasting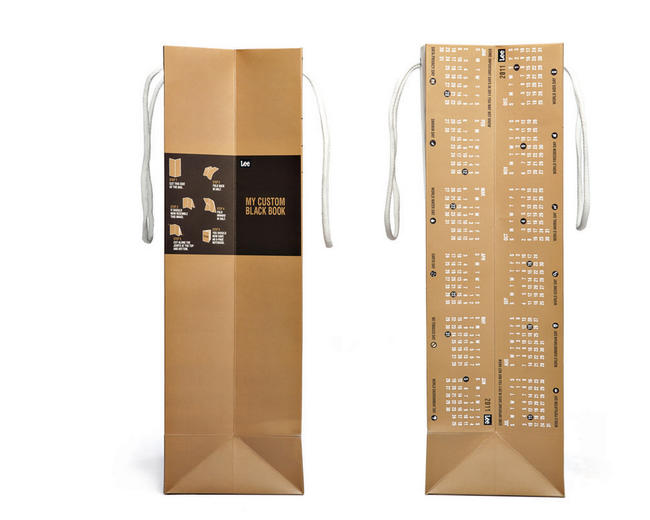 Wasting might be a leisure, but definitely not according to Lee. The 'Never Wasted' Lee shopping bag never goes into the dustbin – It is used, until it is reused! These bags are also glamorized by eco-friendly messages written on them, with customers left saying that Lee surely practices what it preaches!
18. Sennheiser's Green Melody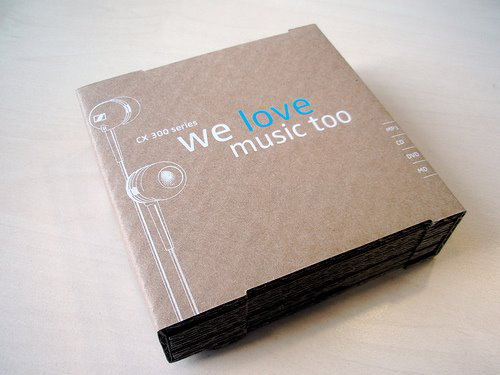 These music boxes are a melodious treat to the eyes of an environment activist. The packaging for the company's CX 300 earphones is made entirely from cardboard and is one hundred percent recyclable!
19. Vim Popcorn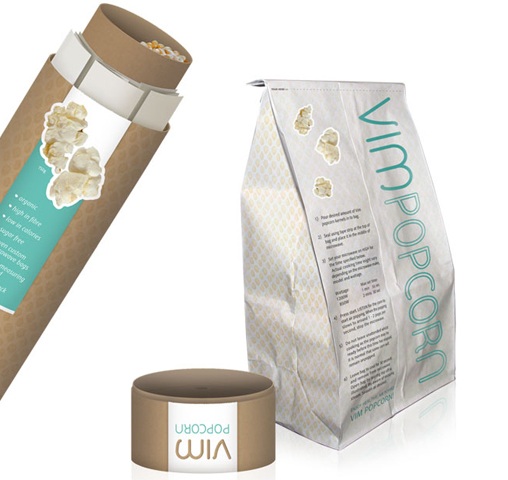 The vim popcorn targets health conscious, environment conscious and figure conscious group of people with its packaging using only recycled materials for manufacture. The box informs us that inside it are seven paper popcorn bags and the popcorn is high in fiber and low in fat content. Go green, go slim seems to be the mantra of Vim packaging.
20. Arcadia Organic Tea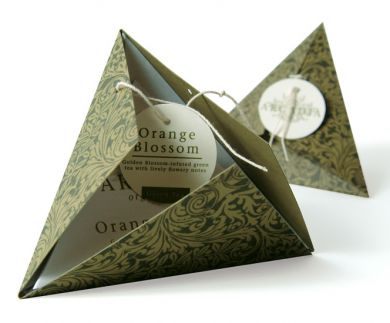 Herbs could not have gone greener! The design is essentially lacquer, transferred to paper. These are little packets carved into tiny triangles that close as one pyramid, with a little 'Orange Blossom' tag on them. The packaging was created from one sheet of paper, folded Origami style, for low production cost. It comes in a set of four.
21. Fibreform From Billerud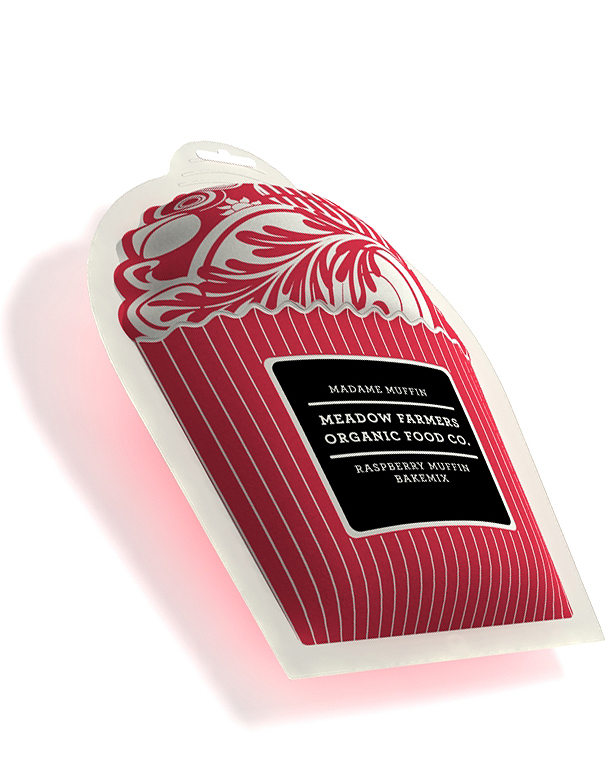 This Swedish company manufactures packages of flexible, soft material that can be molded into various shapes and decorated with embossing. It is note-worthy that Marks and Spencer has used this Fibreform for packaging sliced meat, as an alternative to the much dreaded plastic.
22. Bottles of Brandimage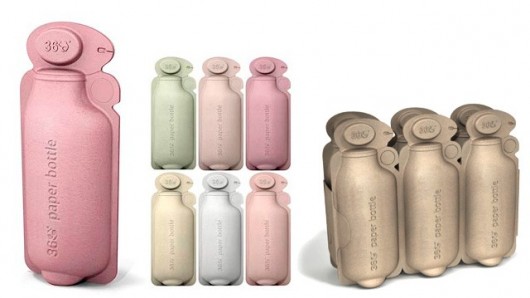 The name of this eco-friendly product is the '360 Paper Bottle', for it has been been manufactured with an all-round focus on eco-friendliness, encompassing the various aspects of its engineering, development, packaging and product design. It will be a healthy change to see plastic bottles replaced by their paper counterparts in the refrigerator.
23. Starbucks' Coffee Mugs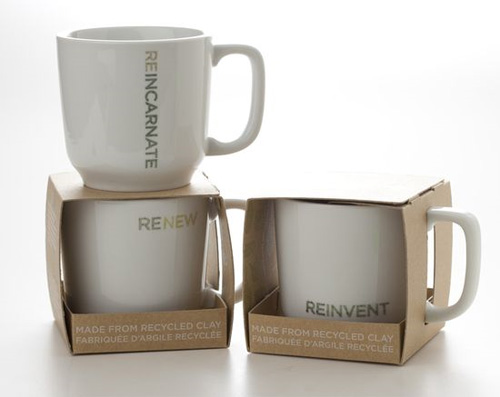 These recyclable mugs were first made in a zero-waste factory in Japan. The coffee mug comes in a cardboard box that reads,"Made from recycled clay". The product enlists the three R's of pollution abatement – Reduce, reuse and recycle. One of the mugs reads, "Reincarnate" which gives a healthy, spiritual twist to the idea of the recycle, taking the concept to a higher level.
24. GE CFL Lights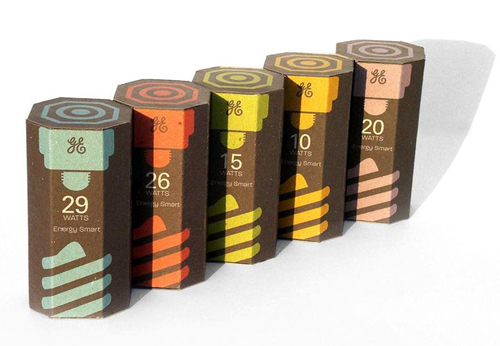 These general electric CFL's light our path to a cleaner future. They use cardboard instead of calm shell plastic. These employ the fundamentals of innovative graphics to generate environment awareness. So not only are they doing their bit by manufacturing reusable material, but also by creating awareness about the same. Let's try for a greener world, in the light of this CFL!
25. A"Spire"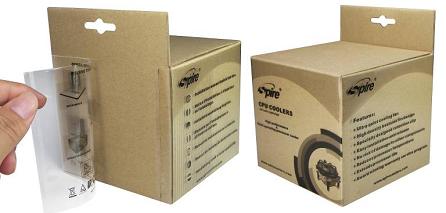 Spire has started using less packaging with the result being – more of eco-friendly covers and packets. It has redesigned its packaging for its coolers such that all the print of its box is now written on plastic sheets attached to them. All one needs to do is, remove the sheet and simply get it recycled. The box too, is made of eco-friendly paper.
26. Manymals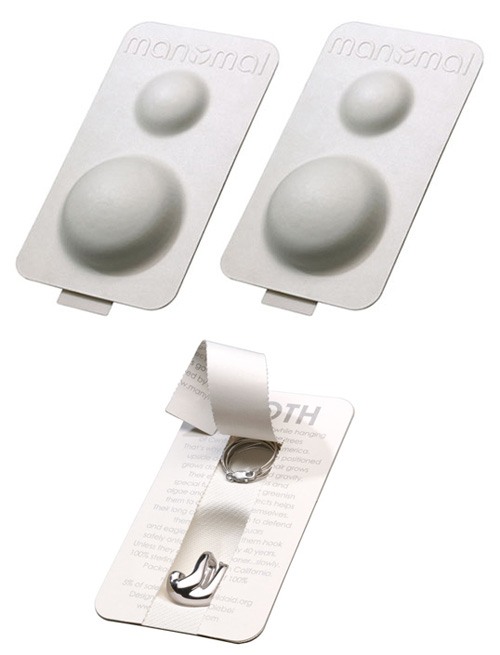 An innovative accessory brand that uses the faces of wild animals as pendants, this company has been appropriately named Manymals as a portmanteau of the words 'many' and 'animal'. The packaging is made from absolute recycled pulp of paper and has an informative animal fact inside.
27. Samsung's Eco friendly Phone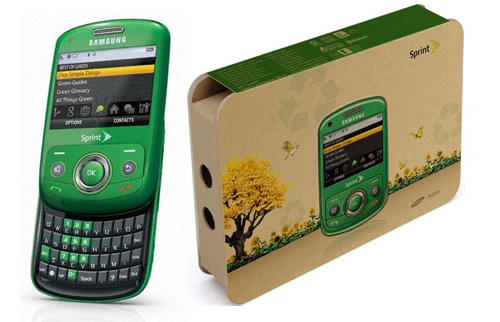 Samsung Reclaim, from Sprint, features many eco-friendly components and recyclable packaging. Surely the ideal wireless phone for the environmentally conscious. The slim box and phone tray, both are made of recycled material. Also, the Energy-Star-approved charger alerts you whenever the battery is full, thus helping save electricity. They have also saved paper by avoiding a bulky phone manual and providing online assistance instead. The handset is available in the natural hues of green and blue, aptly termed Earth Green and Ocean Blue respectively.
28. Askul Garbage Bags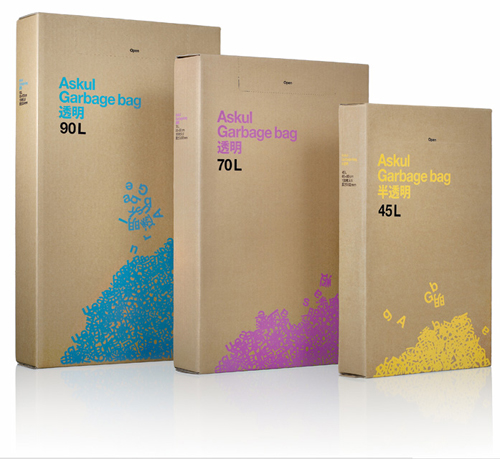 Talking of recyclable packaging, it would be impossible not to mention the winner of the 2007 EDA Awards. These garbage bags are not just recyclable, but also attractive to look at. These come in volumes of 45, 70 and 90 L.They have been designed by a Swedish company, Stockholm Design Lab.
29. Fun Flops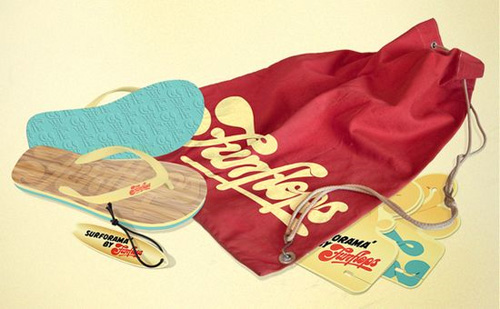 These cute little sandals, manufactured by the international flip flop brand, are made from recycled material like the rubber of old tires. The company claims that this eco-friendly innovation is something they are both proud of and are identified with. These include slippers and bags that spell out fun in organic and environment friendly material.
30. Tous H2O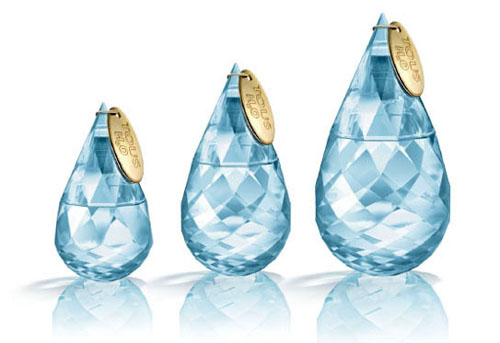 This new fragrance is now being popularized as the term 'Eco-chic' for the pioneering work in penetration of eco-friendliness into the world of perfume, of fashion. The glass of the perfume bottle is made one fourth from recycled waste and it in turn, is completely recyclable. It is interesting to note that the perfume was created as an aquatic blend, offering the softer fragrances of lavender and lemon in a top, leading to a heart embalmed with jasmine and rose. The base consists of a sandalwood fragrance.
31. Ingenious Cardboard Packaging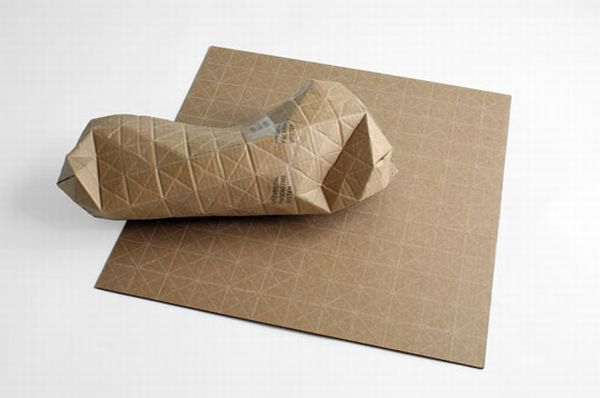 The Ingenious cardboard packaging not only looks extremely cool but is also very functional. This packaging basically comprises of a flat cardboard sheet which can be easily conformed to any desired shape, thanks to the use of dieline templates. You can use it to squeeze in a wide variety of products from clothes to cartons. It looks like a design straight out of a sci-fi flick. This amazing cardboard packaging was designed by Patrick Sung. The triangular perforation on the cardboard allows it to transform into different shapes as per the need. It can be easily bent around all odd forms. The best part of this packaging is that it eliminates the needs of box fillers.
32. Eco Coke concept bottle by Designer Andrew Kim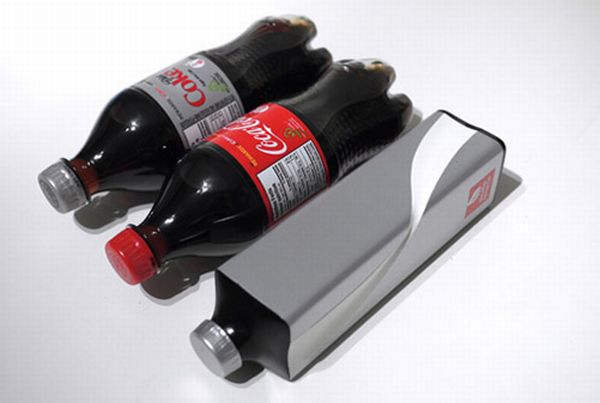 Human beings are a digger for cold drinks. Countless bottles are disposed everyday around the globe. Andrew Kim came up with an innovative design to package soft drinks. This designed was named as thee Eco Coke concept. It minimizes environmental footprint of the packaging and increases its efficiency. These square shaped bottles can be easily collapsed after usage. Moreover, these bottles can be easily shipped as they fit tightly in comparison to other designs. The Eco Coke concept is manufactured using sugar based bio-plastic.
33. Green Packaging Design by Dell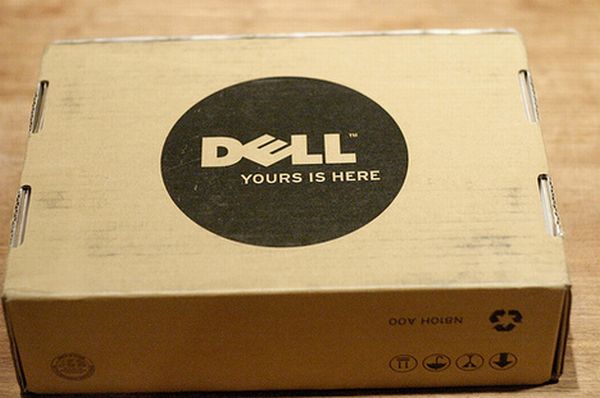 Dell has come up with an innovative green packaging design which respects the environment and looks quite classy. This green packaging relies on three Cs concept- cube, content and curb. Under the three Cs concept, the size of the packaging is relatively smaller. It is made up of recycled materials which is quite sustainable. This packaging can be easily recycled for future use.
34. Recyclable Packaging By Brett Allcorn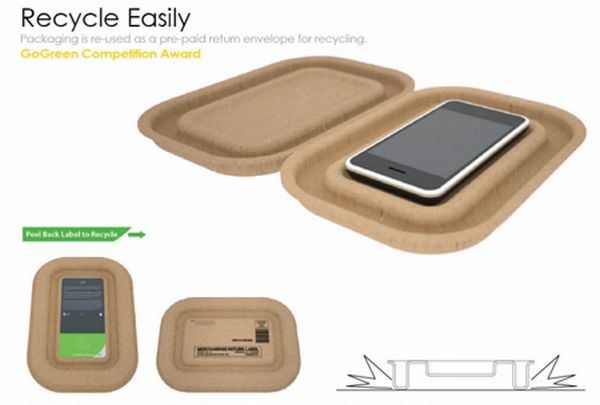 The sleek looking recyclable packaging by Brett Alllcorn is not only good for the environment but is also quite trendy. This design will encourage the people to recycle by posting it back for recycling after taking out the product it had inside. The prepaid return postage makes the whole process fuss free and simple. With passing time, Brett is sure that recycling will become habit of the people.
35. Miniwiz's Solar bulb Packaging Concept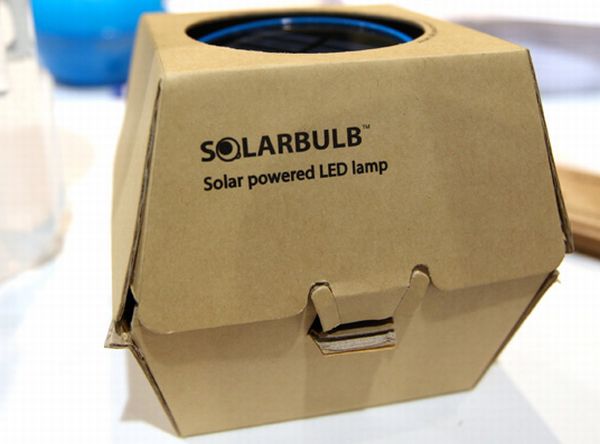 The Miniwiz's Solar bulb packaging concept is truly one of the finest green packaging designs ever developed. Thanks to its CES presence, Miniwiz's solar bulbs are a definitely the future. The package is made up of cardboard and is recyclable in every possible way. Besides being highly functional, the Miniwiz's solar bulb packaging looks extremely appealing.
36. Packaging concept for Indulge Wines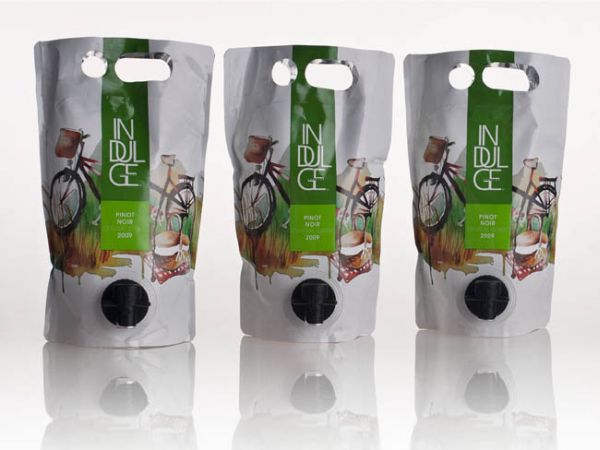 Indulge wines are attracting masses around the world not only for its amazing wine quality but also because of its highly attractive packaging. This green packaging concept has been designed by UXUS. The design is highly practical and quite accessible to other product manufacturers as well. The lightweight Astra pouch is not just easy to carry around but also quite appealing in looks. The weight of this packaging is just 2 percent of that of a traditional glass bottle. This Eco-friendly packaging not only weighs less but also saves energy and is extremely cost efficient.
37. Sennheiser Eco-Friendly Packaging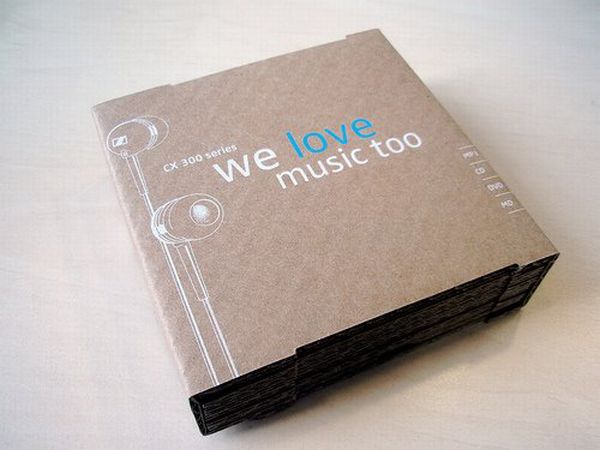 Sennheiser has managed to come up with this extremely innovative design for green packaging. The Sennheiser CX 300 earphones come in this appealing packaging which is not just green but also highly chic. 100 percent recyclable cardboard have been used to make this packaging.
38. Stumptown Coffee Packaging
The Stumpdown coffee packaging will clearly knock you down with its smart appearance and Eco friendly design. The coffee bag was designed by Duane Sorenson who is also the co-founder of Stumpdown. The bag has a slit in the front side which can be used to insert card with information about the coffee growers, flavor, farms, locations, etc. This bag is cent percent biodegradable and highly functional.
39. H-Red Soap Packaging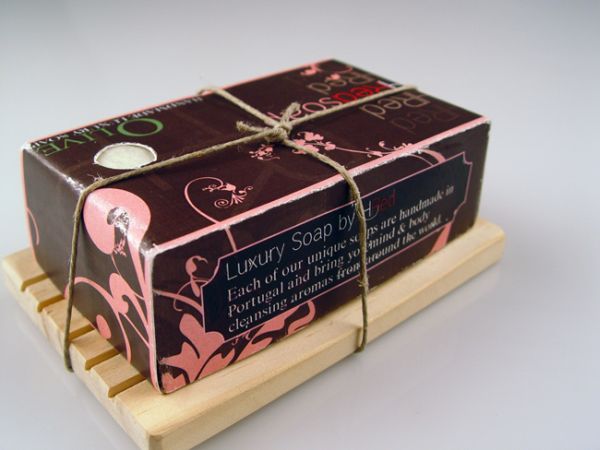 The H-Red soap packaging design is truly one of its kind. Not only is this packaging green but also very trendy. It bowls you over with its looks. H-Red adopted this packaging back in the year 2007. It amalgamates wood and paper perfectly into a gorgeous looking Eco friendly design. It is 100 percent organic and looks very appealing.
40. General Electric CFL Light Bulbs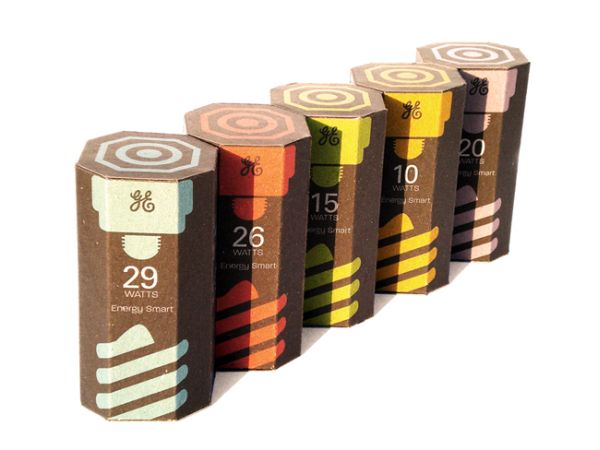 The GE CFL light bulbs come in a beautiful Eco friendly packaging. The concept was introduced by Kevin Kwok. This concept flaunts being one of the semifinalist design in the Adobe Design achievement Awards. The graphics are highly informative and look chic. These packages are manufactured using post consumer cardboard. These can also be mailed back for recycling thanks ti the initiative taken by GE.
41. Askinosie Chocolate Packaging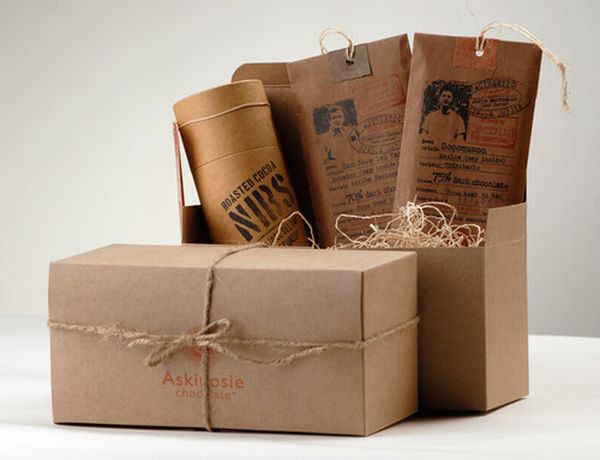 The Askinosie chocolates come in green packaging unlike other popular brands of chocolate which use non-environmental friendly packaging designs. The old school design of the Askinosie package looks very pleasing and is perfect for the sustainability of the environment. This packaging is manufactured using old paper, worn off stamps and has classic typewriter font. The package looks highly retro and appealing.
42. Lacoste Eco/Techno Polo Shirts Packaging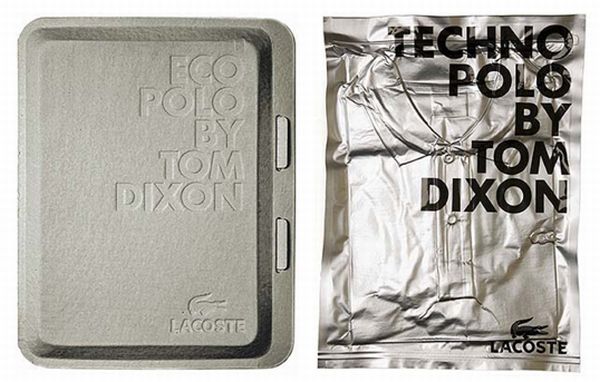 Lacoste collaborated with Tom Dixon to come up with this stunning Polo shirt packaging design. The packaging includes a speaking label which tells about the polo shirt in Tom's voice. The concept is quite interesting and unique. Usage of paper or cardboard is minimized in this way.
43. Sustainable CD Case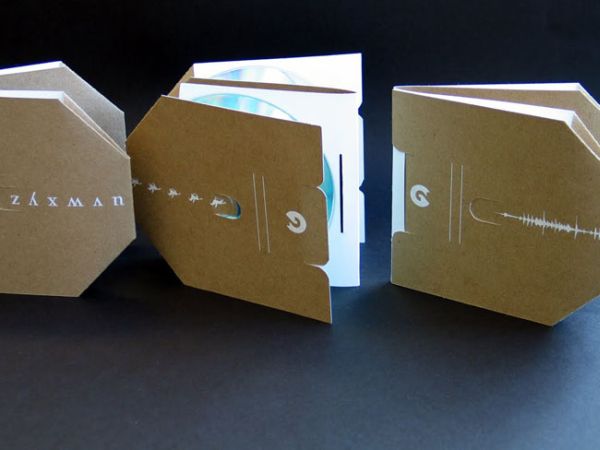 People tend to use plastic or paper CD bags to keep their important CDs intact. However, with the innovation of sustainable CD case, the need of paper or plastic bags is eliminated to a major extent. This green packaging deign was introduced by Elie Monge. This is a cardboard CD case which uses recycled material only. Many CDs can be fit inside this sustainable CD case. The design is quite decent and chic.
44. Incredible Dissolving Plastic Bag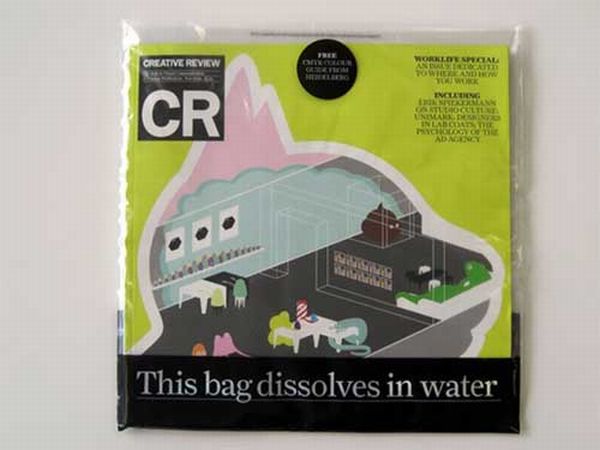 This is one of the coolest green design on the block. This clever packaging is very Eco friendly and appealing. Would you believe that the packaging would degrade itself within a few minute n water? This green packaging needs to be immersed in water for disposal. The harmless dissolve can be used for almost any purpose. It leaves no harmful residue and degrades readily.
45. The green packaging 60 Bag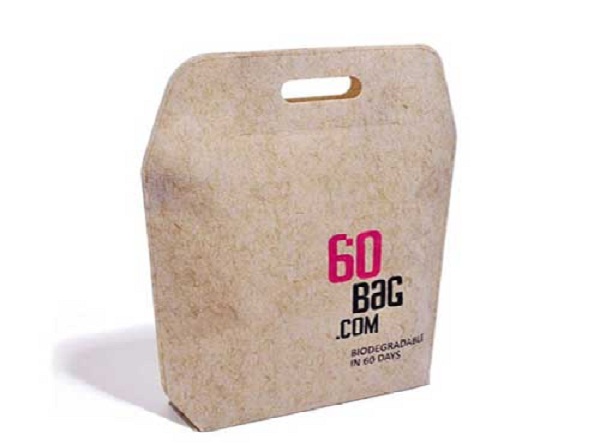 The 60 bag comes with a promise to its user. It is definitely the best answer to the environmental needs. These biodegradable bags are manufactured using flax-viscose fabric which is made using industrial waste. It does not exploit any natural resource during manufacturing stage and readily gets disposed.