In response to the environmental issues we are suffering from, the growing concern to save the environment from destruction has prompted many of us to live eco-friendly. We are finally beginning to realize the impact of our actions on the environment. Furthermore, it is also certain that if we don't mend our ways, a much bleaker future is in store for us. Our climate is constantly giving us signals of the same. Keeping all this in mind, the eco-conscious individuals are trying hard to send the message. To bring any change into the world, we must make everyone around us realize the urgency of the situation. In addition, we should also give them knowledge about how we can avert (or at least minimize) the environmental disasters that await us in our future. Teaching them about how to build eco-friendly homes using recycled material is one great way of doing this.
Best of Eco-friendly homes built with recycled material
These days many eco-friendly homes have come up across the world. These homes are made using recycled material. Here is a list of 10 eco-friendly homes made from recycled material.
1. Recycled Plastic Bottle House Built in Nigeria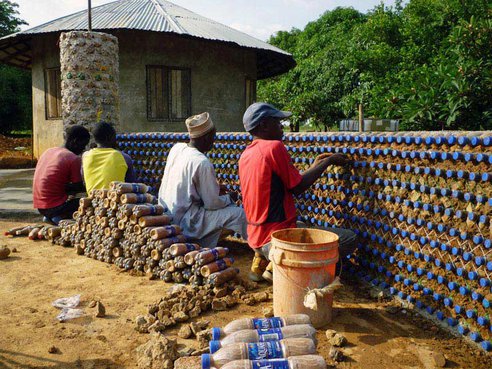 Houses made up of plastic bottles are very efficient and cheap to build. This technique is widely used in Nigeria to build homes. The first such home built in Yelwa village of Nigeria is getting great attention. The bottles used to build this home are filled with dry soil or construction waste material. These plastic bottles were collected from several homes, hotels etc. these filled bottles actually gives a great strength and making eco-friendly homes even more durable. This house is a solar powered with fuel efficient clean cook stove and urine filtration system.
2. House of reused Soup Cans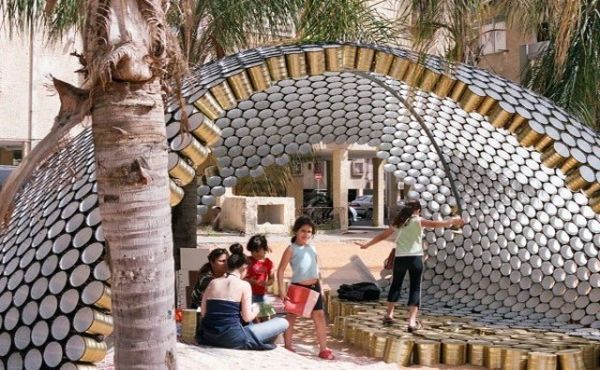 Reused soap cans are the best option for building house. This is the example of how creatively you can use waste materials. The excellent shelter in Bat Yam, Israel is totally made up of used soap cans. These cans are ordered in way to create temporary shelters for people. These hallowed out cans are linked together and help upright by steel rods. Light can easily go through the structure so no need to worry about putting extra lights.
3. Rubble-Bubble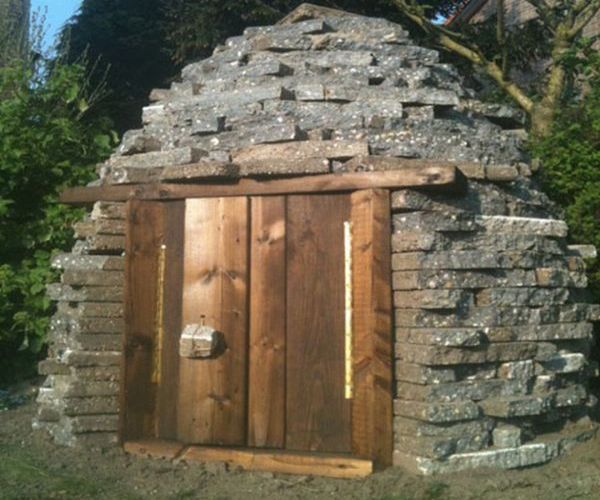 Rubble bubble is the house made up of reclaimed pebbles and bricks, concrete tiles, and recycled wood. You can find all these materials in your backyard and no need to spend a penny for that. This house gives you natural and rugged look. As it is made up of sturdy material, this house can surely be used for longer duration. This hut has a diameter of 180 cm and height 205 cm. its foundation is dug into three levels from ground level.
4. Shipping Container House in Mojave Desert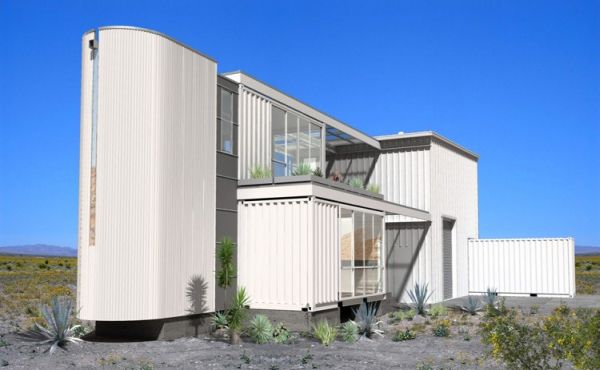 The shipping container house looks great and elegant plus it is cost effective. The first shipping container home was built in Mojave Desert, California. As shipping containers are made up of strong material, this house gives you more durability. This house, called as The Tim Palon Studio, was made in collaboration with its design/build subsidiary Ecotech Build. The house has 2300 sq foot bedroom along with one-and-a-half bathroom. Six containers were used to build this house at rate of $200 per sq foot.
5. Modolo 10×10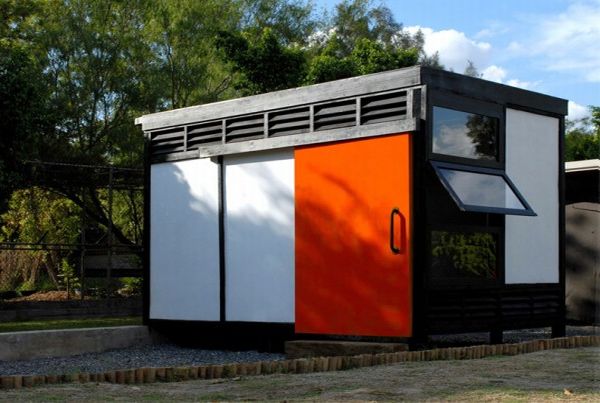 The modelo house is made up of recycled fiberglass panels which are used construction scaffolding and framework on other building projects. You can easily extend the home by putting extra sheets of fiberglass. The roof gives ventilation for the rooms and maintains cool temperature inside home. The roof can be opened and closed by louvers so that walls can also breathe some fresh air. This home is based on the recycled tires and concrete. A wooden plank is used as an extra step to the door way.
6. Infiniski Manifesto House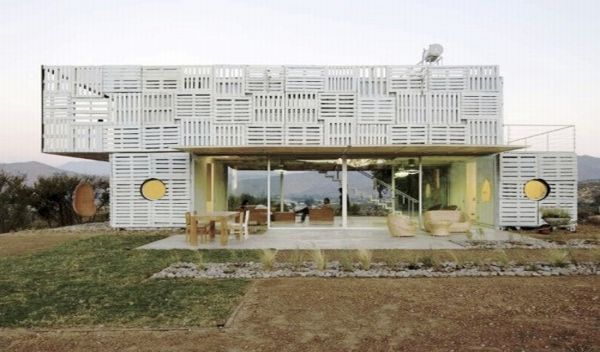 This home was built in Chile with the help of recycled but sustainable and eco friendly material. For insulation purpose the recycled cellulose was used. Also, recycled aluminum, iron and wood was used with the ecological painting. This home was designed and developed by James & Mau Architecture.
7. Small Prefab Home Design with Shipping Container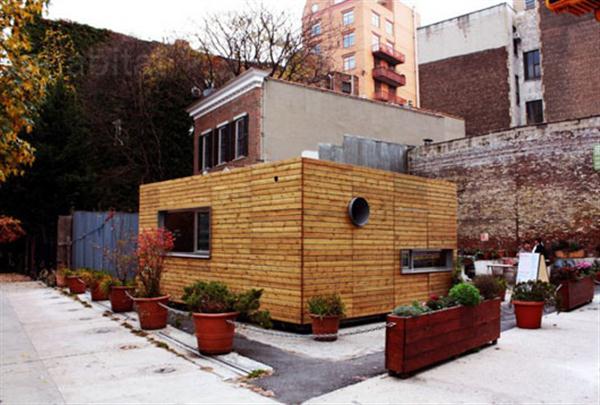 This prefab home is made up of shipping container. This home is very cheap, durable and small in size. It is designed by architects Jason Halter and Christos Marcopoulous. It also gives luxurious interiors. More than 70 % of its material is a recycled material. This is one of the perfect examples eco-friendly homes.
8. Micro-Financed Straw Houses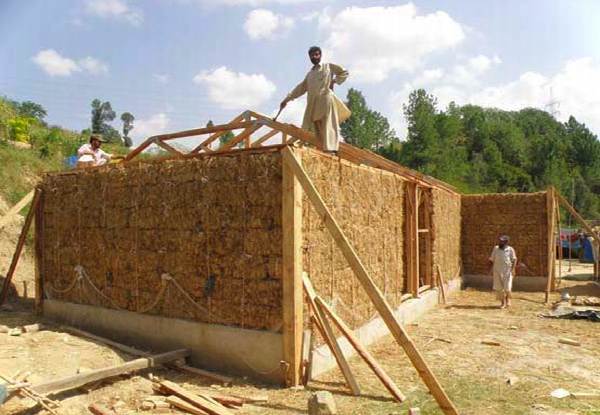 Straw made homes were built in Pakistan after massive earthquake in 2005. This homes not only eco friendly but also earthquake proof. These are energy efficient homes too. You don't have to invest much fort this kind of homes; but these homes are really for long term use. Instead of bricks and mortar straw are used. Tightly packed walls and gravel weighing foundation gives better weather proofing.
9. House made with recycled tires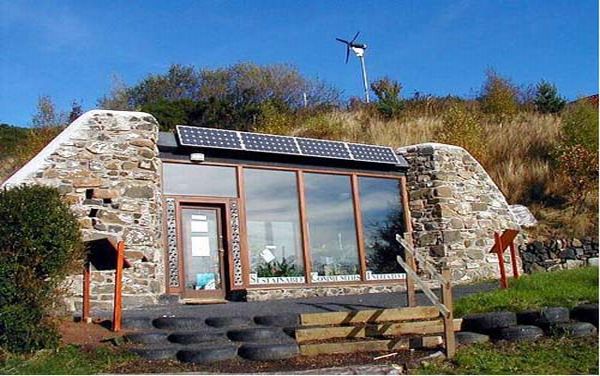 This home is entirely made up of car tires including the foundation. Along with tires, empty plastic bottles and other used material is used for building this home. Tires are used as a substitute to the bricks. The entrance is beautifully designed with using tires.
10. Rebuilding Home with Paper Tubes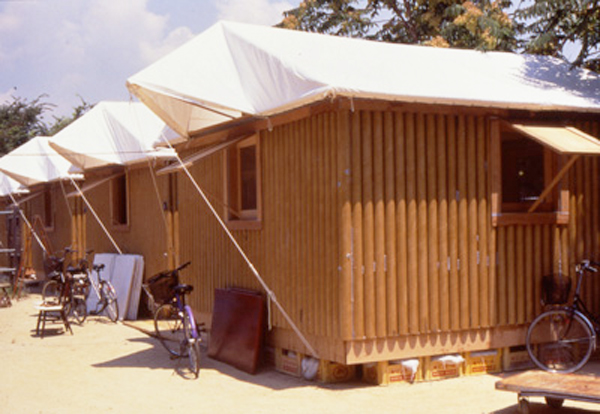 This house was built in Japan as prevention step for earthquake. Paper tube serves the purpose nicely for giving shelter. It is very cheap to built and also durable through all seasons. There are compartments in the house for separate rooms. This is most popular and widely used concept in Japan.
11. Recycled homes for the low-income group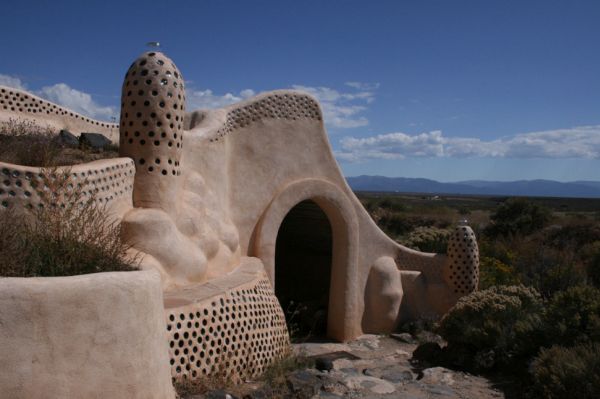 Dan Philips saw a dream to offer cheap, affordable yet beautiful homes to people who belong to the low-income group, and about 12 years ago, he started to turn his dream into reality by making homes out of trash.
For him it was no less than an irony that landfill sites are filled with building materials yet there is lack of affordable housing. The reason behind this thinking of his is his belief that makes him think that every discarded material that is durable is a potential building material. As of now, he has constructed many homes with 80 percent of recycled materials.
12. The Beer Can House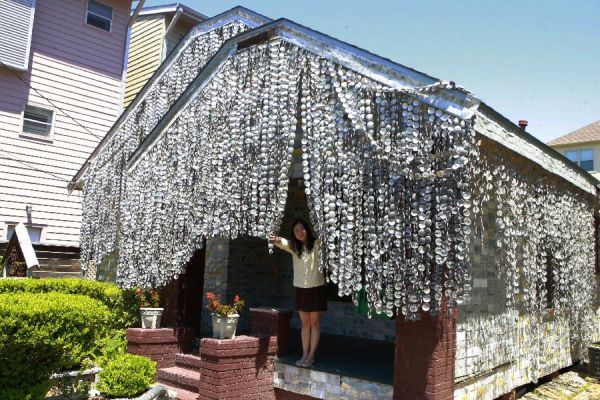 A retired upholsterer in the Southern Pacific Railroad, John Milkovisch started his project of the Beer Can House back in 1968. He started with inlaying marbles, rocks, and metal pieces to form unique and attractive landscaping features. After finishing the front and the back side of the home, he started adding aluminium siding, the aluminium beer can siding and in 18 long years he managed to cover the entire structure with flattened beer cans.
This unique design not only made the house look attractive but also enhanced its green quotient. The beer can garlands that you see in the picture add to its beauty and help cut down the energy bills.
13. La Casa de Botellas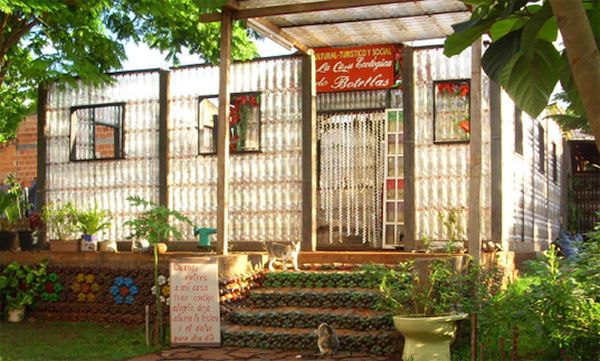 This structure made of thousands of PET plastic bottles seems to promote ecological and social responsibility so well. The Alfredo Santa Cruz family in Puerto Iguazu created this structure made of recycled material that looks simply fantastic. The walls and columns are made of discarded plastic bottles yet it is one sturdy structure.
The coffee table, bed, couch, all are made of plastic bottles and the roof contains 1300 tetra packs of wine and milk. The lovely doors and windows that appear so artistic are made from 140 compact disk boxes. The bed with a mattress on top is a structure made of 200 PET bottles.
14. The Shell Garden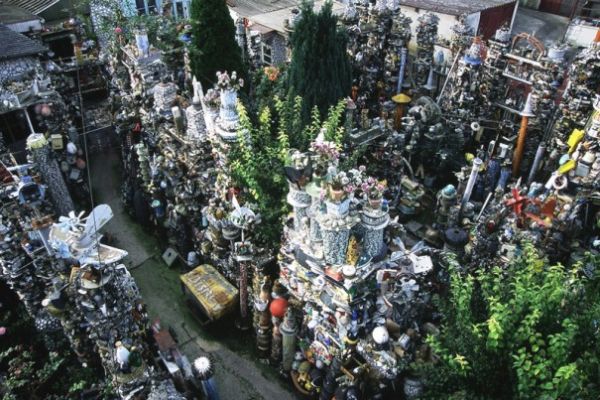 Bodan Litnianski was a shoemaker who left Ukraine, moved to France and became a mason. He purchased an old house that demanded significant repair but his monetary condition just did not allow him to do it, so he found a new and a better option. In addition, he went in for the use of recycled or the materials from the trash to repair his home.
Furthermore, he even started with decorating the doors and the facade with shells, so the site became popular as the Shell Garden. The other recycled material that he used in the building was pottery shards, broken tiles to decorate the walls, and he lined the paths in the garden with columns made of recycled concrete and some rotating devices on top of it. Other things he used to decorate columns with are machine parts, dolls, toys, plastic flowers, and containers.