An avalanche in the number of automobiles and the rapid industrialization has led to the rise of air pollution. This menace has grown to such an extent that the need to oust it from the environment has become imminent. In most modern cities, air pollution is one stark reality that everyone wants to ignore. Although the general masses suffer greatly because of it, it is the children that have to bear the most. In fact, it could be one of the main reasons behind the rising lifestyle diseases in urban children. So, we need to do something about it. Since most of us spend most of our time indoors, the first step to take in this direction would be to fight indoor pollution. Apart from following green ways to reduce indoor pollution, we should also focus on buying an air purification system. However, an air purification system is of no use if it also contributes to environmental degradation. Therefore, we should opt for an eco-friendly air purification system.
5 – Eco-friendly air purification systems for cleaner homes
Combating air pollution outside sounds like a herculean task, but surely, we can avoid becoming a prey to harmful diseases caused by air pollution and the pollutants by installing air purification systems in our homes. Home is one place where you would not want to compromise.
There are numerous ways of having a safe home that is devoid of air pollution. We shall have a look at some astounding eco-friendly air purification systems available to keep our homes cleaner:
1. GreenAir Natural Air Purifier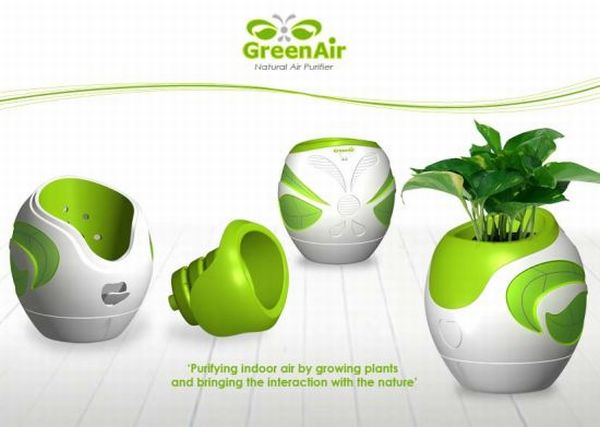 Designed by Sherly Gunawan of LASALLE College of the Arts Singapore, the GreenAir Natural Air Purifier, also known as GreenAir, helps clean the environment through nature's own resources the natural vegetation. Green plants purify air and have been proved very effective in cleaning air. Based on this, GreenAir uses activated carbon in the plant root area that helps in absorbing contamination in the air through aerial parts of the plant. The purifier uses a solar panel to power a fan that propels air to the zone that contains roots and directs it out, helping the plant absorb a large amount of pollutants in the air. A nylon thread at the base keeps the soil moist, so you do not need to water it.
2. Paralda Air purifier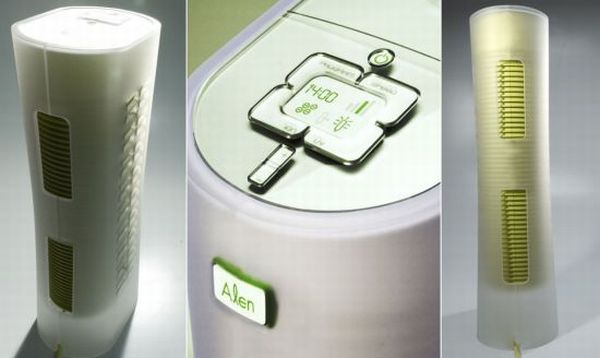 It is a highly efficient air purifier that provides an air cleaning efficiency of 99.997 percent by utilizing only 55-Watts power. Developed by the Alen Corporation, the Paralda air purifier is a sleek air purification model that is devoid of lead and is Energy Star qualified by the U.S. Environmental Protection Agency and the U.S. Department of Energy. It cleans the toxic particles in the air that cause diseases like cold, cough, allergies and affect the respiratory system.
Paralda Air Purifier has four-speed air purifiers that come with an efficient HEPA filtration system, a UV lamp that claims durability with a life of 5 years, an ionizer that clogs toxic particles and dust, light touch activation controls and a timer that lets you program the purifier comfortably. The purifier is priced at $499, which is not high considering its benefits and looks.
3. FLO2 Air Purifier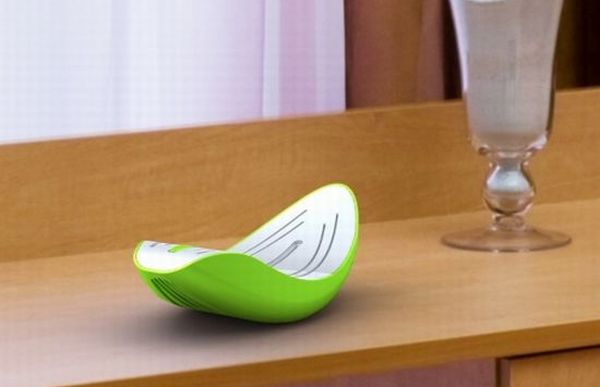 Highly portable and attractive, this ferry shaped air purifier promises fresh air in your house that will keep you away from harmful gases and toxic particles suspended in the air. Designed by Olivia Bradateanu, FLO2 air purifier not only cleans air, but also lets you know the measure of cleanliness of the air your breathe within. Its portability allows you to carry it anywhere and place in any corner or a table in the room. Just slide a button and turn on the device to allow it freshen the air for you.
4. Aura Organic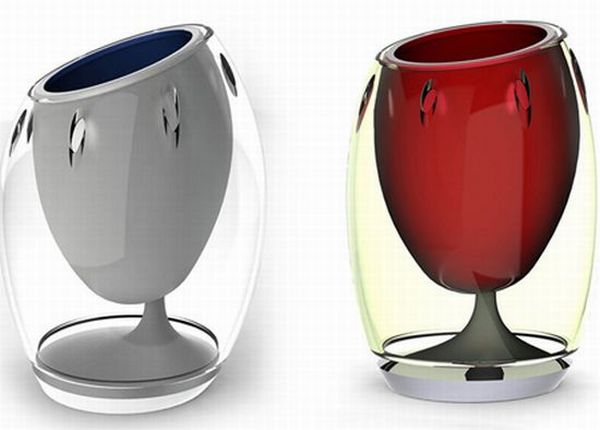 An innovation in itself, the Aura Organic air filter is watch glass-shaped from outside and planter-shaped within. It is a unique air filter that runs without electricity and cleanses the air within your house. The device involves the quality of sunlight and plants to purify air by absorbing pollutants suspended.
5. Wearable Air Purifier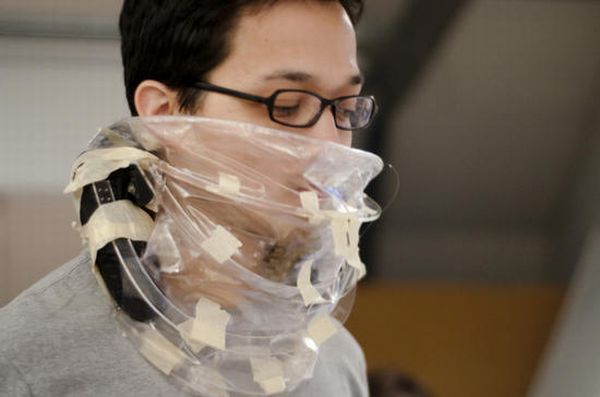 This is exactly what we wanted to emphasize on when we said that it is almost impossible to breathe clean air outside our homes. Martina Pagura and Pedro Nakazato Andrade along with Dadiid Gauthier, Priya Mani, and Di Mainstone worked on an air purifier that could be carried along and worn by people outside. It lead to the creation of the wearable air purifier that is a self-energy producing unit that traps carbon dioxide from the air and uses it to generate energy to function. The air purifier can be worn on the face. It filters the air and alarms the user when it detects polluted air. The user can, therefore, close the unit to protect himself.
How to make your own eco-friendly air purification system
There are plenty of DIY magazines doing the rounds these days that help you accomplish aplenty. It really doesn't matter how frivolous your DIY needs are, there definitely is something that you can find out there. You only need to be skilled enough and have the right kind of guide in order to be able to finish the project with finesse.
Similarly, making an air purifier on your own is not that big a deal. Moreover, it will help you save money and you have the satisfaction of knowing that it is going to be effective. You need to have a good quality filter and fan and you are good to go. These will ensure that you actually have a durable air purifier.It is indeed a thrilling experience to be able to make an air purifier at home.
First, ensure that there are no problems that otherwise exist with regular air purifiers. One of the main things is that they are too small in size and hence, don't have a larger reach. It is necessary that you make a larger one that conserves the environment as well as saves electricity. Thus, if you are going to make an air purifier of your own, ensure that you don't have to face these problems.
Here is a proper method of making this air purifier –
Material Required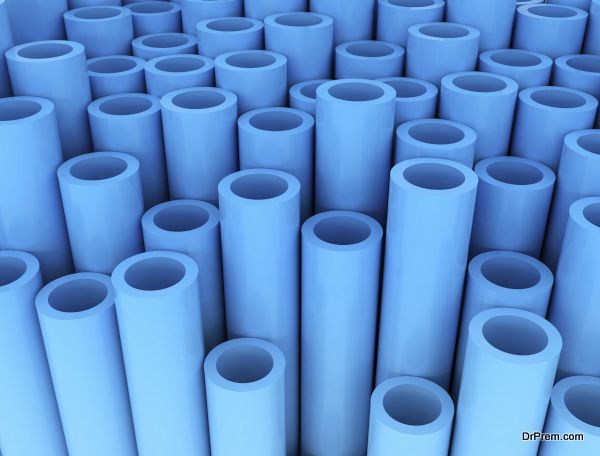 More often than not, the material for any DIY project is found at home itself. An eco-friendly air purification system however is a serious matter and it is necessary that the home be free of dust and germs. Yet, air purifiers in the market are extremely expensive. Thus, if you decide to make it at home, ensure that you have the right kind of materials. If you aren't sure, then find a picture of the materials online so that you know what the materials look like. The materials that you will need for building an air purifier are as follows –
A PVC tube. It is necessary that this PVC tube is of the right size if you want to fit it into your air purifier. It is a good idea to find one that is around a foot long or at least 3-4 cm in size.
A computer fan. Once again, ensure that everything is of the right size. A computer fan that is of around 12 Volts is good to go.
An Adapter. An Ac/DC is a good idea and ensure that it has a DC output. Also, see to it that the DC output is the same for both the fan as well as the adapter.
A filter. This one goes without saying. If you are making an air purifier, you cannot make it without the filter. Do see if it has to be in tandem with your air conditioner or else, the purifier will be of no use.
A Toggle Switch. Any kind of toggle switch should be good to go. 
A Step by Step Lowdown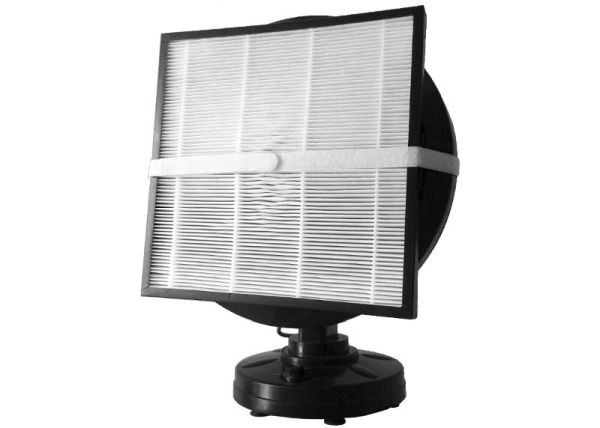 Apart from the fan and the filter, you will need a few huge rubber bands to get things done. You can easily find the fan and the filter at a random hardware store or even online. Thus, there are enough avenues where you can go ahead and make your purchase. One of the basic things that you should keep in mind while buying a filter is the MERV ratings. Don't use a filter with MERV ratings that aren't anything close to 13. Once everything is in place, see to it that you have conjoined the filter and the fan with the help of rubber bands or duct tape. Of course, you will have to punch in a few holes in order to be able to make the electric connections.
It is meant to cleanse the air inside your home and hence, it is important that you do it right. For, the ones available in the market are extremely expensive. You will be making a portable air cleaner that ensures that your room is dust free come sun or rain. This is even more important if you have a pet. Hence, ensure that you follow the guide religiously and do everything correctly. 
Air purifiers are necessary but expensive. However, they are fairly simple to make on your own and you don't have to spend on ridiculously priced filters either.