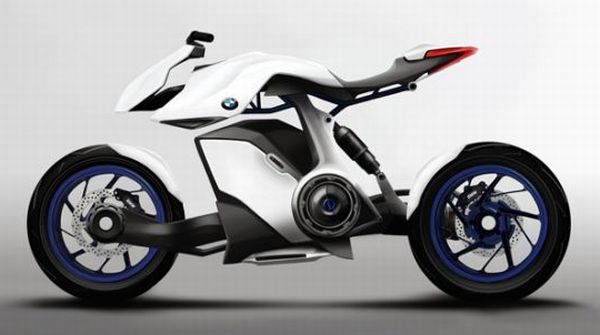 Eco-friendly rides are the flavor of the season and motorbikes have also been injected with sustainable features for a better world. There is a sea of zero emission rides present in the market and the list keeps increasing with new designs and concepts adding to it every single day. Green vehicles are often tagged as ugly and slow, but not anymore. There are many students who are coming up with great concepts that may soon be seen on the roads. Below is a list of five zero emission motorcycles that have been built by students and rank high on the style as well as speed graph.
1. Hydrogen-Powered Motorcycle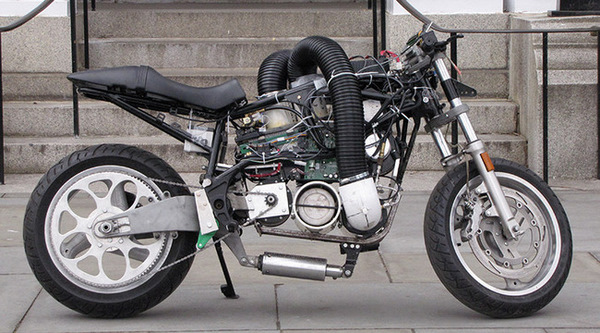 Hydrogen Fuel Cell Motorcycle is an awe-inspiring creation by Alex Bell and Abdres Pacheco. These engineering students from Swarthmore College were hell bent to come up with a motorcycle that would fare well when tested for efficiency that included battery propulsion, hydrogen fuel cell and internal combustion. These environment lovers made good use of a chassis that they extracted Buell cyclone that they found in a salvaged yard. The much needed structural support for frame, motor, rear shock connection and swing arm was offered by an additionally built piece after the motor was taken out. The efficiency of the vehicle is estimated to be around 46% by the designers, which is not bad at all. Ballard has been used to make the fuel cell, which is a PEM or Polymer Exchange Membrane. This PEM has the capability to produce a power of 1.6HP or 1.2Kw. The motorbike also consists of two Ergenics metal hydride cylinders that have been used to store hydrogen in its purest form. The loose hydrogen is allowed to bond with other materials. The cylinders also have some kind of a metal power that comprises of Aluminum, Lathnium and Nickel, which reacts with hydrogen.
2. Air Powered Bike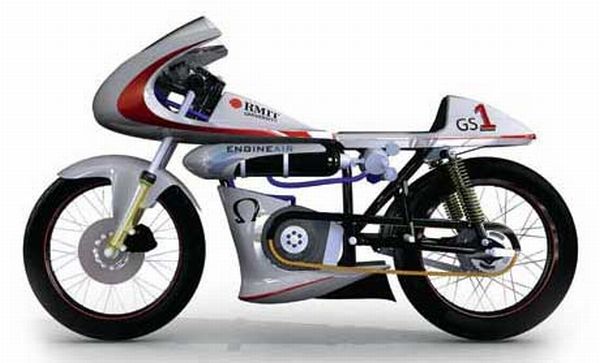 A professor and industrial design students from the Royal Melbourne Institute of Technology University, Australia, have come up with an Air Powered Bike. This racing motorcycle has been injected with a lot of muscle and will fetch all the power to snarl like an angry beast from compressed air. The basic structure has been picked from Suzuki GP100 from the 70s. Almost everything was deleted from the bike and all that was kept was the basic frame on which the Air Powered Bike has been built. The engine used is smaller than a combustion engine and fetched power from two tanks of compressed air. The engine of this clean and green motorbike can easily come up with 3000rpm in no time, which is worth applauding. The gearbox, brake light and headlight are missing. The designers are expecting the bike to touch a top speed of 100 mph, which will make it slip in the speedy category.
3. Oxygen-powered motorbike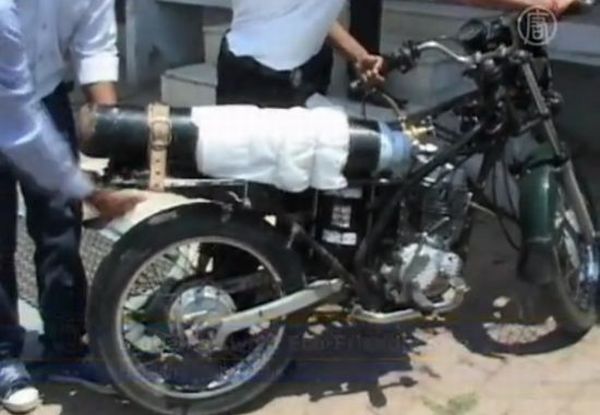 Clean air is very precious and taking a step to keep the environment away from further deterioration are a few engineering students from India. They have created a bike that will fetch power from oxygen present in the air. The bike is utilizes 100 liters of PSI oxygen and is capable of moving at a speed of 6-12 mph. Instead of gulping precious fuel, the engine uses compressed air that too without any combustion. When the air pressure reaches the piston it makes it move in an up and down direction. This in turn runs the flywheel, which makes the Eco-friendly bike move forward. The bike will definitely bring down pollution levels of India where two wheelers are as important as oxygen.
4. Safer Urban Motorcycle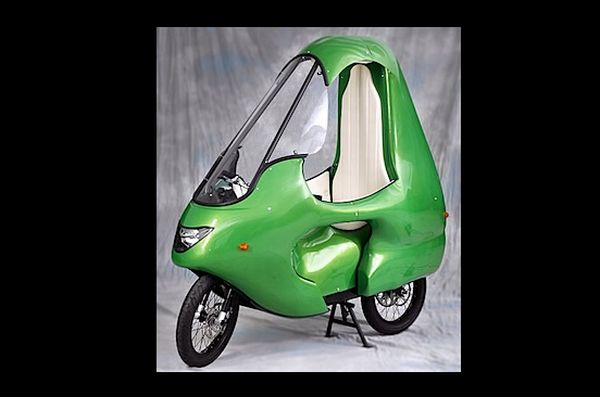 Safer Urban Motorcycle is worth calling a green creation, looking at the color it comes dipped in. The bike has been created with safety on mind and will ensure the rider is protected from all sides. The electric bike is a creation by 19 students from St. Thomas Academy and will help save precious resources. It can be easily charged using a normal household outlet and will run for 50 miles once fully charged. The legal motorbike can easily touch a top speed of 60 mph and is perfect for riding in streets filled with traffic. The environmentally-friendly creation is fun to ride and will definitely fetch a lot of attention.
5. BMW HP Knust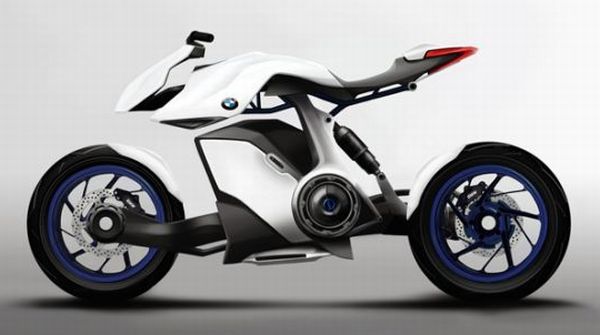 BMW is joining the clean and green race with a zero-emission motorcycle that will be powered by hydrogen. Christened the BMW HP Knust, it will make good use of alternate forms of energy and will fetch power from hydrogen as well as electric batteries. It has a motor that is brushless and is capable of producing a power of 100kW. The basic of the green creation consists of tubular shaped parts made out of carbon and steel. The motorbike comes fitted with a cryogenic hydrogen tank, electromagnetic suspensions, lithium polymer batteries as well as electric brakes and controls. All these features ensure a comfort-coated ride that will touch all new levels in terms sustainability. The bike is very stylish and will fetch endless attention.