We all have wonderful sci-fi ideas of how the offices of the future might look light. These offices would have wonderful technological equipment, state of the art architecture and whatnot. However, the same technological innovations that make them so special might prove to be their doom. With technology, even carbon emissions are rising. Therefore, if we want our future to be at least bearable, it is necessary that we opt for green building designs for our offices.
The Problem
The march of development cannot be stopped. However, along with development come the dangers of global warming. In fact, this is an automatic result of higher population densities and increased stress on local and natural resources. This dilemma has forced policy makers and builders to look into sustainable models of development and urbanization.
One of the challenge areas has been urban housing and corporate working areas. Many of the solutions proposed seemed nonviable when they were initially suggested. Nevertheless, with time, designers, architects, scientists, and builders have found a way to make them feasible.
Are green building designs the solution?
The concept of environment-friendly office buildings is no longer in the realms of science fiction and speculation. With green building philosophies meeting practical construction and design solutions. Therefore, the corporate office buildings of today are looking more and more futuristic. And along with appearing hi-tech and beautiful, they are also contributing to making the planet cleaner, greener and cooler. Here are five office buildings and design concepts that are making optimum use of the principles of green buildings while looking pretty too.
1. The Net Lima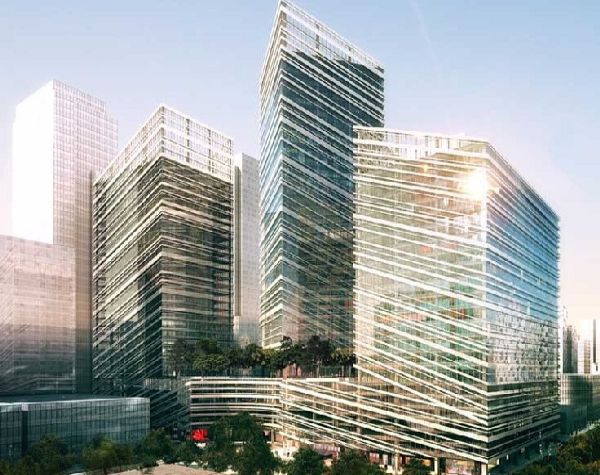 The first of three office towers at the Net Metropolis at the Fort Bonifacio Central Business District on the outskirts of Manila, the Net Lima is the first certified green mega-structure in Philippines.This building complex has an unusual design. It makes the towers appear tilted upwards. Furthermore, the mirror-like glass surfaces create an unusual illusion by reflecting each other.
Net Lima is designed by Chad Oppenheim, the 35-year-old award-winning architect from Miami. It addresses the two key areas of lighting and air cooling through its unique design.
Built to maximize the utilization of natural light, the building uses a minimum of interior columns and has double glazed glass exteriors. The curtain wall glass and its reflective coating also keep the heat out. Along with the unique skyward tilted design with extruding panels, shading the building from direct solar heat.
2. Sustainable office complex to aim for LEED Gold Certification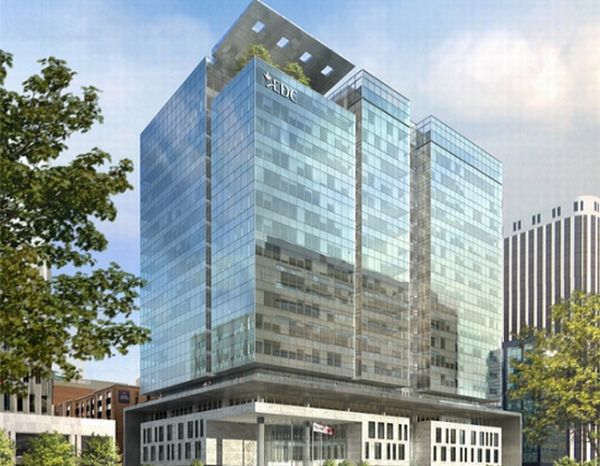 One of the largest commercial projects to be taken up in downtown Ottawa in the last few decades, the Export Development Canada's (EDC's) new office at the corner of O'Connor and Slater Streets. It is an 18-storied complex covering nearly 500,000 square feet that will consolidate its entire operations.
This building comes with a lower podium. This blends with the street-scape and uses glass and metal curtain-walling to make the most of available natural light. With all aspects of sustainable architecture, such as water conservation and energy saving considerations incorporated into it, the building is targeting a LEED Gold Certification for sustainable design and environmental quality.
3. Green Office 2015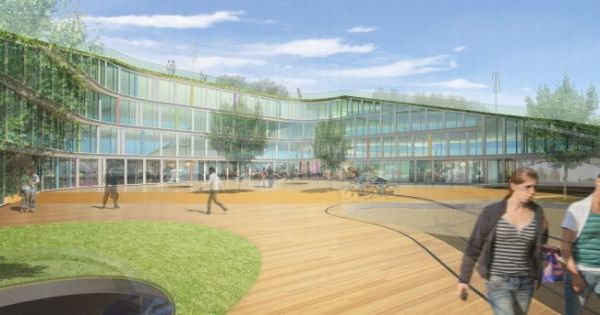 A concept designed by the Amsterdam based Rau Architects, this is an office building idea that runs entirely on renewable energy sources. Moreover, envisaging a multi-purpose space within an existing urban infrastructure, this design incorporates using photovoltaic cells to capture solar energy and low-noise wind turbines to ensure that the office building has a low carbon footprint, along with modern waste management and water recycling methods.
4. Green architecture office building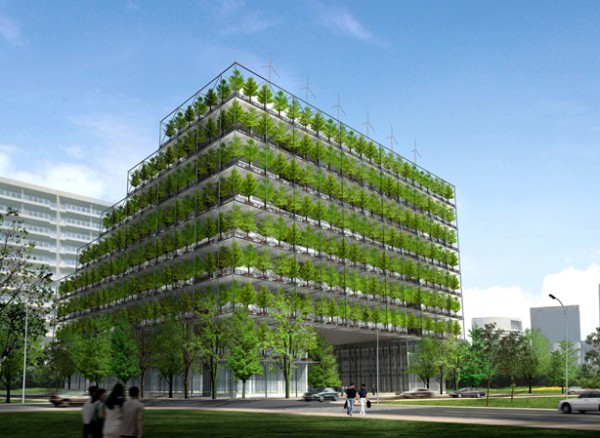 This is a unique design of a spherical office building inside another spherical building for residential housing. Sounds like a death star design straight out of a dream? Hold your hat, this is the Edifici Sphere from the Spanish house of EQUIP Xavier Claramunt, a concept that will challenge conventional architectural thinking.
Furthermore, there are several innovative ideas in this concept beyond the standard light, heat, water paradigm. It uses the space between the two spheres as public space that is shielded from environmental and atmospheric impact. The spherical design contains large ruptures looking like dents on a metallic ball that allow available natural light to reach even the most central areas, thereby reducing the sense of being in an enclosed space.
In addition, the spatial units are designed in a way that they can be reprogrammed to exchange public spaces for residential space and vice versa as per changing needs.
5. Amazing Green House Office Building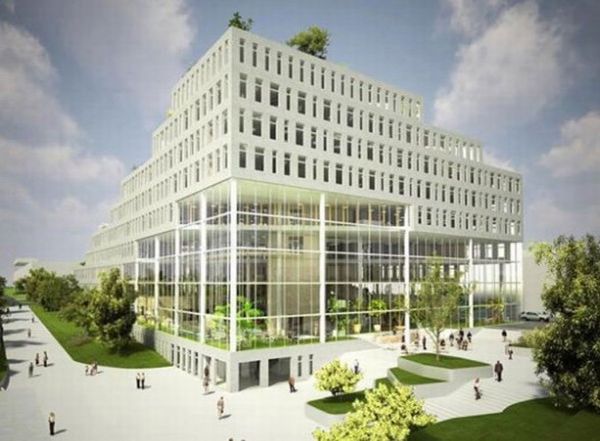 Here is another Dutch design. Netherlands has always been at the forefront of the global green building initiative, and this green office building in the heart of the provincial capital of Groningen, is yet another testimony to its premier position in that aspect. Designed and built by NL Architects, the SoZaWe (the city's welfare department and works agency), the building uses a stepped terrace design and glass clad walls to ensure that every floor gets access to natural light both from the sides as well as from above. In addition the stepped design gives each floor its own terrace space for public use as well as for greenery. With abundant use of green spaces at every possible level, this design also offsets its own carbon footprint.
Some contemporary green building designs
Here are some eco-friendly office designs just for you. Some of the designs capture your eyes through their location. The others through unique design would manage to capture your imagination.
1. World's first 3D-printed office building – Dubai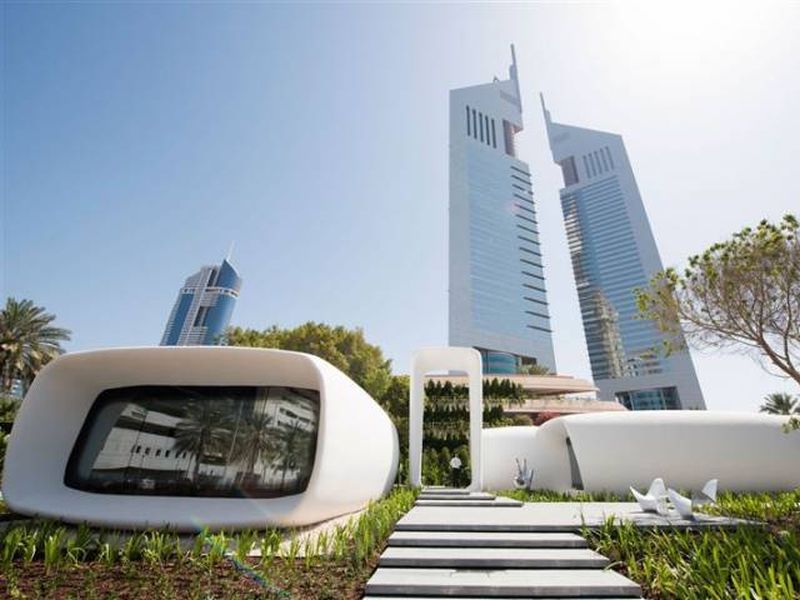 Image Source : c.tribune.com.pk
Use of 3D printing in architecture is one of the hottest trends and Dubai's Museum of the Future project is its proof. It is the world's first functional 3D-printed office building spread across 250-square-metre space (2,700 square foot). The project's sole aim was to display high determination towards innovation of the United Arab Emirates. The project also aimed to promote UAE as a world leader in 3D printing.
The building was printed in special cement structure layer by layer, using a 3D printer. After printing the building in approximately 17 days and at the cost of $140,000, the interior and exterior design details were added. Seven people were assigned the installation work of the building components on-site; engineering was taken care of by electricians and specialists, while one person monitored the 3D printer. This unique management resulted in 50 percent savings on normal labor costs. Housing the Dubai Future Foundation initially, the building could be used to host workshops, exhibitions and a plethora of other events in future.
2. Pop-up office in London's Hoxton Square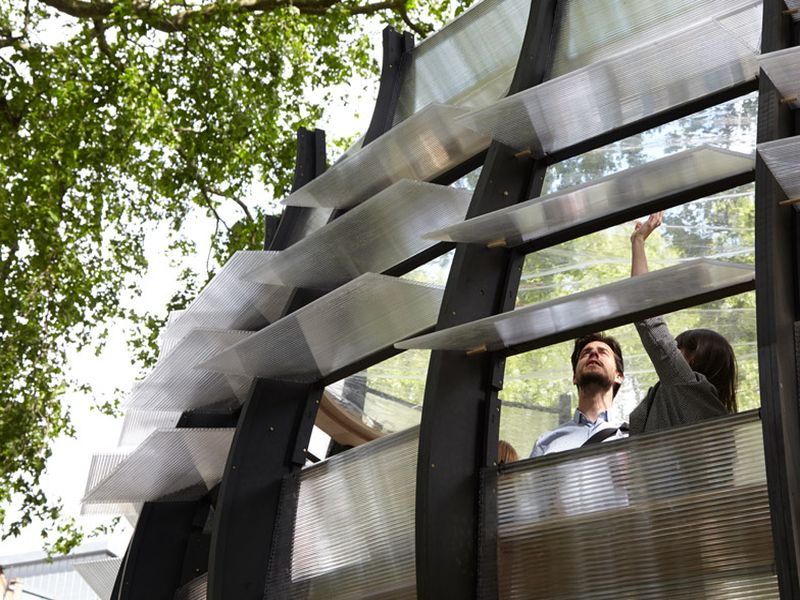 Image Source :  static.dezeen.com
Pop-up office is a beautiful and unique office design that seems wrapped around a tree trunk. The translucent pod in East London's Hoxton Square was produced by London architecture studio Tate Harmer, in collaboration with an architecture company. In collaboration with arts and environmental charities that enhance public parks and spaces across London Borough of Hackney, the Park Hack initiative was set up. Pop-up office is the first venture completed under this initiative.
Made from compressed paper and timber, the structure is enclosed by rows of translucent plastic and polycarbonate slats. This unique design provides insiders incredible views of the greenery that surrounds the office. Through an online booking system, the workspace is rented out to local businesses or freelancers. For the weekends, it will be available free to community groups. Whatever money comes by renting this office is used for bettering and maintaining Hackney's parks.
3. A building with retractable sunshades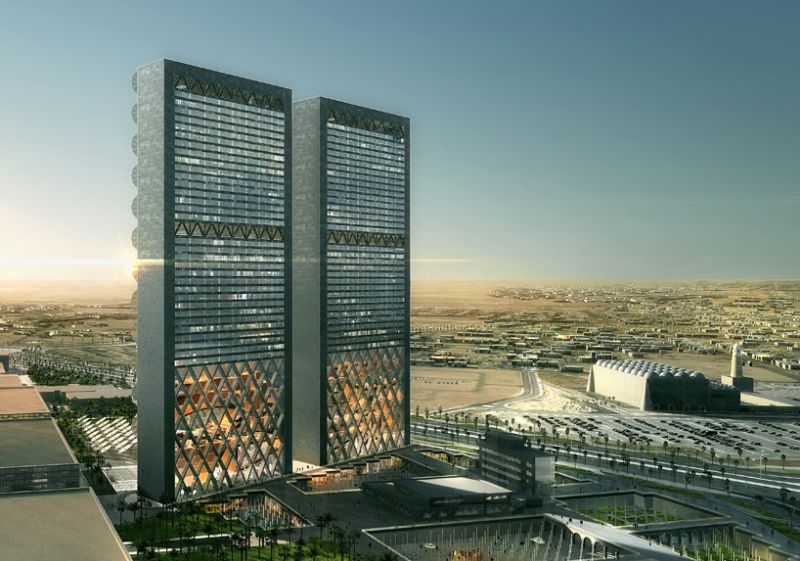 Image Source : designboom.com
REX, a New York based architecture office has developed the green conjoined headquarter of two Middle Eastern companies. The structure so elegant to look at is at the same time environmentally friendly as well for it is equipped with a unique shading solution. Both sides of each tower have retractable sunshades that serve as incredible shields that protect the building from powerful Middle Eastern sun. However, measuring 14.5 meter in diameter, placement, and overlapping of the sunshades signifies a traditional Arab Mashrabiya pattern. The sunshades appear as simple stone-clad towers when retracted and appear as blossoming flowers when in use.
4. Office in the middle of the forest, Madrid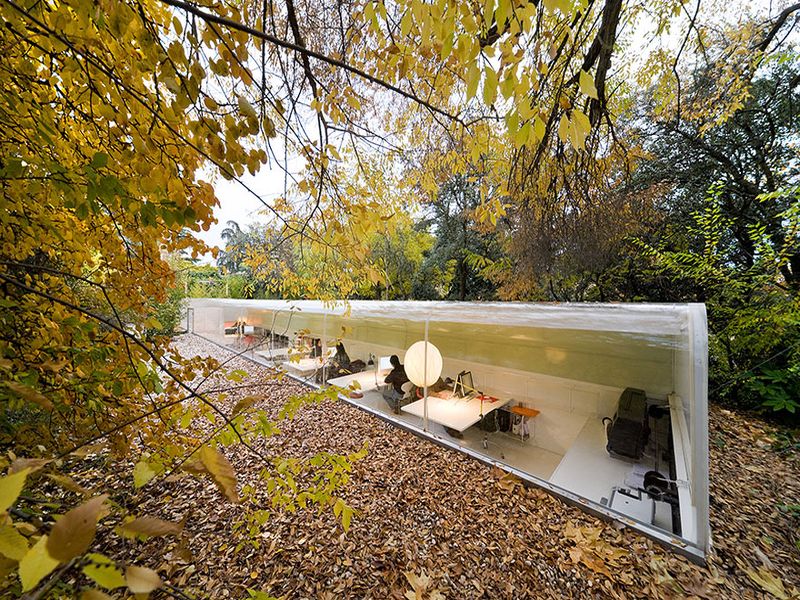 Image Source :  static.boredpanda.com
Located in a forest near Madrid in Spain, this is a unique office space designed by the Spanish architecture firm Selgas Cano. The tunnel like space has a 20mm thick transparent acrylic curved window as its north-facing wall. Moreover, its 110 mm thick south-facing aspect made of fiberglass and polyester sandwich works fantastically to block direct sunlight. In fact, as far as the ventilation is concerned, the structure has an effective design that promotes natural ventilation. The bunker shaped office that is half buried in the ground requires no artificial lighting and remains cool during the summer.
Summary
There are eco-friendly office designs that have been created to send out different meanings. For instance, some highlight the importance of a green life while some others signify the importance of a close connection with nature and more.