A pivotal role in home improvement, both for a change of scenery and to make the lives of our families much better lies in making the environment more eco-friendly.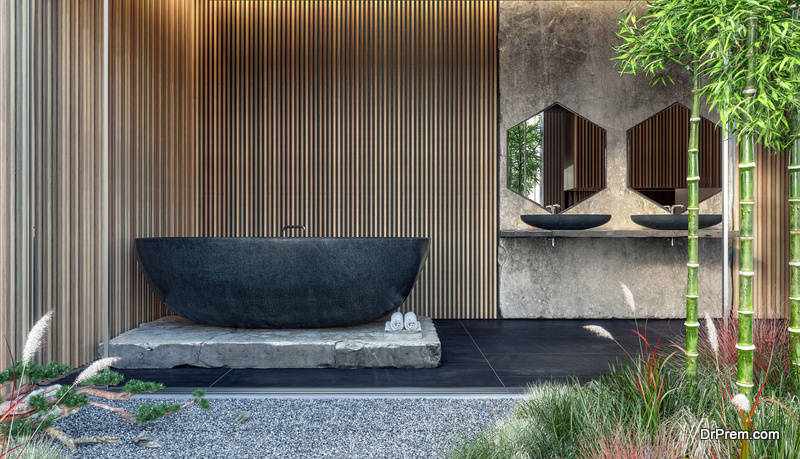 When planning a sustainable lifestyle, focus on creating a sustainable bathroom is usually trumped by the emphasis laid on food, clothing and then the bedroom.
Though using eco-friendly products in the kitchen is always the primary concern for most, the key to the whole go green initiative is the bathroom. But being water efficient is not enough, even though that is a big part of the whole deal.
And even though it may be the least used part of the house — maybe after the garage or storage — the bathroom is the only place with the largest collection of waste. Not just water wastage, even toilet paper, cleaning and bathing products are found and dumped in excess.
And though cleaning the bathroom may just seem to be the worst job around the house, it doesn't have to be. If one creates a sustainable bathroom using eco-friendly products, the bathroom can an extension of the person inhabiting the house and can even mirror their attitude.
So, in an attempt to embrace this go green initiative, here is a list of five tips to make a sustainable bathroom, from being water efficient to inculcating more eco-friendly products as cleaning products:
Replace plastic products with bamboo –

One thing the bathroom attracts more than unwanted germs is unwanted plastic. Not only are plastic products not mostly built for short-term usage, they also cause harm if they are exposed to the chemicals which they store. So one of the first things to do when building a sustainable bathroom is to do away with all the plastic.Not only are the latest bamboo designs really elegant, these are also incredibly eco-friendly products. Their key strength also lies in the fact that they are incredibly durable, thin and lightweight and have strength similar to steel.Some examples of bamboo products that should be used to build your sustainable bathroom are: shower benches, tissue holders, waste baskets and shower stools. They are also incredibly impervious to water damage, unlike plastic products, and are easy to clean.

Install a low flush toilet –

One of the first steps that can be taken to be more water efficient is to install a low flush toilet. 27 percent of a household's water consumption usually occurs in the bathroom, which is much more than that of the kitchen or the garden. Another key step in building a sustainable bathroom is replacing your existing flush with a low flow version. An estimated 5 gallons per flush are saved with every flush. Even though you might have heard that they are not as efficient, that is not true at all.

Investing in a macerating upflush toilet is ideal for your household. This fixture can work wonders in improving the vibe, the functionality, and the water efficiency of your bathroom. While it may be expensive to change your fixtures, the long-term savings and the reduced impact they have on the environment are well worth it.

To make a more water efficient, sustainable bathroom, use motion sensor faucets –

Even though they are incredibly fun to play with and often considered a nuisance in cases of emergencies, motion sensor faucets are very resourceful. A lot of water is wasted when one is either washing their face, hands or even brushing. So, do what a wise man would do and get a motion sensor faucet. It not only works when an object is in close proximity, it also calculates water usage and discharges the correct amount of water required. That means bye-bye unnecessary germs and water accumulation.

Buy more eco-friendly products to go green –

When buying both bath and cleaning products, one assumes that due to their slow rate of consumption, almost any product can be used as it will remain stored for a long time. Not only does buying eco-friendly products ensure that your carbon/environment footprint is kept to a minimum, you also contribute substantially to the global economy. As most of the ingredients of these products are sourced from organic farmers and fair-trade organizations, it means you are contributing your fair share to ethical business practices world-wide.

Change the light bulbs to make a more sustainable bathroom –

One of the advantages of technological advances is that they have considerably brought down the amount we pay for power. However, one area we usually miss out on while making changes to our in-house tech is the bathroom. So, if you want to save anywhere near $160 in the coming year, you might want to shift to LED bulbs. The LED bulb consumes upto 80 percent less energy than the current high wattage bulbs and last about 25 times longer than the ones that are currently in use. These LED bulbs also glow at the same low intensity of regular incandescent bulbs.

Prefer ethically manufacture materials:

Another aspect that can be kept in mind while replacing existing materials in the bathroom or using new ones is the use of more products that are ethically manufactured and/or have raw materials that are eco-friendly. They will not only help reduce the carbon footprint one leaves but also keep the family very healthy. Not to mention you can keep a toxic free environment for the guests.You may know this, but most luxurious products can be made by using eco-friendly raw materials. It means that you can now flaunt a new and decadent lifestyle while keeping in mind that you are playing it safe with your environmental impact.
Final Words
As our actions as individuals and as a society are always under scrutiny, building a sustainable bathroom may seem like bowing down to social pressure. Though being water efficient is an understandable extension of our efforts to contribute to safeguard the environment, other factors contribute to it as well.
As a part of the go green initiative, we can increase the usage of eco-friendly products to not only create an environmental impact but save money and do our bit to support the economy. Where there is knowledge as to what changes can be made and their benefits, there is a considerable chance that a lot of money can be saved.