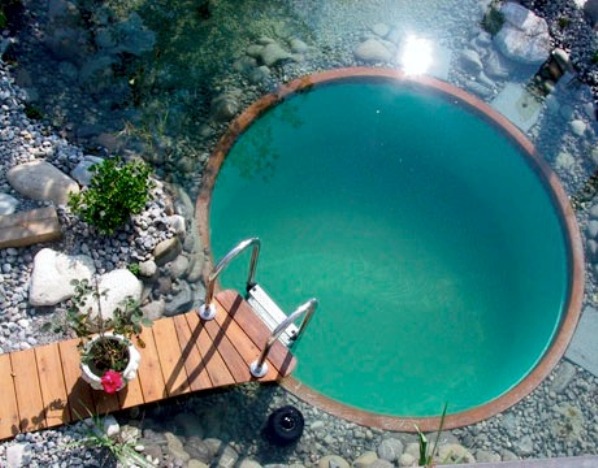 Eco-friendly swimming pool utilizes chemicals to keep water protected from infection. The loads of water that has to be filled and emptied on a daily basis requires regular cleaning by chlorine. This chlorinated water is very harmful for the skin. So, it is a great thing to have this water recycled and keep it infection free without the use of harmful chemicals. The chemicals harm our skin and natural swimming pools are a great way to enjoy hot summer days without ever having to worry about your skin and hair getting harmful chemicals from treated pool water. The toxic level of regular swimming pools can be a great health hazard if the water enters the body unexpectedly.
So, given below is a list of eco- friendly swimming pools.
1. Pool at a garden in Woodbridge, England
The first natural pond for swimming was built in 1954. The time taken to build this pool in Woodbridge, England went upto six weeks. The plants have been grown to filter the water of the pool naturally and as spring time approaches, the pond will be blooming with natural foliage covering its every inch. This natural pool costed around £60,000. Natural pools are increasingly gaining popularity in Europe, as people understand the need to conserve the environment as well as opt for options where minimum harm to health and body are incurred.
2. Terravita Gardens´ Natural Pools, Spain
These pools not only save the maintenance costs, but also provide clean natural water to swim in. No chlorine to purify pool water that consequently harms the skin, only clean and fresh natural water for a pure swimming experience. Natural pools are not only healthier but cost a lot less money than any modern pool's installation and maintenance. Terravita Gardens' pools are ecology sensitive and use all natural components required to get your 'nature-lover's' pool party going. The aquatic plants that are attached to this natural pool system act as efficient water purifiers while adding beauty to the pool area and its surroundings. The plants can be incorporated in the system by three basic ways. Firstly, the plants can be integrated inside the pool. Secondly, the plants can be attached externally to the pool. Lastly, a hybrid system can be used where some plants can be attached externally while some can be incorporated within the pool.
3. Whole water Systems LLC, USA
The diseases like asthma, ear and eye infections are common complaints of people swimming in regular chlorinated swimming pools. Whole water systems provides naturally cleaned water pond for swimming. They go by chemical free swimming, just like nature intended it to be. They treat water via onsite reclamation and purification, and design resource and energy efficient natural water bodies for swimming. They're all about sustainable water, a great initiative to preserve nature and its beauty!
4. Clear Water Revival, UK
The cutting edge expertise of Clear Water Revival has led to a revolution in natural swimming pools. They provide for algae free and hygienic pools made up of natural materials. It is relishing to swim in such a pool. The company's goal is to bring back the essence of Victorian England coupled with modern understanding of ecology and science. The natural pool designs work on maximizing biodiversity and the educational value of the waste/free space by creating a very natural feel and look. DIY kits are also available for customers. The most interesting part about this pool is that during winter time, it doubles up as an ice skating rink.
5. Bio Nova natural pools
Bio Nova Natural Swimming pools provide full expertise for high end clients like big hotels around the world. They have exotic and beautiful designs for people who want a royal swimming experience. It allows for greater sustainability and low energy consumption for a better, greener tomorrow. They have designs that help the environment by lowering the carbon footprint and maintaining ecological balance while enhancing the clients' swimming experience and enjoying nature, the natural way.
6. Green Pools by gartenART
One of its kind designs by Director, gartenART, Tim Evans, converts your conventional swimming pool to a natural one. You can choose to keep the original swimming area or eliminate it. Add a shallow plant area around the pool to enable natural purification and your pool is just as clean and safe as any other.
7. Woodhouse Natural Pools, UK
Experienced in natural pool building since 2000, Woodhouse Natural knows exactly what you want. Their extensive study in natural pools helps them understand the requirement and potential of a certain client and area. As they rightly point out, natural pools warm up fast and efficiently in the sun and don't cost a fortune to heat, unlike conventional pools.