Finding a hundred percent Eco-friendly and ethical watch is a difficult task. Still, there are several brands producing watches using natural resources like wood, recycled metals, and vegetable tanned leather. Such brands try to inculcate earth-friendly technology to create both masculine or feminine watches.
Whether you are looking for a watch for personal use or to gift someone special in your life, without making any negative impact on the environment, you are on the right page. Check these incredible, Eco-friendly and ethical watch brands below.
TAG Heuer

The famous Swiss brand is constantly trying to reduce its environmental impact by including more Eco-friendly products in the manufacturing process. They are Eco-upgrading their current production units by installing solar panels on top and using recycled water for the laser-related work in the factories. They have also built a new green building for the production of new watches. As a part of Responsible Jewellery Council, they have stopped using Python skin in their products and purchase packages are no more plastic or any other man-made material, instead, they are using FSC certified wood for the same.Our favorite
For him: Carrera Calibre 16/CV2A1R.BA0799 ($4, 800/3,68,000 INR)
For her : Aquaracer ($2, 050/1,93,450 INR)
Girard-Perregaux


Image Source : cdn2.jomashop.com
Producing only 12, 000 watches per year, the brand is a member of the Responsible Jewellery Council following ethical, environmental and social practice throughout their supply chain. The luxury brand is also a member of KERING's sustainability strategy that includes using Fairmined metals, purchasing traceable gems and many other green trend in the production process.Out favorite
For him: Laureato ($14,070)
For her: Cat's Eye Majestic ($15,440)
Fonderie 47

Image Source : media.luxury-insider.com
The brand focuses on a fact that old and end of life weapons can also harm the environment. Collectors from the brand take all the unused and expired part of dangerous and illicit weapons to transform them into killing accessories for men and women.Our favorite for men: Inversion Principle ($350, 000)
Whether it is by using recycled parts or following traceable guidelines, horologists are trying their best to offer greener and Eco-conscious products. Next time when you purchase a watch, make sure you choose something environment-friendly otherwise we will not be here to tell our story.
Some ethical watches that you can try
1. Citizen Men's BM8180-54A Eco-Drive Railroad Watch in Stainless Steel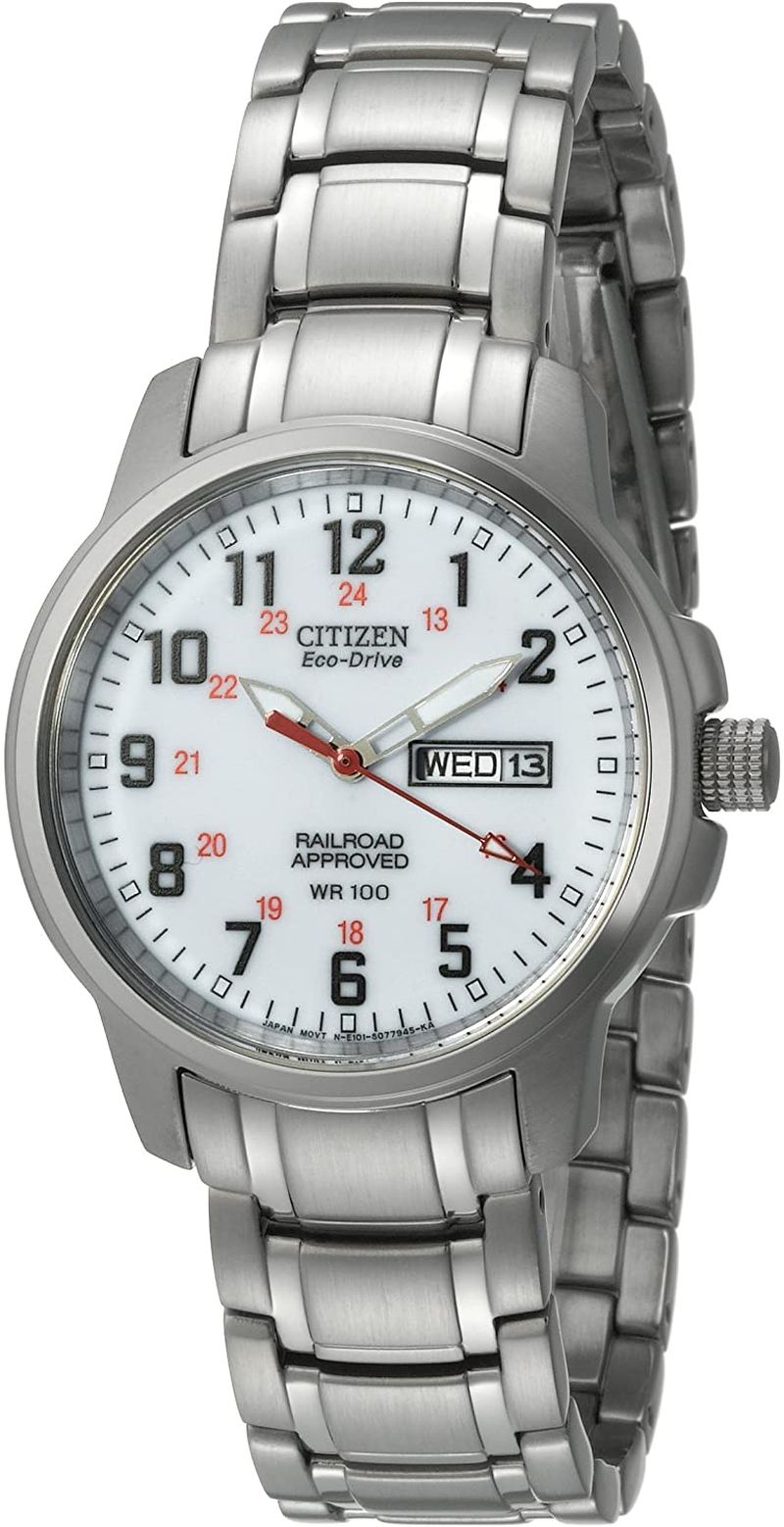 This is one classy piece amongst dress watches. The dial is white and has two hands which are luminous. The bracelet is of polished stainless steel. The display includes features for date and day being displayed on the dial. There is also a brushed stainless steel case and polished accent bracelet. It has an easy to read white dial along with Arabic numerals in red markers. The watch is railroad approved and the date and day window lies close to the 3 o'clock position.
The Citizen Eco Drive rids you from the mess of having to change a battery. Power reserve feature that works for 180 days is something to look out for. It is water resistant till a level of 100 Metres. The crystals of this watch are of mineral glass and the Bracelet features a push button with a fold over clasp system.
2. Casio Men's PAW1100-1V Pathfinder Watch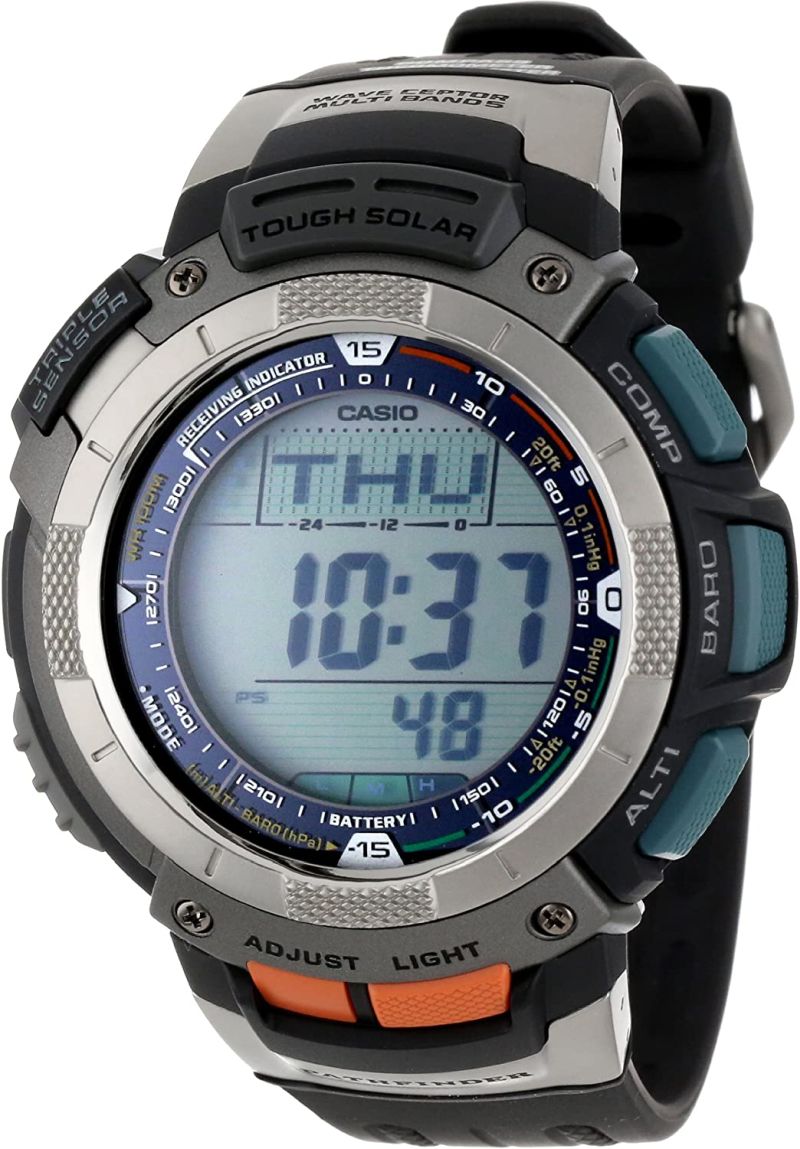 This is really a cool piece. Apart from the time display feature. This digital solar watch also displays digital altitude tenancy via a graph and also has a thermometer. The world clock is also a very cool feature and displays various time zones. Equipped with LED lighting and multiple alarm fixing systems, this Casio watch is all about contemporary features and style. It skillfully competes with the large display watches available today which have great multifunctional aspects.
The high-tech elements of this watch include a built-in altimeter with the digital altitude graph. This graph is highly suitable for people who engage in alpine winter sports and mountaineering activities. It also has a special atomic function for time keeping.
Apart from the functionality its got great looks too. It has a bold dial which is highly digital, a bezel out of stainless steel and a rugged band. It is water resistant and includes the feature of multiple time zones.
3. Pulsar Men's PUA111 Gear Dive Watch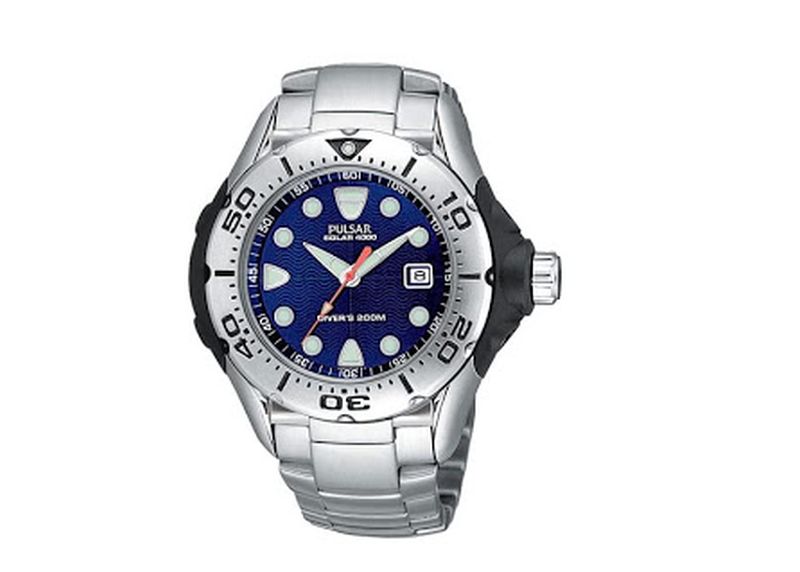 Perfect strap on for diving and swimming. This is primarily because the watch is water resistant and can go as deep as two hundred meters below the water surface. The dial is luminous in a unique blue color which makes time viewing really simple and easy in every kind of lighting condition. There is an extension system present on the bracelet of the watch which is really handy as it lets users wear it over their dive suits.
The no battery changes are a big plus point to this watch. The Solar 4000 technology of this watch charges it through the slightest source of light. At less than 72 hours a low charge indicator starts off directing towards a solar recharge.
4. Timex Men's T5J631 Ironman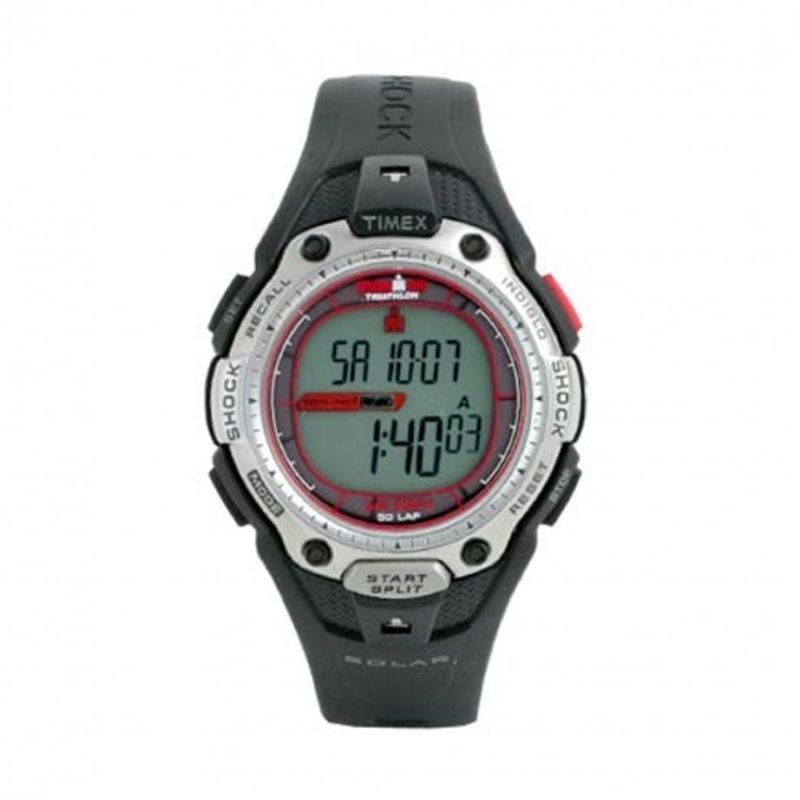 This durable shock resin strap watch is amongst the best solar powered watches in the industry. Adding to its popularity is the inexpensive price tag attached to it. The grey dial marks the day, date and month for this digital watch. In order to protect the dial from getting any scratches the watch has mineral crystals. It is also resistant towards water up to a depth of two hundred meters.
This watch is particularly designed to keep pace with serious athletes who have a bend towards success. This watch is light weight and has a resin case with a stationary metal bezel and a black resin wristband along with an adjustable buckle hold. The digital-gray dial is protected by the strong mineral crystal. The dial displays time, day, date and month.
Four buttons regulate the countdown timer, night mode features, dial control and Indigo nightlights for dark zones. This way athletes can successfully customize their workout plan. There is also a start-split button placed below the dial and for maximum efficiency there is the sleep mode too that retains eco-friendly features. At 660 feet this watch remains water resistant.
5. Citizen Men's BW0203-01 E Eco Drive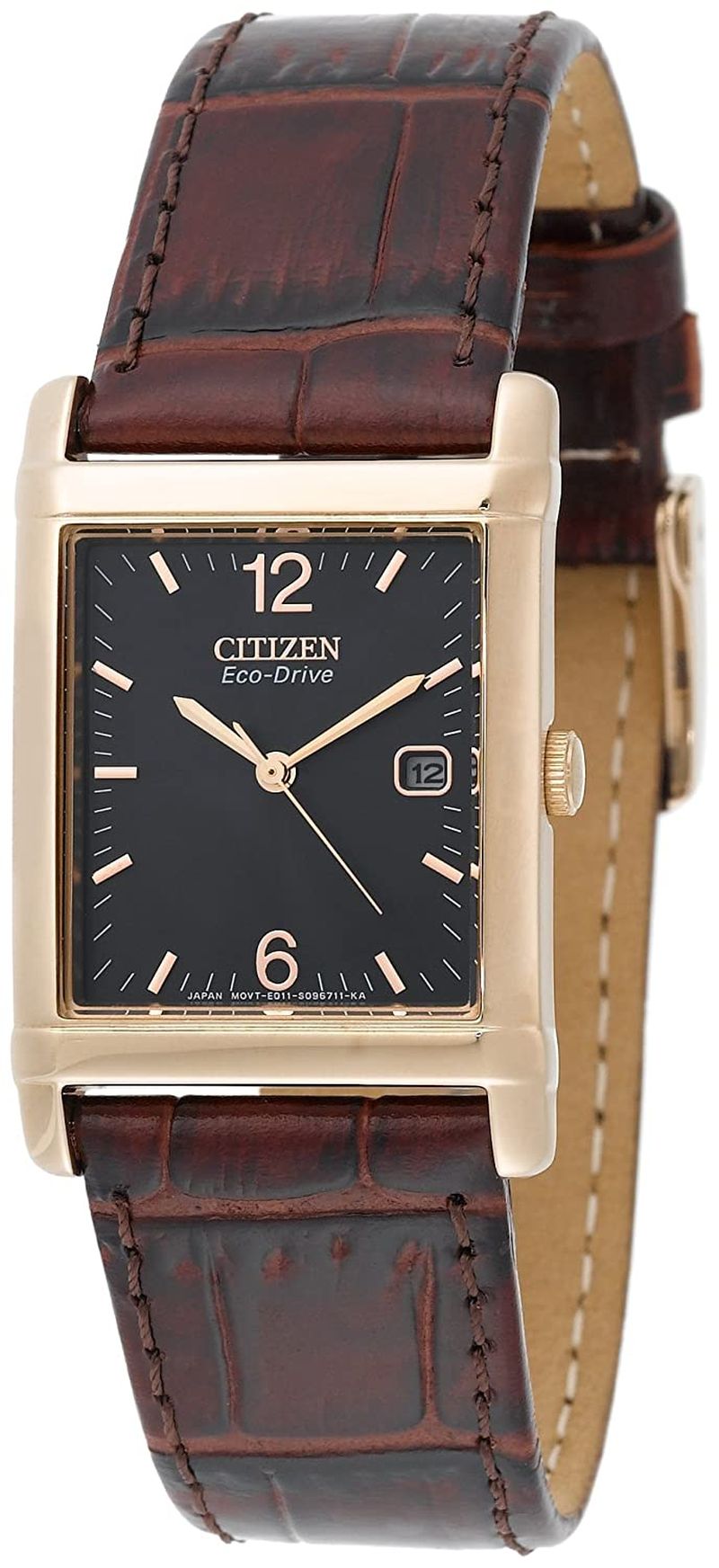 This classy watch with a Black Dial and Gold-Toneis perfect for baseball games. Its even better for dinner gatherings. Designed with a black square dial and a brown leather strap, the watch touches class and grandness while being economical on the battery changing part. The date is around the 3'o clock part.
6. Men's watch made from recycled skateboard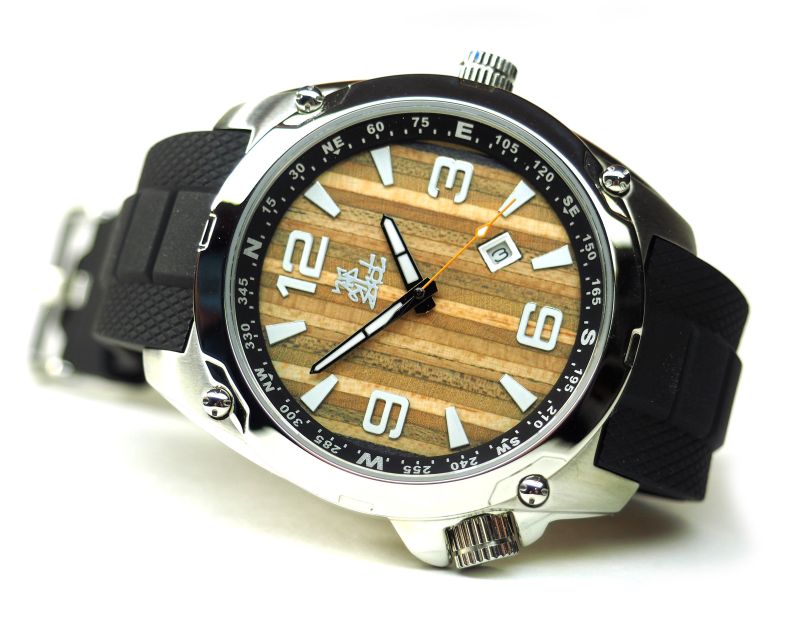 Image Source : i.etsystatic.com
Wristwatches are the most common type of watch used today, it is a timepiece which is usually worn either around the wrist or attached on a chain and carried in a pocket. A watch is the single most important accessory a man can own- it is an essential style element. As we know, watches are usually made from steel, gold, silver, platinum and titan. What if a watch is made from waste material like skateboards?
Some innovative recyclers have done a great job with the waste material like skateboards and Etsy is one of the leading producers in exclusive handcrafted skateboards. They collect used, broken and unwanted skate decks from local skaters to form quality skateboard art, electronic guitars, watches and so much more.
This is a handmade men's Skate Watch made from recycled skateboard. The face of this watch is made in Canada from used, old and broken skateboards. Its case and band is carved out of stainless steel, which gives a stylish look to watch. The materials used to make this beautiful watch include skateboards, both old and new, watch parts, broken skateboards, maple wood, skate wood and stainless steel.
This stunning watch comes in a handmade box with a lid made from 4-6 different skateboards and each box is different. Watch also comes with one-year warranty and the watch weighted 200g. This is a watch from Japan quartz moment and its water resistant quality increases its life. This is a perfect watch, which definitely will go with your all types of casual, formal and sportswear.
7. Yves Behar's VUE watch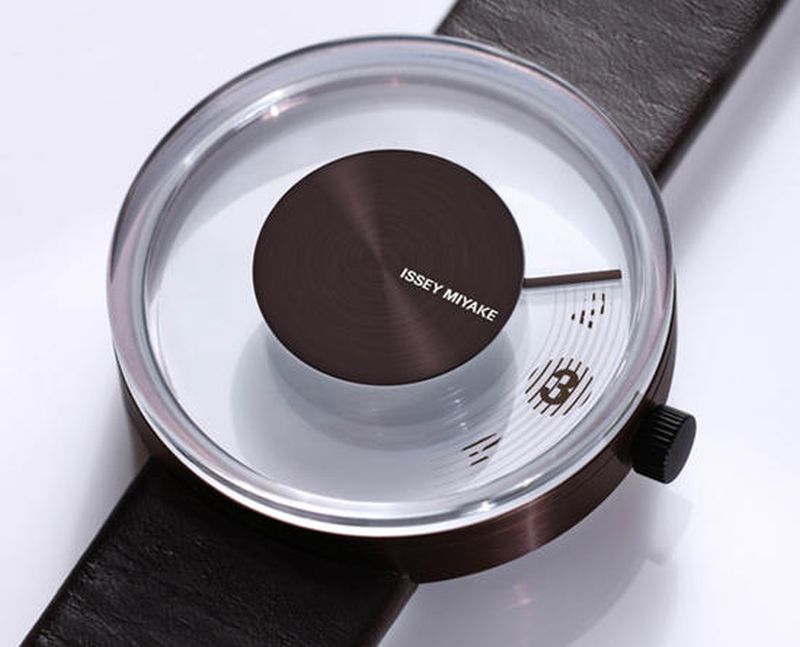 Making another foray into green packaging, Yves Behar has taken wraps off a fascinating watch named VUE watch that comes with a sustainable wrapper for its eco-conscious end users. Yesterday, Behar unveiled the timepiece – protected within a sustainable pad of recycled paper – on its Fuseproject site. Behar's packaging can be used for drafting a gift-note, poetry or a grocery list.
The analog watch features a graphic circle for highlighting hour; you need to follow half-drawn sketches for guessing previous and next hour.