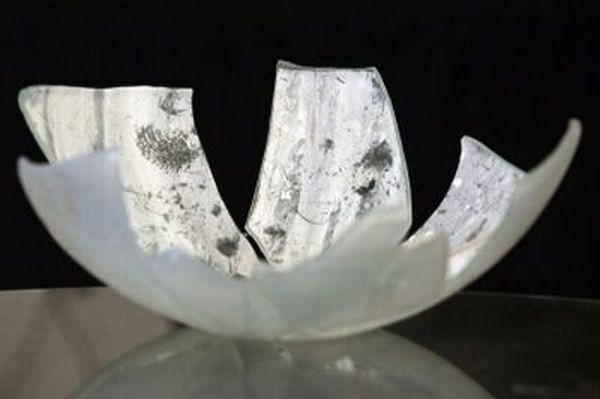 The first thing that we do after encountering broken or useless glass anywhere near our premises is to throw it out. But if you were Bryan Northup, an oak park artist, you will just jump with joy at finding the only ingredient that he uses for his art work. In his own words, he is "addicted" to glass and when you look at his range of work, you realize that he has truly immersed himself in this special art form and has the eye and ability to see and conjure up beautiful patterns, mosaic, shades and shapes from trashed glass.
Bryan can shape out amazing things out of discarded and broken glass which finds place in his collection which he has named Biolum derived from bioluminescence. Biolum includes Stained glass panels, Light panels, Jewelry, mosaics and tableware.
He recently got himself an interesting project that gave a new dimension to his work when Garfield Park Conservatory contacted him for doing something creative with the huge stockpile of broken glass shattered by a hailstorm. Bryan got hold of about a thousand pound of glass form the Conservatory which he carefully selected, looking for interesting shapes and patterns specially ones with markings of the hail storm. He made a few shapes and bowls by arranging them and baking them in his kiln for four to five hours. The creation, "catching the hail bowls" got sold like hot cakes ahead of holidays and Bryan had to slog overtime to meet the soaring demands. The "hail bowls" were sold at the Conservatory gift shop from which Bryan got the half of 100$ a piece and rest went for restoring the damaged Conservatory. The bowls made of shards have a striking geometry and one of bowls actually looks as if frozen in time while being shattered on impact. The locals too lapped up whatever he had made as they felt owning a bit of history and keeping themselves associated with the conservatory.
Another interesting endeavor of bran is his creation titled "bentglass" which has fabulous collection of glass bottles sculptures and concepts. Bryan says, "Ordinary, yet necessary glass bottle yields an endless array of possibilities for creating art objects that are functional as well as intriguing and beautiful to look at. Enhancing the organic qualities of glass by transforming it in the kiln is what keeps me excited and inspired to keep working with recycled glass". you kind of get in his frame of mind when you see ordinary and trashed glass bottles transformed and fused together to form a Glass Lamp, Bottle tray, Triple Decker server, soap case, and even an iphone holder!
The good news is that Bryan has just used a tenth of what he collected from Garfield Conservatory and is pondering over what he will do with the rest of the stockpile of broken shards. May be stained glass panels or more bowls, we'll sure knew it soon!
Via: Oakpark