Why buy plastic stubs, when you can have baskets? Aren't there plenty poly bags already out in the open? In fact, by opting for buckets we are also giving employment to many skilled people out there who would like nothing better than making a living by creating something useful out of trash. Sally Stokes with his creative basket made from recycled plastic bags gives us the inspiration to do the same. In fact, when you are really intent on buying a sustainable basket there's plenty of options around the market exclusively for you. Let's check some of these.
Sally Stokes makes a basket from recycled plastic bags
One man's trash is another man's treasure! What we often throw away thinking to be waste, can be given a new meaningful makeover, all you need is a little creativity and passion for the environment. One such artist who is transforming trash into beautiful, useful items is Sally Stokes. This California-based artist has made a stunning basket from old plastic bag. The giant bird seed bag that once had images of sunflowers and birds against a black background is now a nice looking basket to hold your precious stuff. Measuring nearly 13 inches across and 4 inches deep, this recycled plastic bags basket is made using the coil method.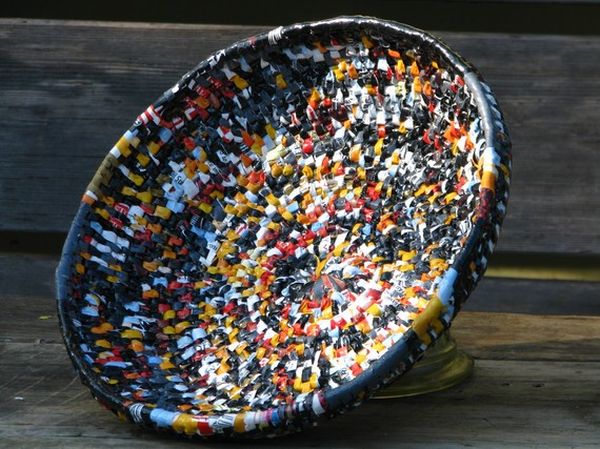 How is it crafted?
First Sally took a discarded the giant bird seed bag and dozens of single use plastic grocery bags collected from the recycling bin in front of a local grocery store. Then using a coil method, she wrapped strips of plastic cut from the giant bird seed plastic bag around a rope like core. This rope like core is fashioned out of plastic grocery bags. The end result was a aesthetically-appealing basket. It took the artist 1 to 3 hours a day for 10 days to create this exquisite recycled plastic bags basket.
The Recycled Plastic bag basket is like a rainbow of colors, you will be able to spot colors like red, yellow, orange, blue, gray, white and lots of black. It also has some words hidden in some corner, so it's fun to look for them. Besides, it diverts the plastic bags from the landfills, which are a big threat to the environment. It would make a great centerpiece on a coffee table or dining room table.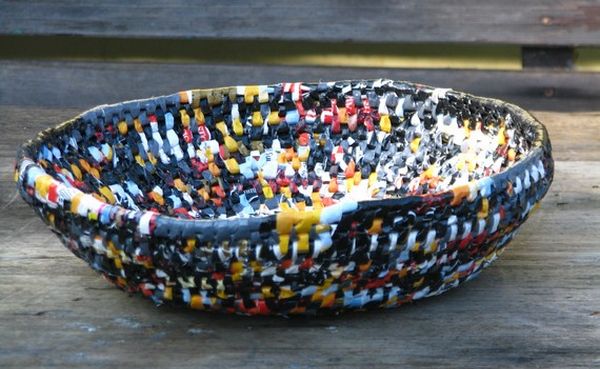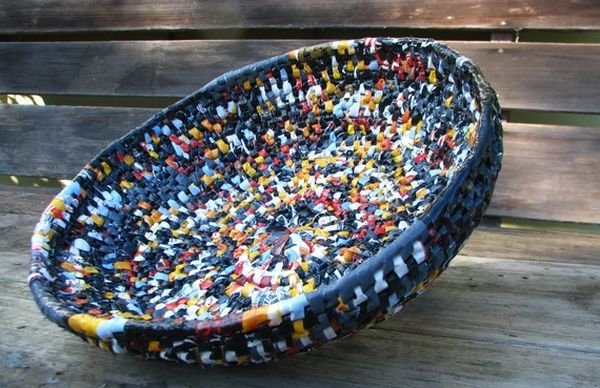 Some similar eco-friendly baskets that you can make at home
You can make baskets using material that is already at home, and making them with your kids will add to the fun. You can give away your homemade baskets too – to your nephews, nieces, or the neighborhood kids. It could be a perfect eco-friendly gift. Here are some recycled DIY ideas for baskets:
10 recycled DIY ideas for baskets
1. Candy box egg basket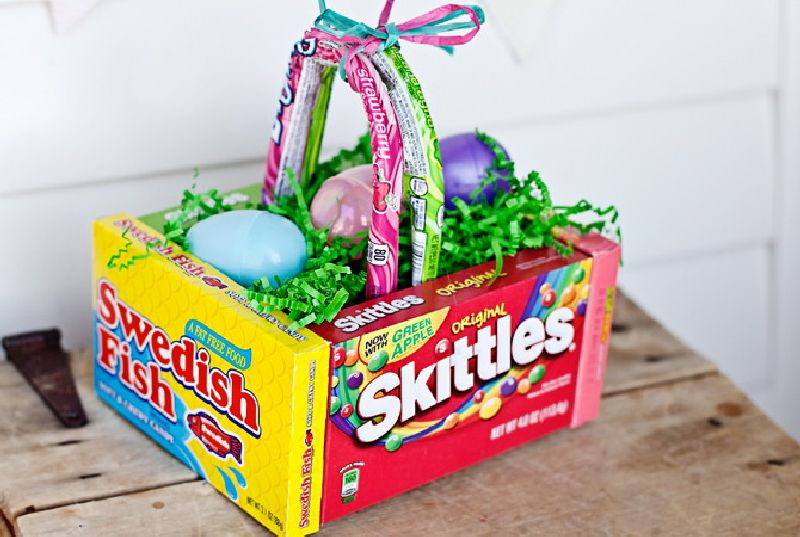 Image Source : prod-cdn.thekrazycouponlady.com
This is an easy and fun idea that any novice DIY crafter or child can make. Just get some box candy boxes and glue together the sides to make the frame. You can stick this on a piece of cardboard and decorate the basket with fake grass.
2. Leftover fabric/wool baskets
As you're making baskets at home, you can use up much of your leftover wool and cloth for the task. Buy as many wicker baskets you want, and then decorate them for your loved ones. You might even sell them, especially to people who want beautiful baskets which are eco-friendly as well. Using leftover wool, denim, T-shirt or any other fabric is one of the most wonderful recycled DIY ideas for baskets. And as all you have to do is cut out and glue the material, your child can help you make these baskets too.
3. Basket with duct tape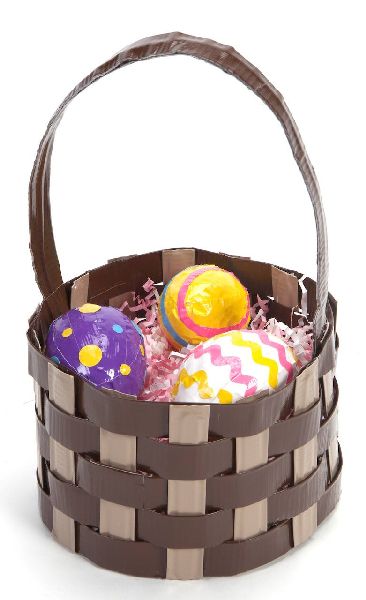 Image Source : ducktapecolours.co.uk
DIY baskets can be made easily from duct tape. Duct tape is available in many colors. You can make a brilliant one with many colorful tapes for your kids. Your hubby might love duct tape baskets too, as men generally are into all things duct tape! You can use a few rolls of duct tape to create many baskets, and each one would be unique.
4. Tin-can  baskets
Making baskets at home is super easy when you have empty tin cans. Soda cans, coffee cans, formula cans, baked beans cans – any tin can has the potential to be transformed into a cool Basket. Mix some glue with acrylic paint for your kids and let them paint the cans in any way you choose. The kids will be definitely proud of the egg baskets they made themselves!
5. Fancy basket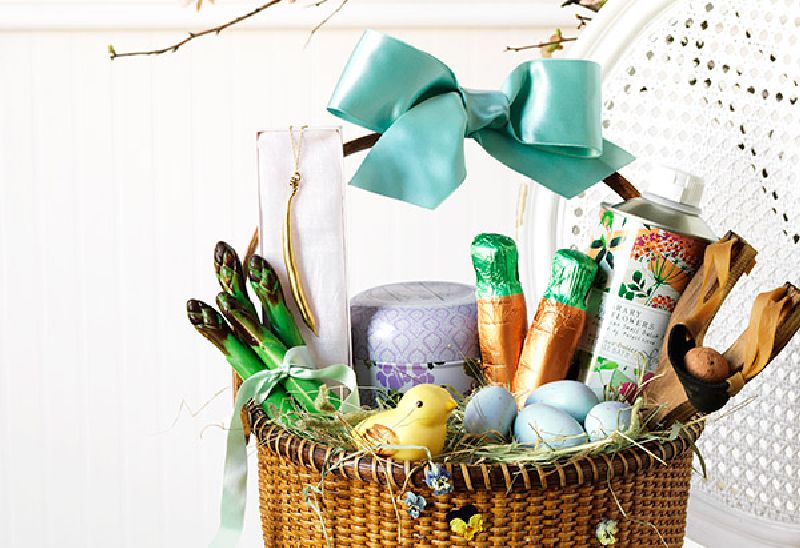 Image Source : static.oprah.com
You can create a sophisticated egg basket with some lovely leftover fancy fabric. You can wrap the cloth around any old wicker basket. This is one of the best recycled DIY ideas for baskets, as you'd use up leftover fabric in a novel manner. Your little girls would love these unique baskets. Stuff some crepe paper to make a nice base to place the eggs. Throw in some elegant items to make the basket fancier.
6. Bucket basket
Buckets can be turned into baskets. Kids will love these unique baskets as they'll be able to store a huge number of treats. You and your kids can paint anything on the baskets. Just let your imagination run wild – cartoons to sceneries, anything is possible.
7. Soft toy baskets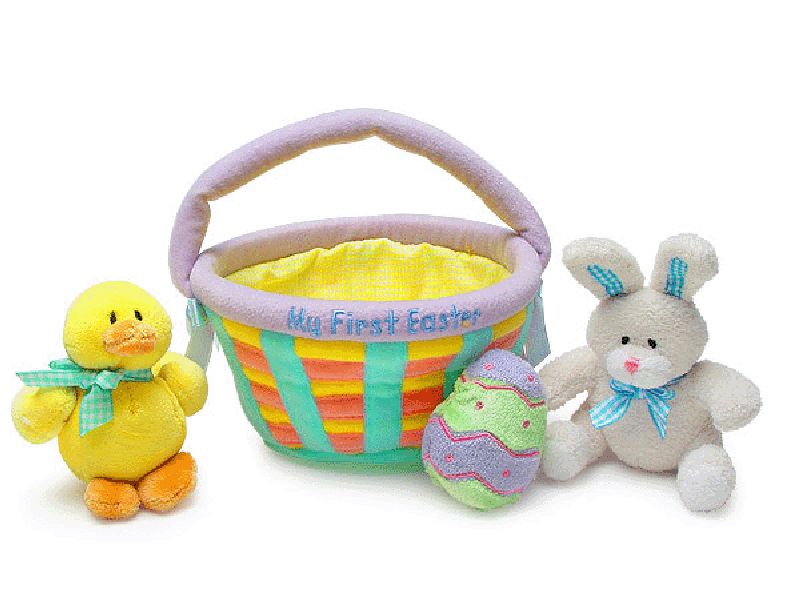 Image Source : sep.yimg.com
If you have a sewing machine, you can make this felt animal/ soft toy basket at home. Use wool felt, googly eyes, etc to make a cuddly egg basket for your kids.
8. Mini baskets
Upcycle yogurt and mini cups to make mini baskets. You can glue bright colored paper or fabric and give them to your toddler who'd be delighted with it.
9. Paper plate basket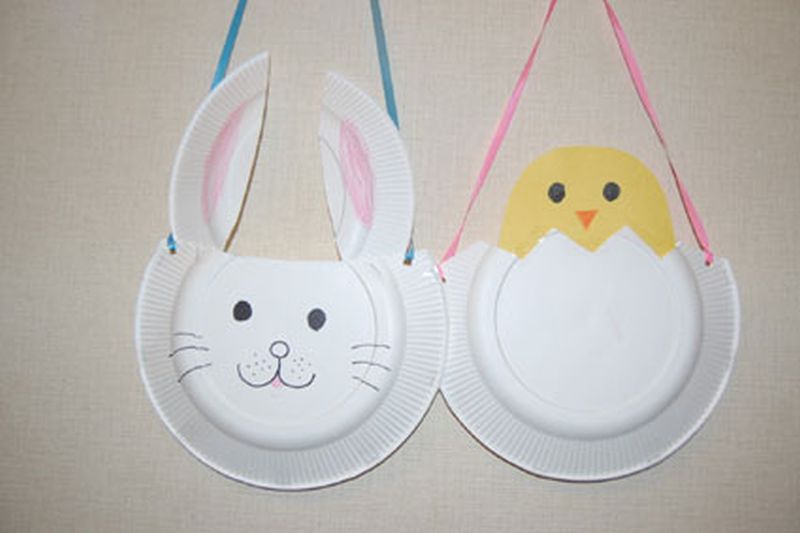 Image Source : blog-imgs-21.fc2.com
Get your kids to paint paper plates. Then fold the plates and stick them to form a basket. It is an absolutely simple idea which looks great!
10. Soda bottle basket
Don't throw out plastic soda bottles ever. You'd be amazed by the number of DIY projects you can do with them, including making baskets. This is one of the best recycled DIY ideas for baskets, as everyone invariably has one or two soda bottles lying around at home. You just need to cut the upper half of the bottle and use the lower half. Just make sure it's kid-friendly by taping some duct tape or masking tape around the edge.