Human population has risen exponentially over the last few decades. However, when you come to think of it, the earth doesn't multiply itself according to this population. Right now, we have more humans than we ever had to utilize more resources than they ever did in the past. Therefore, in order to maintain this growth but to help nature, we must go eco-friendly with our construction. Provided that the material is locally available, one efficient way of doing so is by opting for bamboo hut designs.
Why bamboo?
Of all traditional materials used for constructing homes, bamboo seems one of the greenest and there are facts to support this. Bamboo is the fastest growing plant on our planet, making it nothing less than a renewable material. Apart from being green, bamboo is sturdy and buildings made from this material are both green and strong if you want to grow it on your own, it's best if you Compare the Gardener first. The material has been used for construction purposes for ages and even today. Furthermore, there is no dearth of architects who believe that its use can never be a thing of the past. Check out 11 of the coolest bamboo hut designs that have been made using this green material after the break.
Another way of making sure your garden and outdoor space is to use bamboo in the construction of your garden sheds, gazebos and pergolas. Not only does this give a natural look to your space but it also lends a rustic feel that can make any outdoor space so much more inviting to spend time in. Or if you want to spruce up your garden and don't have the time, you might want to find a local gardener that lets you find gardeners and compares their garden services.
11 – Best bamboo hut designs from around the world
1. Bamboo house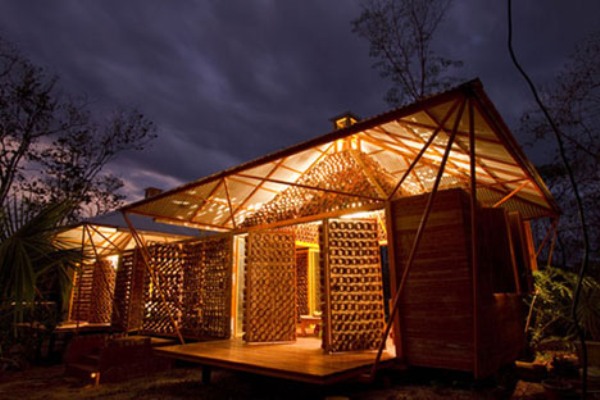 This bamboo house is a finely constructed dwelling with its walls and ceiling made up of bamboo designed in an intricate fashion. Along with layers of bamboo, burlap has been used over a steel framework to bring together an amalgamation of spaciousness, elegance, and style. This house has been well proportioned to include a kitchen and living area, linked together by an inner courtyard. A large indoor space allows consistent natural ventilation, and two tin roofs offer a cool respite in summers.
2. Family Bamboo Hut:
Looking to spend a perfect family vacation in an eco-friendly style? The family bamboo hut provides modern facilities, like air conditioning, hot shower and provision of private balconies, with a chance for you to stay close to nature. The experience of spending a cosy stay with your family in one of these family bamboo huts is both pleasant and unforgettable. Family bamboo huts include two double beds and two bathrooms.
3. Butterfly Bamboo Homes for Thai Orphans: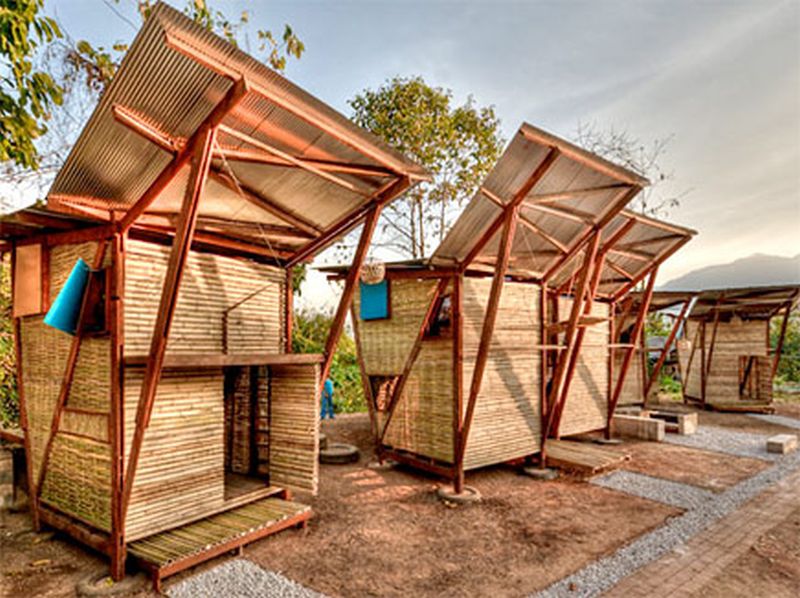 Image Source : files.archinect.com
Butterfly Bamboo Homes, a student humanitarian project on the Thai Burmese border, highlight immeasurable creativity to bring this vernacular-inspired architecture to life. With a view to keep Karen refugee children happy and healthy, the overall design of these huts, dubbed Soe Ker Tie, was given a 'Butterfly' appearance. Its roof also acts as a storehouse for rainwater, which can be used in drier months. Foundation cast in re-purposed tires were used to raise the level of these houses above ground level. These would keep away from issues caused by moisture and decay.
4. Contemporary style bamboo hut:
As the name suggests, these huts, portraying contemporary cottages, can be described to provide the best in innovation and design along with eco-friendliness. These huts are constructed from raw bamboo, woven bamboo sheets, rope and iron rods. In addition, these shelters could last for three years. Nevertheless, there are concerns on their stability during seasons of strong winds and monsoons. These huts accommodate two rooms along with a kitchen.
5. Folded bamboo houses: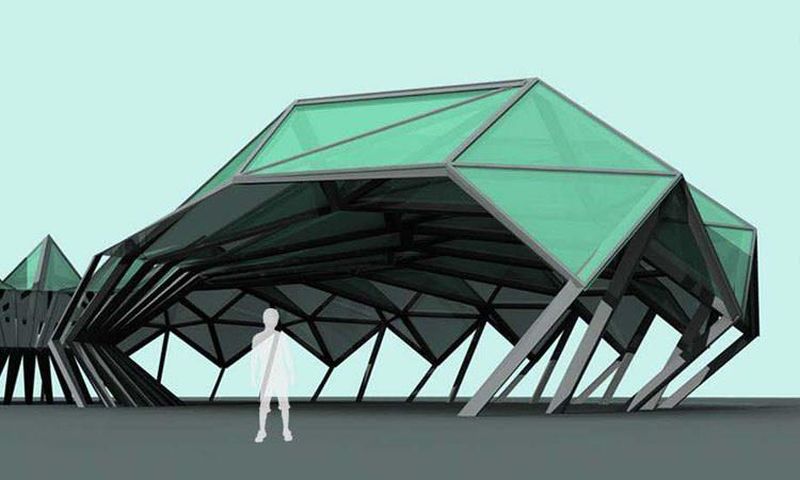 Image Source : cdn.worldarchitecture.org
Known for their simple structure that, in some ways, seems to be carved in amazing geometrical designs, folded bamboo houses are built as temporary shelters in the aftermath of an earthquake. Therefore, the geometry gives the architect a chance to construct these origami-inspired houses in a variety of shapes.
6. Bamboo Huts by Students:
Very often does one witness a remarkable structure being brought to life from what was considered to be a mere architectural mistake. A real-life building property at present, it was initially designed with the intent of creating a dome with full-length poles arcing up toward the center and back down along the opposite edge; however, because of bamboo's flexibility, the structural members started to twist the dome, giving it a shell like resemblance at one end. With the use of careful innovation and designing skills, the overall structure was made to look like a dome and a conch shell at the same time. Weather is regulated inside the house with cropped rice stems posted as exterior cladding.
7. Woven Bamboo House: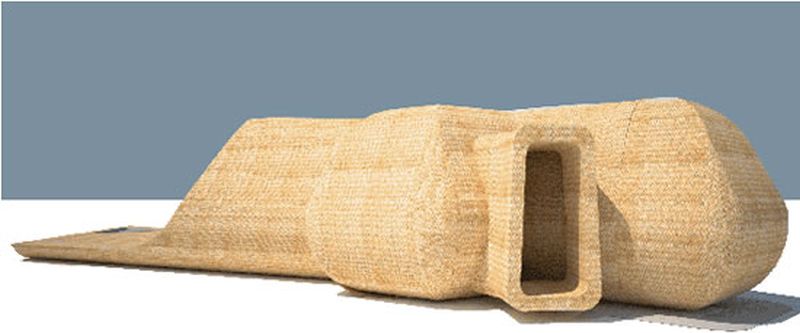 Woven Bamboo houses are, like other bamboo houses, made out of sustainable building material. Moreover, theseattract a lot of tourists because of their out-of-the-box design. Not only are they environmentally friendly, they appear more pleasing and natural to the eye. Furthermore, they are modern and almost futuristic in their overall architectural setup. In fact, one does not need to construe separate designs and patterns for floors, walls and ceilings. When designing a woven bamboo house " it runs as a single continuous surface. The roofs are covered with bamboo shingles while internal flooring, walls and ceiling have been done with woven bamboo. The inside of the house provides enough space for insulation.
8. Modern Nipa Hut:
A Modern Nipa Hut, as the name suggests, is made up of Nipa leaves, coconut leaves laid out on clipped bamboos. Cosy and overwhelming in itself, a sustainable dwelling such as this is still used by native Filipinos.
9. Bamboo Tree Hut: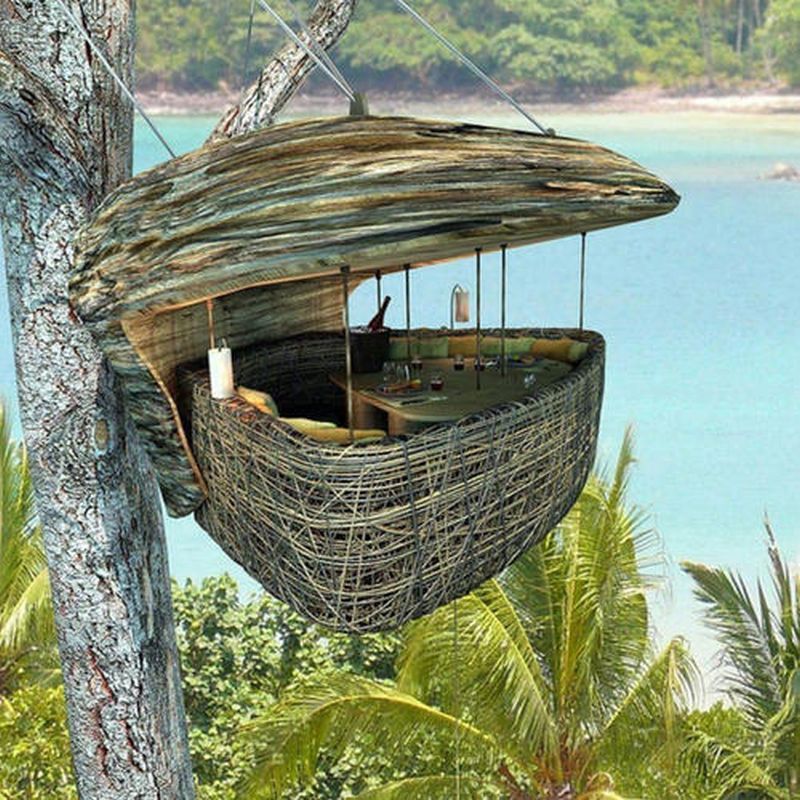 Image Source : 4.imimg.com
This new design attracts tourists particularly looking for a tropical fervor to suit their vacation. Constructed specifically to provide its guests an experience of the untamed woods. In addition, it offers a wealth of island ambiance, a picturesque view of the sunset, and unparalleled greenness of the flora.
10. Bamboo hut powered by solar energy:
This Chinese architecture uses futuristic technology along with the conventional usage of sunlight in producing 9KW of electrical power for bedroom and living room. Not only do these houses exude a dynamic beauty in their overall crafting, they utilize sunlight to produce energy. It is a simple yet efficient bamboo house design, with includes humidity and temperature control system, a bamboo garden and thermal insulation systems.
11. Contemporary style bamboo hut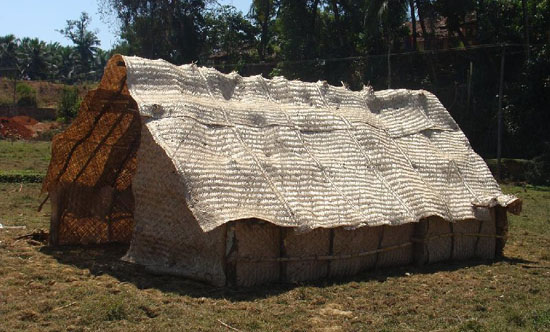 Some huts in Tumbe, Sri Lanka have become a source of attraction these days. Now, you will say a hut is a hut, what is so unusual about them? Well, what makes them stand out is their innovative and modern design with an eco-friendly aspect, an added bonus. Built as temporary shelters, these huts look almost like contemporary cottages. The green huts provide a roof to the workers of the vented dam in Tumbe, who have hailed from Andhra Pradesh.
The eco-friendly huts are constructed using bamboo and woven bamboo sheets. Instead of staying looking for rented accommodations, the workers choose to build a green dwelling for themselves. Just by using some pieces of bamboo, rope, iron rods and some sheets of woven bamboo, the workers erected the eco-huts that cost nearly Rs 4,000-Rs 5,000 each.
Accommodating two people, the huts have two rooms along with a kitchen. If protected from rain, these temporary shelters could last for about three years. Some huts have already been constructed and nearly 20 are in process. The ongoing construction work has been so interesting that many locals can be seen visiting to check them out.