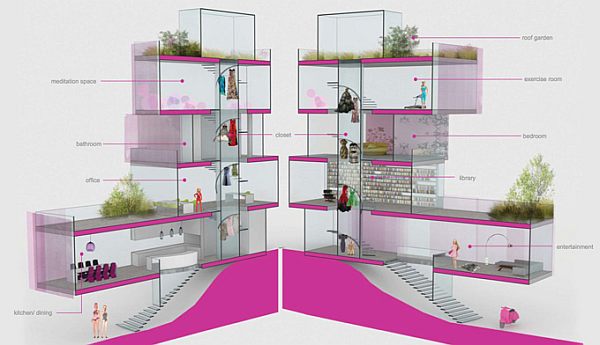 The winner of the Architect Barbie Dream Home Design Competition has been announced out of a total of 30 entries. It has been decided by a panel of judges from the American Institute of Architects (AIA) and Mattel. Designed by Maja Paklar and Ting Li, who are architects from New York City, have made Architect Barbie design an eco friendly and sustainable futuristic dwelling that is spread across 2003 square feet.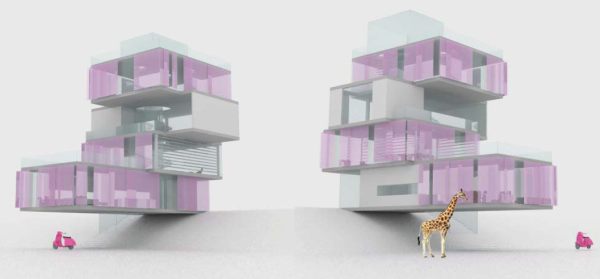 This amazing design comprises of a grassy rooftop terrace with a greenhouse and a landscaped garden for her pets and a giraffe also happens to be one of them. This energy-saving home also has the latest hi-tech techniques employed such as a closet that is computer-controlled, a very futuristic multipurpose space for Madame Barbie to carry out her various activities and also a concealed surprise chef's kitchen.
Being environmentally conscious, Barbie has given up on her triple-parking space. Hence she will now possess one pink (possibly electric-powered) Vespa in place of three cars. Now Architect Barbie's house will also use solar energy. It will have wall painted with zero-VOC paints, eco-friendly bamboo floor, EnergyStar power-saving home appliances, a personal irrigation system and bathroom fixtures having 'lo-flow' for conserving water. Furnishings and material for the home would be locally sourced. The home will also have automatic shades for keeping the inside cool.
This beautiful 'green' Barbie Malibu Beach house would not be manufactured by Mattel but the winners would be given 1000 dollars as a donation from their side to Philadelphia's Charter High School for architecture and Design. It's wonderful to see that Barbie has gone 'green' and evolved as an environmentally-conscious role model for the young little girls out there!
Via: Mnn/Therealdeal/Aia