Green tea makes the news a lot, and often we're told that we should drink more of it. The benefits claimed range from weight loss to cancer prevention, with seemingly more added on a regular basis. There are plenty of good reasons to drink green tea. Studies suggest it can lower cholesterol and reduce the risk of heart disease, some cancers, and even diabetes. It can help you lose weight and keep you from gaining it, too. So whether it's brewed, bottled or taken as a supplement, green tea apparently is good for your health.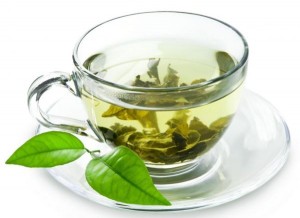 Serves as a Stimulating Drink
Green tea can perk you up due to the caffeine it contains. This is caffeine from a natural source, not the kind you find in soft drinks, and in smaller amounts than in a cup of coffee. So you don't have to worry about getting the jitters, unless you drink a ton of it. But it can provide a nice pick-me-up in addition to its other health benefits. It can serve as a healthier replacement to coffee and other "energy" drinks.
Hydrates The Body
A team of scientists in Australia recently concluded that your eight glasses of water a day don't actually have to be straight water. The water used to brew green tea would suffice, and since it doesn't contain a lot of caffeine it won't act to dehydrate the body as was once believed. This might make it easier to get your recommended fluids each day, and they also suggest that the water contained in foods like lettuce also count towards your fluid intake.
Fights Inflammation
The EGCG in green tea not only helps with weight loss, it also helps to fight inflammation in the body, and therefore diseases and conditions that are brought on by it. The number of problems caused by inflammation is pretty long, and can range from chronic conditions like arthritis to cancer. That's why it's a good idea to combine green tea with a diet that is high in anti-inflammatory foods. There are even certain diets available that are geared towards fighting inflammation.
Helps with Toothache Pain
Because of the antibacterial properties of green tea you can sometimes get toothache pain relief by swishing some in your mouth. Be sure that you brew a strong batch, letting the tea steep for a long time to get as much nutrients out of it as possible.