Using the energy of the sun to power your home seems to be a smart idea, especially if you're a green conscious family, and want to conserve natural resources. You can reduce your carbon footprint and your electricity bills by installing solar panels in your home. Many people worldwide are now using solar kits as they want to go off the grid completely, or partially. There are different types of solar kits battery banks or some which are tied to the grid. First let's see the difference between the two and then read about some of the best solar panel starter kits:
Battery bank or grid tied
Solar panel kits using battery banks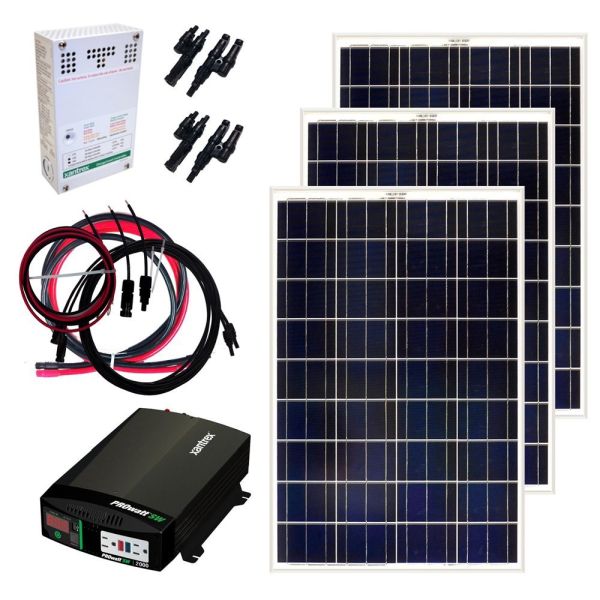 Solar panel kits are those which use battery banks to store the excess power in a battery. With battery banks you can live completely off grid. With these kits, you will have to pay the additional cost of batteries and bear the cost of battery replacement.
Grid tied solar panel kits
You can't go completely off grid with grid tied solar panels, and the excess energy is fed to the grid. Utility companies will pay for the energy that you feed back into the grid. In this manner, you can start making money which might help to offset the cost of your system. There are no batteries to store power nor do you have to replace them.
Renogy 100 Watts 12 Volts Solar Starter Kit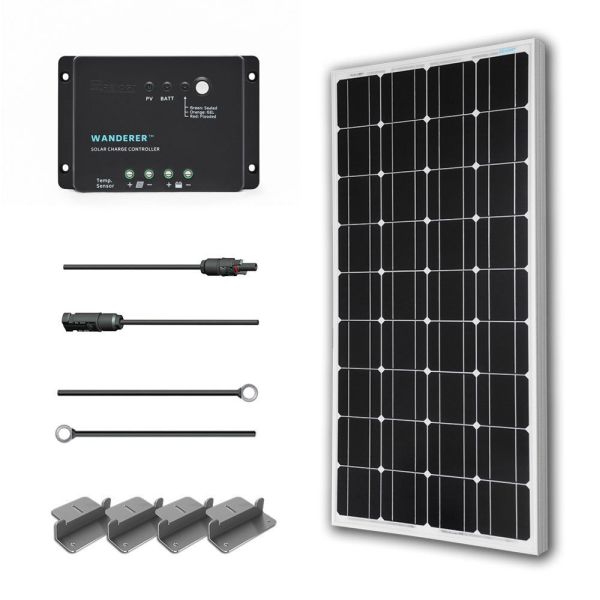 This is a great starter kit to begin with. It gives an output of 500Wh every day. It has the advantage of producing power silently, and it gives you freedom from the grid. It has all the tools you would require for a new solar panel system, including a 12V Monocrystalline  solar energy panel which produces 100W, a 10 AWG MC4 Adaptor kit with a 20ft cable, a Charge Controller from Wanderer (30A PWM),  and a Tray Cable 10 AWG with 8 ft cable as well as a Z-bracket set.
The best feature of this system is the high wattage it produces, because of which you can use this kit to charge boats, RVs, cabins, shed and so on. It also has a warranty for 25 years, as well as a workmanship and material warranty for 5 years. The unit is designed to perform even in shade or low light days, as it has bypass diodes, which minimizes power drops due to shade.
The kit can withstand snow and heavy rain, and has a corrosion resistant aluminum frame.
WindyNation 100 Watt Off-Grid Solar Panel RV Boat Kit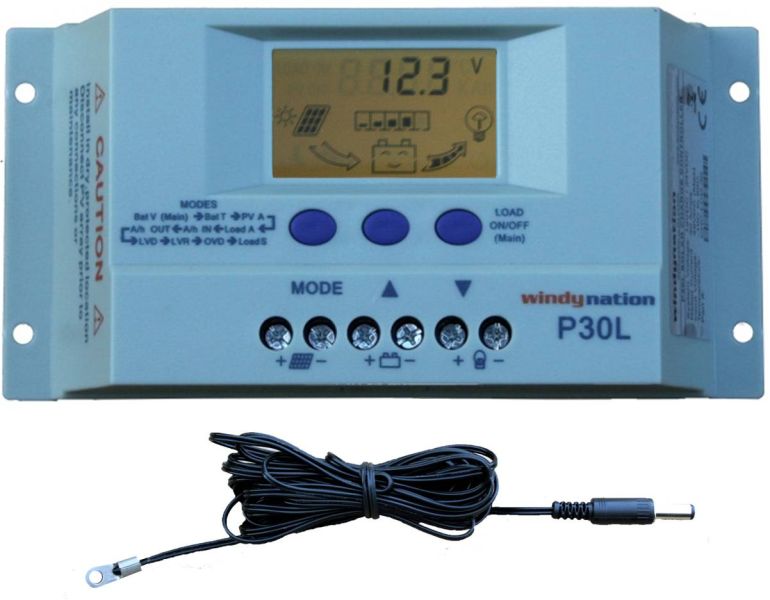 The WindyNation kit is great for back-up power or for off grid solutions. The power wattage of 100W has made this kit a favorite of RV and boat owners. A 350W or 33 Amp hours charge every day is the average power output of this system, depending on the sun.
The kit has a 100W solar panel, adjustable LCD, 30 Amp charge controller, and a sensor to monitor battery temperature. A solar cable 40 ft long and 12 AWG, MC4 connectors for wiring, 4 brackets to mount the system, and fastener sets are a part of the system. DC-AC inverter, 12 V battery, and the charging kit makes it a good solution for off grid power. The price is comparatively cheaper even though it has great features, such as versatility, solar and load disconnect are adjustable easily via the charge controller's UP/DOWN buttons. 
 Goal Zero 42011 Sherpa 100 Solar Recharging Kit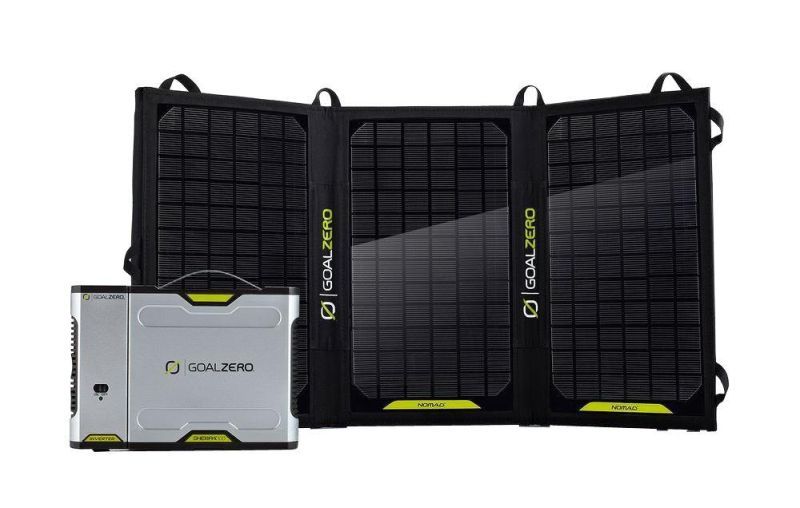 This system is rugged, reliable and versatile, just as a Sherpa is, and after which the kit is named. You can charge electronic devices when you're off grid and has an inverter and a 20W solar panel from Nomad. It has two smart USB ports for tablets and mobiles, a 12V port you can charge your lights in, and another port which you can use to charge laptops. Photography enthusiasts can charge their DSLR cameras with the detachable inverter (AC).
It's great that you want to go off grid partially or completely and use clean, renewable energy for most of your needs. There are many kits available that you can buy depending on your needs and perhaps the best option would be to buy a kit which can be upgraded in the future.