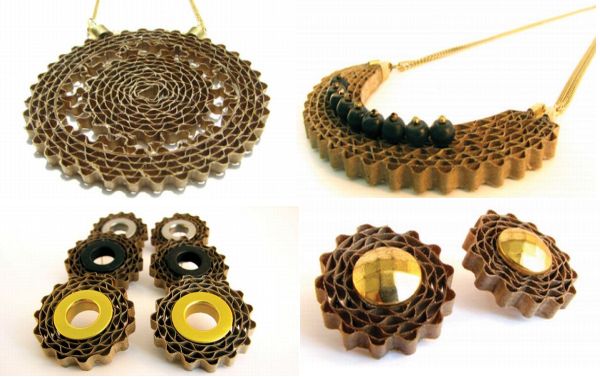 When you close your eyes and think of the future what do you see? Do you see empty streets with sky scrapers some standing tall, some knocked down mid-way. The sky colored black and grey, the whole scene smoked up. You see people covered in grime wearing torn cloths, nothing to eat or drink as in the movie Terminator. Ok. You can open your eyes now and save the world.
Save the greens now and close your eyes to visualize a greener future. So don't waste those papers and save a tree from being mauled. And that's exactly what the eco-chic designers Yael Gaizler and Aviv Kinel have brought about. They create beauty out of desecrate cardboards to prove to the world that anything can be done as long as you have a will.
This hand-crafted jewelry made out of recycled cardboard combined with silver, gold or semi-precious stone additions resulted into being eye- catching ear-rings, necklaces and making a statement of its own. This kind of jewelry would undoubtedly be an envious lot for other women and would even wish to touch and have a feel of it.
The Carton Jewelry branded by its designers are made in small batches yet marked a reputable spot in the market especially after being worn by Israeli celebrities. So the next time when you think of throwing away a cardboard, think again of what you can do with it. Awaken the artistic side of inside of you. Many of those items that you dispose can be made worthy if you find the beauty in it. So you choose to make the future green by saving the trees now.
Via iDesign