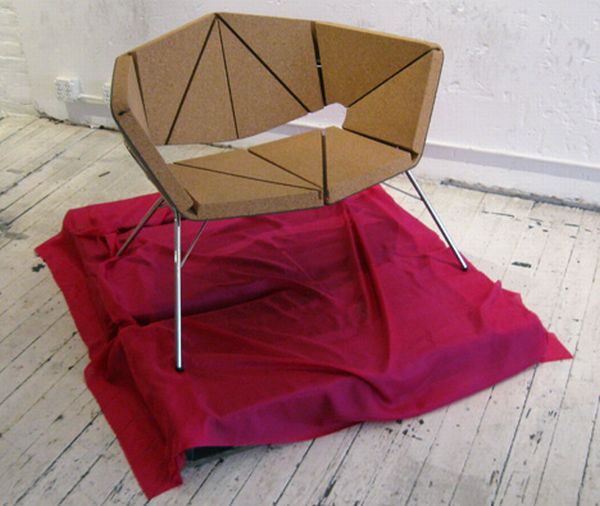 With global concerns going strong for a more sustainable life, Corque's innovative line of cork furniture illustrates a new beginning to a greener world at the NY Design Week 2011. Cork is got from the bark of the cork oak which is unique in its manner of regenerating itself every nine years and hence the tree need not get cut to be put to regular use. The designers at Corque have based their research on this capability of cork to demonstrate that it can be harnessed for far better products than just as wine bottle stoppers.

The cork oak tree is an evergreen oak tree which is grown in various parts of the African continent as well as in south west Europe. But Portugal is the most famous of all in world cork production (of about 50% of total global output). It is an extremely light, durable and flexible material, impermeable by any liquid and gaseous matter. It has a very high coefficient of friction, is a poor conductor of electricity, sound and heat, shock-proof and unaffected by most chemical substances.
Two Portuguese product designers Ana Mestre and Gonçalo Riscado who founded the Corqui studio have used this local versatile vegetable tissue to design a line of innovative home furnishings called "Designing Living Objects" for the NY Design Week 2011. The ingenuity of the material yields well to various treatments and has helped in designing a wide range of unfussy furnishings to suit every customer needs.
The Puf-Fup freeform string chair made of raw cork, the Moorish Mosaic table made from a advanced cork grain mixed with resin. Darker shades as in the wine bucket on the table were got by boiling cork. Similar treatments were used for the black hued Lagarta modular stool that consists of pure cork boiled to achieve a dark color with natural grain. Furthermore to make it suitable to outdoor use and make it weather proof a coat of special varnish was applied. Another breakthrough functionality of cork was found in the Puf-String, a unique textile got by mixing a strip of cork with rubber. This industrial treatment can possibly substitute for leather anytime.
Be it mats, tiles, tables, chairs, belts etc, Corque has gone off the beaten path and reworked with cork not only to design environment friendly furnishings but made it an inspiring and chic experience.

Via: Core77