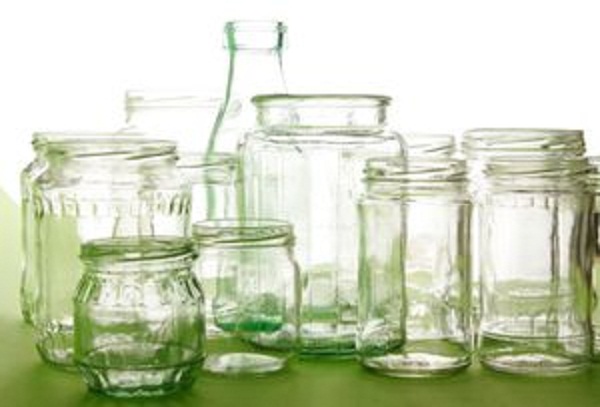 Glass jars can easily be reused in your home. There are so many things you can make from them – lights, storage containers, artwork, etc. Reusing glass jars will help cut down your household budget. You will need to buy fewer things on your next visit to the market. Also, it helps the environment and reduces the garbage dumped on landfills. Give glass jars a rinse and put them to use again. If there are labels stuck on them then soak the jars in a soapy hot water solution. If there is a smell emanating then give the jar a rinse with lemon juice. Here are a few ideas to reuse glass jars.
1. Storage
Store odd thingamajigs that otherwise just keep lying around in your drawers or cupboard. Sewing kits like buttons, threads, needles, wool rolls, etc can be stashed away in them. Make a pen or pencil stand from them. Hoard beads, nuts, screws, bolts, clips, key chains, or curtain rings in them. Stock them with your paint paraphernalia like brushes, tubes and paint bottles. Other things you can store are marbles, metal baubles, stickers, etc.
2. Art pieces
Store colored rocks and pebbles you collected in them, this looks quite earthy. Layer them with colorful beans, nuts and seeds; they look even more appealing if the layers have contrasting hues. Display jars containing kitchen items near your cook top, on the dining table, or on the counter top. Fill them up with colored sand or mud and display on a table top.
3. Stockpile kitchen items
Glass jars are ideal for storing kitchen goodies. They are transparent and you can easily locate things when they are placed in glass jars. Store pickles inside glass jars, the next time your guests ask for a chilli pickle you won't have to open and check every bottle for it. The hassle of labeling kitchen containers is eliminated. Store homemade sauces, jams, salsa, yogurt, cereals, grains, and marmalades in them. Make a colorful spice rack by storing different spices in each jar and displaying them together on an open shelf. Don't worry if the glass jars are of different shapes and sizes. A motley group of jars have a casual and rustic charm.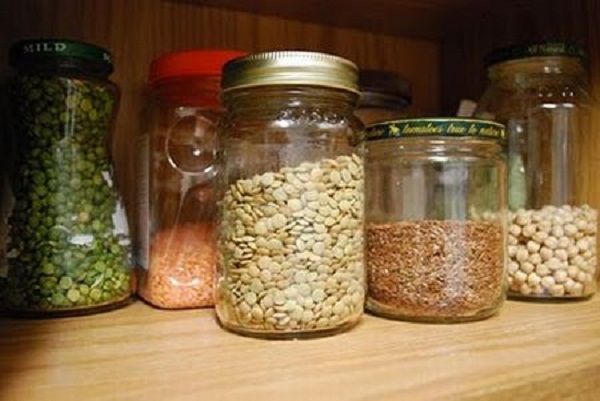 4. Flavored blends
You make so many blends at home. You add mint to yogurt, paprika to sour cream, mustard into mayonnaise and also whisk your own nut butters like cashew butter or peanut butter. Show off your skill by storing these in transparent glass jars. Flavored vinegars and vodkas are also made in bulk. Such concoctions can be stored in glass jars.
5. Lights
Fill up a string of light bulbs in them and you have a sparkling table light with a bumpy look. Use it on your garden or patio table. Attach a chain or handle to the lid and make a hanging lantern that you suspend in your balcony. Turn it into a candle by filling it up with wax and inserting a wick inside. Make a neat candle stand by gluing one or several candles to the bottom.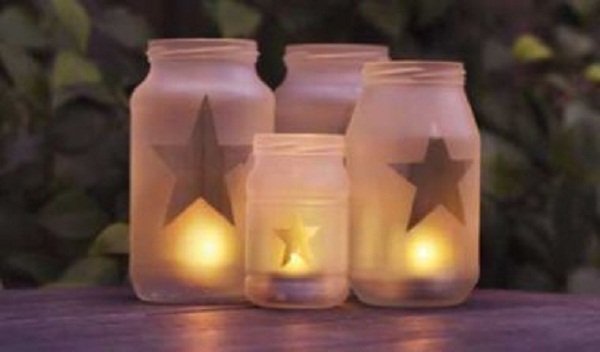 6. Drink from them
Use them like a glass to hold your cool drink. They have a really wide mouth so you cannot drink out of them. A simple solution is to throw in a straw and sip your drink from it. They are great for serving icy floats, carbonated beverages, punch, mocktails, and fruit juices. You can pick the smaller glass jars for drinking also. They look very cute and quirky.
7. Disposal unit
When you are working on your desktop, there is quite a bit of litter generated. Paper bits, used sticky notes, pencil shavings, empty cartridges, wrappers of the energy bar you just guzzled down, etc. Walking to the trash can is a hassle when you are really engrossed in your work. Meanwhile the litter soils your table or lands on the floor. Instead just place a glass jar on your desktop and use it as a litter box.
8. Piggy bank
Cut out a slit on the lid of the jar and then seal it tight on the rim. Store your pennies and coins in here. Kids will simply love their new piggy bank.
9. Vase
Paint or decorate them on the outside and fill up with water. Set inside flowers with tall stalks. You can even use them sans any decoration. The stem immersed in water peaking through the glass looks quite alluring.
10. Stow Goodies
Most of us have a store of sweets and chocolates at home. You can stockpile all these in glass jars. You can even make a tub from glass jars by decorating them on the outside. Place it on your dining or coffee table. Fill it up with cookies, nuts, handmade chocolates, etc.