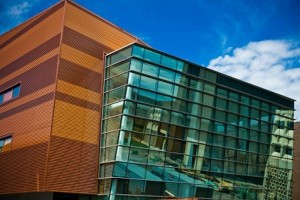 Everybody at University at Buffalo, School of Engineering and Applied Sciences knows 1955 graduate Jack Davis and his better half Barbara Davis. The couple has a building, Barbara and Jack Davis Hall, named after them, which was officially inaugurated in May last year. However, you must be wondering about what's so special about it. After all, new construction projects are undertaken and launched everyday! Well, for those who may not know, the U.S. Green Building Council's Leadership in Energy and Environmental Design (LEED) has ranked the building a gold star because of its eco-friendliness and sustainability.
The hall makes you feel special, as if you are facing a giant microchip. The building has small green roof and urinals that utilize no water. Created from recycled materials, there are bicycle racks and energy efficient temperature controlling systems. The hall is targeted at students and researchers wishing to pursue interdisciplinary subjects like nanotechnology, pattern recognition, bio-based security systems and more.
Center of Excellence in Document Analysis (CEDAR) and the Center for Unified Biometrics and Sensors (CUBS) are the two departments housed inside the building. The building has access to five more departments viz. Mechanical and Aerospace Engineering; Biomedical Engineering; Civil, Structural and Environmental Engineering; Industrial and Systems engineering; and Chemical and Biological Engineering. The amalgamation of the broad spectrum of subjects will be beneficial for all and will seek to provide a more sustainable solution.
The hall received $50 million to continue their operation 70 percent more efficiently by the next seven years. Other buildings like William R. Greiner Hall, the Center of Excellence in Bioinformatics and Life Sciences and many more have received the LEED certification that realizes UB's dream of conversion into a premier university by 2020. UB's chief sustainability officer Ryan McPherson summarizes "Davis Hall's LEED gold certification is but another verification of the school's commitment to both finding innovative solutions to our global challenges as well as lessening our own environmental footprint."
Certainly, an honor like this is not just admirable but also inspirational.