Are you tired of your kids wanting to do something creative and asking you to buy expensive paints and oils? Well, there's something you can do to remedy it. Well, you can opt for eco-friendly paints. However, it'd be much better if, rather than opting for new toys and gadgets all the time, you teach your kids the importance of recycling and reusing old products. You can easily do this by utilizing waste products for eco-friendly DIY arts and crafts projects. Not only these would save your money, in addition, they would also help you in saving the environment. In fact, there is no dearth of creative ideas to transform old, unused boxes, juice cartons, cereal boxes, milk jugs, and even old newspapers into useful household items. Wondering where to start? Well, here are 10 amazing ideas for inspiration.
10- DIY arts and crafts project ideas
1. The Plastic Bottle Piggy Bank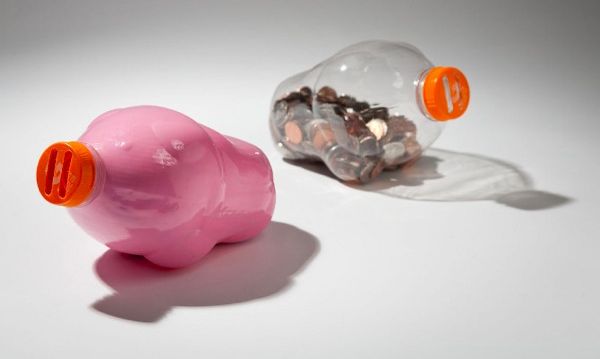 Instead of throwing away those old plastic bottles, you can transform them in to small piggy banks for your kid's hard-earned pennies. While a gallon-sized water bottle would do best, you can make do with any plastic bottle. Get your hands on some paper mache paste and with the help of old newspaper strips, cover the bottle completely. Wait for it to dry and paint it in attractive colors with eco-friendly colors. Create a small slit on the side of the bottle and hey presto; your homemade piggy bank is ready.
2. The Juice Carton Supply Organizer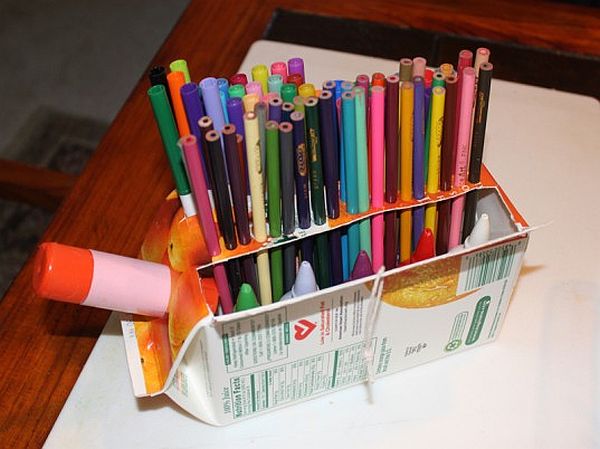 You can transform an old, used juice carton into an organizer for school supplies and other accessories. Simply cut out small holes and sections in a carton (make sure you clean the box properly beforehand) using a craft knife and stick in the supplies at the appropriate places. Look at this OJ carton supply box for a better idea.
3. The Cardboard Puppet Box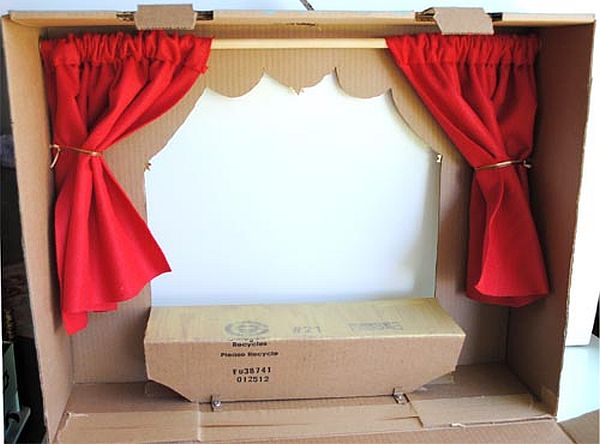 If you have a large, unused cardboard lying around the house, consider turning it into a makeshift stage for your kid's puppet theater. Get hold of some white paper, glue, scissors, markets, crayons, packing tape and some fabric scraps and you are ready to go. Cut an opening on one side of the box. Design a set on the white paper and tape it to the back of the box so that is shows through the opening. Decorate the rest of the box using the colors, markers and fabric scraps. Your puppet theater is now ready for its first play.
4. The Cereal Box Marble Run Game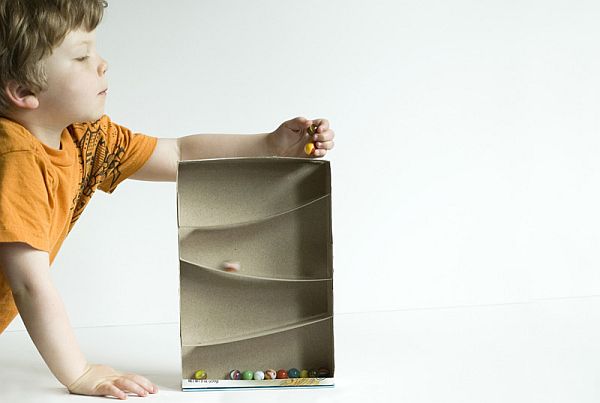 Now that is new DIY arts and crafts project. You would need an empty cereal box for this project. Cut open one side of the box. Now cut strips from the part that you cut out (the part that you do not need) and paste these strips inside the box to create a marble run game that your kids can play for hours on end.
5. The Toy Scoop Plastic Milk Jug
This Milk Jug may need some extra work, but is well worth the effort. Clean an empty milk jug and cut it open halfway (retain the handle). Decorate the jug with markers and voila, you have a wonderful toy scoop with which your kids can pick up their LEGOs, bricks, small toys or even sand at the beach.
6. Organeco blocks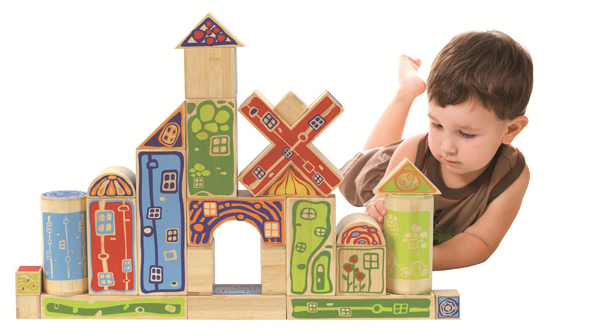 If you are planning to get something that challenges children's creativity and gives them a sense of satisfaction and fulfillment, your search has ended here. The Organeco blocks combine the simplicity of traditional building blocks with the vibrancy of modern illustrations. The blocks are large and comfortable for handling but light and hollow for greater design possibilities. Designed by Hape, these blocks are free of chemicals and are manufactured from eco-friendly bamboo. These blocks were the award winning entry at the International Toy Fair, Nürnberg.
7. Cuddly Jane Goodall Gorilla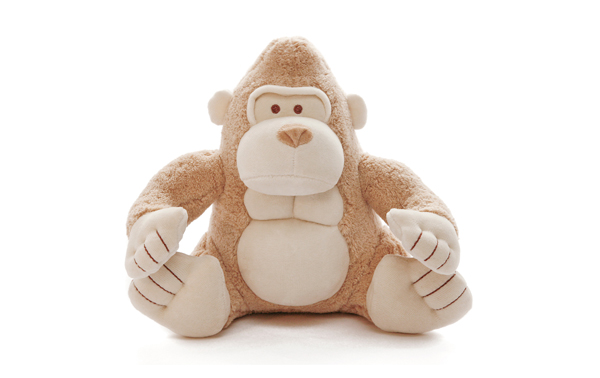 Here is a way to warm your eco-conscience and also warm your baby as it goes to sleep every night! Made from organic and natural materials, this cuddly gorilla toy is intended to create awareness for a green planet at a tender age itself. With its puppy eyes, the gorilla seems to plead the cause of all the primates. This cute gorilla comes housed in a handmade box which is also designed from recycled materials. A part of the proceeds from the sale of the toy is donated to Jane Goodall Institute that has been started by the world famous primatologist. With its realistic looks, the gorilla is sure to be a good pal for any kid.
8. Eco Greenhouse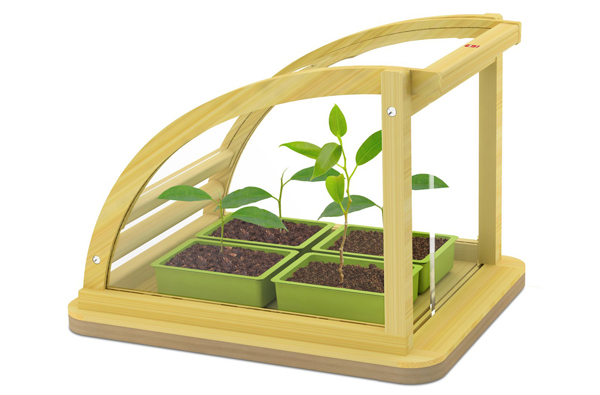 Presenting a green house that is green in many ways than one! Another product from the German Hape Toys, this mini greenhouse is designed from bamboo and birch plywood. This is a beautiful way to encourage your kids to develop their green thumbs. In the process, you can educate them about the greenhouse effect and the 'greening' effects! Watching something grow day by day in front of their eye can be very rewarding and fun exercise for the kids. A tip here – use it to grow locally available plants for best growth and also to teach the kids about the local ecology. It can also be used to grow herbs and supplement your kitchen. The soil and seeds have to be purchased separately.
9. 4M Soda Can Robug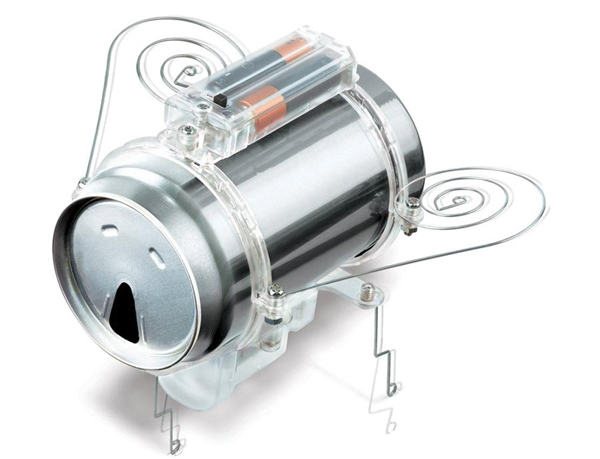 Here is the best way to let kids learn the concepts of 'reduce' and 'reuse'. Reusing an apparently useless soda can, can teach a child to reduce its carbon footprint! This toy combines ecology with robotics to transform a soda can into a whizzing robug with wings and legs. The tiny parts present a choking hazard and it should be used only by those above the age of four. But even a one-year-old will smile and laugh with the robug's flight. The soda can and batteries have to be procured extra.
10. Gourmet Chef Kitchen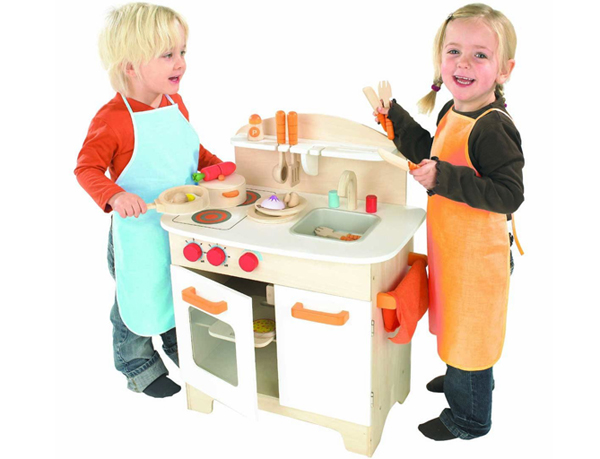 Here is another lovely educational toy from Hape! Children often fantasize working in kitchens after seeing their moms and dads make some 'hot' things or 'cool' things. For the budding chef, this kitchen toy will be a dream come true. Made from Baltic birch plywood, this set comes complete with an oven door with a see-through panel, utensil slots, plastic tub sink, magnetic doors and even the on-off buttons for the stove and oven. The utensils, cutlery and dinnerware also become valuable educational tools. The cupboard below can also be made into the refrigerator depending on the creativity of the child.
Summary
Teach your kids the value of recycling and reusing by creating DIY arts and crafts with old, unused household items. These ideas would surely inspire you and your children to look around for ways to incorporate these used items in your house again.