Our modern homes are not in the least energy efficient. They consume and lose a lot of electricity because of their dependence on an old electricity infrastructure. Our high carbon footprints bear testament to this fact. This isn't just because of our high requirements of energy and resources. The main reason behind is our lack of awareness or interest in how our activities affect the environment. We already have homes that generate more electricity than they consume. If we are looking to buy or construct, we should opt for such houses. Moreover, even in our existing homes, by making certain energy saving upgrades, we can look forward to a more sustainable future.
Five energy saving upgrades for your home that will pay for themselves
There are many recommendable methods to cut down your household energy consumption. It is hugely important to bring large reduction in use of power in your households as the world is facing huge energy crisis. As the technology has matured a lot, we can see many methods, techniques and alternatives to trim down power consumption. You can bring such methods to your home with some upgrades. Indeed, here talking about five best upgrades you can embrace to conserve power in your house. Things like replacing your incandescent bulbs with CFLs, using solid cotton curtains to keep the rooms warm and many other options can be accepted for power conservation. These attempts will also reflect in your power bills; of course, you can save lot of money in your utility bills. Read on to see five best energy saving upgrades for your home:
1. Roll-able Solar Panels

SoloPower has developed highly efficient solar thin-film panels that can be set up on metal or flat roofs. Installation of the lightweight bendable solar panels costs very less. There is no need to buy expensive glasses and aluminum frames while setting up the roll-able solar cells. There is a notable 11 percent efficiency in using advanced solar technology. The bendable solar panels make use of a Copper-Indium-Gallium-Selenide (CIGS) process to generate power from sunlight. Unlike the traditional silicon-based solar panels, the low-priced bendable panels can be used in more quantity. So we can produce more solar energy to power up our homes and offices. So, it is high time should upgrade your silicon solar panels with their new lightweight bendable versions.
2. Add aerators to your faucets

Installing low-flow shower heads to your faucets is a great way you can conserve water and save power bills. Low-priced and easy to install, low-flow showers heads reduce water consumption as much as 50 percent in your household. Further, it can also reduce your power bill because you can cut down the energy required to heat the water. Controlled flow of water from the new aerators and faucets will help bring significant reduction in water consumption, indeed. Well, conservation of water and power is not only good for the nature, but it also cuts your utility bills. So, go for some replacements in your bathrooms, which will later reflect in your electricity bills, as well.
3. Switch to Energy Star-qualified CFLs

Switching to the energy efficient CFLs is yet another method to save household power consumption. CFLs are meant to replace the energy savoring incandescent bulbs. The compact fluorescent lamps consume only one fifth of the energy required for the traditional incandescent lamps. However, they have eight to fifteen times better illumination. So, make sure no incandescent bulbs are there in use in your house; replace them all with the Energy Star-qualified LEDs. It will bring you a large relief in your power bill, as well.
4. Installing a programmable thermostat

Programmable thermostat calculator is an advanced system to regulate temperature in your house. Using the device, you can save large amount of power for heating and cooling. Four pre-programmed settings of the new programmable thermostat help you regulate temperature in various conditions such as winter, summer and others. For a house owner, who spends $2,200 a year in energy bills can save around $180 a year thanks to the new programmable thermostat. Well, the programmable thermostat will set the temperature in your house as much as required all the time – in winter, summer and when you are asleep and awake and so on.
5. Add insulating window treatments

Energy efficient windows coverings also work superbly in saving energy consumption. Cotton and blackout curtains can keep you in dark and warmth during winter and summer seasons. Solid cotton curtains avert freeze entering inside your room in winter seasons, as well, it can keep you warm in summer preventing sunlight and heat entering the rooms. There are several types of windows coverings you can choose from to use on your windows. The curtains also add into the decor of your living rooms and others.
10 – Zero energy home concepts
Many architects and companies like GE have shown that net zero-energy homes, or homes that don't depend on external power grid for electricity, could be constructed with the help of some latest technologies. These include the use of advanced solar and wind panels for electricity, proper insulation and use of low maintenance materials for construction. Here is a list of such concept homes built and proposed recently.
1. KB Home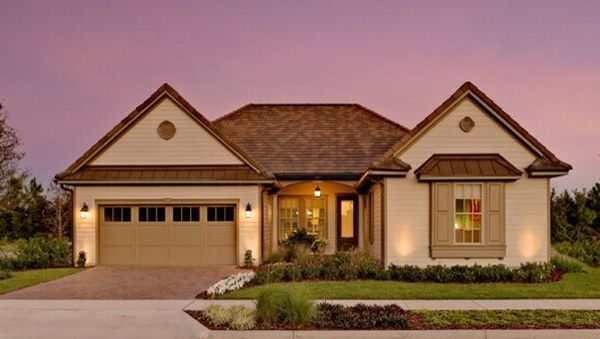 The KB home is an affordable net-zero energy consumption home. The 2,669-square-foot home features an array of rooftop solar panels that can produce 9 KW electricity. The panels have been integrated with the roof tiles. Other green features include electric vehicle charging station, rainwater collection system, Whirlfool appliances and a composting bin in the kitchen. Also, the interiors designed by Martha Stewart Living Omnimedia is stylish and comfortable for making an ideal Eco-friendly home.
2. Sustainable Town House by C.F. Møller Architects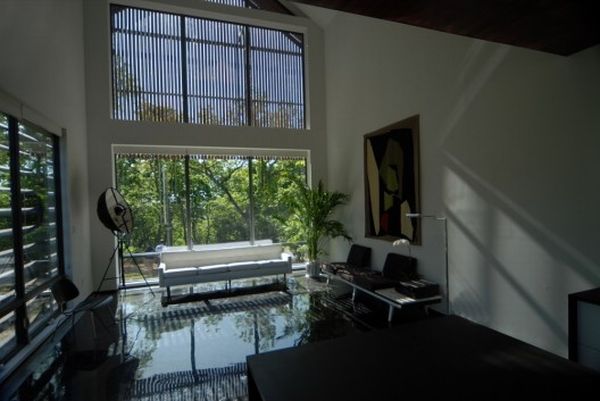 The Sustainable Town House has been designed by C.F. Møller Architects in California. It include energy-efficient homes of different sizes. They would be powered from alternative energy sources like the sunlight and wind. The state aims to replicate all its houses with a similar model for providing net zero-energy housing to the residents.
3. Plus-Energy House with Electromobility by ILEK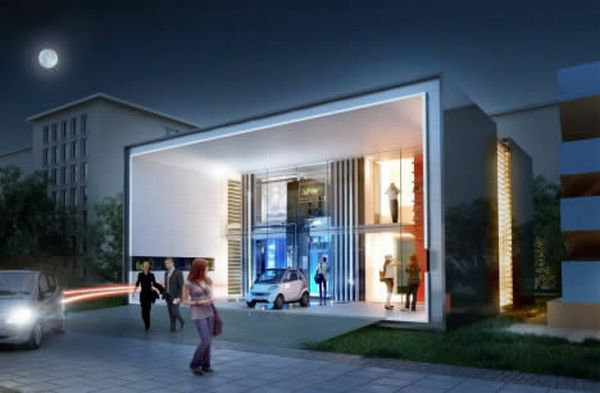 The Plus-Energy House has been designed by the Institute for Lightweight Structures and Conceptual Design (ILEK). The movable house will generate electricity from alternative sources for shelter and transportation. It can be disassembled and transported to another location for creating a new house. Also, some of the electricity will be used for recharging the vehicles with the help of smart controls.

4. TechVille Green Concept Home by ZED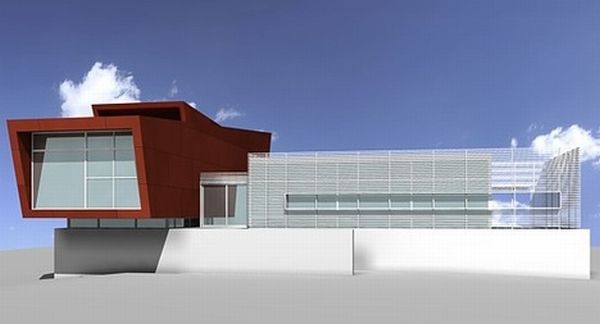 The Techville Concept Home has been designed by ZED for establishing a modern village in Akodo Ise, Nigeria. Built on a new smart home technology, it features passive and active cooling systems, Photo-voltaic system for solar energy generation, on demand hot water, air exchange system, abundant natural light, and dehumidification system. The Techville Concept Home will also provide flood protection and ensure ocean views for the occupants.
5. Net Zero Energy Home Concept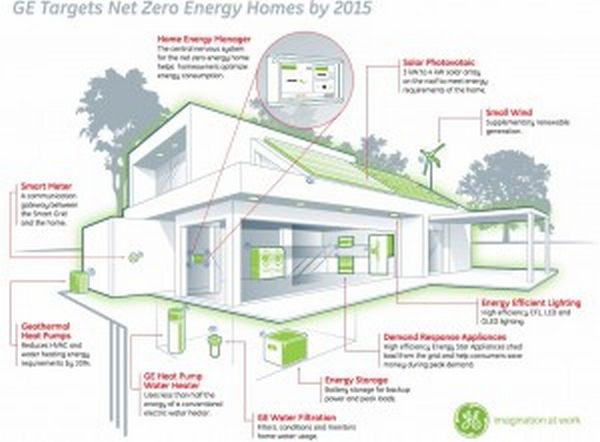 Proposed by GE, the Net Zero Energy Home concept is based on the company's new energy management system to provide an energy-efficient and green living to occupants. The concept homes will be built on an advanced electrical infrastructure. According to the company, the new concept could be realized by 2015. GE is developing a new Home energy Manager system to serve as the core of this concept home. It has also developed new range of thermostats for the purpose.
6. The Houl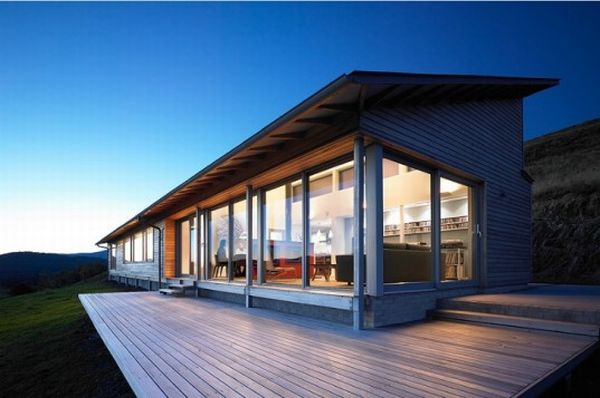 Designed by Simon Winstanley Architects, The Houl is a net-zero carbon emitting concept home is Scotland. The single storey house has been equipped with many green features to ensure least consumption of electricity. These include stylishly arranged clerestory windows for managing the shades and sunlight to prevent the house from overheating during the day. The electricity is generated from an onsite wind turbine. the steel and timber frames of the house has been insulated to prevent any heat loss.

7. North Beach Residence by Heliotrope Architects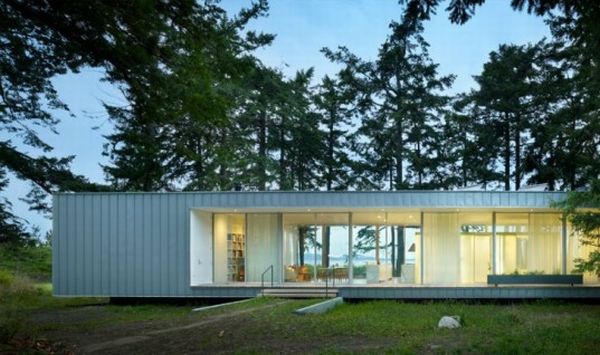 The North Beach Residence on the Orcas Island in Washington has been designed by Heliotrope Architects. The summer home features a green roof with native grasses on a low and long structure. The green roof soaks the rainwater which is then used for landscape irrigation. Electricity and hot water is provided by an on-site PV system. Much of the structure has been made from low maintenance materials like steel and glass.
8. Solar House Concept from Raif Kurt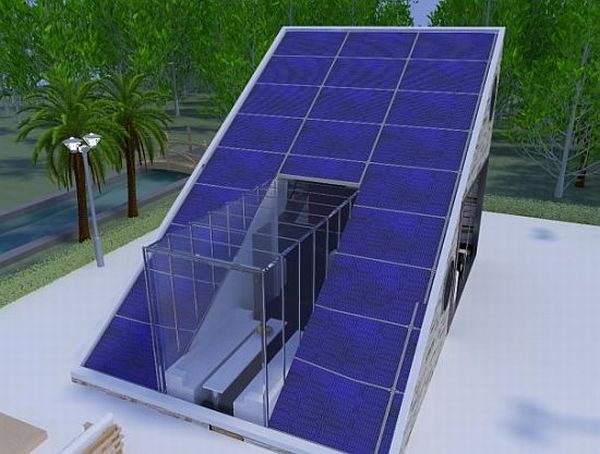 Designed by Raif Kurt, the Solar Energy House is completely powered by advanced solar panels. The house is in the shape of a triangle. You can easily move it from one place to another. The major portion of the house consists of steel. The house utilizes an array of solar panels for electricity. Unlike the conventional houses, this house stores its electricity and utilizes in a way to ensure minimum energy loss.
9. Net Zero Energy Home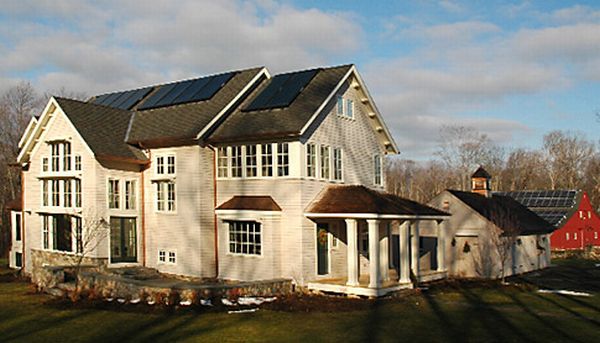 The Net Zero Energy Home Concept has been built is an area of 3,600-square-feet in Connecticut. Measures for maximizing energy efficiency and reducing electricity loss have been taken. The designers have also planned to include an organic vegetable farm, Christmas tree farm and space for about 50 chickens in the area surrounding the house.
10. Zero energy prefab home series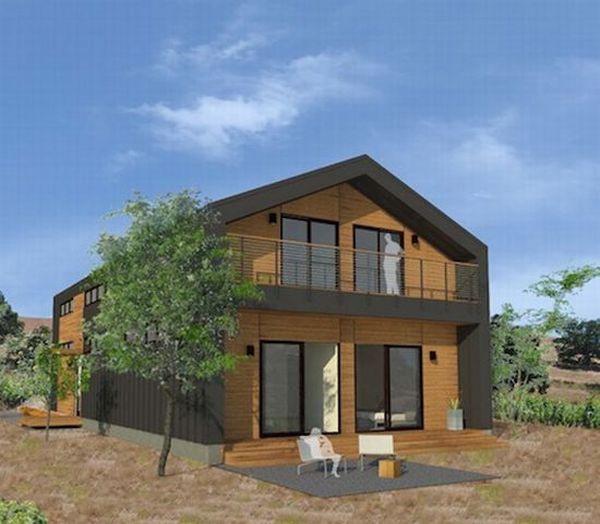 The Zero series prefab homes concept has been designed by Michelle Kaufman Studios. Named separately as Ridge0, the Vista0 and the Contours0, the three homes feature multiple alternative energy systems such as photovoltaic panels, rainwater and gray water collection systems for electricity and other needs. All three homes ensure less consumption of electricity by letting in appropriate amount of natural light during the day time.