Synthetic turf is sure to go a long way, as the days when it was regarded as a product specifically designed for football stadiums only have long been gone. Not only does it flaunt some wonderful features such as low maintenance costs and water conservation, it also packs some good looks and nice designs. Accordingly, nowadays, people are turning to artificial lawns all around the world.
How artificial grass can make your home greener will mostly depend on your choice. If you totally despise maintenance and the lack of green scenery will give you nightmares during those cold winter days, then the choice of ditching natural grass is a good one to make.
Artificial grass is beautiful and, at the same time, ideally suited to most places all around the house, such as balconies and roof terraces. One could enjoy the comfort of nature within their personal space without being needed to hassle around mowing the lawn or having it watered.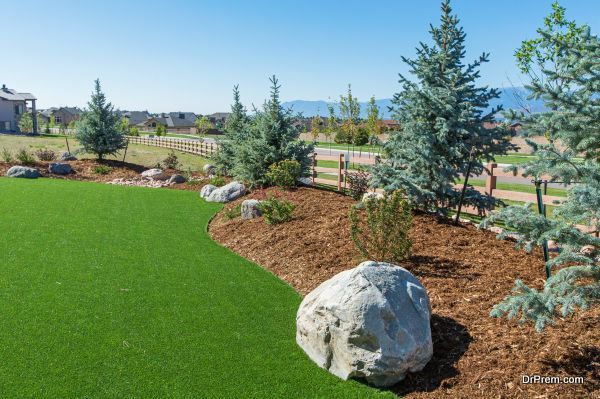 Whether the environment is too hostile and doesn't allow you to have natural grass outdoors or you simply do not have the time necessary to take care of the lawn, the best solution to opt for is artificial grass. It is highly durable as proven by the countless beating it takes in football matches. It still retains its shape and qualities for a long period of time.
We all love manicured lawn which will give your neighbors the impression of having employed a full-time gardener. That is however not the case as artificial grass is always in tip top shape. Hence, no matter if you want to spend some quality time on your porch, artificial grass should come as a primary option to consider for having a pristine home.
If one decides to install a synthetic turf, s/he will benefit from green lawn 12 months a year irrespective of the weather condition. Technological advancements have enabled synthetic turf to look like real grass.
This type of grass comes with numerous benefits for one who is otherwise allergic to pollen. Not only is synthetic turf a great addition to every household but it is always ready for relaxation purposes. Neighbors will go crazy over the fact that one could throw a party wherever he or she feels to without having to worry about those extra chores which have to be done beforehand.
Article Submitted By Community Writer