Gabriel Dishaw's Fembot is an amazing sculpture of a female robot made out of upcycled junk! The innovative junk artist and sculptor's passion for turning old metallic junk into an art work is purely the work of a keen imagination and a lot of focus. His sculpture of the fembot is very intricately made by keeping into account the delicate feminine silhouette which he has not disturbed in any way and has managed to use all the old metal junk to perfection. The artist considers his work as an emancipation of his imagination which comes to life and is also very eco-friendly at the same time!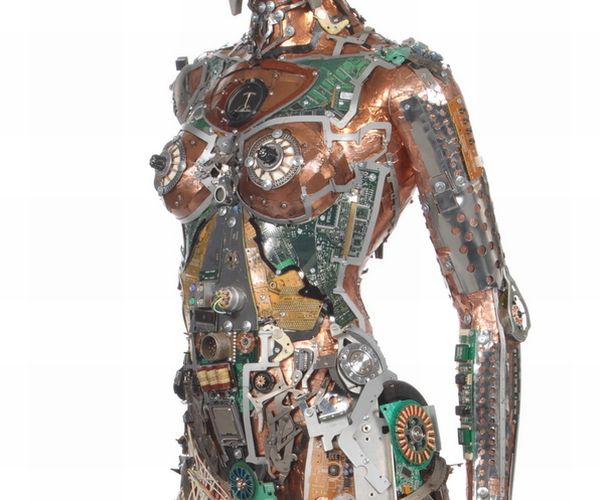 For crafting this exquisite Fembot, Dishaw has used old adding machines, fuses, airplane parts, meters, typewriters, metal wire and computers and has used the various disassembled components of these devices for this unique creation. These old pieces of metallic junk are what give him the inspiration to create something entirely different. The Fembot is actually a representation of a woman battle droid that has undergone massive injuries (hence the incomplete arm and legs) and is on the way to restoring her lost limbs. One look at this metallic sculpture and you will be quick to observe that the sculptor has taken care to craft the Fembot with a very feminine shape and has aptly made use of the various components to create the shape of a woman.
This amazing Fembot has been bought by Ripley's believe it or not and stands to a height of five feet and ten inches! The Fembot is indeed a marvelous work of art that is astonishing and extremely interesting. The way Dishaw has made use of old discarded goods and has converted into an impeccable sculpture is an inspiration to artists and sculptors all over the world to indulge in eco-friendly art that looks aesthetic and saves the earth as well!
Via: Behance