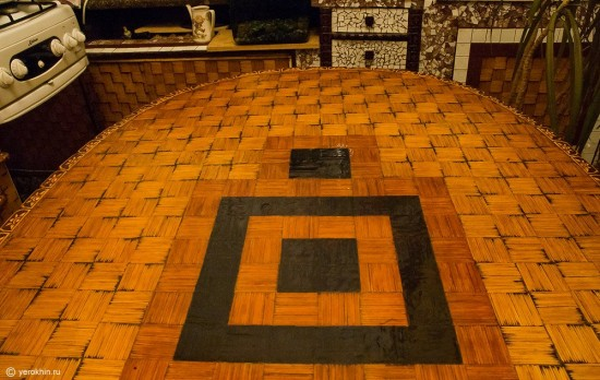 What is it?
What do you do after using a matchstick? I know the question sounds silly but still, just confirming that you throw them away. Now have a look at this humble matchstick yet again and think, does it have enough vigor to add grace to your home even after being burnt. What if I say you can turn them into a chair or a cupboard? Amazed, the read ahead. Giving these matchsticks an arty feel is Roman Yerokhin's family from USSR. Renovating their home with an exceptional concept, people fail to recognize the geniuses that have gone into it. All the beautiful looking furnishings are actually caked with matchsticks, making Roman Yerokhin's apartment, one of its kind.

The artist:
Giving art a new definition is Roman Yerokhin and his family from Russia. They have sensibly put matchsticks which normally after lighting a stove are discarded. Decorating furniture items with such lil' snippets of wood is worth applauding. Not only does it make the stuff look different but gives the house all together a graceful appeal.
The inspiration:
Coming from a family who were well-to-do jewelers before the communists came to power, while his parents were graphic designers inspired Roman Yerokhin throughout his life. Picking up the material didn't come with much of a problem. Since matchsticks are somehow available in large quantities and don't cost a bomb, it was an apt choice.
The material:
The main material used is matchsticks apart from varnish, scissors, glue and cardboard, to bring this unique concept to life.
The artwork:
Once people enter Roman Yerokhin's apartment they regret having thrown all the matchsticks away. Initially, they ignore all the furniture thinking it's another regular piece, but when they give a close look, their jaws drop in awe. Be it the attractive designs on the monolithic table resting in the kitchen or the façade of drawers, looking at them makes one think how anything and everything can be converted into a meaningful art form.
This is one family which is always on the hunt for more matchsticks and if they fail to collect any, they go ahead and burn a few just to feed their hunger for creating something vivid. After collecting these tiny sticks Yerokhin's mother used to stick them all on cardboard cut into small pieces. Doing so guaranteed that the entire four-sided figures that were to be used in the pattern are exactly of the same dimension. After this all the pieces were put together on raw furniture and varnished to give an absolutely fresh appearance.
Green aspects:
Their creation being carved out of waste material has no harmful affect on the environment. Encouraging the use of such materials is a step ahead to conserve the deteriorating environment. So, decorate your house the eco-friendly way and win accolades with such exclusivity.
Via: odditycentral