The old and unused bowling balls can be used to create various eco-friendly and decorative products. The bowling balls are usually created from hard rubber and polyesters. It takes a considerable amount of time to be decomposed if thrown in the ecological environment. So it would be wise to create few innovative and decorative items out of these balls instead of throwing them away and polluting the environment.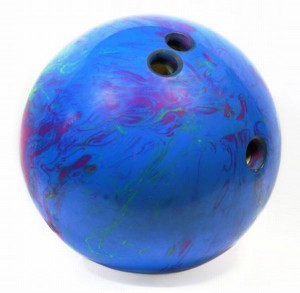 Let us discuss few innovative products that can be made out of the unused bowling balls.
Garden Spheres
Garden spheres can be used in decorating your garden to a new look. It helps your garden look trendy and different. As they are made of heavy bowling balls, they do not blow away in air and chances of breakage are minimal. You can place them at any height you want. You can also place them on a stand. You can paint these spheres with different colors to give them attractive looks. You need to take care of the garden spheres during the changing weathers as it may help in wearing out of these spheres.
Jewelry
Innovative pieces of jewelries can be prepared out of the discarded bowling balls that are destined only for landfills. Many eco-friendly designers have taken the initiative to design various jewelries for interiors as well as exteriors of a house. These products may give an unconventional look to the new houses.
Black and White Mosaic Garden Sphere
These mosaic garden spheres can be made of old bowling balls. Black and white vitreous tiles can be used to design the balls as mosaic prints. You can provide an attractive finishing to the balls to enhance the beauty of your garden. These spheres can serve as a beautifying agent for your garden for years together.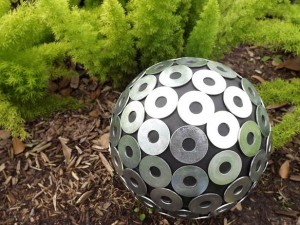 Stained Glass Mosaic Gazing Ball
These gazing balls are prepared from old bowling balls with an innovative design to catch the eyes of the onlookers. A number of small mirrors are attached to these balls with the help of glues to give the balls an appearance of jewels. The ball glitters when light is cast on it and it creates a mind blowing lighting effect in the place it is placed. The design of this ball can be customized according to individual requirements. The balls can be place anywhere you want.
Gazing Globes
Creating gazing globes out of the old and discarded bowling balls does not require any costly equipment or materials. All it needs it premium metallic spray paint of different colors according to your choice, sandpapers, flat glass marbles of two or more coordinating colors, clear drying epoxy, and a stand to place the globes. You need to use the paint to give the globe attractive look. Use the glass marbles on the bowling balls.