If we utilize it creatively enough, bamboo could prove to be the eco-friendly boon that humanity is waiting for. Bamboo is certainly the first thing that comes to our mind when we think about building a raft. However, due to its hollowness, we can't imagine it as a sustainable house. But, strange as it may seem, designers are not only using bamboo all over the world in construction, in fact, the bamboo decor has become a popular category in itself. By opting for bamboo items that help enhance your decor, you certainly take a step towards sustainability.
4 – Bamboo items that could help you enhance your Home Decor
If you are looking for ways to enhance the look of your home while being friendly to environment, you can consider going green with bamboo. Bamboo is a more durable and faster growing crop as compared to wood. It is rapidly renewable and therefore been a favored choice of materials for the creation of home products. Bamboo is highly popular in the creation of eco-friendly products and enhances the beauty and appearance of the products. Below are five bamboo items that could help you enhance your Home Decor and spruce up the overall look of  your home.
1. Cane Furniture add to the style and decor of your house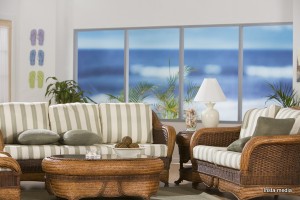 The first bamboo items that could help you enhance your Home Decor are various kinds of cane furniture. Bamboo is such a versatile material that just about any type of furniture can be created out of bamboo. For instance, if you like, you could make a coffee table for your living room with bamboo. Alternatively, if you have a patio, you could go for a bamboo patio piece of furniture which would also be weather-resistant.
2. Rugs can transform the most boring spaces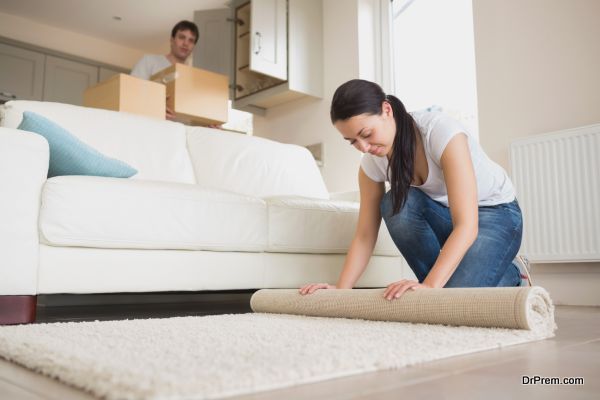 The second item would be rugs which you could use in any part of your home to enhance the decor of your home. You do not need to replace your entire flooring with bamboo in order to go green. Instead, you could opt for bamboo rugs which can bring the natural look to your home. Bamboo rugs are versatile and can be used indoors as well as outdoors, bringing a rustic element to your living space.
3. Window blinds or shades will bring life to your windows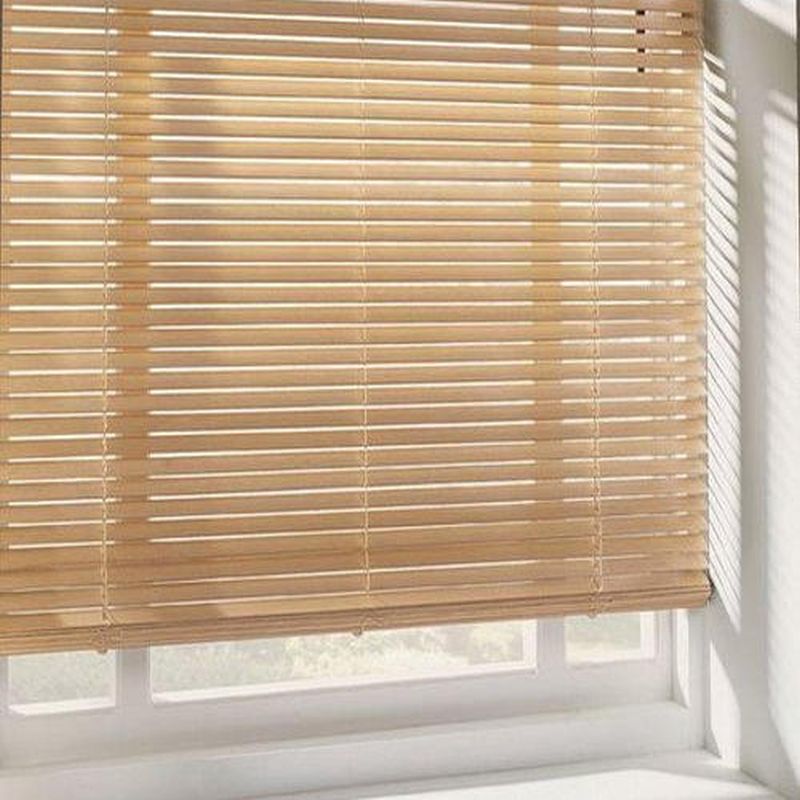 You can find different kinds of bamboo items that could help you enhance your Home Decor. The third item would be window blinds or shades made out of bamboo. This is one of the greatest alternatives that allow you to bring a natural touch to your home. Bamboo window blinds or shades have the capacity to transform the entire look of your home, indoors or outdoors. Bamboos can be fashioned in either sticks or slats. Likewise, there are many different styles available for bamboo blinds. Bamboo window blinds can also add beauty to the exterior of the home. If your home has a patio which receives a huge amount of sunlight, you could use a bamboo shade to provide shade.
4. Bamboo items that could help you enhance your Home Decor made from bamboo fabrics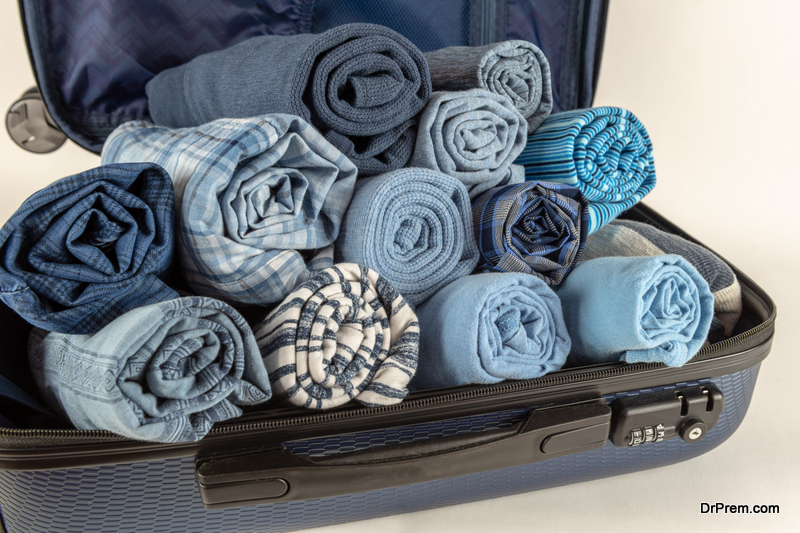 The fourth item is bamboo fabrics. Owing to its versatile nature, many types of fabrics can be spun. These fabrics can add beauty in the form of bedspreads, sheets, curtains, towels and so on. Bamboo fibers are extremely comfortable, can keep one cool and moisturized. There are  many types of bamboo items that could help you enhance your Home Decor which are made from bamboo fabric.
Finally, bamboo can be used to form decorative items or figurines, which can be placed in and around the home. For instance, simply placing a few bamboo sticks artistically in a large vase in a strategic part of the house can bring out the natural element of the bamboo. With some creativity, some games for kids can be made to keep them entertained. The multi-functional benefit of these kinds of bamboo items helps to enhance your Home Decor. It is also is a great thing to consider if you want to transform your house into a Green home.
Some of the best Uses of Bamboo in Architectural
In recent years, bamboo has become quite popular and is being used in many different architectural projects. Use of bamboo is being noticed at homes, cafes and many other places. In the following sections, we will highlight some of the best uses of bamboo at different places.
1. Courtyard Teahouse: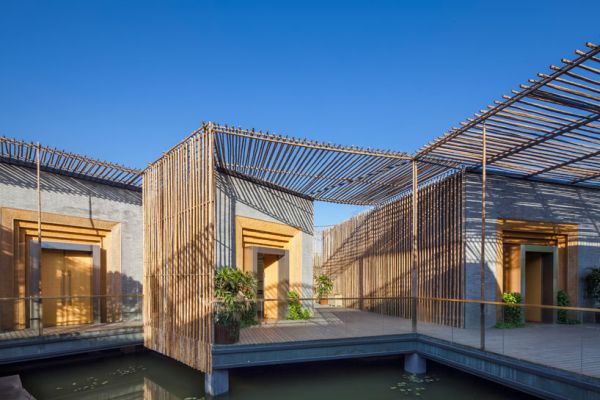 Completed by HWCD Associates, this project is a floating teahouse built in Yangzhou region in China. The teahouse has been built over a lake and consists of asymmetric cubes. Aptly called bamboo courtyard, the teahouse uses bamboo as the main construction material to create interesting combination of horizontal and vertical lines. At some of the places, these horizontal as well as vertical elements tend to intensify and create a psychedelic perspective. 
2. Kontum Indochine Cafe: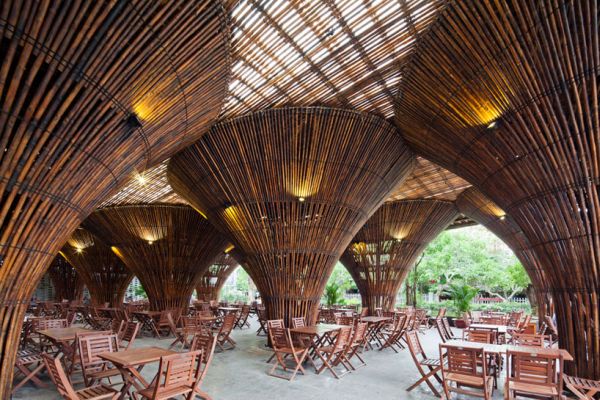 Developed by Vo Trong Nghia Architects, Kontum Indochine Cafe in Vietnam features striking bamboo columns. Many heavy columns in the restaurant have a shape similar to the traditional fishing baskets commonly used in the country. 
3. Low-Cost Housing: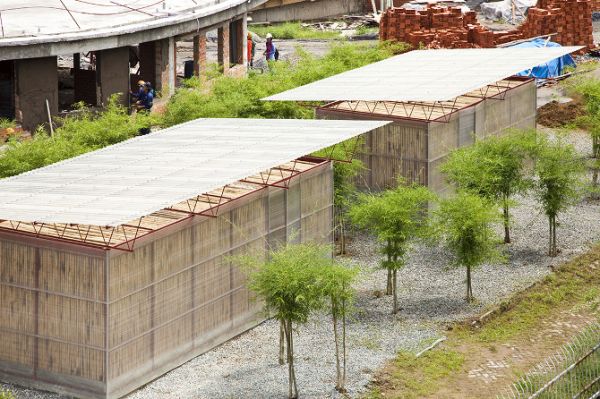 The architects here have tried to focus on one of the main challenge many countries are facing, which is of housing facility for the expanding population. At first, the task was initiated as voluntary work in response to severe housing problem for people with low income in Vietnam. The project mainly concentrated on Mekong Delta Area that was facing more problems. Architects finally came up with the prototype of modular homes, which were made using local material, were easily assembled and kept the costs down. 
4. Bangkok Salon: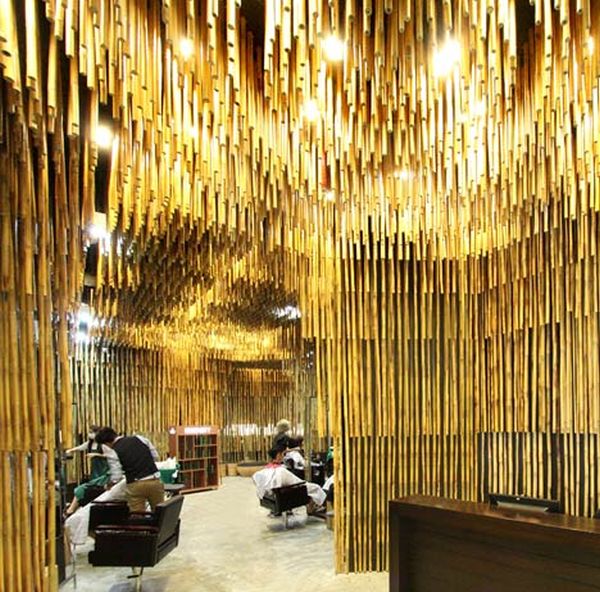 Designed by Thai designer named Nattapon Klinsuwan, the salon boasts a design based on rock formations that develop natural divisions within caves. The designer noticed that many times stalagmite and stalactite tend to connect and form columns, which in turn make walls to create rooms within the cave. The same effect has been attempted in the salons interior design where bamboo rods numbering thousands have been hung from ceiling and these rods are of different lengths. At few places, the bamboo rods have been kept long so that they reach up to floor. These bamboo rods have created permeable walls and screens, which separate the coloring as well as shampooing zones from main space. 
5. Wind and Water Bar: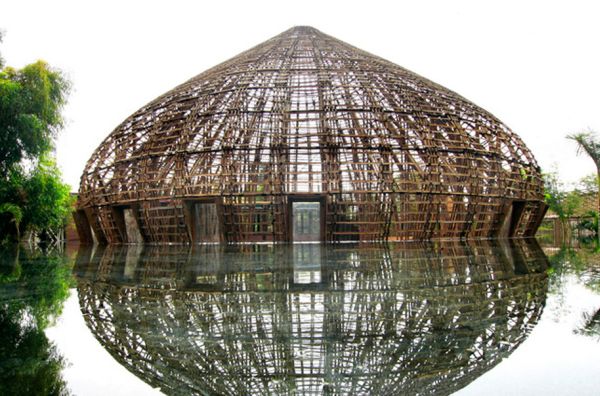 In this bar, the supporting structure for the thatched dome has been created using several bamboos that are bound and have been bent into arches. The bar itself floats in the center of a lake and is a venue for different events such as local meetings and music performances. 
6. Blooming Bamboo Home: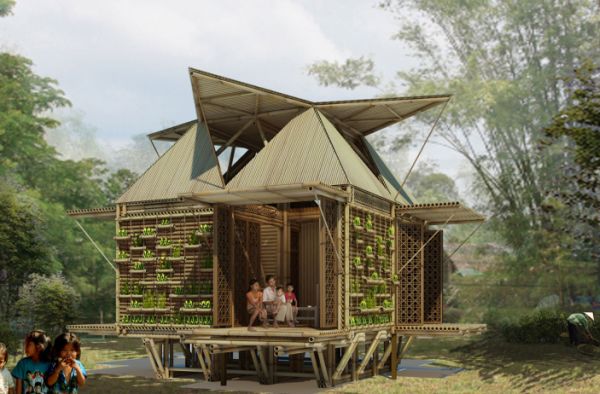 Created by H&P Architects of Vietnam, the main idea behind creating this prototype house was to develop some structure which will be able survive floods with water rising as much as 3 meters from ground. Sitting on stilts, the floor, roof as well as the walls are created using rows of bamboo which have been tightly packed and you can easily open them for getting ventilation. Even in severe weather conditions, the house will be able to keep the occupants warm and is a step towards ecological stabilization in the region. 
7. Nangchang Nangchang: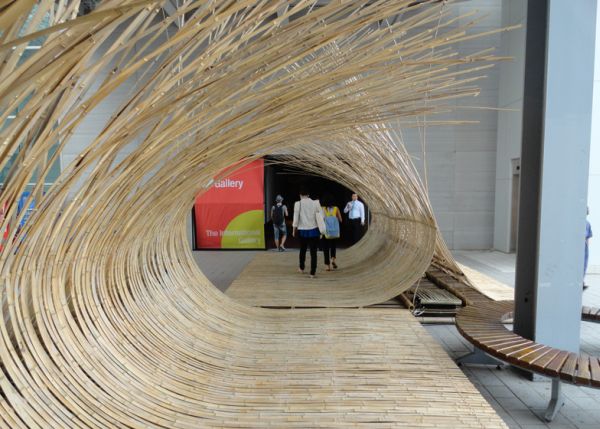 Kengo Kuma is known to be among leaders of bamboo movement. He created this installation while participating in the Gwangju Design Biennale held in South Korea. The design highlights the versatility of bamboo in which bamboo was split into 3-centimeter strips for creating seating structures as well as a curved walkway. 
8. House in Philippines: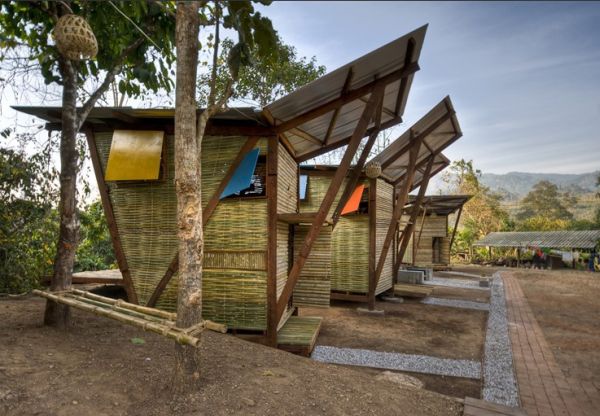 In this house, bamboo covers the surrounding area for restricting visibility of the interiors from outside. Bamboo has been chosen over other materials since it costs less and is a sustainable material.
Summary:
Bamboo is a versatile material and many consider it as green steel, which holds a lot of potential and can be used for many different purposes.