Most of us tend to throw away our used or worn down tennis racquets. However, not many of us know that given the chance, these tennis racquets can be recycled to form really useful household items or art pieces you can show off to your friends. Interested? Well then, here are 5 really useful ways in which old tennis racquets can be recycled.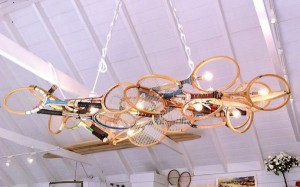 Racquet Chandelier
How about making a quirky chandelier with reused tennis racquets. All you need to do is bundle together some racquets with a cord, and string some lights around them at certain focal points. Use some sturdy chains to hang the entire setup from the ceiling.
Hanging from the ceiling, this chandelier would then easily become the center of attention in a room. You can experiment with different formations and different colored lights for more visual effects.
Embroidery Racquets
Embroidery usually requires a netted base to work on. So how about using the net of an old tennis racquet into a playground for your embroidery skills? You can play with different colors and designs to create an art piece that can be hung up on the wall.
Wall Sculptures
If you have more than a few used tennis racquets lying around the house, consider turning them into a sculpture of sorts. For instance, you can group together equal sized racquets and create interesting patterns with them on the wall. Or you can use smaller and bigger racquets alternatively to create a really cool wall sculpture.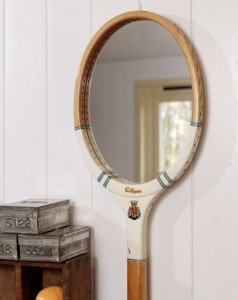 Wall Mirrors
Here's a really creative way to use a recycled tennis racquet. Remove the netting from the middle and replace it with a mirror. Hang the racquet in any part of your room to create a wall mirror. You can also opt to replace the netting with different colored glasses to create colorful windows that can be hung around the room.
Bottle Openers
Broken or worn out tennis racquets can be recycled into handmade bottle openers you can carry along with you to parties and bars. These bottle openers would come in different textures and details, and would be the perfect choices of fans of the sport.