We have heard of several items being made from trash. But entire vehicles? That's something indeed. Given below are 5 life-sized transportation vehicles that have been made from nothing but trash.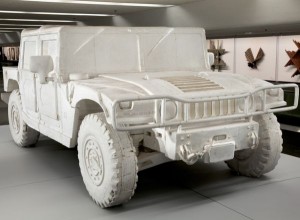 The Hummer
Artist Andrew Junge has gone ahead and created a life-sized hummer made entirely of Styrofoam. The hummer has the same dimensions of the bio-diesel hummer, and measures over 8 feet in width, 6 feet in height and 17 feet in length. Junge managed to get the Styrofoam for the project from the trash collected at the SF Recycling and Disposal's Artist In Residence Program. The piece was recently displayed at the Tampa Museum of Art.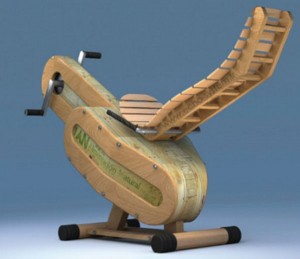 Bicycles
Students in France have created an energy producing wooden bicycle capable of producing energy while remaining in one spot. The bicycle has been made from items retrieved from the trash. The seat of the bicycle is made of slats taken from old beds. The frame was designed from old church benches and used grocery crates. And the base was crafted out of old table legs. The bicycles were recently used as the power source for a film festival screening held at St. Etienne, with each bicycle capable of generating up to 100 W of power.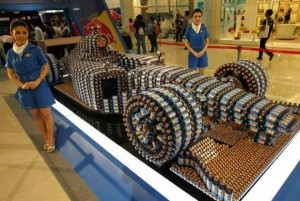 F1 Car
Check out this really awesome replica of the F1 car which has been crafted entirely out of Red Bull bottles. The life-sized model was created by Red Bull in order to commemorate Sebastian Vettel for winning his First Formula One World Championship title (in Abu Dhabi). The F1 replica was created using over 2615 Red Bull bottles, and the bottles are seamlessly placed one above the other to form a coherent design. The model currently sits in a display room in a shopping mall in Bangkok.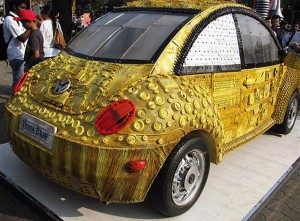 Volkswagen Beetle
Designed and created by HaribaabuNatesan, this recycled Volkswagen Beetle has been made from nothing but bits and pieces of scrap. Natesan used over 2805 pieces of scrap to put together the life-sized replica of the car, including over 60 mother boards, 200 bottle caps, 800 spark plugs, cassette tapes, typewriters, barbeque sticks and pens. The end result is simply stunning and viewers cannot stop drooling over the cute and extremely regal looking replica. The car was recently showcased in the Kala Ghoda Arts Festival in Mumbai.