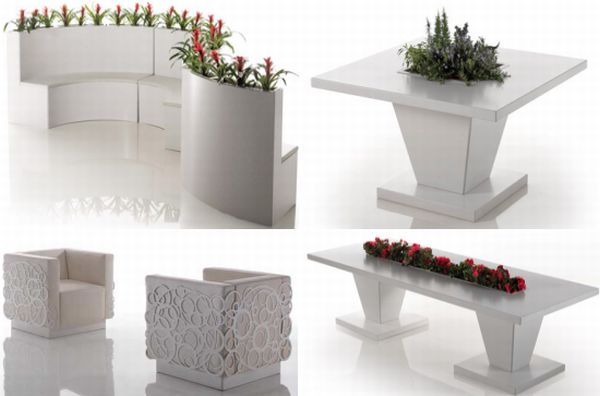 Garden furniture has always added a special touch to the outer green spaces. It has an aura to soothe those frazzled nerves and sprinkle a smile on everyone's face. They are a perfect way to spend some quality time with nature. Bysteel is out with a white furniture collection, which will make any garden area beam with life that too the eco-friendly way. The table has been crafted in an interesting way, while the chairs will lend all the comfort. The table has an attention-grabbing opening in the middle, where plants can be placed. The pli piece (table and chair wedged in one) is flexible enough to perform a variety of functions. The loungy Dita chairs will endow a user with the flexibility to position it both outdoors as well as indoors. What's even more appealing about these unique pieces is the fact that is made using recycled materials that are recyclable too.
The designer:
Bysteel specializes in crafting outdoor furniture that too using metal. Its USP is the use of color white, which lends a sense of serenity to all the pieces. All the furniture pieces including, chairs, table and lamps have been given a modern yet minimalistic appearance. A few have been carved in floral designs that make them all the more eye-appealing. Bysteel has made an added effort to protect the beautiful nature by fashioning furniture in a green manner.
Green treasure:
Bysteel products are crafted in Forlì, from salvaged stuff. The main technique involved is cutting and folding, which gives them an elegant appearance. They have made an effort to sprinkle sophistication and beauty in to our outer spaces. The company has designed furniture pieces in a manner, which will also allow you to place your favorite flowers and plants on it. Relax in the lap of nature, while your green dwellings befriend it. The chairs and tables flaunt contemporary and elegant designs. The tables also allow the plant lovers to place beautiful, life giving plants in them. Not only are they aesthetically-appealing, but are eco-friendly too.
The fab factor:
Bysteel products are environment friendly in nature and have been made from salvaged materials. Each furniture item has been made to look dainty and delicate. Place them in your garden or near a pool, they will make the space glow instantly. But, if you want to position one inside your house, feel free to do that. Become an environment lover by embracing things made from recycled materials and bring down those heaps of garbage.