The Windy City of Chicago does not fall short with attractions and reasons to visit or relocate. Known for regional foods, such as the ever-popular deep-dish pizza style, its sports teams, current world champion Chicago Cubs, and unique architecture, the city packs in several attributes to convince most people to relocate and make this city their home.
What you might not know about the city are the green initiatives that are currently in place. One area of interest to potential new homeowners is the Retrofit Chicago initiative. Benefits of this program include complimentary energy assessments, free installation of energy-saving products and rebates for energy efficient appliances.
Also available are income-based grants for bungalow and vintage homeowners. To check out current vintage homes for sale, go to this link and then sort by the year the home was built. Along with the efforts to increase energy efficiency within the city in residential, commercial, and municipal buildings, there is a "green roof" initiative that homebuyers need to consider for sure.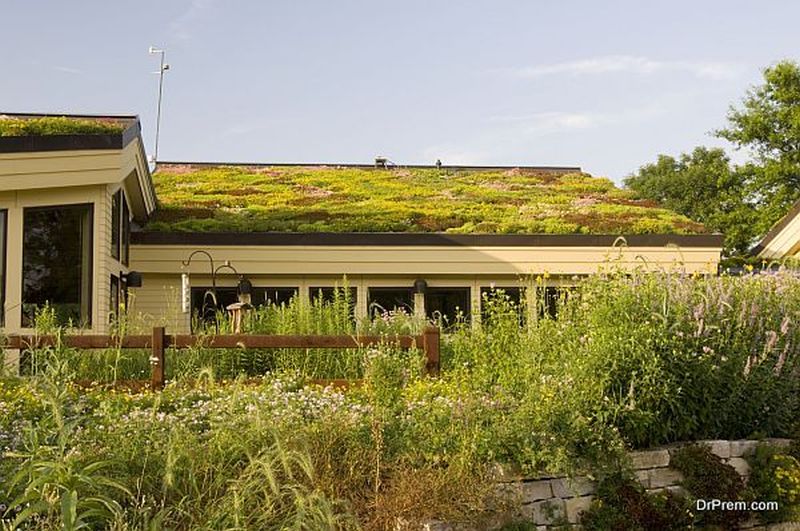 What exactly is a green roof? A roof that contains layers of living vegetation is called green roof. These roofs can be placed on numerous types of structures and they offer many benefits. Most notably, green roofs can help manage stormwater and improve the quality of water through filtering through the plant's root structure. The result is a building that is further insulated with reduced heating and cooling costs.
According to the City of Chicago, "It has been estimated that green roofs can reduce cadmium, copper and lead in runoff by over 95%." For homeowners, green roofs can also extend the life of your roof by as much as 20 years due to the buffering of UV radiation and winds by the vegetation.
Another option to increase your home energy efficiency in conjunction with a green roof would be to consider a timber frame home that encompasses a green lifestyle. Timber frame homes built from SIPs (structurally insulated panels) utilize a third to a quarter of the heat that a regularly insulated home would use. This construction benefits the environment by utilizing less overall wood to ensure the sustainability of forests, all while providing a longer life of the home with less maintenance for the homeowner.
Living Green in Chicago
Chicago offers a unique and environmentally friendly alternative mode of transportation. The Divvy program, a bike sharing/renting system allows users to pick up a bike from a designated location and return it to a similar station upon arrival to their destination. The program offers both daily passes and yearly memberships for residents and visitors. This is a great way to work out and travel while helping to reduce pollution from excessive motor vehicle travel.
Chicago also has the oldest and largest park district in the nation. The city owns over 8000 acres that encompass more than 500 parks and 90 gardens in its preserved green space.
The Green Chicago Restaurant Coalition allows visitors and residents a way to identify restaurants that have shown exceptional environmental responsibility by checking to see if they have the Green Fork decal in their window. Eating and supporting these establishments means that among other things, they purchase environmentally preferable food and utilize eco-friendly equipment and disposables.
More information can be found by following @Greenchicago on twitter.
Article Submitted By Community Writer