Everything is changing and architecture is no different. However, since the last couple of years, thanks to the overreaching arms of the internet and social media, this change is accelerating at an extreme pace. The things that were en vogue just last year might not be en vogue this year. Although one notices this trend much more in fashion, it is also evident in the architecture. But it doesn't matter whether we are talking about fashion or architecture, this change hides a harsh reality behind it. Since we are changing things so quickly, we also discard things much more than we used to. Movements like green architecture are countering this very trend.
What is green architecture?
Architecture that has sustainability and eco-friendliness as its ideals is green architecture. Green architects are designing homes and buildings, which are energy-efficient, sustainable and demonstrate the possibility of co-existing in harmony with nature. Some green architectural buildings are able to integrate natural materials, systems and landscapes with urban and rural lifestyles. You can hire architects who have degrees in architecture as well as additional qualifications in environmental or green concepts.
Some green architecture elements are: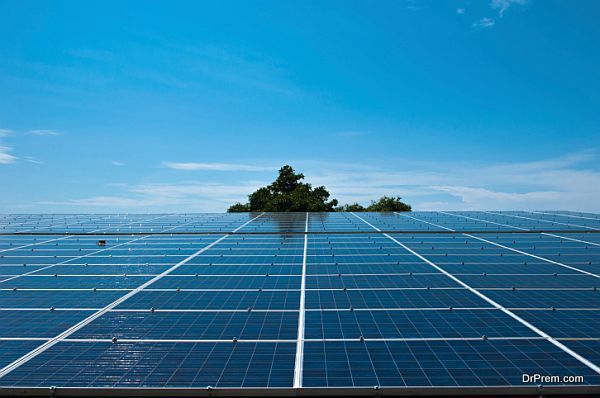 If you take interest in building a green home or office building, your architect will advise you to incorporate which green architecture concepts would be ideal for you. These could be solar panels, thermal mass structure construction, using natural/green materials or recycled materials. An ecofriendly building's entire process should be green, starting from the first site visit by the architect.
He/she will note the surroundings and ecology of the area, the climate, the local or recycled materials available, and the previous usage of the site. After this, a green architect will design the building keeping in mind all the eco friendly house features, which can be incorporated. Here are some green architecture elements you can consider:
1. Rain Screen
Greening your insulation will keep your structure cool naturally, making it energy efficient. It is a green architecture feature. You can incorporate it in many ways, including installing rain screens. A rain screen allows air to pass through the wall siding of your home, pulling the stagnant moisture and air from the membrane (waterproof) and keeping the ambient cold or hot air from escaping through the home's insulation.
2. Bermed home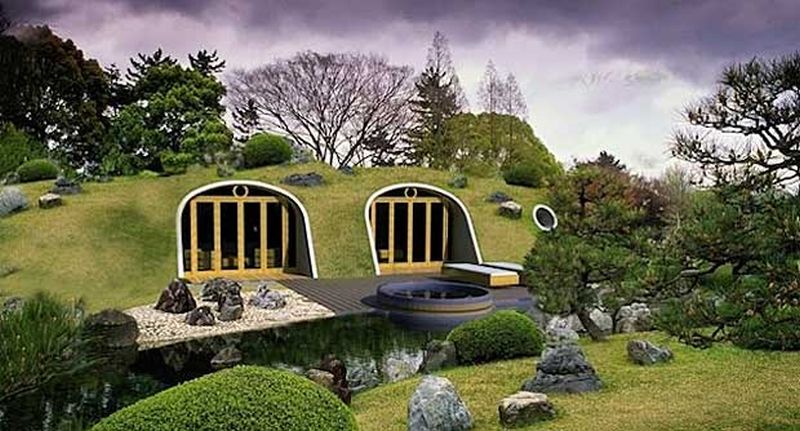 Image Source : underground-homes.com
Bermed home is a green architecture concept that is becoming quite popular. You dig it into either a hillside or ground level. Furthermore, it has earth on two sides – the roof/top and the rear. Bermed homes have underground living areas and have large courtyards or central atriums which provide cool air, natural light and insulation.
3. Recycled materials
The La Casa de Botella is an outstanding example of a home made from a whopping 6 million beer bottles. You need not be that extreme, but you may think of building an unconventional home using unconventional, recycled materials. The association called BMRA helps builders to find construct and deconstruct sources, so that they can use material saved from demolished buildings.
4. Natural materials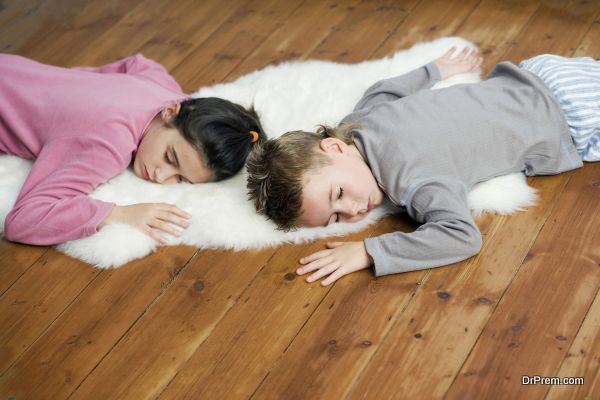 Using natural materials is an inherent part of green architecture. Your architect may advise you to use natural materials for the roofing, decking and siding. You can use renewable materials like cork, bamboo, etc for flooring. Sustainably manufactured and sourced Kebony wood clads can be used to cover the exterior, helping the home blend into the natural landscape. Many architects all over the world are reverting to traditional building materials like raw earth to construct modern eco-friendly homes.
5. Renewable energy
Installing solar panels, going off the grid or deriving energy from wind turbines or other renewable energy sources can make your home/workspace much more ecofriendly.
6. Flat roofs
Flat roofs are also an important element of green architecture. They can be used to create decks or rooftop gardens, which can keep the temperature of the building/home down. Having greenery on top of the buildings reduces direct sunlight impact and cuts down the running time of heating and cooling systems.
7. Tiny living big design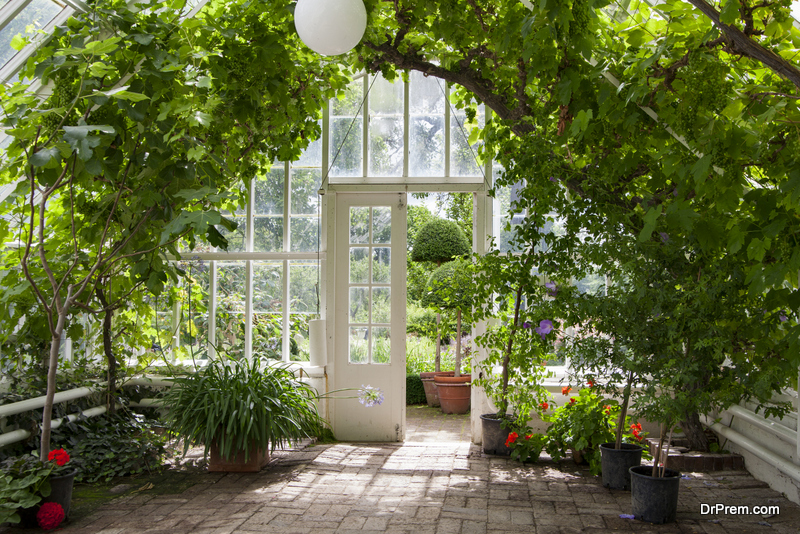 If you want to lower your building's ecological footprint, plan to build a tiny one. Tiny homes or offices do not have to compromise on design or functionality. Your architect can design a beautiful green building albeit a tiny one, which meets all your requirements.
8. Composite building material
Composite boards consist of a mix of rice husks, sawdust and recycled plastic. These boards last for years, withstanding all kinds of weather, and look great even after many years. The colors are infused throughout the composite boards, and there is no painting or staining required. You can use composite boards for siding, decking etc and be assured of using a material, which is sustainable and recycled.
9. Water Harvesting
Water harvesting need not have to be ugly blue barrels collecting rainwater. Installing an aesthetically pleasing water harvesting system is easier when your home's roof slopes towards the center, instead of a roof that peaks at the center, then sloping down and outward.
Some examples of green buildings: 
1. World's largest solar building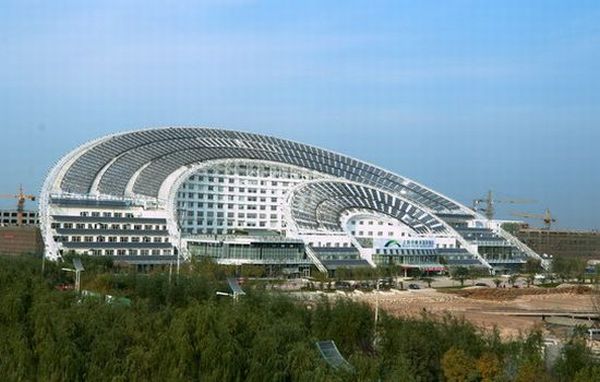 The largest solar-powered building in the world, has recently been inaugurated in Dezhou, located in the northwest province of China called Shangdong. The property is spread across a massive area of 75,000 square meters and would primarily be housing offices. The design of the building is inspired by the structure of a Sun dial. Apart from offices, the building would also include spaces for research facilities, exhibitions, meetings and trainings as well as a sustainable hotel. Apart from tapping solar energy on a huge scale, the construction of the building has also been done in a green way by saving 30 percent energy. The building would also be hosting the 4th World Solar City Congress.
2. Eco house by Spanish design firm Desino Earle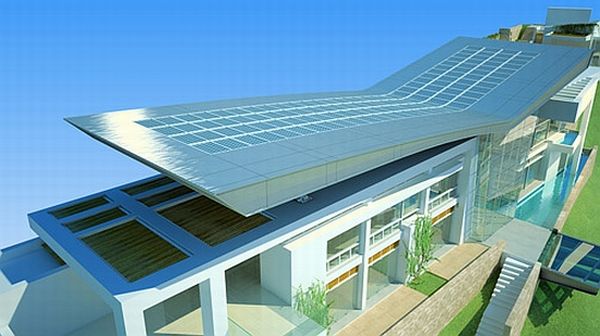 This modern and sustainable house has been designed by Desiño Earle from Spain. This house is powered by solar energy and has all the features required for modern, eco-friendly living. The design of the house is very trendy as the designer has managed to maintain the aesthetic appeal of the villa by hiding the solar panels on the roof by constructing a second roof that is given a steep 45′ angle. In this way, the house looks very elegant and the solar panels are also exposed to optimum sunlight to enable their functioning. The presence of a dual roof also enables good ventilation and the louver system in the walls also ensures that the inside remains cooler during the day and warmer during the night. The house will also be powered by geothermal generator on days when the Sun is not out or if the solar panels fail.
3. Solar powered stadium by Toyo Ito in Taiwan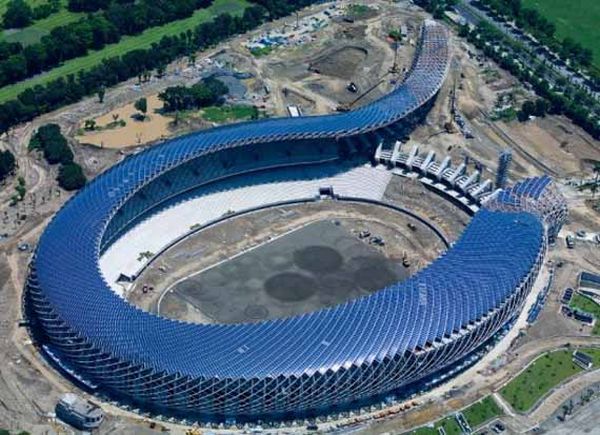 This dragon-like sustainable solar-powered stadium, is located in Kaohsiung, Taiwan, and is the brainchild of Toyo Ito, Japanese architects. This remarkable building has 8,844 solar panels affixed on to the roof and can accommodate 50,000 people. The structure has been built out of raw materials from Taiwan which are entirely reusable. The structure is spread across 19 hectares of land apart from 7 hectares that would be used for green public spaces, an ecological pond, sports parks and biking paths. This stadium would be the biggest solar-powered stadium in Asia!
4. Solar-powered Monte Rosa Alpine Hut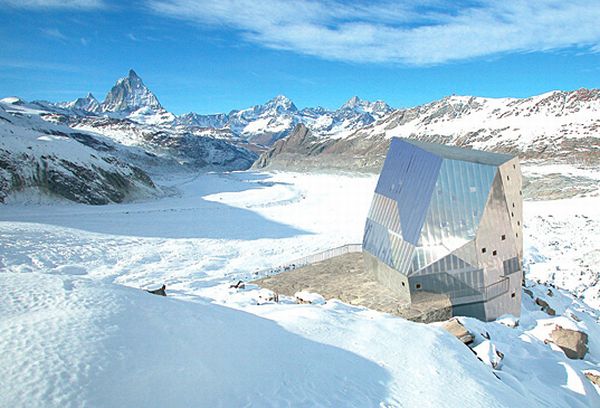 The Monte Rosa Alpine Hut is remotely located in the Swiss Alps and is a sustainable building that has a very futuristic appeal. This ultra-modern design combined with high-tech building technology, is 90 percent self sufficient in energy.
5. Stadium Franco Sensi: Rome's Solar-Powered Stadium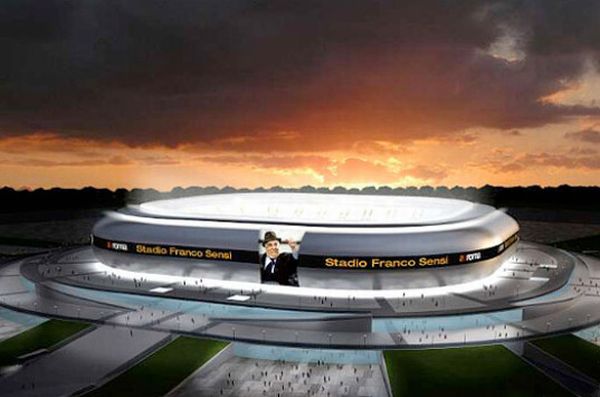 The Stadium Franco Sensi is a project that is not yet completed. Designed by Gino Zavanella, the stadium has a futuristic look and a design wherein the entire structure is plastered with photovoltaic cells. The stadium would be built in Rome, Italy and would also include a 'football museum', lounges, restaurants and bars apart from the stadium. The outside of the stadium would have an LED screen that would read out messages.
6. Masdar Institute Campus: Abu Dhabi's Eco-structure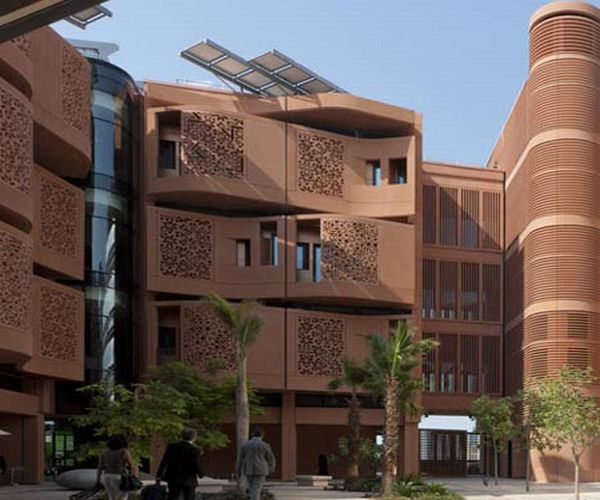 The UAE, apart from being a great producer of oil has now begun to take a keen interest in reducing its carbon footprint. The Masdar City in Abu Dhabi now has the Masdar Institute Campus which is a sustainable building designed and built by Foster and Partners. The building is solar powered and would be producing more energy than it would actually need. The remaining surplus energy would be used to power the neighborhood.
7. BMW Welt: Solar-powered Masterpiece in Munich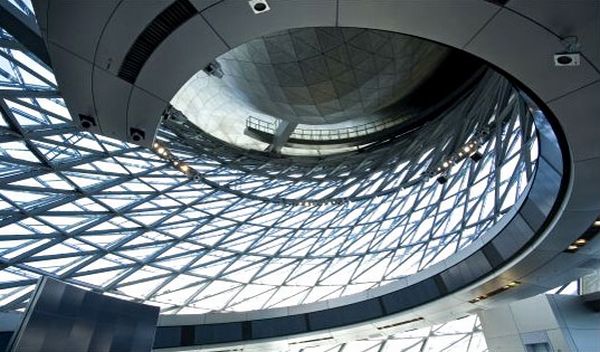 The design of the latest building called the BMW Welt, is a green tribute to the German auto engineering giant – BMW. The building has been designed by a world famous architect called Wolf Prix of COOP HIMMELB(L)AU and would serve as the company's office for vehicle delivery and development in brand experience. Located in Munich, the building will have a 'cloud roof' that would comprise of 3660 solar cells that would provide a minimum of 824 kWp (kilowatt-peak) power capacity. The inside would having surfaces that are thermally efficient and therefore the requirement for air conditioning would be reduced as there would also be good air ventilation.
8. Solar Plaza Fargo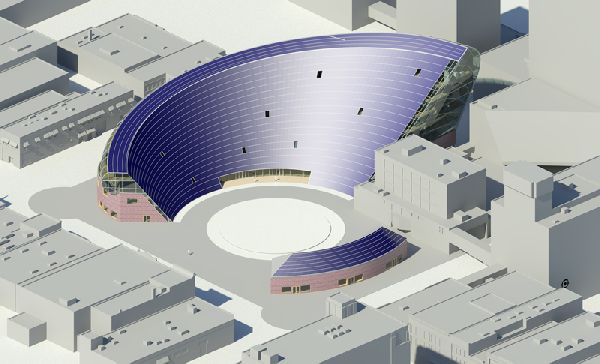 Located in North Dakota, USA, the Solar Plaza Fargo would be a great architectural example of how structures can be sustainable. The building would be covered by multitude solar panels covered by glass. The Solar Plaza would provide a one-stop for entertainment, food and shopping galore. The structure would also make optimum use of daylight with its glass exterior and parametric design. The mega structure would produce around 70 thousand kWh units/month which would be half of the requirements of the building.
9. Solar building in Vatican, Europe's largest solar power plant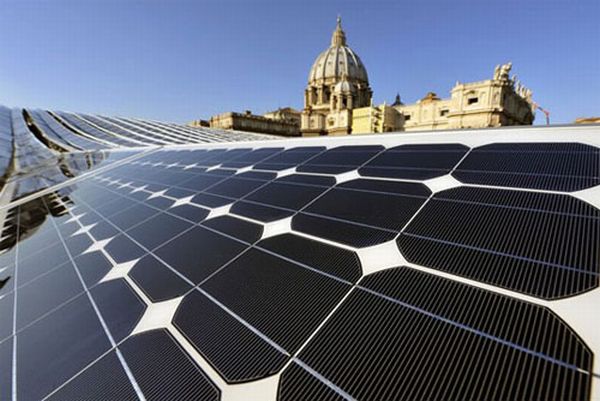 The Vatican is going green in so many ways and architecture is one of them. The country has announced its decision to expend $ 660 million for building a solar power plant – which is touted to be the biggest in the whole of Europe. The plant would generate energy to provide power to 40 thousand homes – which is nine times the amount of the energy that the Vatican actually requires!
10. Sanzpont's Busan Opera House has a Gargantuan Green-Roof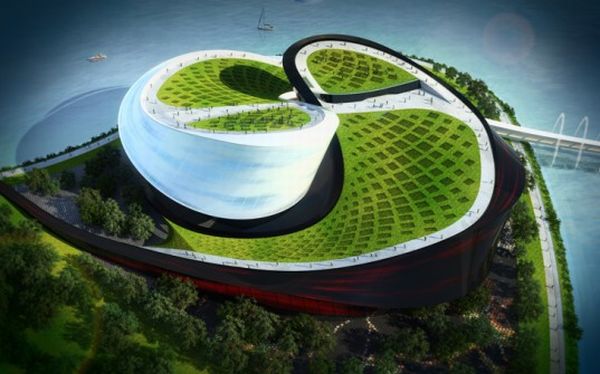 The Busan Opera House in Korea is a sustainable architectural marvel and has been designed by Sanzpont. The outer skin of the structure would be fitted with LED so as to provide illumination at night. During the day time, the outer skin or facade harnesses solar energy through the solar panels fitted within. The structure also has many green terraces and a gargantuan green roof top for the visitors to enjoy. The green patches on the structure enable cooling of the building and are also a great source of oxygen!
11 .Hyperion Towers, New Delhi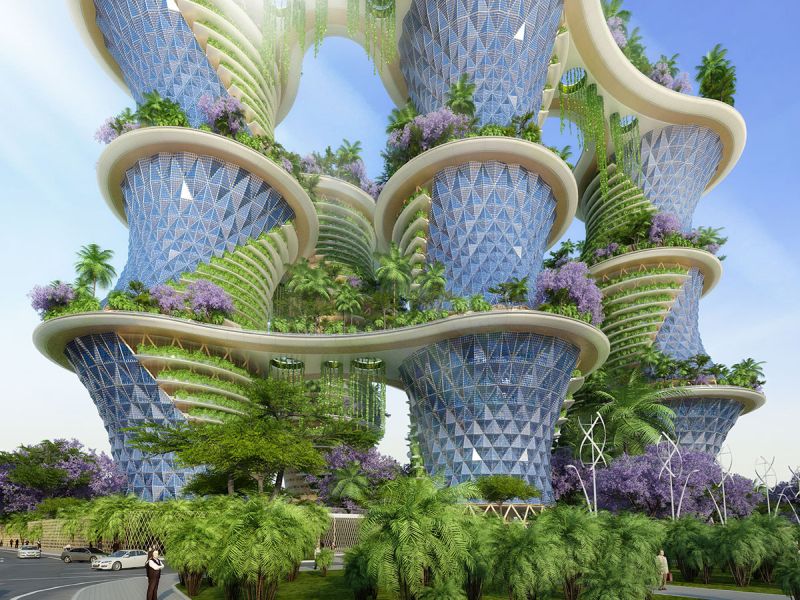 Image Source : cdnimd.worldarchitecture.org
The French architect Vincent Callebaut is designing the Hyperion Towers project. The Towers bring to mind an Avatar like world, as wooden towers stretch out to the skies, connected by swirling beams and greenery.  This unique green project will integrate crop rotation in urban farms, with domestic animals used for meat and dairy needs.
The agricultural waste would be used for alternative energy generation. The 36 stories tall tower complex is going to have homes, restaurants, gyms and of course, the farms. An amazing example of environmentally friendly architecture examples, Hyperion Towers is a spellbinding project, one of a kind eco friendly housing project.
12. Bamboo skyscraper
Bamboo has been used as material for flooring and décor, but this skyscraper would be made completely out of the renewable resource. GRG architects displayed their bamboo skyscraper series in World Architecture Festival.
13. Nanyang Technical University, Singapore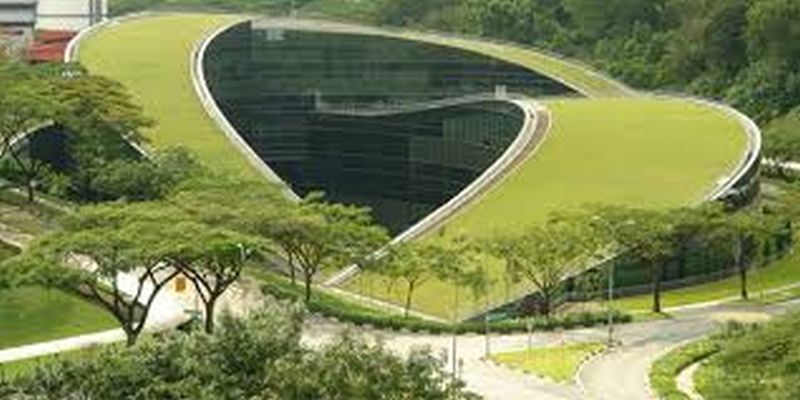 Image Source : encrypted-tbn0.gstatic.com
The university building exemplifies eco friendly architecture at its best – beauty and green concepts merged together to create a unique structure. The semi-circular shape minimizes the building's heat loss. The building's roof being a lawn, functions as a gathering space, improves insulation and is a sustainable ecosystem.
14. H20 house
Responding to the drought situation in California; UC Davis students designed this incredible self-sustaining home. It takes its power from solar energy. Furthermore, it conserves more than 50% of the water in the house. It consists of wood, which you fell during the drought season. Therefore, it doesn't utilize wooden logs derived from cutting new trees. The windows too are energy efficient and this home is a true example of a completely green building.
Green architecture concepts are now being incorporated in most new structures globally. People and architects are responding to the call of scientists to reduce global warming, by designing eco-friendly, energy-efficient, low polluting buildings.