Gadgets have become an integral part of our life. Right from waking up in the morning to sleeping at night we use hundreds of gadgets that makes our life easier and interesting. While gadgets have become a necessity, we never think about the implications it has on our ecology. Gadgets consume lot of energy and is not bio degradable contributing to ecological damage and environmental degradation. We have to consider our responsibility towards our environment and start using green gadgets or environment friendly gadgets in our daily lives.
Green gadgets not only save lot of energy but will also add to the coolness factor. There are many cool green gadgets available which are fun and helps in contributing your part to save our planet.
Let's take a look at 7 green gadgets for the present and the future which will inspire you to go green and will make you become a green geek.
1. Water powered clock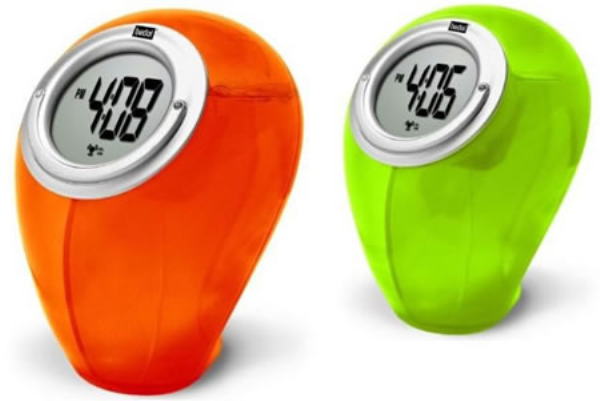 This gadget may not be a path breaking device but true to its words this interesting gadget powers up with the help of water. No battery, no charging required. The water powered clock will display date, time in clear digital display within moments of filling it with water. It works on the principle of fuel cell. The internal converter extracts electrons from water and provides a continuous flow of electric current to power up the clock. Once the clock is refilled it will be powered for 12 weeks. The design is modern, ergonomic and attractive.
2. USB Cell
We use cells in many of our electronic gadget and appliances mostly replacing it with new one once it's used. This used battery is not only a hazardous waste but also costs money to replace. Even rechargeable battery is a pain to use as we have to carry those large battery chargers wherever we go. USB cell is a revolutionary product it is charged through the USB port of computer eliminating the need for large battery chargers. Also saves the cost of replacing cells making it a superb environment friendly product.
3. Energy Orb
Every day we use a number of devices and applications in our home never bothering to check the energy being consumed. The energy orb is an exemplary device in this regard. This cool gadget shows you how much you are being charged for the power consumption by varying its color. If the consumption is reasonable it will glow green and when it glows red it's time to switch off some unwanted devices at home. What more you can use it as a cool show piece in your living room.
4. Kinetic energy charger
Ever thought that walking or running could charge your mobile phone? This cool gadget does exactly that. This device works on the principle of harnessing the power of motion. This small simple device can be carried in your pocket, purse and even attached to your shoes. Once fully charged this device can dump all that energy into your cell phone in just two seconds.
5. PolyFuel Lenovo Laptop
Developed by Californian Company Polyfuel, This cool laptop is powered by a fuel cell. In near future fuel cell will see increased utilization owing to its environment friendly characteristics. In this device the fuel cell converts methanol into electricity providing 10 times more power than standard lithium ion battery. The cartridge is also refillable and can be swapped easily providing unlimited amount of power without recharging it.
6. Wearable Solar-Powered Leaf Phone
This cool green gadget is inspired from nature especially photosynthesis. Taking cue from nature, this device has solar cells in its front panel which charges the device on the go. It also has an option of being charged from regular power source. This cool phone is a wearable bracelet phone offering high tech fashion and function. Its main aim is to contribute towards a greener tomorrow with a dash of style.
7. Stackable City Cars
Well this could be the future of public transportation. This design developed by MIT Smart Cities group consists of small sharable electric cars which when not in use can be stacked against each other much like a row of shopping carts. Eight vehicles can be stacked in the area of a parking space normally used for one standard sized conventional automobile. Not only will it save lot of parking space but it will also encourage public to use it instead of conventional automobile owing to its small size, efficiency and its park anywhere capability. Being an electric vehicle it will save lot of energy as well as reduce environmental impact.
Via: Letitflow