Did you know that transportation and construction are two of the major contributors to global warming? However, there are solutions using which you can easily tackle both. This solution is green travel trailers. Yes, with their help, you can not only explore unexplored regions without the need for a hotel, but you would also be saving the environment while doing so.
It is because the so-called nature lovers that every day new hotels are erected on the places which otherwise were completely natural. This not only destroys the very raw nature that most travelers want, it also poses a threat to the flora and fauna of the region. These green travel trailers provided a sustainable solution to this problem.
Best green travel trailers for eco-minded campers
You can explore nature and go for camping in style by green travel trailers. In recent times, many manufacturers have come up with different eco-friendly travel trailers, also popularly known as recreational vehicles (RV), which are not only low on budget, but also, examples of eco-conscious construction. These trailers are generally small and weigh less, so that, they can be towed away with the help of almost all kinds of small vehicles available in the households. Besides, the lightweight trailers also account for less fuel consumption and are nature-friendly. Let us check out a few of the many travel trailers for eco minded campers
Here is a list of some of the best green travel trailers, which you can use next time, when you go for camping.
1. EverGreen Recreational Vehicle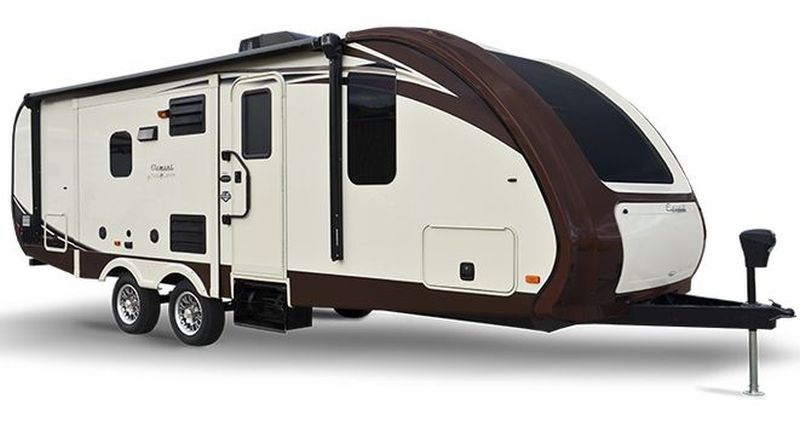 This is a completely eco-friendly travel trailer for environment-conscious campers and travelers, manufactured by the EverGreen Recreational Vehicles LLC. Named as Ever-lite, this travel trailer weighs light in comparison to its size. The lightness of this trailer makes it compatible with a lot of vehicles. Also, it is formaldehyde free, completely recyclable and durable for a long time.
2. Luxurious Sustain Mini-Home
This travel trailer is more like an eco-friendly mini-home, which you can take away wherever you wish to travel. With more than 340 square feet of space, the Sustain Mini-Home boasts of all comforts, including a spacious bathroom and kitchen. There is a completely formaldehyde and venyl-free green roof over the house. The eco-efficient design helps in many ways. This is because it consumes only 1/10 of water as compared to the houses of same size, 1/10th of gas, 1/100th of the electricity and 1/10 of the rest of the materials. It is available for $125,000.
3. Earthbound RV- travel trailers for eco minded campers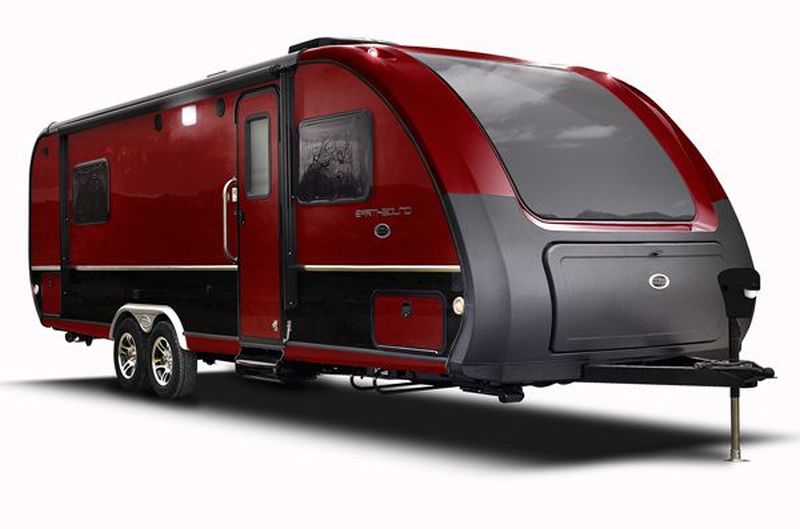 The Earthbound RV has done away with the usage of wood and its by-products for constructing the trailer. Instead of wood, this RV consists of lightweight hybrid structural materials that are a combination of composites and thermoplastics.  Even small cars can easily tow such RV's since they are light in weight including the Earthbound RV.
4. Green Teardrop Travel Trailer
Appearing like tear drops along the roadside; this travel trailer is a very small and light-weight RV. It is easily tow-able with almost all the modern crossover vehicles and smaller SUV s. In fact, the manufacturers say that you can move it around with your hands. The styling of the interiors helps to ensure that a camper is comfortable as it comes with almost all the amenities that campers needs. It has a rollaway screen and privacy shades, while the entire trailer is laminated with Alu-Fiber skin.
5. Barstner Trailer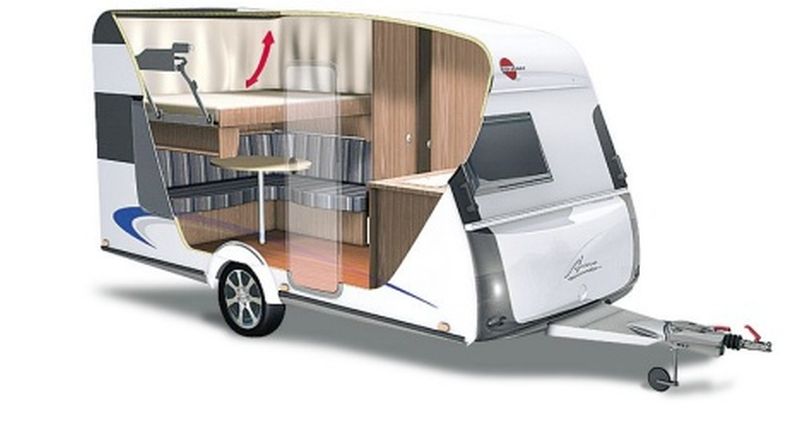 Ideal for European campers, The Barstner trailer is a luxury small-size RV. The manufacturers have taken all care to use the small space creatively to provide for almost all the luxury amenities available on any small yacht. It has a comfortable drop-down bed that compensates for the small space inside the trailer and a well-lit bathroom designed so well, that the entire room becomes the shower stall.
6. Tear-Drop Travel Trailers
Teardrop travel trailers, or teardrop campers, are small, eco-friendly recreational vehicles. They appear like tear drops along the roadside. The design of this line travel trailers for eco minded campers helps to ensure that they have the maximum fun while camping without burning a hole in their pocket. These campers are generally four feet wide and eight feet long. These provide comfortable space for one or two persons, along with a bathroom and kitchen. The lightweight and small size allow these trailers to be towed by any small vehicle.
7. Quixote Eco-Friendly Line of Travel Trailers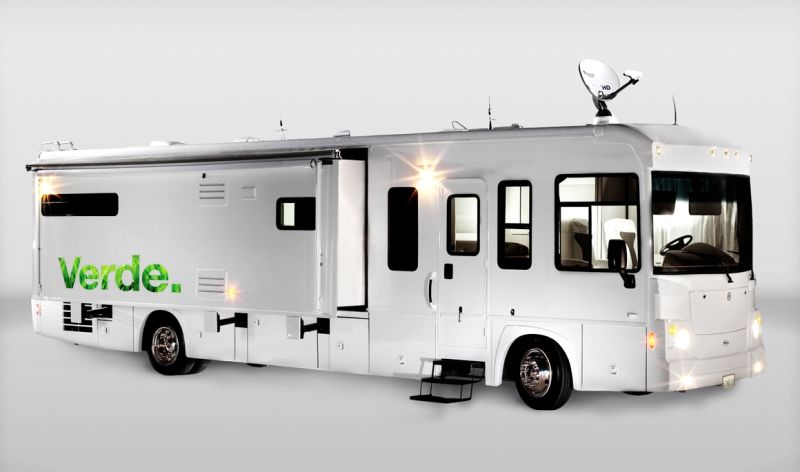 Manufactured by Quixote Studios, the new travel trailer portrays eco-conscious construction and luxury. It has a catchy name – Verde to gain the attention of everybody including celebrities. It comprises of green materials like non-formaldehyde, recycled aluminum and scrap iron. This range of travel trailers for eco minded campers could also serve as a mobile comfortable office for the user. This is because it has been equipped with wireless accessories, based on the Icoach technology, developed by the company.
8. TDR Camper Trailer
The TDR Camper Trailer is designed for adventure. This RV allows you to carry all your gears as you travel and works in three different modes – travel, transport and camping. You can easily set up a camp by unloading all the gears including your extra camping tents and raising the lift system in the camping mode. While in the transport mode, you can use it for carrying large items, such as, a motorcycle, multiple bicycles or other accessories. In addition, the Camper provides space on the upper rack for carrying all those gears while traveling.
9. I-Go travel travel trailers for eco minded campers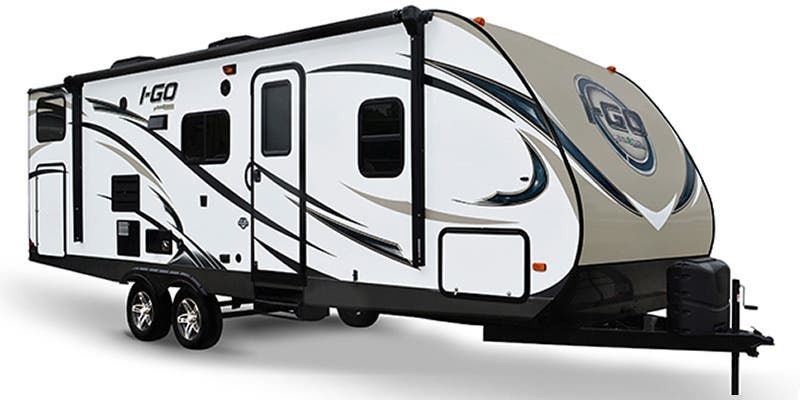 I-Go Lite travel trailers have been designed to provide economic and environment friendly camping experiences to the users. Like all other eco-friendly travel trailers, the I-Go is also lightweight and can be easily towed away by any vehicle. It is 30 feet in length. Besides, the body is been made up of welded and reinforced aluminum frames, as well as, composite materials. In addition, it provides for a kitchen, bathroom, water heater, LCD TV, fire extinguisher and many other accessories. Besides, it provides for higher ground clearance, as compared to the other travel trailers.
10. ECO travel trailer
Manufactured by the Dutchmen, the ECO travel trailer is another ultra-light RV, available with eight different floor plans. It has six-way welded aluminum laminated super-structure, a lighter frame and seamless roof made up of rubber. Notwithstanding the lightweight, the interiors of ECO have been styled with caution for providing all kinds of comforts to the users. It has sleeping locations, a full bathroom and almost all other appliances available in the larger travel trailers. It has been designed for families with smaller tow vehicles.
Read More:
23 Green Gadgets You Should Be Using To Help The Environment