How to Apply Epoxy on Linoleum
Epoxy coating on top of linoleum flooring is a great way to protect your flooring and ensure longevity and overall shine. There are alternatives to applying epoxy coating on linoleum, but epoxy is often the best solution. Overall, it's easy to apply and leaves you with an attractive and long-lasting appearance. It's also a very cost-effective way to seal your linoleum flooring.
The process of applying a coat of epoxy to linoleum is straightforward. It requires several precise steps to reach the highest quality. Despite the many steps required to properly epoxy-coat linoleum, the process isn't difficult and the results can be amazing.
How to Begin
Before you begin epoxy-coating your linoleum, you need to ensure the flooring is still in good shape. You won't need to remove the linoleum flooring if it's still securely attached to the concrete below. However, if this is not the case, you might need to repair your flooring before proceeding. You won't need to enlist the help of a professional as long as you follow Epoxy-Coat's guidelines for successful epoxy-coated linoleum floors.
Preparing Linoleum for Epoxy Coating
After you ensure that your flooring is securely attached to the concrete below, you will want to continue inspecting the floor for damages and scratches. If any damage is detected, repair the floor before proceeding. Then you will need to move on to the next stages of preparation for epoxy-coating.
First, you need to thoroughly clean the flooring. We recommend using a brush and a heavy-duty cleaner to scrub the floor vigorously. You do not want any visible grease or grime. In some cases, a layer of wax might be present even after the initial cleaning. You will need to remove this wax coating to properly add an epoxy-coat sealant. There are wax stripping products that can help you remove it quickly. After you have cleaned the floors, you will need to sand them to create a rough-up surface and remove paint and wax splatters. Sanding is necessary to prepare the flooring for the coating with an ideal texture.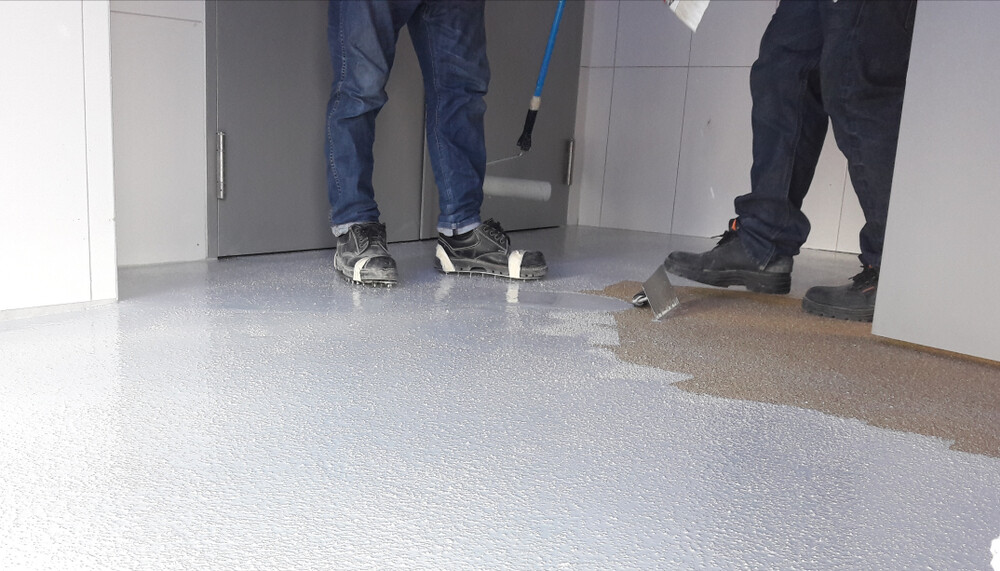 The Application Process
Now you're ready to begin the application process by applying the epoxy primer. We recommend applying as many coats as necessary to create a smooth surface for painting linoleum. Next, you will paint the flooring with a roller to apply the epoxy coating.
You must follow precise directions for drying time. These will be included in the packet that comes with your purchase.
Benefits of Epoxy Coating for Linoleum Floors
You might be wondering why you should consider applying an epoxy coat to your linoleum floors. Here are just some of the many benefits.
First of all, you have many options to choose from when it comes to personalized epoxy-coating. You can even customize the color of your flooring. Just this small difference within a room can brighten, alter, and add life to any room. You can achieve a sleek, modern appeal quickly with epoxy-coated linoleum. Plus, it ensures the longevity of your flooring without requiring pricey and tiresome replacements. It will look clean, new, and bright without the cost of a new floor.
Check out this video for more information on applying Performance Epoxy-Coat!