Like children bring joy to a homestead, pets are also a great addition to a beautiful home. It is a wonderful experience to own a dog as your favourite pet. Dogs are in most cases loyal, great companions and will definitely make your day great. And like you cater to your children, it is also a great experience to accord your dog, cat or bird proper care and treatment.
Dogs look for trouble everywhere. Most pets don't want to stay indoors, and they try to look for ways to escape boredom. It is a great decision to always take your dog out for a short stroll. You may be feeding your dog with the right food, but fail to keep the pet well-groomed and in a tidy house. Thus why issues like; my dog was stung by a bee in the mouth will arise in many homesteads.
What to Do When Your Home Gets Infested With Pest?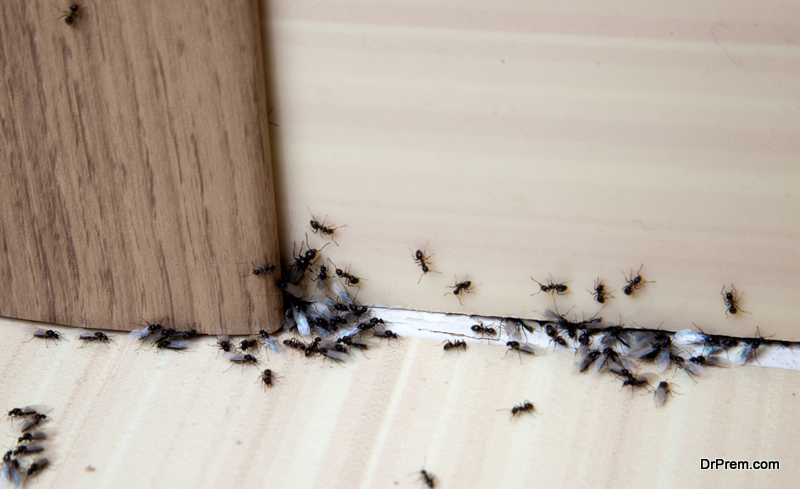 When your home gets infested with pests, you will have a lot in your mind. Most importantly, you will focus on how to effectively get rid of these pests, or who to call when such a disaster strikes. Many peoples' thoughts will turn to the safety and protection of their loved ones. Unfortunately, some people forget about the safety of their beloved pets. These pets end up being exposed to infections and toxic in case of unplanned pest control treatment.
No one wants pests like spiders, roaches, spiders, bugs and mice roaming from one corner of the home to another. And the most probable solution is to opt for the best pests control solution at your disposal. As you mind the situation at your home, you should not forget that you also own a dog that needs protection against pests such as fleas, bed bugs, spiders and ticks.
To safeguard and protect your dog in the event of pest infestation, you need to understand what treatment you should opt for. It is also wise to figure out how to better protect your dog from toxins during pest control treatments. There are many solutions to pest control. However, many of these options on store shelves come with risks that could affect the health of your loved ones and favourite pet.
Be a responsible Dog Lover- Safeguarding Pets during Pest control Treatment
If you find unwanted and harmful pests in your home, it is wise to think of the best pest control methods. As you undertake any of the preventive measures, you should think of the safety of your pet also. You should not just get any pesticides that you come across and start using it. There are risks that come with taking such actions without a proper plan.
Pest control treatment is an effective procedure, especially if you choose the best option in the market. To make it the most pet-friendly option, here are effective tips to hold in your fingertips and safeguard your dog. Have a look;
Let a few questions guide you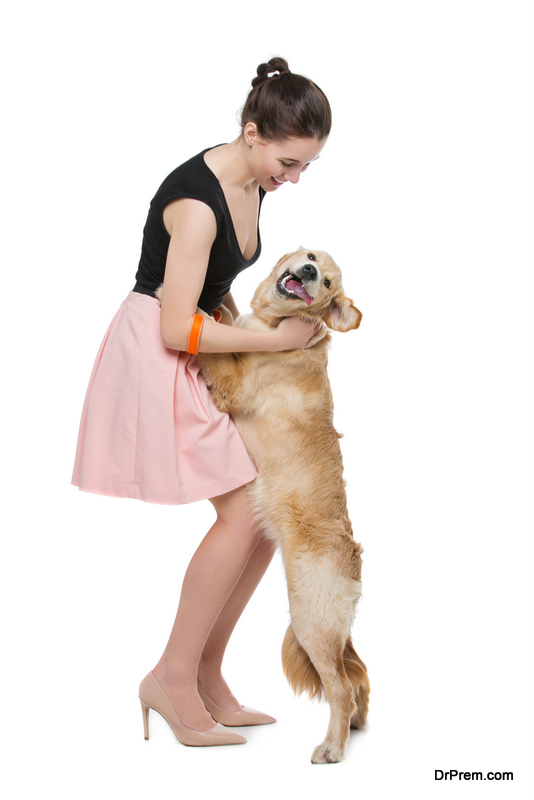 Ask yourself simple questions like; is pest control harmful to my dog? Is pet control safe around my pet? These questions will play great roles in your pest control strategy, if you have the right solutions in mind. There are many haphazard that come with handling pests at home. You might get the wrong pest control chemical and use it the wrong way without putting your dog and loved ones into consideration.
Talk to a pest control expert
Your concern is valid and it is wise to talk to an exterminator and let the expert know that you own a dog. This is an exceptional way to assess the problem you have at hand, and the risk you may be exposing people in your home and pets. Don't just talk about the dog you own. Be specific about whether you own a cat, birds, or a fish or whatever animal you have in your backyard.
You may think that it is safe to handle certain pest control measures at home, but if possible, take a few minutes and talk to a pest control treatment professional. The exterminator you choose will also help you determine what treatment is necessary for your home. You will also know what preparations to make prior to your pest control appointment.
Ensure a safe environment for your dog
Don't undertake any pest control treatment procedure without considering how safe the environment is safe for your pet. Follow a few tips to ensure a safe environment for your loyal companion. They include:
A plan to contain your dog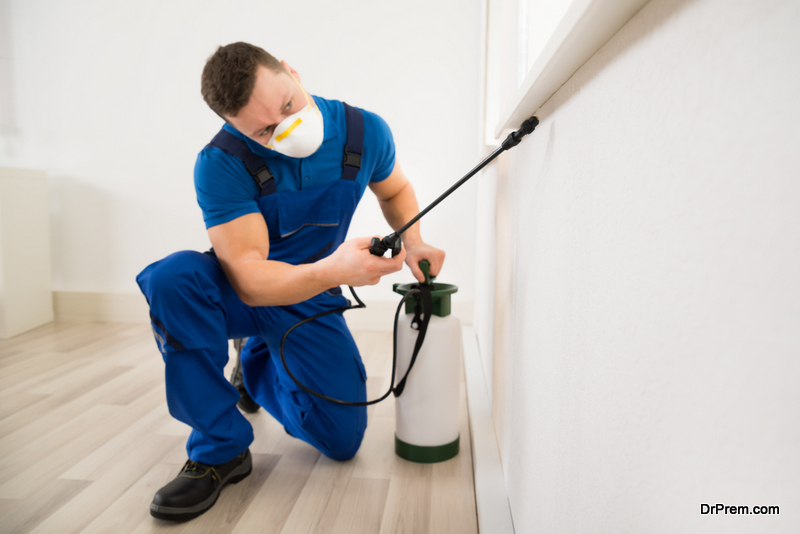 Find the safest place to keep your dog during the pest control treatment exercise. You can let a friend or family member take care of your dog at their home. If you don't plan to take your dog away and out of your sight, keep it in an area in your homestead that does not require any treatment. You can contain your dog safely in its shelter or pet carrier and embark on your pest control treatment.
Secure all dog food
If your dog's kennel has been infested by ticks or fleas, you need to secure all the food. Take any food you may have served your dog out of the area to be treated, and keep it in a secure place. This is especially if you are going to use spray pesticides as you don't want the food to come into contact with the toxic and deadly pesticides.
Secure your dog's belongings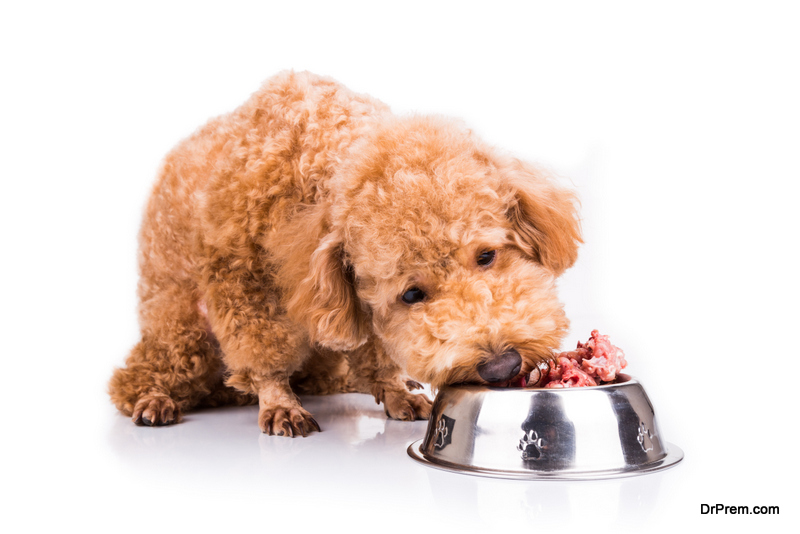 If you treat your dog well, also ensure its belongings don't come into contact with harmful pesticides. These include things like; dog toys, food bowl and clothing. Keep them away from the area being treated.
Strategically set up your poisons and baits
If you are going to use poisons and baits to get rid of roaches and rodents, strategically place them in stations that cannot be accessed by your dog or children. Remember most pesticides baits are made of food ingredients that can entice your dog.
Extra safety measures to take
As you are dealing with harmful and toxic chemicals and pest control products, you need to be extra careful and rest assured of the safety of your dog and loved ones. Take a further step to;
Pick the right pesticides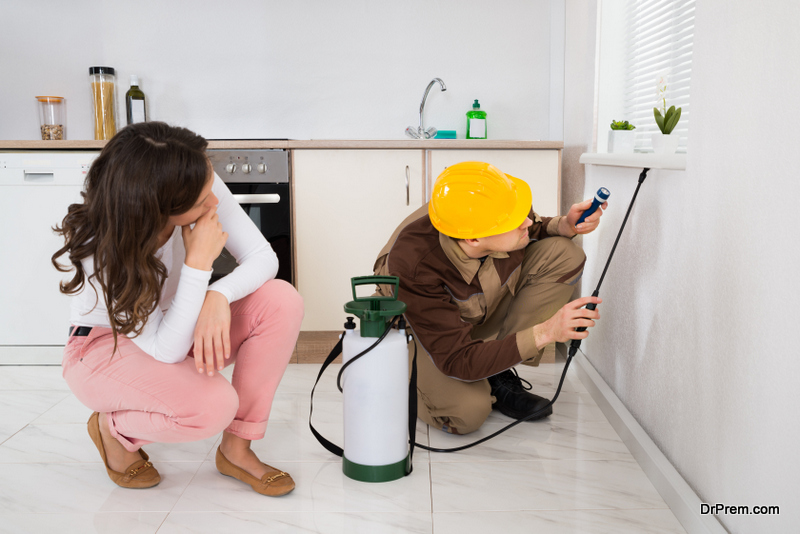 You need to do meticulous research and compare all the pesticides at your disposal. Go for those that are least toxic for home use. Pick pesticides from trusted manufacturers and dealers. Cautiously look at the signal word labelled on the product package. "Poison" is the mostly used caution or signal word.
Carefully read the pesticide label
You don't have to use any pest control treatment you come across. Always read the product label and know what you are dealing with. Make sure the product is approved for the intended use by the right authority body. Understand how it should be used at home and follow the provided instructions.
Call your veterinarian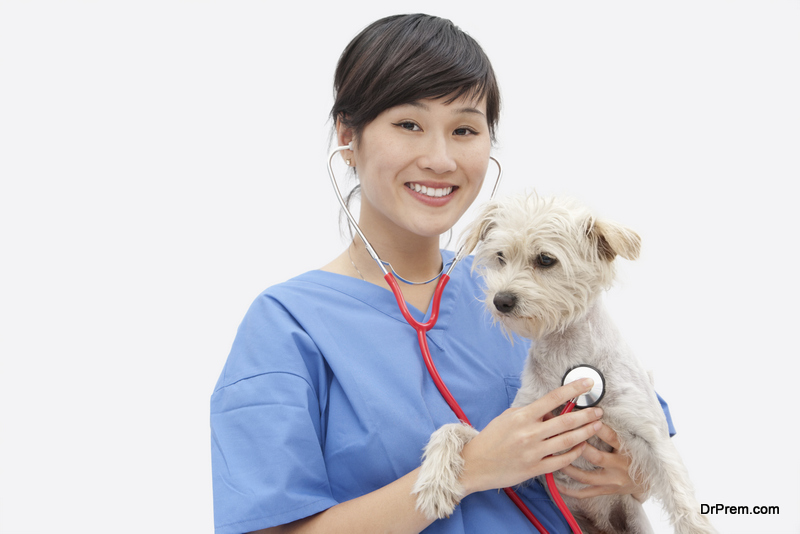 If you still don't know where to start and get rid of pest infestation at home, don't hesitate to call your vet. The veterinarian will propose a safe and calm method to take care of your pet, and get rid of pests without any misgivings. Your vet also understands your dog well and will know what best to do and help your dog during pest control exercise. It's also a good idea to stay covered with pet insurance like Bivvy.
Final Thoughts
Pest control treatment is an exercise that you can undertake at home without any worries. You just need to follow the right measures to ensure best results and safe results. You just need to customize your pest control treatment strategy and keep your pet and loved ones comfortable, healthy and bug-free. It is also wise to always seek the best pest control services in the market and consult experts.
Article Submitted By Community Writer