Hangers are usually bought in bulk and most of us have more than a few extra hangers lying around at home. If you have a lot of hangers stored in your attic, you can use them in innovative ways to create new uses for them. Or if you have plenty of old hangers which you no longer use, and don't know what to do with them, you can repurpose them to create new kinds of holders for objects other than clothes. Here are a few ideas we have compiled which you can be inspired by, to transform your old hangers to decorate your home or to use them in different ways:
Scarf organizer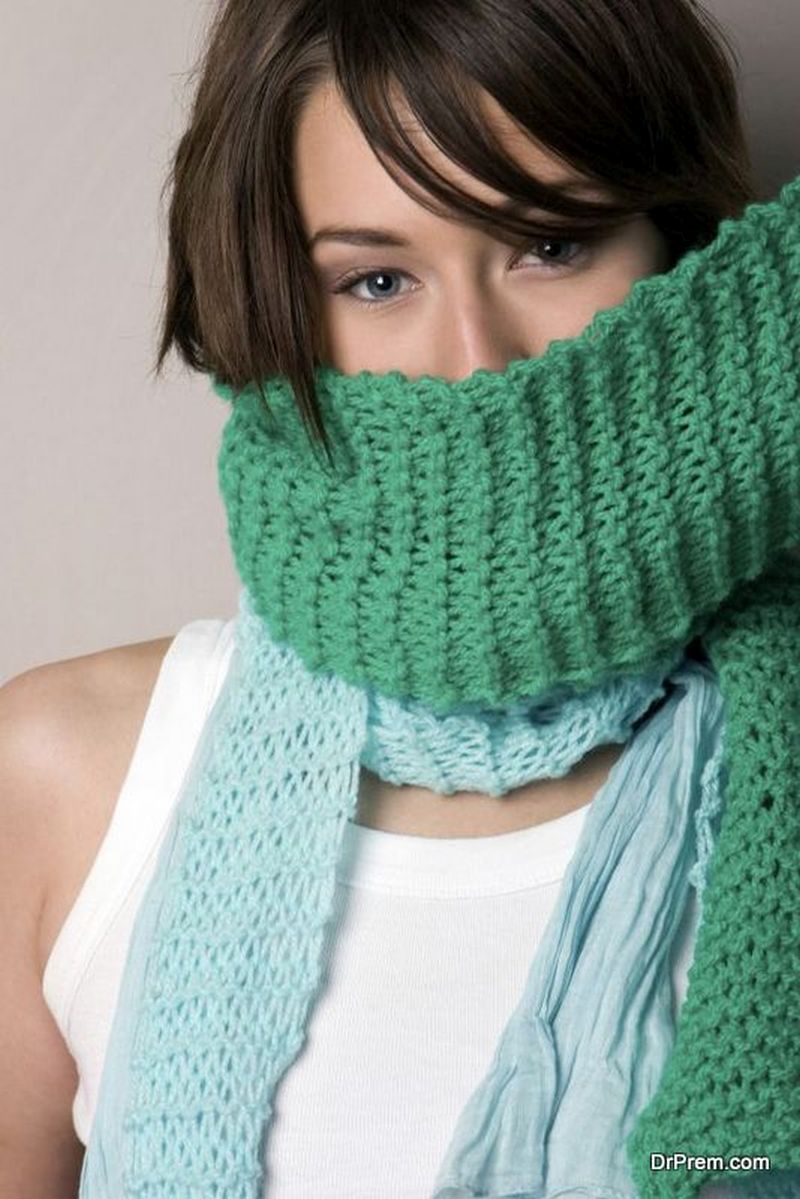 Scarves can add a different look to your outfit, and they are handy in both summer and winter. But they do tend to get lost in the maze of clothes in your wardrobe. You can organize them in a way that you never lose sight of them. Just fix the hooks which are used for shower curtains and hang the scarves. You can use as many hooks as you like so that every hanger can hang many scarves.
Laptop holder
You'll need a hanger, preferably an old plastic one, with clips to make a laptop holder. Just clip the left clip to your laptop screen's rim and the right clip to hang any notes.
Hanger jewelry organizer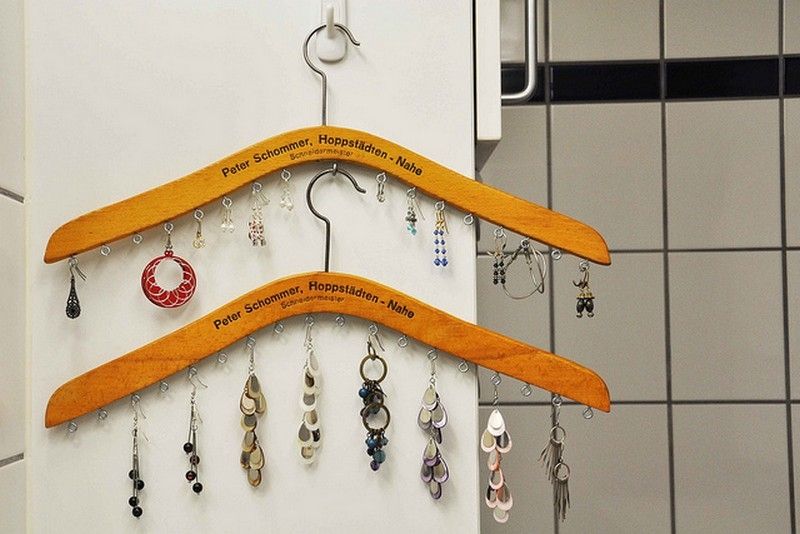 With the help of old wooden hangers and a few tiny screw hooks, you can make a jewelry organizer to keep your jewelry in one place. It looks beautiful too, once you hang you necklaces, danglers and bracelets from it. Just screw in the hooks to make your hanger jewelry organizer. The best thing is that you won't have to spend time trying to untangle the knots in your necklaces, as this unique organizer will keep your necklaces from knotting.
Towel dispenser
If you have a broken hanger, you need not throw it away anymore. Just turn it into a dispenser for paper towels. Just slip in the roll of paper towels at the broken end and reuse as an innovative towel dispenser.
Hangers which are slide free
Why buy those pricey hangers which have the grooves to keep clothes in place when you can make them yourself at home. All you need is a glue gun to add some knobs on either side of your old hanger. Let the glue dry completely before hanging your clothes on the hanger.
Magazine holder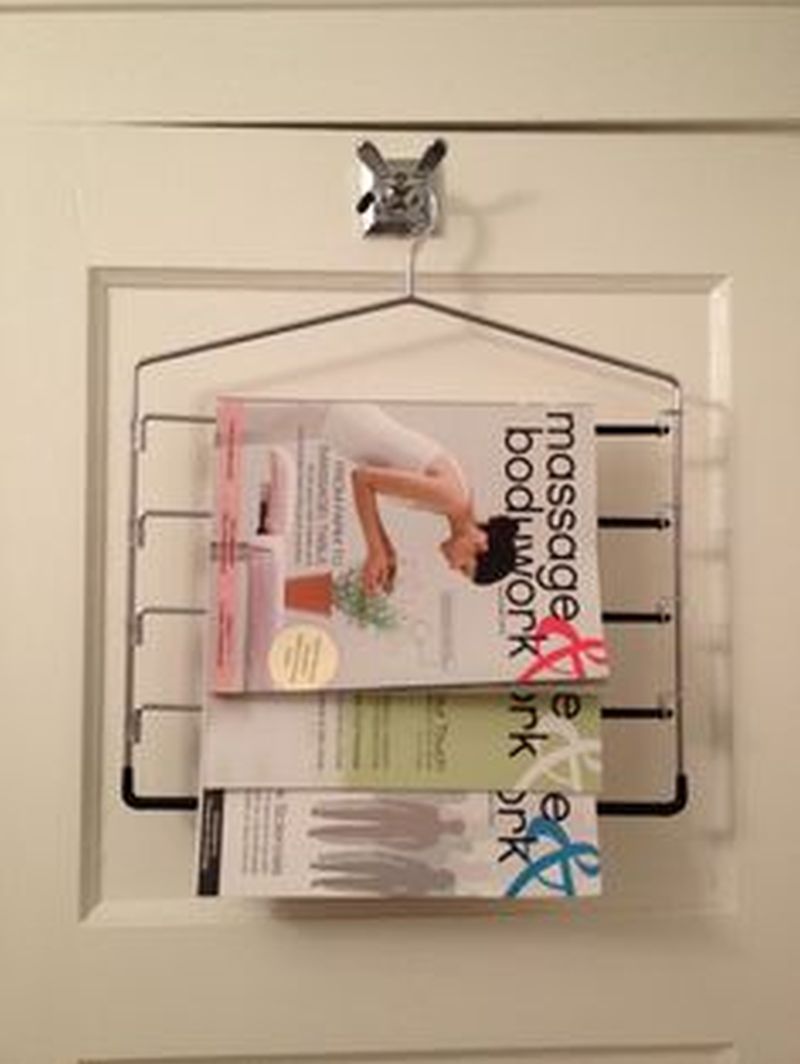 This is truly an amazing idea. Newspapers and magazines tend to clutter up your living room, and you have to tidy up all the time. With this brilliant hack, both newspapers and magazines will stay in one place. Just hang any wooden hanger from a doorknob or nail, and hang the newspapers or magazines from the hanger, just as you would hang clothes. You can do this on the inside of a cabinet or closet door to keep them out of sight.
Coat rack
You may have always wanted a coat rack in your foyer, but didn't have the space for it. With this great hanger hack, you can make a coat rack from your old wooden hangers. Attach your wooden hangers onto a wooden board by inverting them and fix this to your foyer wall. The metal hook of the hanger can be used to hang keys, hats, coats and anything else you want to hang from it.
Cookbook hanger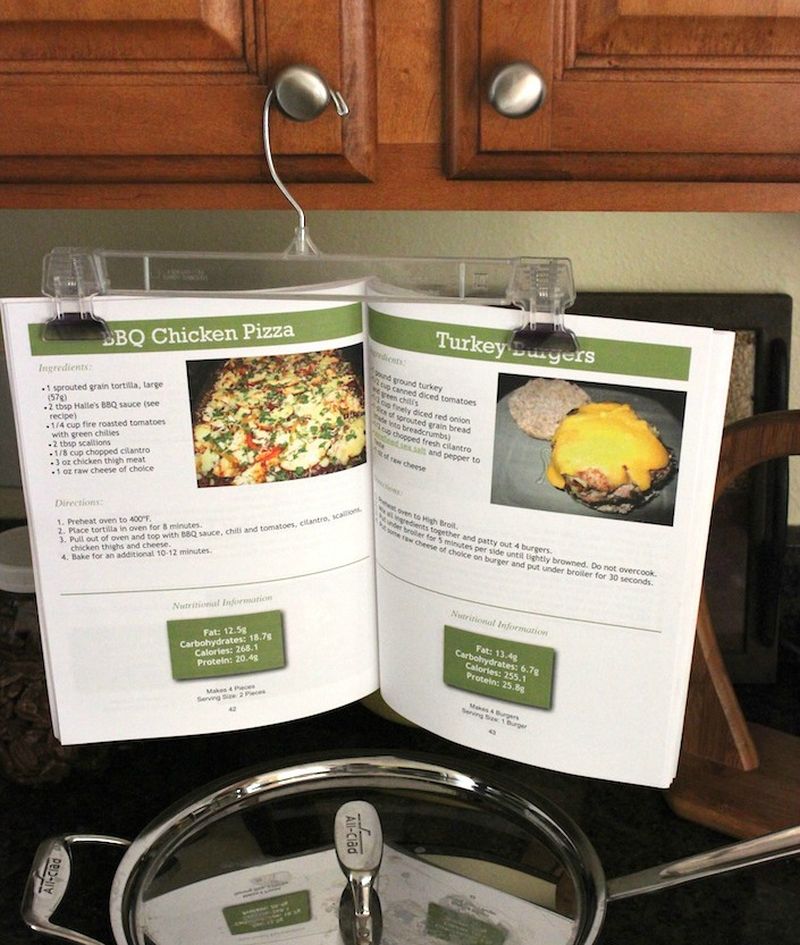 Cookbooks tend to get messy in the kitchen. Open the book to the recipe you're using and hang the book from a cabinet door, after first attaching the hanger clips to the top end of the book. You'll always have mess free cookbooks this way!
Belt hanger
Add some screw hooks to the bottom of your wooden hanger to make a belt hanger, and then hang it in your closet. You'd never have to hunt for your belts, and you'd be protecting the leather of the belts form cracking.
You can use your old hangers to hang boots, ribbons and create attractive wall displays too. Just get those unused hangers out and use them to organize small things around your home, which looks good apart from keeping things organized.